When Robin Petravic and Catherine Bailey purchased Heath Ceramics in 2003, it was a little bit like moving into a famous historical house with holes in the floor and no hot water. The dinnerware and tile company, founded in the Bay Area in 1948 by potter Edith Heath and her husband, Brian Heath, had become a beloved California institution before falling on hard times in the 1990s. Petravic and Bailey were faced with a peculiar challenge: Rescue the company—but don't change it too much.
They went about it with a tactical approach, keeping the same Sausalito factory humming but pulling Heath out of its wholesale distribution partnerships and selling directly to customers. Some things didn't change at all. "We learned about Edith and Brian Heath by occupying their office," Petravic tells host Dennis Scully on the latest episode of The Business of Home Podcast. "My desk is Brian Heath's old desk. His envelope opener is still in there. I still use his old calculator. One of my favorite mementos is a little joke about Ronald Reagan—he wasn't a fan of Ronald Reagan—it's this tiny thing that's 'Ronald Reagan's Brain' and it's the size of a pea."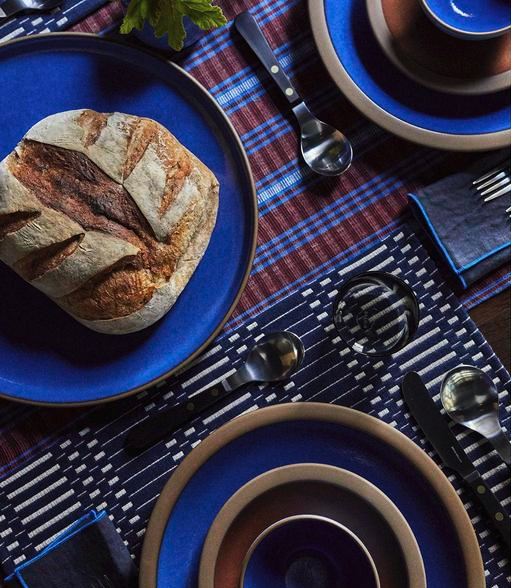 One gets the sense that Petravic wouldn't have been a big fan of Reagan either. In the Bay Area, it's a big thing to say your company, be it a tech platform or a boot repair shop, is "run like a startup." Bailey and Petravic do not run Heath like a startup—both push back against a culture of growth for its own sake, profit at all costs, and an obsession with short-term returns. Rather, their goal is to build an ethically run enterprise that will last two centuries.
"We want to be here for 200 years, which means I'm not gonna be around to run it," says Petravic. "How do you get to 200 years? Well, first you've got to build that foundation and the values that are going to guide it. It's always doing the right thing, [nurturing a] long-term relationship with your employees. There's no short and quick. It's always investing in the long-term future. It's not what we get back in a year—it's what we get back in 15 years or 50 years."
In practice, that leads to a lot of initiatives that place values at the forefront. A few years back, Heath made employees part owners with an employee stock ownership program (or ESOP). They've also aggressively pursued a zero-waste manufacturing initiative. And last year, in the thick of a pandemic that saw their revenue fall 20 percent off targets, they decided to give their lowest-paid employees a raise, hiking the minimum wage up to $20 an hour.
The reason, says Petravic, was to push back against income inequality. The move, far from a painless marketing spin, required Heath to make cuts elsewhere—specifically, a 401k matching program that mostly benefited workers who were at the top of the pay scale already. It wasn't an easy choice, he says, as things like retirement matching are often seen as sacred cows. "But those things are not created for a culture where people are on the lower end of the payscale and can't even afford to buy into it," he says. "When we did take it away in order to contribute to higher pay on the lower end of the scale, some people, like myself, lost that benefit, that free money. But I think of it as, 'Well, I got that free money for a while, so I guess I was lucky, and now it's time to move on.'"
Whatever changes the company makes in the future, says Petravic, it will never change the core thing that makes Heath Heath—local manufacturing, a commitment to quality, and a relationship between makers and buyers that's as direct as possible. "[In our Sausalito factory], things are made in the back and [are sold] in the front. Whether it's a two-person business or, as we are now, a 160-person business, I love that."
Listen to the episode by clicking below. If you like what you hear, subscribe on Apple Podcasts or Spotify. This episode was sponsored by Room & Board and Crypton.
Homepage photo: Catherine Bailey and Robin Petravic | Marc Olivier Le Blanc