Leticia Gagetti believes the best items are ones with a history and point of view. The Argentinian founder of Owo Ceramica relies on local resources and a sustainable, small-batch production process to ensure that each of her stoneware designs is unique and truly heirloom quality. "Choosing to buy hand-made ceramics implies connecting with the creator and their story," she tells Business of Home. "My pieces are meant to be treasured."
Growing up in a small town outside of Buenos Aires, Gagetti was always interested in art. However, it wasn't until after she earned a degree in history at Torcuato Di Tella University that she discovered her creative calling. "I decided to take a pottery course that fueled my curiosity with clay," she says. "Though I was teaching history courses at two different universities, I continued taking pottery classes in my free time until I had the courage to turn my hobby into a full-time career."
In Gagetti's case, the motivation to pursue an artistic path came from an unlikely place. "Someone broke my heart, and I needed a way to expel my feelings," she says. "I started expressing my hurt by splattering black paint onto white ceramic pieces, and soon, my first collection was born."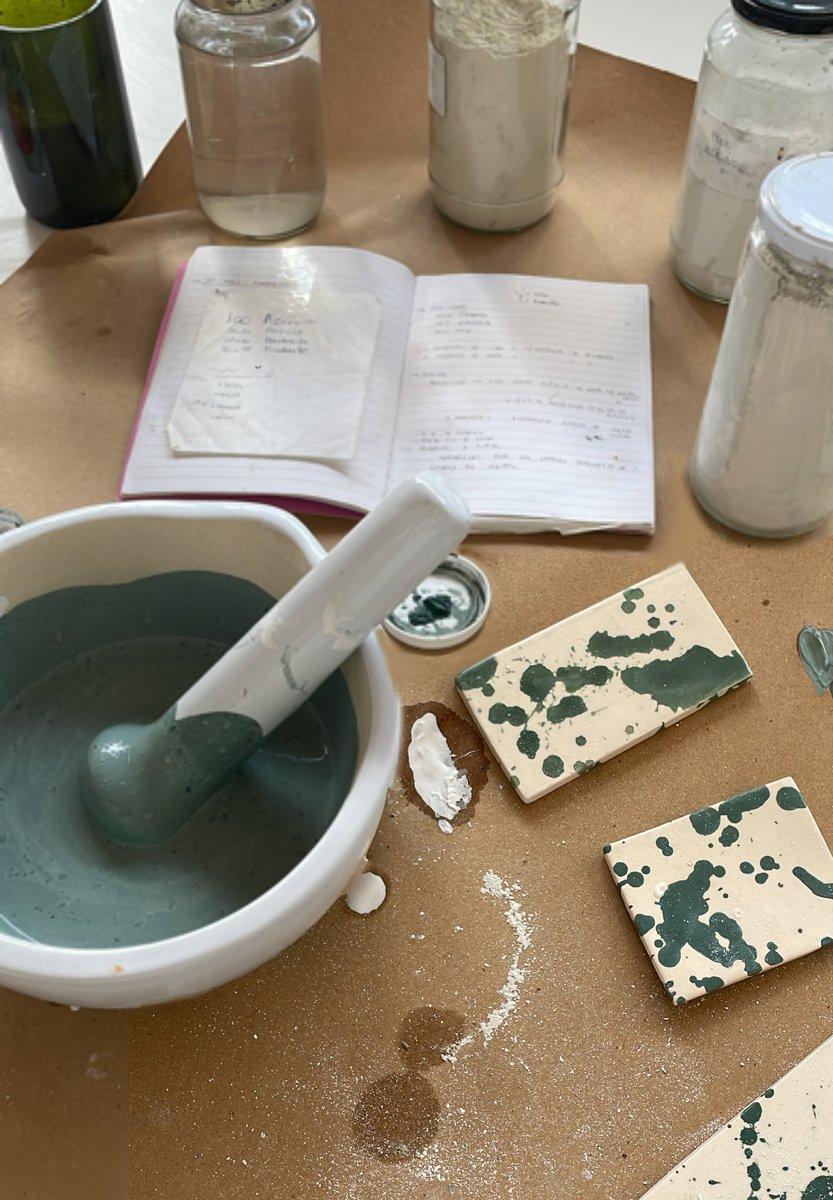 In 2018, she launched her Buenos Aires studio with a line of splatter-painted ceramic vessels—including mugs, plates, bowls, planters and vases—named Rock. "The black paint, the matte finish, the white glaze, the energetic motions—all of it has meaning and symbology," she says of the series. "The story behind the collection is what makes it so appealing. It's raw, strong and real."
Gagetti describes her process as a "spontaneous" one—ideas pop into her head at random before she materializes them in clay. "I find that any design can be translated into clay—it's just a matter of figuring out which techniques, paints and glazes will best convey my vision," she says.
Each and every offering from Owo Ceramica is hand-crafted by Gagetti—including the paints and glaze—resulting in pieces that differ slightly from one another yet are drawn together by a certain theme. "The forms I use vary from collection to collection, and the glazes are hand-made from raw materials in hues designed to complement the shapes," she says. "For example, I stuck with simple forms for the Rock series to balance out the splatters and didn't use any color in my Spikes collection to allow the bold silhouettes to take center stage."
The studio recently collaborated with San Francisco brand Anyon Atelier on a bespoke line of splatter-paint-style decor accents available in two exclusive colorways. "We wanted the colors to be autumnal, so we selected a sage green and mustard yellow that evoke the hues of changing foliage," she says. "Every piece was wheel-thrown and hand-painted, making each one a completely one-of-a-kind work of art."
Currently hard at work on a line of light fixtures inspired by the Spikes collection, Gagetti has plans to roll out an assortment of new products—including found objects and original prints—throughout the next year. "In 10 years, I would love Owo to be a multidisciplinary studio, encompassing pottery, artisanal printing techniques, vintage finds and hand-made textiles," she says. "My goal is to help people to slow down, connect and embrace ritual by bringing beauty and consciousness to their daily life."
If you want to learn more about Leticia Gagetti, visit her website or follow her on Instagram.
Homepage photo: Selections from the Anyon collection by Owo Ceramica for Anyon Atelier | Courtesy of Anyon Atelier