The Mine will be in every room of the home by year's end. A follow-up to 2017's 52 Weeks of Design, which spotlighted the work of a different designer each week, the decor site's new initiative, The Whole House, features the collaborative efforts of designers working together to design every room in a home.
Conceived as a business initiative to drive traffic, the idea for The Whole House sprung out of an analysis of last year's project: 52 Weeks drove over 3 million impressions via social media and click-throughs, the brand tells EAL.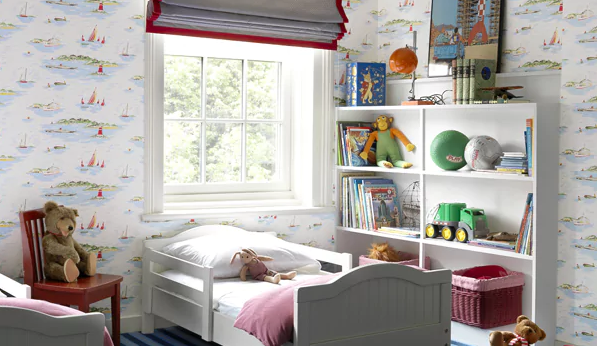 Week 1, in early January, featured the front of the house, designed by Birmingham-based architect Bill Ingram. Week 2 was the entryway by Alexa Hampton, followed by Week 3's living room by Joe Nahem, Week 4's gentleman's dressing room by Olasky & Sinsteden, and Week 5's children's room by Katie Lydon. Visitors can shop the featured rooms and read Q&As with the featured designers about the work profiled on the site.
"When we met with Alexa Hampton to discuss ideas for engaging designers in late 2016, we thought we could create a space where we could offer professional advice and a variety of styles to our customers from the best in our business," says Michelle Newbery, president of The Mine. "This initiative, 52 Weeks of Design, took on a life of its own. Not only were we able to provide wonderful advice from the trade, we found we could also provide designers with a premier online platform to highlight their projects and expand their reach. We received so many requests from designers to be a part of our program that we were able to relaunch with a fresh agenda for 2018. The Whole House is both a tool for our customers to solve design dilemmas room by room, as well as a continuation of our promotional platforms for designers across the country."
As Hampton tells it, covering every room of the home (including some unexpected spaces, like a gift wrapping room) is part of the project's purpose. "The Whole House series is a way to celebrate every inch of the house, from the great rooms we might think to decorate first, like the living room and the master bedroom, to the pass-through spaces like the hallways," she tells EAL. "Good design relates to the spaces around it, so we feel that hallways and utilitarian spaces ought to be just as thought through as the main living spaces. With The Whole House, we hope to bring you inspiration to elevate each and every room in your house, even the ones that might seem like an afterthought."