It was announced on Instagram, as these things so often are: "After 23 years on La Cienega Boulevard, Dragonette, Ltd. is moving to the desert!" To Angelenos with even a passing interest in high-end vintage furnishings, the news was surprising and slightly disorienting, like learning Netflix only has two seasons of your latest three-season obsession: This next fix would just require a little more effort.
For devotees of Patrick Dragonette's famed design showroom, that will soon mean a drive to Palm Desert, a short distance from the glitzy bejeweled coconut cocktail that is Palm Springs. Of course, Dragonette's trove of mid-20th-century pieces (and his private-label collection) will still be available online. But for La Cienega, a street that's had its fair share of big design departures, the move feels significant. The showroom's future location on El Paseo, Palm Desert's retail high-street, gives Dragonette the opportunity to think more broadly, the designer tells Business of Home.
One of the industry's most notable tastemakers, he was recently La Cienega Design Quarter president, a role he embraced. "It takes a lot of courage and time to say, I want to lead this … and [LCDQ founding president] Lee Stanton did a fantastic job," he says. "The exciting thing was looking at something so good and saying, 'How can I up the barometer? How can I make it hotter or better? I had ideas, and I was in a position with a supportive board to implement them. For me personally, my biggest regret is leaving the LCDQ. I took over the presidency last year and I poured my heart and soul into making it the best event possible—and now I'm leaving." The torch has yet to be passed on.
Dragonette admits that though the imminent move is bittersweet, he's exhilarated by the next phase. And a little exhausted—wrapping up two decades worth of memories and some inventory is not your typical summer vacation, but California is the place where futures are made. "I have no intention of slowing down," he says. "I don't ever imagine retiring—that sounds so alien to me. Maybe if we could get two months off, that would be nice."
Ahead, Dragonette divulges more details about his plans for the new desert showroom.
Tell us about your decision to close up in Los Angeles and make this move.
It wasn't without a lot of soul-searching. There were several reasons that contributed to the decision. First and foremost, my partner, Charles Tucker, and I bought a home in Palm Desert five years ago and we've been going out there every weekend. When you do that, your life shifts to that destination. We were simply coming back here to work. I used to have a movie group I went to on Fridays and the farmer's market I went to every Sunday—but I wasn't doing all the things that made life in L.A. enjoyable anymore because I was in the desert.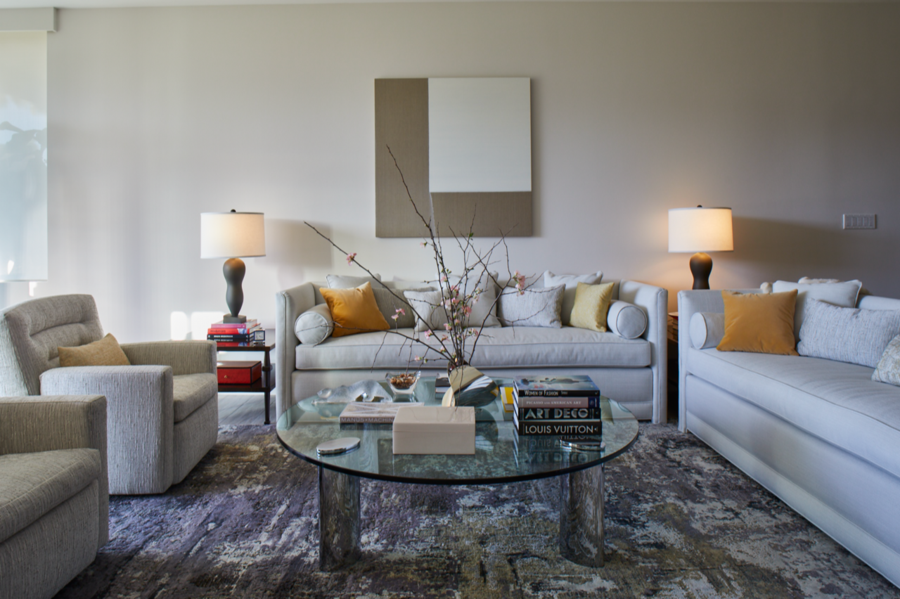 Dan Arnold, courtesy of Dragonette
You've been such an established business in this industry. What are some of your observations about how things have changed?
This is an interesting business, period. I've had a showroom on La Cienega for 23 years, but we moved here in 1991, so I've been buying and selling for 28 years, and as I've watched the business, I've seen everything change. And as much as I love the internet, it has made it increasingly difficult for people like me, who are dealing on the secondary market. There was a time pre-internet when the more knowledge I had, the better I did, and the more I could make. We're now living in an age when knowledge is at anyone's fingertips—anyone with a smartphone. The notion of being able to make the kind of profit you used to make, it's kind of nonexistent now. I'm sure there are scores and I could tell you fun stories, but they're not in the norm—they're the exception now, and they used to be the rule. Also, a lot of the sources have disappeared. I had a picker in here recently who I've bought from occasionally over 13 years. His name is Tyrone and he told me, "I used to have 50 shops I could sell stuff to, and I'm down to two or three now and you're closing."
I am very sad that I'm leaving. I feel like I was a part of building the LCDQ. Everything has changed so drastically. All roads lead to the internet now. There was a time when, if you were in a shelter publication, it meant something. And there were tangible results from being in a shelter publication, when they did a story on you. I had those things and it was very real. I remember La Cienega when the celebs all shopped here and would hang out in the showroom. I don't know what they do now—I guess they shop online. They're not out, so a lot of that fun has dissipated.
You can buy anything online now. You don't have to get out of your PJs. And Neiman Marcus used to take anything back at any time, so we're living in an age where people think everything is returnable, which doesn't suit this business well.
What did La Cienega look like when you first moved in?
I was one of the pioneers, but I wasn't the first. Pat McGann had her showroom here; she's the one who convinced me to open my showroom [here]. Blackman Cruz was on the corner, Therien was there, and a handful of other people—but that was it. La Cienega was dominated by rug stores, a lot of varying quality, but I knew it could be a beautiful boulevard. In its heyday, it was full of amazing galleries and antiques dealers and designers' offices. It's a fantastic, beautiful place and I believed in it. When I outgrew my other store a year before I moved here, I was never willing to leave La Cienega. People said, "You could go to La Brea," but I saw myself as a La Cienega dealer, so I stayed here.
There have been some recent closures on La Cienega. What do you think when you see that?
The reality is that entire group of buildings across the street are empty now. I think the important thing to look at there is, when you have businesses that have been established for so many years go under [in that way]—what does that say to the little guy? How much hope do we have? The reality of the numbers can be shocking. The savings in moving, in rent and overhead, will be considerable for me. And the demands on our time will be different, too. We may find out that July and August are slow, so we're closed for eight weeks. Maybe we can start getting back to Europe again!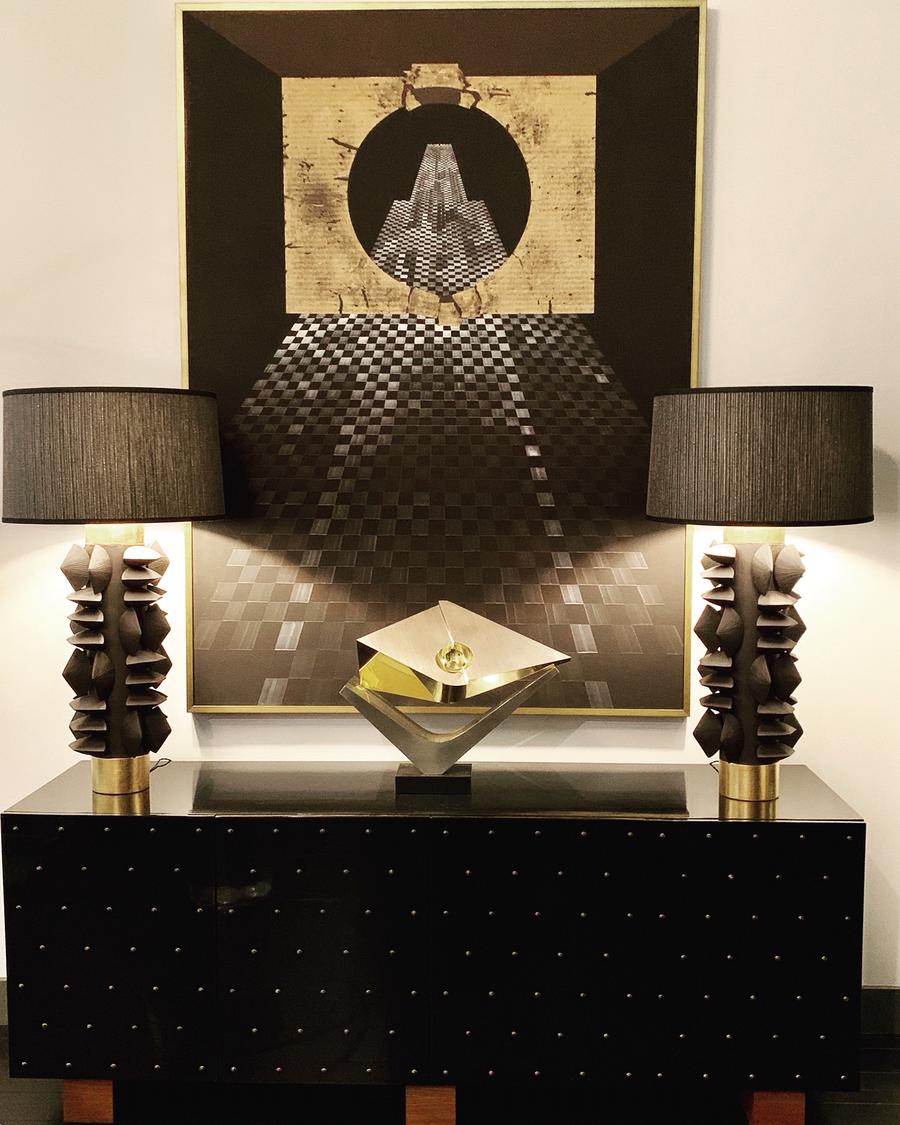 Do you think it's all gloom and doom on that street?
No—I think, like everything, it's all just evolving. I don't want to say anything negative, because my whole career was based on being on La Cienega and it's very important to me, but I wouldn't be surprised if this building [that I'm vacating] will cost over $20,000 a month. You cannot blame landlords for wanting to get as much money as they can.
Like I said, it was mostly rug stores when I first moved here. And then came the heyday of business being good. At that time, the internet was my best friend—we were on 1stdibs and we did well. Now, they've changed that business model, but they are still the OG of online shopping for vintage. People know that 1stdibs is where you go for that, so we've stayed. It's been a strategic and good decision—and we're also one of their recognized dealers. I wish it was like the old days when we used to wake up every morning to new sales, but it's not the same.
So what are your plans for the new space?
We have a new, 5,000-square-foot showroom on El Paseo in Palm Desert. (I have approximately 3,000 square feet of showroom [in L.A.] now.) It's 50 feet wide and the entire building is 100 feet long—and what's so wonderful is that there are about 2,500 or 3,000 square feet in the front of the store and it's an all-glass exposure. Floor-to-ceiling to the street and there's not a single column—it's an open plan like everyone wants. It was built in the early 1950s and it's very clean, simple architecture that I'm going to enhance. There's an awning on the front that's going to come off—we'll get back to the essence of the design. It will be really eye-catching.
Since you have roughly 2,000 more square feet, what do you envision doing different with this new space?
I went to High Point for the first time this year. The primary reason I went was to pose the question to myself, "Do we live in a bubble here? Are you unrealistic, Patrick? Is the only way to get a great dining chair to spend $2,000 or $3,000?" I've been hearing from our designer clients about the pushback they receive from their clients about the cost of pieces, and I think it's that it's the double-edged sword of the internet. There are no secrets anymore. Design used to be a profession that had a code of ethics. There was such a thing as trade pricing and there were benefits of having a designer work for you giving you entrée to things you couldn't acquire before. Now that's almost, without exception, not true. Now you can get online and find whatever you're looking for. If you want a partner's desk, you Google it and get thousands of choices. If your designer brings you a partner's desk that's $12,000 and you live in a $15 million house you still might say, "Well, I found this one online for $900. This is the one I want."
I feel strongly that you can have a spectacular, beautiful interior and it can be high/low if you know what you're doing. So that's the way we've always worked. For me, that's more fun. It's easy to go buy the most expensive thing every time, but it's hard to put a $500 lamp on a quality piece and make it look great.
What was your experience like at High Point Market?
I was told wasn't going to like much, but I wanted to answer that question myself. So I went, and 90 percent of what I saw fell into the description people were giving me—but there was 10 percent that was excellent, in my opinion. Three lines impressed the hell out of me, and at price points that are incredibly affordable. Things that make you stop and go, "Wow, that cobalt blue faceted glass framed mirror is really nice—and it is $315, but it looks like Gio Ponti, and it would been $2,500." Now that I've seen it, and seen some things that are very good, I said to myself, "If we're going to do this move, maybe now's the time to have people and their perception of what Dragonette, Ltd. offers change."
Does this mean you'll offer a different mix of product at the Palm Desert showroom?
My goal now is to include more new product alongside beautiful [antiques]. To have a Billy Haines desk with a pair of Theodore Alexander chairs might work, so that's another part of the equation. I want to do more. I want to offer more affordable things, like we used to. There is a company called Firelight Glass that makes these crystal-clear candles that you fill with clear liquid paraffin. They have a glass wick in them, they burn for hours, they don't smoke or drip—they're the perfect California candle, and they get tremendous compliments. They cost $30, so it's not like they're a big profit-maker, but those kinds of things are nice to have.
We also have to acknowledge that we're moving to a street where there's a definite tourist element. A client might only want to spend $100, but they would like to spend something; maybe they'll want to buy a pair of candles, or whatever else there happens to be [in the new shop]. My thinking and feeling is if I curate everything, whether it's old or new, through the same eye, it's all going to work and it's all going to sell.
How do you see this new market in Palm Desert?
Initially, people asked why we weren't moving [the business] to Palm Springs. One of the reasons was the commute: We had a five-block commute here in L.A. for 23 years. The main reason I started looking on El Paseo was that it's a few minutes from our house. Also, there's a real adherence to keeping things the way they used to look in Palm Springs. All the 20th-century designers—Herman Miller, Knoll, Eames, Saarinen, and Kagan even—that's the vibe there, but the majority of those things don't appeal to me on an artistic level. I made a conscious decision that I didn't want to sell things that were available, that you could buy new. That was one reason it wouldn't work in Palm Springs.
I've been rather timid about promoting the fact that we do design, but it was always the cherry on the sundae, the fun stuff. Now in the last five years, the design work we've done has kept the doors open here.
Patrick Dragonette
I looked at the analytics of the desert, and [realized] that while there are pockets of wealth within Palm Springs, there's real wealth as you go east and hit Rancho Mirage. For many people it's their primary residence, but for many others it's their second, third, fourth or fifth home. I do believe that people in La Quinta wouldn't have a problem driving to El Paseo for something.
And why did you choose El Paseo specifically?
[Running a successful shop] isn't just about when you're open. It's about your windows making money for you. We're going to be next to one of the most popular restaurants on El Paseo; four doors down is this new cannabis club—a high-end, luxurious place. And there's a nightlife: There's a place called the Libation Room that stays open until 2 a.m. There are young people who stay out and have a good time. It's also intuition. I felt it here on La Cienega. There are a lot of naysayers when it comes to El Paseo, but I think there's a renaissance [happening], and my moving there is part of it.
Tell us about the clients you expect at your new location.
We're going to have flip-flops and tank tops clients, I'm sure there will be a certain percentage of that. But I also imagine that if I can bring my overhead down, I can return to the days when we had events all the time. I'd like to host dinners there, I want to have trunk shows during the season—a jeweler from New York, a painter and a ceramist from L.A., maybe we have book signing and create an event around that. There are a lot of people I've worked with and I'm anxious to do things with them on a bigger scale.
There's also so much social life in the desert—the whole museum crowd is very social. We've hosted a few parties with the Palm Springs Art Museum, and I love to go there. It's a world-class museum in this amazing intimate [setting] where you are surrounded by crazy, amazing art. The first time I went, I couldn't believe it. They have three massive Henry Moore sculptures—are you kidding me? So, there's an opportunity to get involved there. I've got a lot of plans.
Aside from staying on 1stdibs, will you do things differently as a business owner in Palm Desert?
Part of this multi-prong plan, which is all income-contingent, is redesigning our website. Years ago it was too expensive, but I want to bring in people who know SEO and perhaps set up our site for e-commerce. I'm also going to separate the design business from the showroom. I want to do it in a cleaner way that establishes us as designers—in doing that, I think that we have better odds of picking up new clients. I've been rather timid about promoting the fact that we do design, but it was always the cherry on the sundae, the fun stuff. Now in the last five years, the design work we've done has kept the doors open here.
Sounds like you're ready for this next step, even if it's bittersweet.
I will be 60 in October and this is a big change, but how often at 60 do you get to re-envision what you're doing? I am sad to leave, but am also extremely excited by the prospects. I love the idea of being able to do something new and different—and next year I'll be able to [go to] Legends as an attendee!
Homepage photo: Courtesy of Dragonette