A little over a year ago, Brooks Morrison began The Design Social—a traveling event branded as a "boutique pop-up concept," which invites regional designers to meet with makers behind independent brands. Morrison, who was formerly vice president of product design and merchandising for leather company Moore & Giles, launched the event in Nashville and then brought it to New Orleans and Charlotte, North Carolina, with big plans to roll out the event in cities across the country. "I think there is an old-school reliance in this industry on the fact that designers are willing to travel to showrooms," says Morrison. "But these secondary markets [that the pop-up was visiting] are thriving."
Though COVID-19 forced the cancelation of The Design Social's scheduled events, it has also reinforced for Morrison the importance of bringing product to designers. "Especially with the flexibility of working from home, people are moving farther away from places like New York and Los Angeles," she says. This fall, she left her role at Moore & Giles to launch The Design Social Studio, through which she represents eight brands (including Moore & Giles) in the Southeast. "I'm serving a whole territory the best I can—and nowadays that means getting on the road, doing these events, and connecting with designers across the U.S. in new ways."
A key part of making those connections is communicating the unique stories behind the brands Morrison represents. "For a lot of the smaller boutique brands, their story can get kind of lost in a showroom setting, but the story is critical," says Morrison. Her current roster includes Alex Conroy Textiles, CW Stockwell, Lake August, Leah O'Connell, Moore & Giles, Radish Moon and Rule of Three Studio in the Southeast, as well as Casa by PC in certain parts of the territory. "Nuances are also hard to get across if you're a smaller brand and you don't have the marketing capital to get yourself out there in a way that some of the larger brands do," she adds. What does it take to convey that a pretty pattern might also be a painstakingly crafted textile with 10 screens—or to communicate the depth of custom capabilities most independent lines can offer? "You need a more personal approach to stand out."
Morrison is also wrapping up a monthlong residency in Atlanta this week, where she set up a temporary showroom at the Gregg Irby Gallery. "We've loved having her there, and it's been inspiring seeing it all come together," says gallerist Gregg Irby, who participated in two of the pre-COVID pop-ups. "Brooks has curated this collection of lines, and we've done the same with our paintings—we think about it the same way. Here, her lines aren't getting lost in a big showroom, and for us, each artist is in the spotlight. To see them together, it brings so much energy."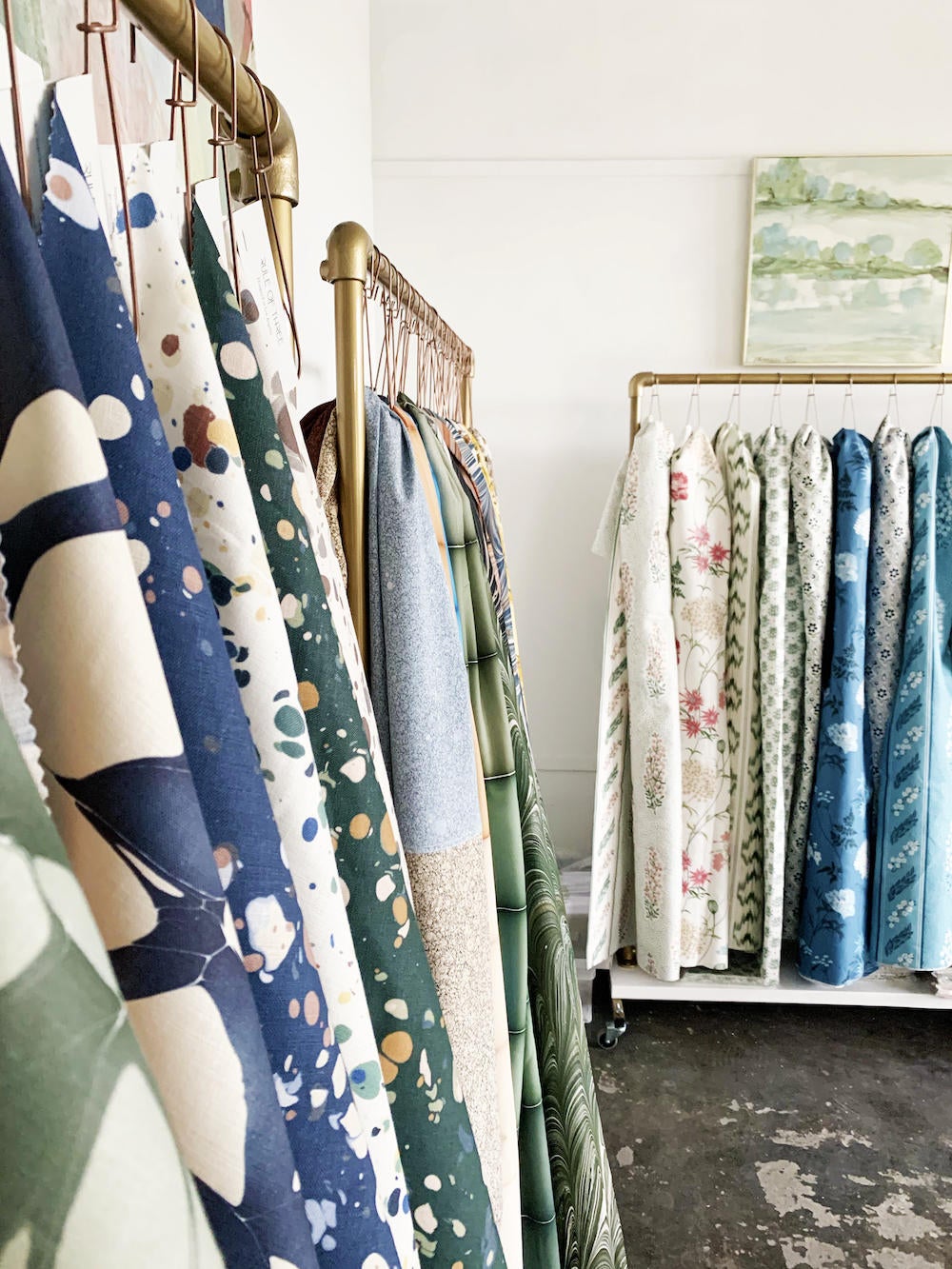 In the 3,400-square-foot industrial space, the duo were even able to host small, socially distant events. "It's very fulfilling to see something in person—we need fun collaborations like this to get people off their computers, and we can do it here in a way that's safe," says Irby. The two will team up again in April on The Design Social's first showhouse—in Irby's own new Atlanta home—which will be decorated to spotlight the pop-up's makers.
Another avenue Morrison is exploring is a roving outdoor trunk show. "We'll come to the designer and do it in their driveway or the parking lot of their office, and they can invite their designer friends in the area to come by," she says. "It's just another way to interact if they don't want to have the meeting inside and aren't comfortable traveling."
Part of the magic of the pre-pandemic pop-ups was the fact that the creative minds behind the brands were often manning their own booths. The events were an opportunity for designers in the host city to discover new product and walk away with samples, but also a chance to meet the designers behind each line—a personal connection that often made the products even more compelling. For now, with many exhibitors unable to attend, some of that magic is on hold. As she reassessed what would be possible (and safe) in this new landscape, Morrison has reimagined the pop-up concept for the duration of the pandemic. In the coming weeks and months, she plans to host smaller, more intimate regional events in Mount Pleasant, South Carolina, and Birmingham, Alabama, with fewer exhibiting brands (and a focus on local exhibitors), as well as fewer attendees.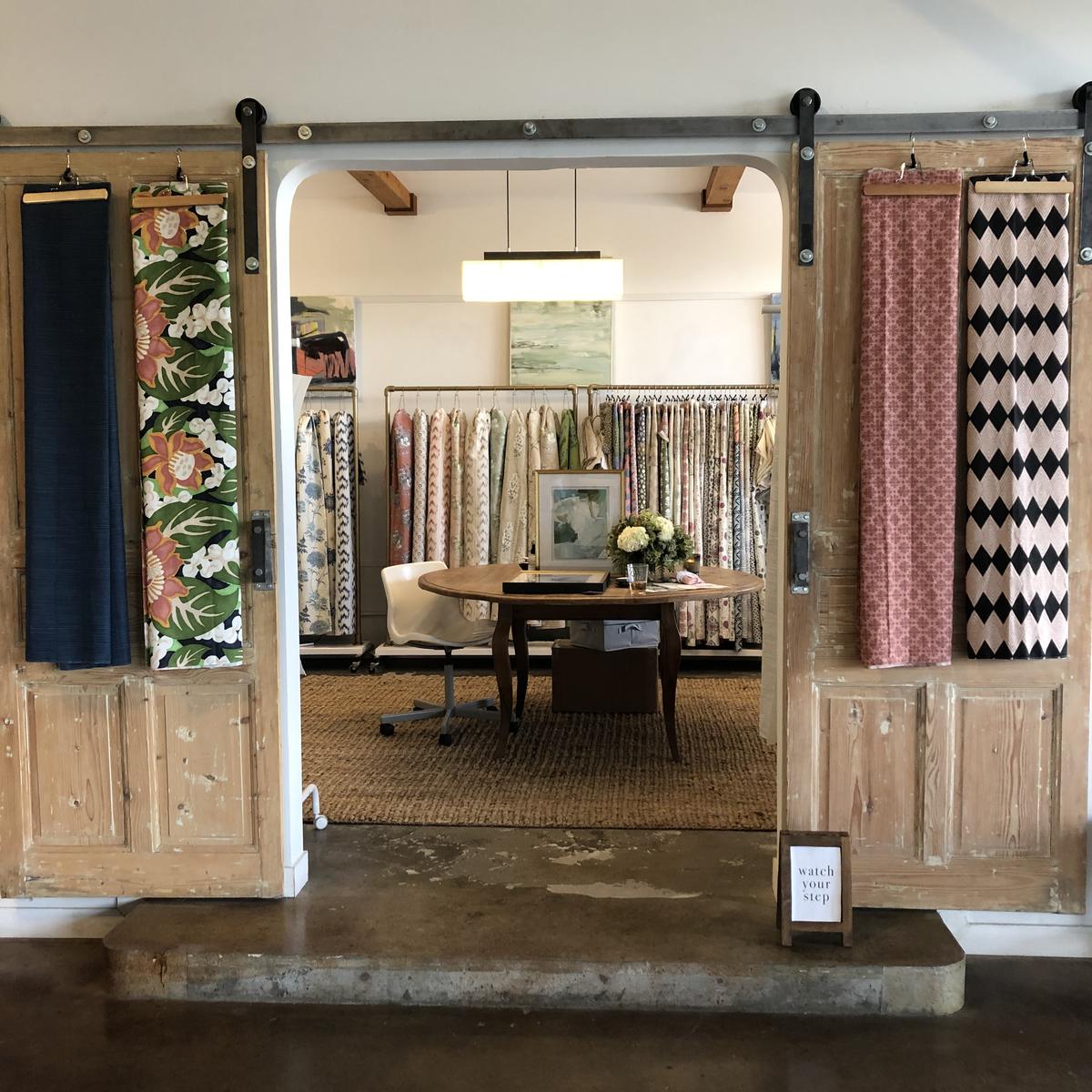 Courtesy of The Design Social Studio
While she knows full-scale pop-ups will come back slowly based on individual state travel restrictions and event guidelines, Morrison has spring and summer 2021 dates on hold in Charleston, South Carolina; Santa Barbara, California; Providence, Rhode Island; and Atlanta—and more than 20 brands have signed on to exhibit as well.
"The inspiration for the pop-ups and for representing these companies was really to be able to effectively represent them, tell their story, and be almost more like a collaborator and business partner than just representation in a traditional sense," she says. That spirit of collaboration is alive between the exhibiting brands too. "The more that they can collaborate and come together, the better. At the pop-ups, they were bouncing business ideas, production questions, publicity and marketing questions off one another—it's not a competitive culture, it's more like a family. They are thriving by brainstorming where they're having issues, and sharing their successes."
The Design Social Studio Residency at the Gregg Irby Gallery in Atlanta is open daily from 10 a.m. to 6 p.m. until Monday, October 19. The Southern Design Social will take place on Wednesday, October 28, at the Post House Inn in Mount Pleasant, South Carolina. For more information and to RSVP, click here.