Brooks Morrison was trying to develop Moore & Giles's presence in the Southeast when she realized just how underserved that market was. "I was spending time in Nashville and Charleston and other cities and meeting with designers," says Morrison, vice president of product design and merchandising for the Forest, Virginia–based natural leather company. "They aren't willing to drive six or more hours to the nearest design center, but they're still in need of the same resources as designers in bigger cities—that chance to learn about new vendors and new products. I thought there had to be a better way to serve them."
With that in mind, Morrison started brainstorming with industry friends and came up with The Design Social—an event branded as a "boutique pop-up concept," which invites regional designers to meet with makers who may fly under the radar of some design professionals.
Akin to a market day at a design center, the first pop-up was held in Nashville in September and the second will take place in New Orleans on November 20. Representatives from Moore & Giles, McKinnon & Harris, Urban Electric, Peter Dunham Textiles, Marika Meyer Textiles, Rule of Three Studio, Cristina Buckley, Alex Conroy Textiles, Ferrick Mason, CW Stockwell, J. Samuel Textiles, Woven, and Krane Home are all on board to participate. The upcoming Design Social will also feature panel discussions, one on the creative process and craft in the digital age sponsored by Business of Home and moderated by editor in chief Kaitlin Petersen, the other sponsored by Veranda and featuring a conversation with the magazine's deputy editor, Ellen McGauley, and Peter Dunham.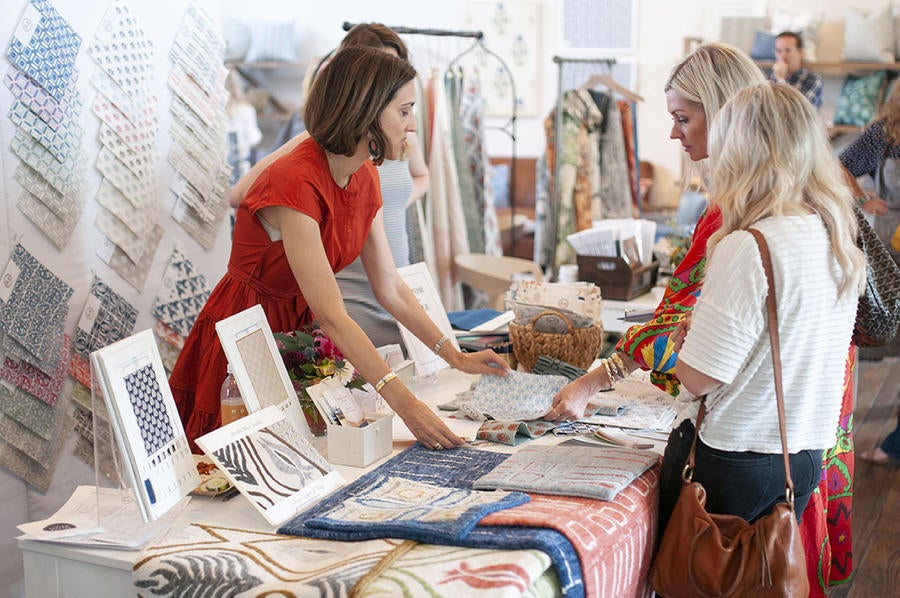 Courtesy of The Design Social
"We want there to be a feeling of discovery for the designers that attend this event," Morrison tells BOH. "It's been so positive to introduce makers to other makers and to let smaller brands connect with larger ones. It's a very authentic, warm environment."
She is trying to keep the gatherings small and intimate, inviting only around 100 designers. "The Design Social brings sourcing to a community level," says Chad Graci, a New Orleans–based designer planning to attend this month's event. "When I was living and working in New York, I saw and interacted with other designers more than I do here. I like that this event will do the same by bringing the creatives in the city together."
For the time being, Morrison is focusing on Southern markets, with Charlotte, Birmingham and Charleston on the list for 2020. Eventually, she hopes to broaden her horizons and bring The Design Social to cities like Minneapolis and Seattle, design-minded hubs that are often overlooked. "We're trying to look at how many designers are in a certain region and how far they are from traditional design centers," she says. "Emerging markets present a lot of opportunities, because you don't have 10 brands knocking on designers' doors trying to do a presentation for them. [Designers are] grateful for this effort and that we actually have the time to talk to them."
Ultimately, Morrison sees The Design Social as a response to the changing times. Designers are changing how they source product and, on top of that, large swaths of affluent younger clients are moving to secondary markets instead of staying in larger cities. "Designers want a lot more flexibility now," she says. "And we have to start having these honest conversations about how we move into this new way of sourcing product. I want to explore how we can all work together through this transition."

For more information, follow The Design Social on Instagram.
Homepage photo: The Nashville edition of The Design Social in September; courtesy of The Design Social