Dutch-born artist Willem de Kooning's "Woman-Ochre" has been returned to the University of Arizona Museum of Art (UAMA), after having been stolen from the museum in 1985.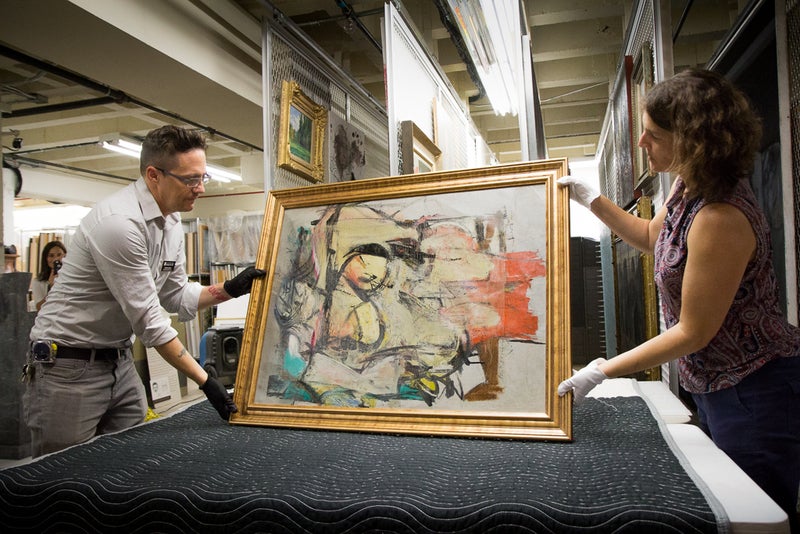 On the morning of November 29, 1985, a man and woman followed a UAMA staff member into the museum. In a heist lasting no more than 15 minutes, the woman distracted the security guard, while the man went upstairs, cut "Woman-Ochre" from its frame using a sharp blade and then rushed out of the museum.
"The thieves actually committed two crimes that day," said University of Arizona senior vice president for research Kimberly Andrews Espy, whose office oversees the art museum. "First, they stole an important signature painting from the University's museum collection. They also stole more than 30 years of access from the public and scholars across the world, depriving them of the opportunity to appreciate, learn from and be inspired by a significant artist."
A pioneer of the abstract expressionism movement, de Kooning swam in the same creative pool as Jackson Pollock and Mark Rothko. His "Women" series, which originated in 1950, would go on to be considered an artistic revolution to the way society imagined the human figure. In 2006, de Kooning's "Woman 3" sold for $137.5 million.
Fast-forward to this summer, when David Van Auker, owner of Manzanita Ridge Furniture & Antiques in Silver City, New Mexico, purchased a painting at an estate sale. After hanging the newly acquired piece in his shop, Van Auker began receiving comments about the painting's resemblance to the work of de Kooning. The shop owner's research into the artist surfaced articles of the missing "Woman-Ochre," which he realized was identical to the one on display in his store.
Van Auker immediately called the museum to have the piece safely returned. UAMA staff traveled to Silver City to retrieve the painting.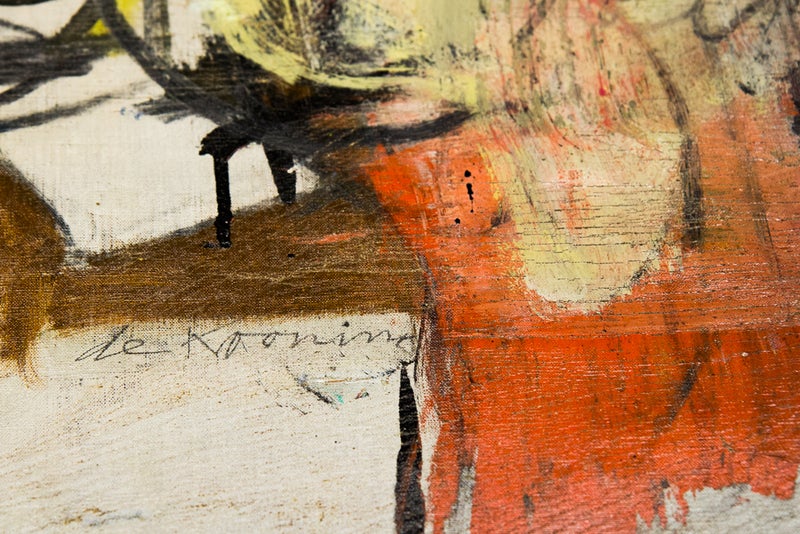 "This is a monumental moment for the museum," said Meg Hagyard, director of UAMA. "We are thrilled at the possibility that this work could once again be on exhibit in our galleries. This is an especially poignant moment, as 'Woman-Ochre' was donated by Edward Joseph Gallagher Jr. as part of one of the largest gifts in the museum's history. Having both the collection and that gift complete once again is something that we've always hoped for."
After a two-hour authentication process, in which time Arizona State Museum conservator and professor Nancy Odegaard examined the painting alongside the remnants of the original, the returned artwork was confirmed as the famous de Kooning original. Odegaard noted that several characteristics were in line with the recorded history of "Woman-Ochre," including documented repairs and aligning cut lines and brush strokes between the canvas and its framed remnants.
"This was one of the most important moments in my life," Van Auker said. "I'm so grateful that I got to be a part of it. I'm forever bound to that painting, and to the U of A."
In 1985, University of Arizona public information officer Brian Seastone was the lead investigator on the stolen de Kooning case. Now the chief of the UA Police Department, Seastone can find some solace in the returned artwork. "I was always very optimistic that one day we would find the painting, but it's hard to describe the emotion of it coming home," he said. "There's this sense of relief and happiness. It's a sense of calm. It's back, it's home, it's where it should be. We know the art is worth an awful lot of money, but the story behind it is priceless."