The digital sofa startup Burrow, which debuted this past July, has closed on $4.3 million in seed funding. The modular sofa company's seed round was led by Red & Blue Ventures, with Interplay Ventures and angel investors including Twitch.tv founder Justin Kan, Y Combinator CEO Michael Seibel and retail executive Ken Pilot.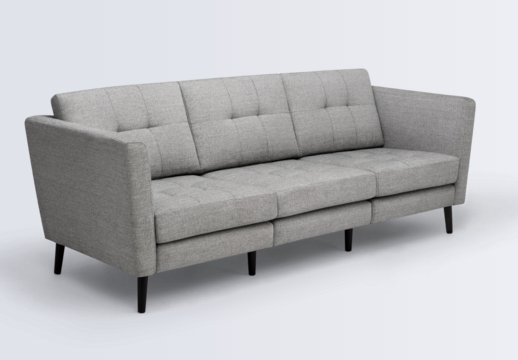 The brand says that the new funds will be used to scale its marketing channels and to further support the business's expansion. "We started out with the goal of simplifying one of the biggest headaches that most consumers experience—purchasing and moving a sofa," said Stephen Kuhl, co-founder of Burrow. "Since then, we've delivered the most luxurious yet affordable sofa on the market and also expanded our product line. We have big plans to continue reshaping the way people think about their furniture, and ultimately their home, one living room at a time."
Kuhl and co-founder Kabeer Chopra started Burrow while studying for their MBAs at The Wharton School at the University of Pennsylvania. After a pre-order campaign at Y Combinator in summer 2016, the company launched in April of this year and has experienced 20 percent month-over-month growth ever since. It recently moved its manufacturing to Mississippi from Mexico City, and launched its flat-pack chaise sectional and ottoman in November.
"Burrow is the most exciting consumer products company out of Wharton since Warby Parker," said Brett Topche, managing director at Red & Blue Ventures. "The furniture industry largely lacks innovation, and Burrow is turning the way consumers think of buying furniture on its head."
"Burrow has reinvented the sofa and fundamentally changed the purchase experience," said Pilot, a veteran retail executive with C-level operating experience at Gap, J.Crew, Ralph Lauren, and ABC Home. "They have successfully addressed 'the last mile' and the in-home customer experience by reducing the friction and anxiety associated with delivery. I am excited to be part of the journey."