In our series, What I Love, we're asking designers to build us a mood board of what's inspiring them right now.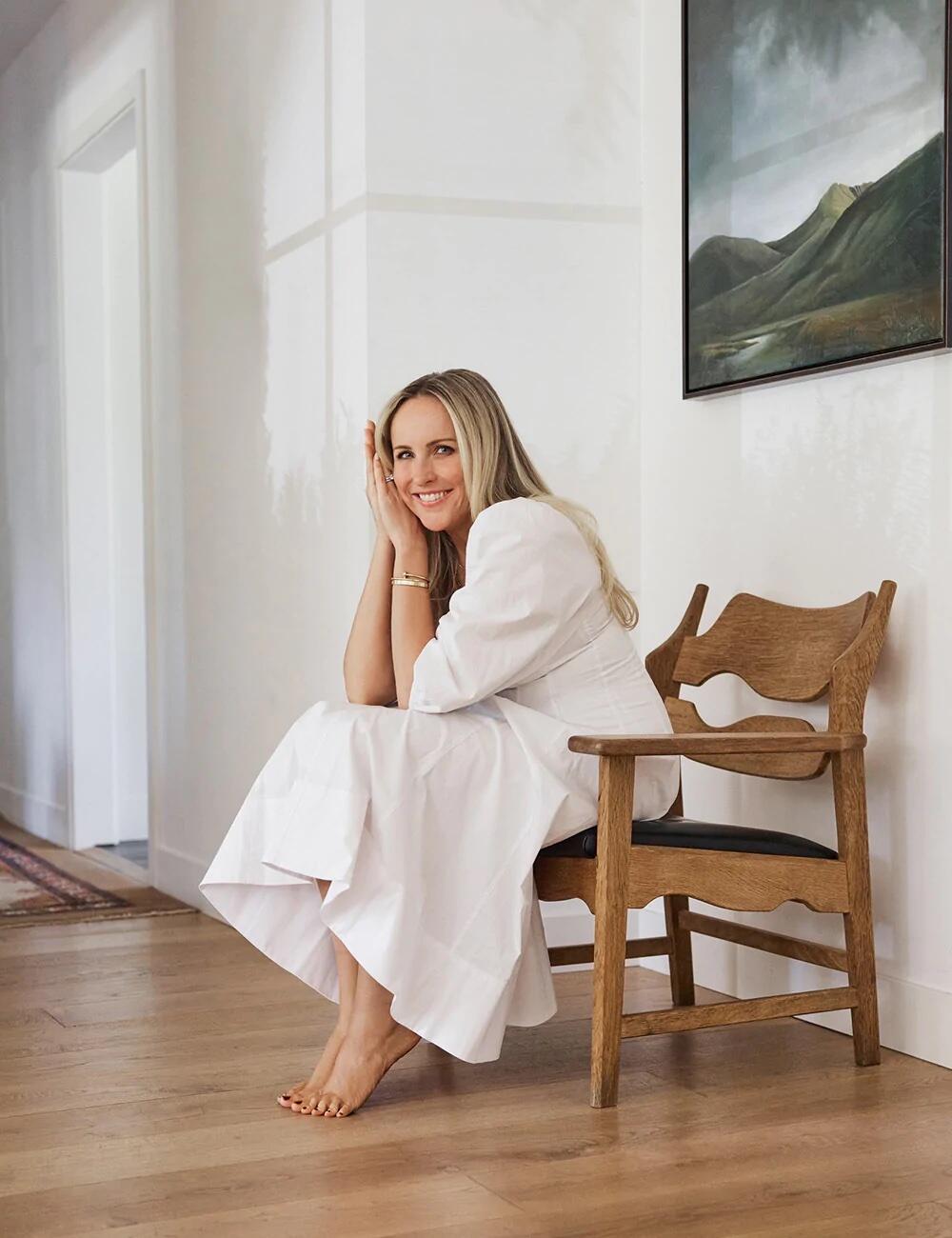 It may be summer, but Sarah Solis still has springtime on the brain. "After a rainy season, especially at our studio in Malibu, we are surrounded by rolling hills and new life," the Malibu, California–based designer tells Business of Home. "The birds have begun to sing and the mountains are blanketed with luscious vegetation."
For her current flat lay, Solis relied on a mix of tactile textures, tonal layers and understated hues to evoke the "light-hearted and inviting" spirit of late spring. "Neutral colors, warm tones and contrasting elements spark a breath of fresh air—the kind of feeling you get when the flowers bloom."
A veritable range of organic materials in earthy shades ultimately draws the scheme together. "The juxtaposing accents—such as hard, reclaimed wood surfaces and soft, cashmere textiles—ensure there is something exciting wherever you look," she says.
Here, Solis breaks down the details—from subtly speckled rugs to violet-hued marble.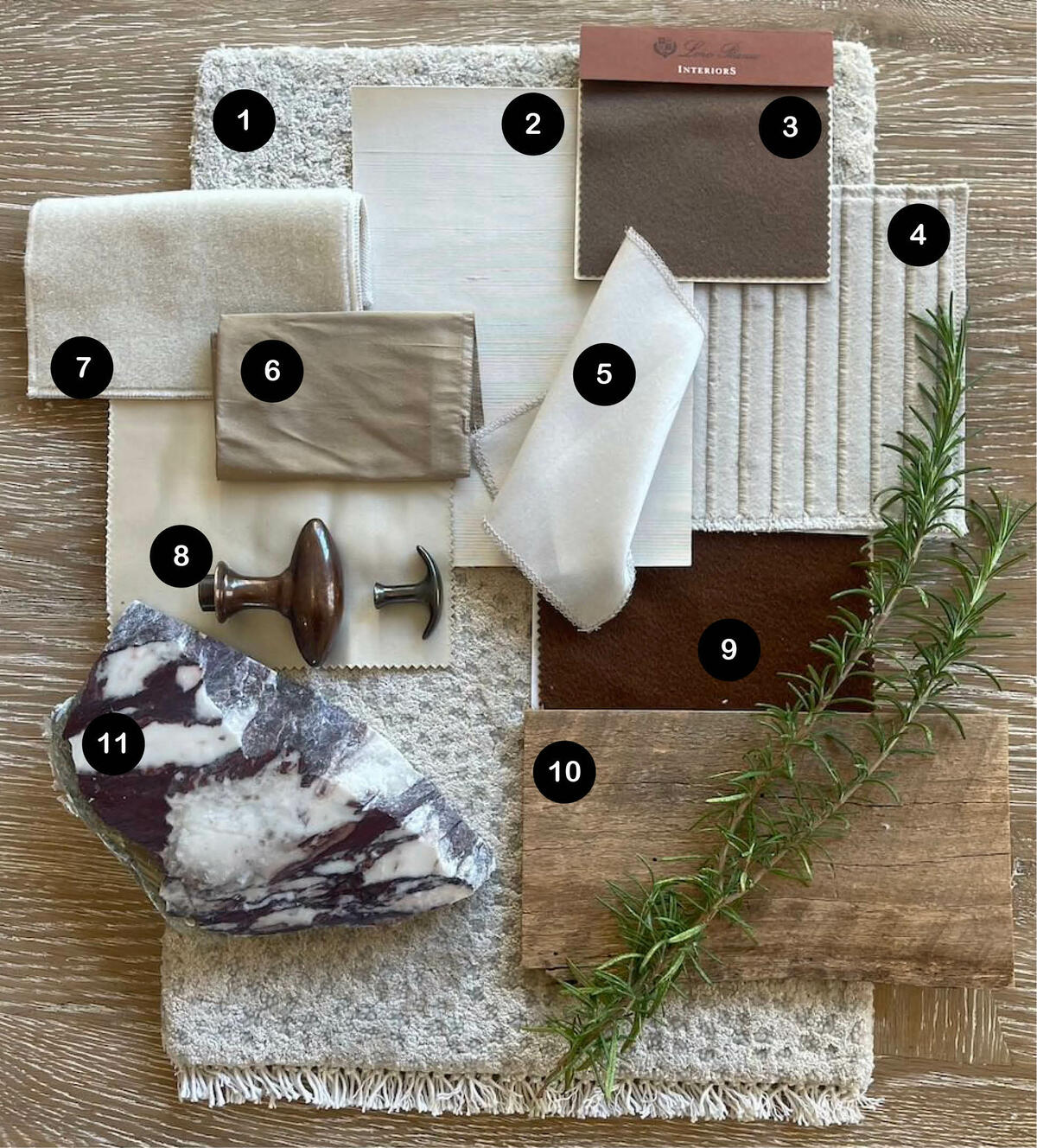 Courtesy of Sarah Solis Design Studio
1. SISTINE RUG BY ARMADILLO
"The subtle speckle and tonal contrast of this rug has the ability to complement any space without overpowering other elements that need a spotlight."
2. SLUB SILK WALLCOVERING IN SABBIA 17 BY DE GOURNAY
"This wallcovering introduces a subtle opulence by allowing its main component—silk—to be as it would in nature. The silk's opaque sheen is enough to speak for itself and can live on the walls of any interior."
3. ALTAI MELANGE DARK SAMPRAS IN A3668RS - 006 by Loro Piana Interiors
"This wool-and-cashmere blend is the definition of understated luxury, with the material as soft to the eye as it is to the touch."
4. CORDED VELVET BY JIM THOMPSON FABRICS
"Simple in nature, corded velvet has a way of making a statement in any space. The cream color of this particular selection incorporates a warm texture and acts as a neutral anchor that creates play in a space."
5. VINTAGE SHEER SILK
"This sheer silk's color and composition has a cinematic feel, bringing a space to life."
6. SILK SATIN FABRIC IN MADEMOISELLE BY DEDAR MILANO
"A soft yet full hand, this silk textile has the ability to both neutralize and complement its surrounding elements. It is a staple accent in any space."
7. HAUTE MOHAIR FABRIC IN BONE BY GLANT
"The rich dimension of mohair [creates] softness and warmth, allowing any space to feel like home."
8. CUSTOM KNOB BY VAN CRONENBURG
"It's all in the details with these hardware selections. They are minimal but mighty, as they introduce a metal [component] into the mood board."
9. ROYAL TROON CASHMERE IN DARK TAN DOESKIN BY HOLLAND & SHERRY
"Not only is this 100 percent cashmere fabric incredibly luxurious to the touch, but this color introduces perspective and depth into a space that is tonal and composed."
10. RECLAIMED ACCENT WALL CLADDING SAMPLE IN BROWN BEAR BY ROSS ALAN LUMBER
"The roughness and wabi-sabi feel of this wood has a familiar, worn-in texture that feels like it's been around for a long time."
11. CALACATTA VIOLA EXTRA SL1968 STONE SAMPLE BY STONELAND USA
"Marble never gets old. This particular Calacatta Viola selection invites a new color palette and wavelength of possibilities, as it can be used in anything from a countertop or an accent table to a fireplace mantle. The application options are endless!"
Homepage photo: A flat lay by Sarah Solis | Courtesy of Sarah Solis Design Studio