It's officially 2022, and several design brands have decided to ring in the new year in style with a slate of store and showroom debuts. In our monthly roundup, BOH has gathered all the expansions and openings to have on your radar.
Showroom spotlight: In Paris, Samuel & Sons launches its second European showroom
When Samuel & Sons opened its first showroom across the pond seven years ago with a location in London, it allowed the New York–based trimmings brand to introduce its offerings to an entirely new clientele for the first time. Now, as the company reaches its 20th anniversary in 2022, it's preparing to continue that expansion into continental Europe with the opening of its sixth showroom, located on the Right Bank in Paris. The space on Rue du Mail was selected for its central spot in the city's textile district, according to Samuel & Sons president Michael Cohen. "We feel that this street is essentially the heart of the Paris design center," he says.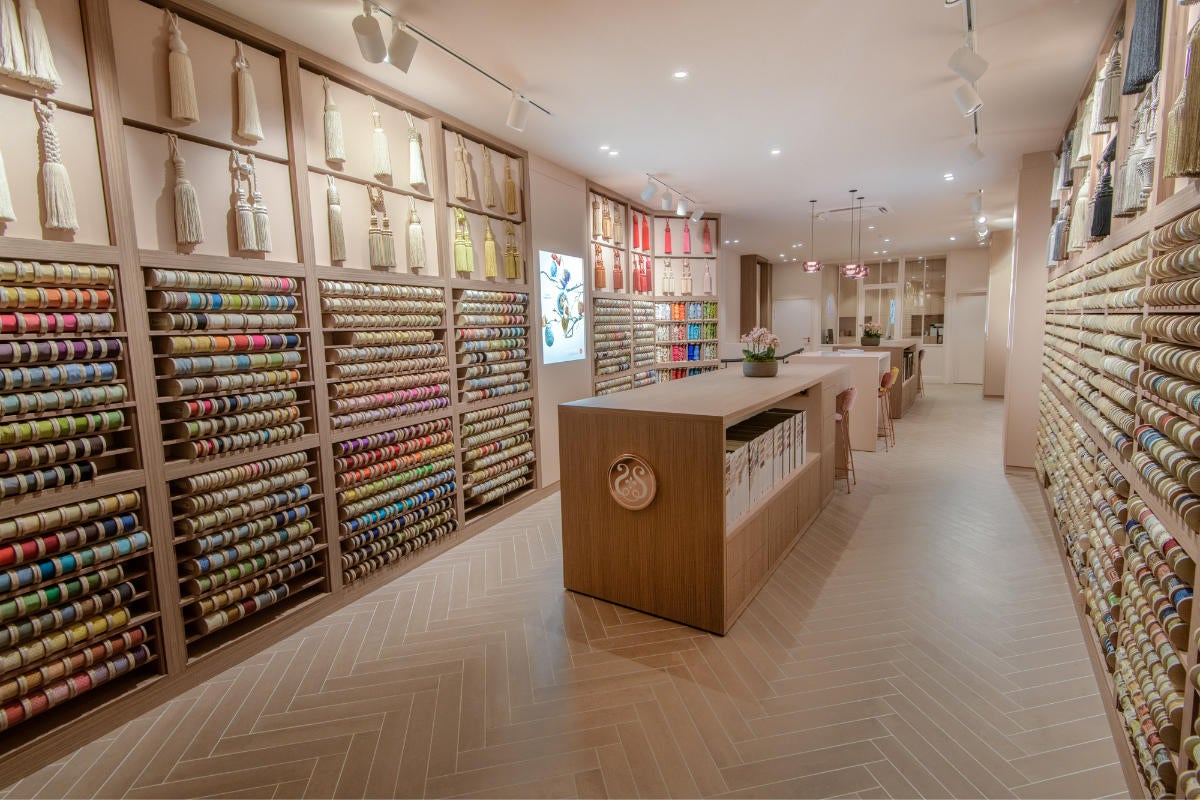 Courtesy of Samuel & Sons
The brand worked with a local French architect to gut the space and design the interior from scratch. The result is an elegant, two-story, 2,000-square-foot showroom decked in gray herringbone tile flooring and blush-toned oak cabinetry for a warm, inviting feel. The showroom offers 10,000 styles spread across two floors: The first level focuses on contemporary offerings like braids and borders, while the second features more traditional passementerie. Additionally, the brand has included a feature not found in any of its other showrooms around the world: its largest selection of double-weld trims—a style unique to the French market—available for purchase in the showroom or immediate local delivery. Cohen hopes the new showroom, complete with seating areas and a large meeting space, will introduce Samuel & Sons offerings to a new swath of clients while paying respect to the design heritage of its new domain.
"We're opening in France, which, to me, is remarkable because it's the capital of passementerie in the world. It's the birthplace," says Cohen. "We're really entering that market humbly, but I think that we bring a fresh new perspective and large breadth, and we're excited about the opportunity."
Colorado
Arhaus has opened its latest Arhaus Studio location—a smaller, service-focused store footprint compared to the brand's traditional retail location—in downtown Aspen's Muse Building. Created in the same vein as the brand's recent openings in Burlingame, California, and Miramar Beach, Florida, the new 3,114-square-foot studio features a wide selection of home furnishings, 3D room-planning technology and a team of in-house designers to assist customers in the design process.
Holland & Sherry has debuted a showroom in the Denver Design District, constructed as a design atelier for the brand's clientele. Located in the West Building, the new space features comprehensive displays of Holland & Sherry's interior textiles, custom embroidery, rugs, wallcoverings, trim, leather, hardware and furniture.
Indiana
Interior design and renovation firm Everything Home has moved into a 2,600-square-foot showroom and studio space on the first floor of the Indiana Design Center. The new location will offer a selection of curated home furnishings and decor, along with providing clients the opportunity to meet the EH team to discuss their process and services.
New York
Tapestry and rug expert Didier Marien—who operates galleries in Paris, Brussels and New York—has opened a new flagship at 232 East 59th Street in Manhattan. The 8,000-square-foot space showcases an array of rugs and tapestries from artists such as Sonia Delaunay, Alexander Calder and Wassily Kandinsky, along with a selection of items from other decorative categories, including a handmade furniture collection created by Jean-Yves Lanvin (the great-grandson of couturier Jeanne Lanvin) and Marien himself. The new gallery also features sculpture, contemporary paintings and original rug designs created in collaborations with Marien and a select group of artists.
E-commerce home decor shop A.Mano Brooklyn has opened its debut brick-and-mortar space in Prospect Heights, showcasing the work of local artists and makers with a selection of handmade home decor items, tabletop pieces, furniture, jewelry, apothecary projects, vintage knickknacks, stationery, and garden products. The 1,873-square-foot space features a community space and coffee shop alongside a product selection that includes A.Mano's collection of vintage furniture pieces sourced primarily from auctions and refurbished in workshops around Brooklyn, along with the work of designers such as Justin Rothshank, Adams Puryear and Stephanie DeArmond.
Homepage image: The new Samuel & Sons showroom in Paris | Courtesy of Samuel & Sons