The season of coziness has arrived, and RH is prepared: This week saw the retailer's digital drop of its new Ski House collection, featuring winter-ready indoor and outdoor furniture and decorative accessories. The new line, clocking in at 124 pages in its online edition—the print version is due to arrive in mailboxes any day now—is the latest brand extension for RH as it expands on its core designs in a move to broaden its appeal.
In May, the company debuted Beach House, a summer-oriented collection that also mixed furniture with decorative accessories and home decor items. Like Beach House, Ski House features mostly brand-new product, with a sprinkling of repurposed items from the existing RH line.
The collection's offerings revolve around some of the more glamorous locales of the winter resort crowd: Aspen, Taos, Sun Valley, Cortina, Tahoe, Courchevel (that's in the French Alps, for the winter-challenged) and Vail. Each gets its own assortment of upholstery, case pieces, outdoor furniture and decorative accessories.
While no one piece serves as a signature for Ski House, the Yeti Sheepskin collection, part of Aspen, comes as close as anything. Offered in a variety of pieces, from a sofa to a sectional and from dining room chairs to an upholstered bed, Yeti uses New Zealand sheepskin in four different colors. (The sofa, in four sizes, starts at $6,795, or $5,096 if you're part of RH's membership program, which affords customers a site-wide 25 percent discount for a $100 annual fee.) You can also get a throw for sitting by the firepit—though in RH parlance, it's called a pelt.
Much of the case goods collection is made of reclaimed woods, including oak in multiple finishes and English beam. A reclaimed rustic oak Parsons dining table is offered in seven sizes and shapes, starting at $3,695 ($2,771 for members). Leathers are used extensively in seating, along with other materials, including concrete, stone and burnished steel.
As RH is increasingly doing in its other lines, individual designers from the U.S. and Europe are highlighted throughout the Ski House collection and catalog. They include Theo Eichholtz, Timothy Oulton, Alan Price, Nicholas and Harrison Condos, Jan te Lintelo, Jefferson Mack and Luay Al-Rawi. Some are familiar from elsewhere in the RH universe, others seem to be first-timers.
As with Beach House, Ski House resides primarily online and in print, though some items will be shown in existing RH retail galleries. The company has not indicated any plans for dedicated stores for either of these new programs.
When RH president Gary Friedman first talked about these new offspring last year, it was left unsaid that the retailer needed to show it could move beyond its signature look, expanding its designs to attract more customers. RH Modern was the first effort to do so, followed by Beach and Ski. Friedman also said RH Color—which could represent the most radical departure from the company's monochromatic tones—was in the works, but he has yet to announce a debut date.
In the meantime, one can snuggle up in your new Ski House … or at least with your new Ski House catalog.
____________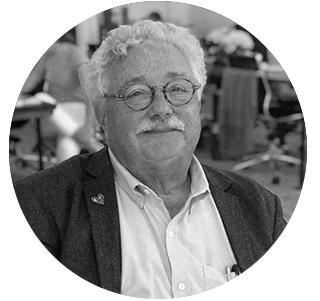 Warren Shoulberg is the former editor in chief for several leading B2B publications. He has been a guest lecturer at the Columbia University Graduate School of Business; received honors from the International Furnishings and Design Association and the Fashion Institute of Technology; and been cited by The Wall Street Journal, The New York Times, The Washington Post, CNN and other media as a leading industry expert. He was also a guest on the BOH podcast, and his Retail Watch columns offer deep industry insights on major markets and product categories.