This week in design, recycled denim is the latest alternative material in the spotlight as one maker found a way to convert old jeans into furniture. Whatever happens next, stay in the know with our weekly roundup of headlines, launches, events, recommended reading and more.
Business News
A rising number of individual investors are purchasing out-of-state homes to rent out, The Wall Street Journal reports. Referred to as "laptop landlords," the growing group is primarily composed of well-paid professionals who see the process as an investment, similar to stocks or bonds, and who are enabled by new technologies and online platforms like Roofstock and Appreciate that simplify the homebuying process. While data has revealed that home purchases by investors of all kinds reached record levels during the pandemic—climbing to a high of 28 percent of all single-family home sales in February 2022, up from 17 percent year over year, according to housing data firm CoreLogic—the niche of out-of-state individual investors has also grown, with members of that group purchasing 2.1 percent of all American homes sold in the second quarter of 2022, up from 1.5 percent year over year.
CSC Generation—the private equity owner of companies like One Kings Lane, Z Gallerie and DirectBuy—publicly outlined a bid to purchase Dubuque, Iowa–based furniture manufacturer Flexsteel Industries above the company's recent share price, Home News Now reports. The move has had some back and forth: CSC Generation says Flexsteel did not respond to an initial bid, though Flexsteel denies it. In a letter to Flexsteel's board, CSC CEO and chairman Justin Yoshimura wrote that the company needed a "transformation" that could only be successful with private ownership and the resources provided by a digitally native entity like CSC. CSC offered $20.80 per share in an all-cash proposal, which was a premium of 22 percent over Flexsteel's $17.10 per share closing price as of this past Tuesday—a total purchase price of roughly $115.6 million. Flexsteel issued a statement saying it planned to evaluate the offer.
The National Kitchen & Bath Association released its market index report for the second quarter of 2022, revealing that although demand is steady now, industry professionals see early signs that the market is cooling and predict a slowdown in growth through the rest of the year. According to the report, 59 percent of design firms and 82 percent of building and construction businesses have experienced cancellations or postponements of projects. While kitchen and bath sales for the year are still expected to increase by 9.4 percent, that projection has declined from the 15.1 percent predicted three months ago—though, on the bright side, that waning demand has eased inventory challenges for manufacturers, 36 percent of whom have reported an increase in stock.
One year after completing a $100 million Series B funding round, real estate tech startup Reali announced that it is shutting down and will be laying off most of its 140-person workforce by September 9, TechCrunch reports. According to a press release issued by co-founder and chairman Amit Haller, the decision was a result of "challenging real estate and financial market conditions and an unfavorable capital-raising environment." The company was founded by Haller and Ami Avrahami in 2016 with the goal of allowing customers to buy and sell their homes in one coordinated transaction, and went on to raise more than $290 million in debt and equity funding. The company joins the ranks of other online real estate companies that have also fallen on hard times in recent months, including Homeward, which recently laid off 20 percent of its workforce, and Better, which has let go of thousands of employees this year.
Furniture manufacturer Semi Exact, which specializes in custom "ready-to-make" furnishings, received a $600,000 investment from StartUpNV, a nonprofit that provides startups with early stage capital. According to Furniture Today, the company's ready-to-make category allows customers to purchase components of furniture items (like furniture bases, table legs and shelf brackets) that can then be assembled based on templates available on the company's website—plus, customers are encouraged to "cut, sand, stain, add or subtract" to customize their items. With the new funding, Semi Exact plans to invest further in its product development process, which, the company says, can bring new concepts to market in less than 45 days, while major manufacturers typically take six months or more.
Online rental marketplace Zumper completed a $30 million Series D1 funding round led by venture capital firm Kleiner Perkins, TechCrunch reports. Though the company has typically connected users with landlords for long-term leases, in 2021, it saw a larger subset of renters shift toward more flexible options, such as month-to-month or hybrid leases (typically, a one- to six-month contract). With the new capital, Zumper plans to undergo a "rebirth," CEO and co-founder Anthemos Georgiades told TechCrunch, by retooling its platform to better serve customers in search of short-term leases.
Launches & Collaborations
Williams-Sonoma Inc. CEO Laura Alber announced last week that the company's West Elm brand is partnering with video game company Roblox to roll out a line of digital furniture products later this year, Home Textiles Today reports. Alber made the announcement during an appearance on CNBC's Mad Money, during which she stated that sales of the digital products would generate revenue for the company, making it the latest brand to collaborate with Roblox in addition to names like Nike and Gucci.
Crate & Kids partnered with textile designer John Robshaw for a new collaboration inspired by the colors and patterns he has observed on his global travels. The line of kids and baby products includes pillows, bedding, quilts and more, and is designed to spark the imagination with images of camels and elephants rendered in colorful jewel tones and soft pastels.
Mitchell Gold + Bob Williams teamed up with designer Brigette Romanek on new creations for existing collections. The expanded product assortment draws upon influences from fashion, architecture and art deco aesthetics with the introduction of a swivel chair and small sofa for the Lucy Collection, and leans into lush curves and clean lines for the LA Collection with the addition of a new high-backed bed.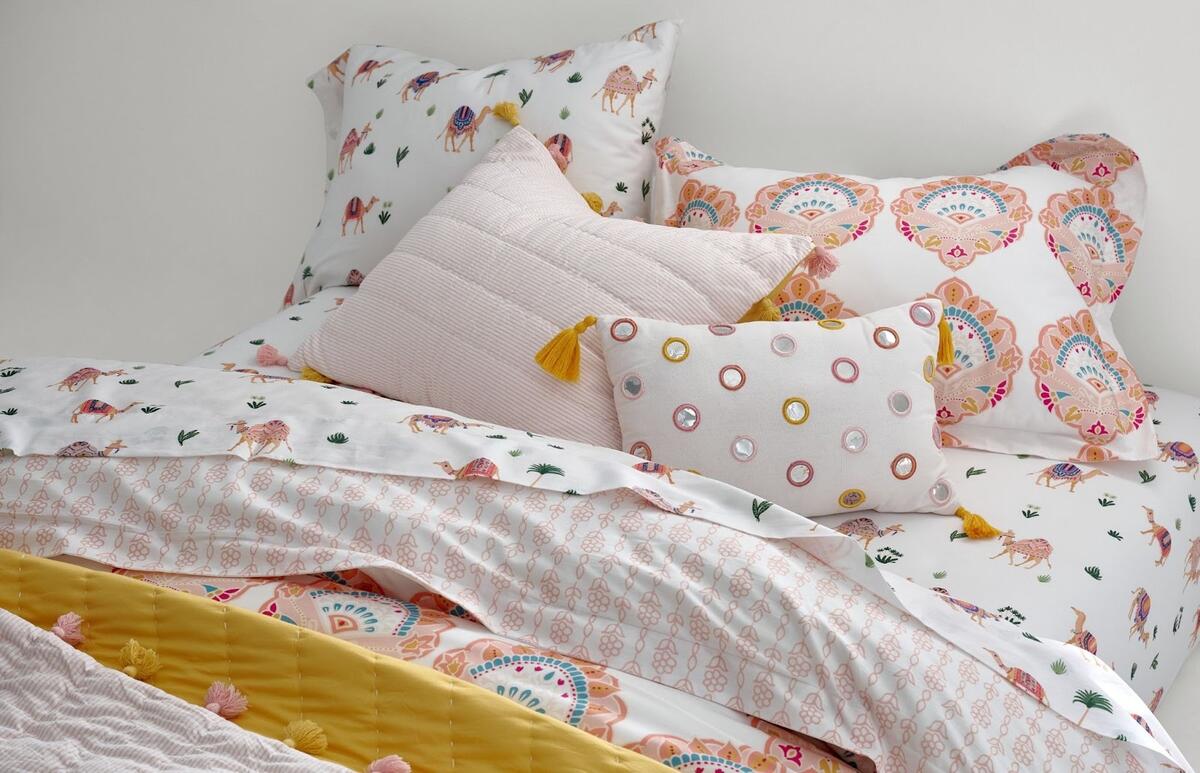 Showhouses
The debut of the Flower magazine designer showhouse in Atlanta was postponed from September 15 to November 3 due to unforeseen construction delays and will now be open to the public for tours from November 4 through November 27.
Recommended Reading
With the debut of Guesthouse, RH's first lodging concept, CEO and chairman Gary Friedman wants to do luxury hospitality differently—swapping Pringles and M&M'S for fresh baguettes, cured meats and crudités; communal gyms for an array of stainless steel and walnut workout equipment to be used privately; and frantic lobbies for a single attendant posted at a discreet entrance. For The Wall Street Journal, Howie Kahn sits down with Friedman to discuss his vision for Guesthouse and provides a closer look at how the business leader's scrappy ascent to executive status set the tone for his current approach to shaking up the home and hospitality industries.
When Ace Hotel made its debut more than a decade ago, it set a precedent for hotels catering toward millennials with an atmosphere drawn from the alternative culture of the time. In the years since, various corporate hotel chains have slapped the same (now-dated) style on their own millennial-branded facilities, marked by a series of similar aesthetic choices that include "funky" decor, wilderness-themed motifs and decorative books, among other things. For The Melt newsletter, Jason Diamond explores the phenomenon and laments the lack of soulful design in millennial-focused hotels today.
Newly renovated homes on the market today tend to feature aesthetic details characteristic of the 2020s—think: minimalist open shelving, glass mosaic bathroom tiles, rustic barn doors and above all, gray laminate flooring. As Amanda Mull writes for The Atlantic, the design choices are commonly selected by a growing class of home flippers (a quarter of single-family-home sales went to landlords, Airbnb hosts and other investors in 2021) who are likely out for profit above actual home improvement. "They've chosen these things just as much for what they aren't as for what they are—inoffensive, inexpensive, innocuous," writes Mull. "These houses aren't necessarily designed to be lived in. They're designed to go into contract."
In Memoriam
San Francisco photographer Fred Lyon passed away from lung cancer at the age of 97 last week. Best known for documenting the shifting landscape of his home city across more than seven decades, Lyon began studying his craft at 15 under the tutelage of photographer Ansel Adams at the Art Center School in Los Angeles, before going on to serve as a Navy photographer in World War II. During his commercial photography career, Lyon shot for top magazine titles such as Life, Vogue and House & Garden, covering subjects as varied as fashion, interior design, travel, food and wine, and sports. The postwar Northern California interiors he captured, as documented in his recent book with collaborator Philip E. Meza, Inventing the California Look, spanned the work of a lauded group of designers including Frances Elkin, Tony Hail, Michael Taylor and John Dickinson. Lyon is survived by his wife, Penelope Whelan Rozis, and two sons, Michael and Gordon Lyon.
Homepage image: The new 75" Sofa in the Lucy Collection, created by Brigette Romanek in collaboration with Mitchell Gold + Bob Williams | Courtesy of Mitchell Gold + Bob Williams