Home design and renovation blog Remodelista has just launched a new sister site, The Organized Home, to showcase "simple, stylish storage and organizing solutions for every room and budget."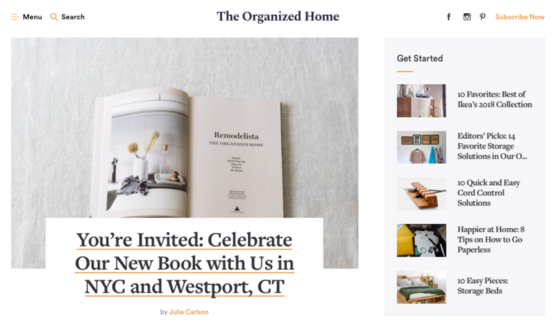 A modest homepage design reflects The Organized Home's minimalist content. Each week, the site highlights one inspiring "tiny space" (measuring 400 square feet or less) and offers space-saving ideas. Readers can also find best practices for order, from professionals of all realms—say, a chef on how to organize a kitchen—in the 10 Rules to Live By section.
"Storage and organization are universal, no matter your age or income level," says Julie Carlson, Remodelista editor in chief. "The new Organized Home website is designed to share actionable tips, tricks, and inspirational content to help everyone from college students to seasoned homeowners create a meaningful, purposeful living space."
The digital launch is timed seamlessly with the upcoming book Remodelista: The Organized Home, authored by Carlson and editor Margot Guralnick and due out November 14.
"There is incredible interest in the subject," says Carlson. "Our readers are constantly tweaking their own spaces and looking for resources to create orderly lifestyles, especially in small-space living situations."