Rebecca Atwood is every designer's secret (or, these days, not-so-secret) weapon—a Brooklyn-based textile designer who crafts ethically made bedding, wallpaper, pillows and accessories in whimsical prints and soft, dreamy palettes.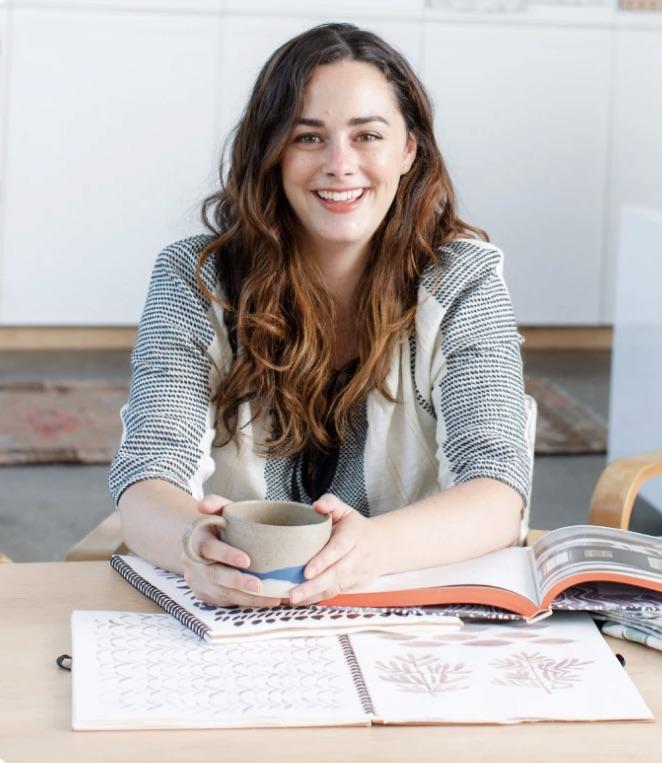 Courtesy of Rebecca Atwood
On the latest episode of the Business of Home podcast (sponsored by Chairish and Crypton), Atwood tells host Dennis Scully about her brand's step-by-step growth. After graduating from RISD and working as a designer for Anthropologie, she started her own line of pillows—mainly as a calling card she hoped would lead to freelance work. She made the collection in her own apartment, dyeing the fabric in her kitchen and drying it in her shower; it sold out in three months.
From there, growth was steady. Atwood moved beyond finished goods and began selling fabric by the yard—earning her an enthusiastic audience of interior designers. Starting with lines sold through Studio Four, she eventually landed a book deal and a collection with Method, then opened her own SoHo shop. Throughout it all, the textile designer has been driven by curiosity, common sense, and a desire to do things the right way—even if it takes a little longer. Here are four takeaways from a conversation from one of the industry's most authentic young talents.
Challenges are opportunities (if you squint). After a few years, Atwood built up a thriving business and was employing a small studio. Then, three out of four employees got pregnant at the same time—including her. "My first instinct was pure happiness for them," says Atwood. "But maybe a week later, I definitely cried and I thought: Oh, my gosh, this is crazy. But it's one of those things—it was wonderful for them and wonderful for me, but it was really good for the business too. It made me take a really good look at what we needed to grow and sustain through that period." What followed was a period of focusing on the nuts and bolts, setting the groundwork for future growth (once everyone was sleeping through the night again).
Names mean a lot. Atwood opened up a street-level location in SoHo, and first it was a struggle—her sales were down, and she wasn't seeing the same kind of traction she might have gotten in a design center. Part of the problem, she realized, was that she was thinking of her location as a "shop"—even though her primary customers were designers. She switched up the hours, closed weekends, and started calling it a "showroom"—then things picked up. "The idea of 'What language are we using to talk about ourselves?' does matter, and it clicks with the customer in a different way."
Transparency is the way forward. Atwood pushes for transparency in many aspects of her business, including sources, pricing and accounting. This year, she opened up her books (excepting salaries) to her employees. It's an ethical move, but also a practical one—she says that feedback and buy-in from her staff got deeper when they were clearly presented with the challenges and opportunities the business is facing.
Don't be afraid to grow slow. The past decade has been dominated by stories of entrepreneurs with boundless ambition, gobbling up archaic industries left and right on venture-capital-fueled rampages. That's not for Atwood—and in an age when giant fabric mergers have crumbled and once-hyped disrupters have collapsed, her "Go at your own pace" method is looking savvier than ever. "Sometimes [with venture capital funding], you're forced to grow in this way that isn't the best for the company. I do feel we can find a way to do a lot more without investment," Atwood says. "We're profitable. ... I want to make sure that we're healthy and we're setting ourselves up for long-term success. There might be something I want to do someday where I need an influx of cash, but I think I would go to a bank first."