In a new series, What I Love, we're asking designers to build us a mood board of what's inspiring them right now.
Nicko Elliott and Ksenia Kagner believe that the best spaces tell a story about the person who inhabits them. The New York–based founders of Civilian strive to bring a sense of individuality, spirit and levity to their interiors. "We imagine environments that may have a high-minded purpose but are inclusive and inviting rather than pretentious or serious," Kagner tells Business of Home.
The pair's current mood board—teeming with energetic hues and touchable textures—is no exception. Elliott says the duo drew inspiration from an active project when designing the flat lay. "The clients are interested in the power of storytelling to elevate the status of science in everyday discourse," he says. "We tend to think of science as cold and futuristic, but in truth it is about history, narrative and sensorial experience."
An enviable range of pure materials and an impressive application of artisanal craftsmanship are what ultimately bring the scheme together. "We're fairly consistently drawn to material simplicity and honesty through craft," says Kagner.
Here, Elliott breaks down the details—from deep green linoleum swatches to statement marble samples.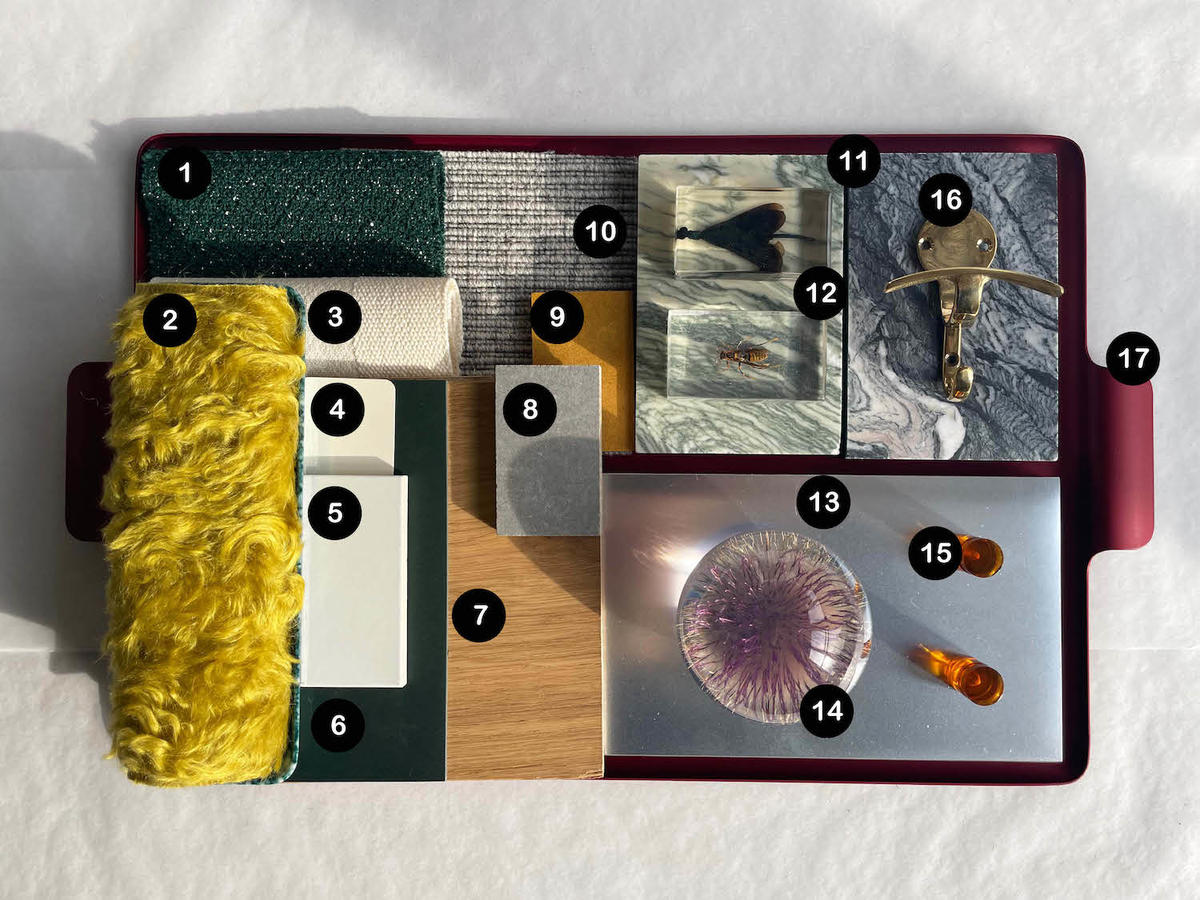 1. PILOT IN 0972 UPHOLSTERY BY RAF SIMONS — KVADRAT
"Nubbly with intense colors, this upholstery brings to mind masculine 1930s woolen suiting, like a well-dressed nightclub owner's overcoat."
2. ARGO 2 IN 0443 UPHOLSTERY BY RAF SIMONS — KVADRAT
"The higher the pile, the closer to God! This one is an angora goat mohair in a great interwar-period yellow."
3. REFLEX IN 0119 UPHOLSTERY BY RAF SIMONS — KVADRAT
"We are big fans of tone-on-tone surface effects done correctly, as seen here with this soft cream wool."
4. LUCIDA LAMINATE IN 810 — ABET LAMINATI
"Laminate gets a bad rap, but it's among the most durable finishes available. Abet Laminati's solid color selection is the best. For drawer fronts, laminate with a 1/8-inch solid wood edge-band is always a classy choice."
5. G7.2 OPAQUE WHITE TILE — HEATH CERAMICS
"We love a basic white or black tile any day of the week. Even the simplest finish can create an expressive surface when you think carefully about directionality, scale, tactility, grout color and dimension."
6. CONIFER IN 4174 LINOLEUM — FORBO FLOORING SYSTEMS
"For writing surfaces, the softness of furniture linoleum is a big user-experience boost."
7. WHITE OAK FLOORING — LISTONE GIORDANO
"White oak is very frequently the most appropriate flooring choice for both historic and contemporary renovations and is available in a variety of price points. For us, the most important aspect beyond wood grade or dimension is that it is as matte as can be."
8. VIROC CEMENT BONDED PARTICLE BOARD IN GREY — INVESTWOOD
"We love this cement wood board for exterior cladding applications. It's also handy to have in the studio to stand in for refinished concrete."
9. VALCHROMAT PANELS IN YELLOW — INVESTWOOD
"Medium-density fiberboard is nobody's idea of a covetable material, which is why we love these nontoxic, through-body-tinted MDFs in various colors. It's a great sheet material that doesn't need edge-banding and works well with laminates."
10. MACRO MELANGE RUG IN LIGHT GREY 9211 — KASTHALL
"The natural wool color of this durable low-pile roll carpet is light but textured enough to be forgiving of dirt, which makes it a frequent choice in residential and commercial settings."
11. CIPOLLINO ONDULATO ROSSO AND VERDE MARBLE SAMPLES
"With stone, we advocate either bold movement and veining or subtle texture."
12. VINTAGE CAST RESIN INSECT SPECIMENS
"We picked these up at Marsano, which is an amazing plant and vintage store in Berlin. We like to suggest how a set of interior finishes can live alongside collections of objects."
13. MORBIDA LAMINATE IN 730 — ABET LAMINATI
"Abet Laminati's metallic laminates are terrific. This clear aluminum has a diffuse satin sheen without any directional surface texture."
14. THISTLE PAPERWEIGHT BY HAFOD GRANGE — CIVILIAN OBJECTS
"The thoughtful inclusion of plants is important in our projects. These paperweights from Wales encasing botanical specimens in glass are a great tactile accessory."
15. TORTOISESHELL CABINET KNOBS BY POIGNEE — CIVILIAN OBJECTS
"We've always struggled with clear drawer pulls, but these acetate ones with an almost burled tortoiseshell texture give a sense of art deco warmth and surprise."
16. ROMA WALL HOOK BY POIGNEE — CIVILIAN OBJECTS
"While the brass trend has certainly peaked, natural brass that takes on a patina over time will never feel regrettable. These Italian double wall hooks lend a sense of history to a space without being specifically referential. We discovered these from a small hardware shop while sourcing for a project in Rome, and they are one of our favorite items sold through our home brand, Civilian Objects."
17. PRESSED ALUMINUM TRAY IN BURGUNDY BY KAYMET — CIVILIAN OBJECTS
"Anodized aluminum finishes have been fascinating us for a while now. These trays from a heritage manufacturer in the U.K. feel both timeless and modern."
Homepage photo: A flat lay by designers Nicko Elliott and Ksenia Kagner | Courtesy of Civilian