This week in the home world, a wildly unpredictable housing market has given rise to a new generation of real estate agents—a group that is deploying tarot card readings, manifestation rituals and chakra-unblocking techniques to aid in the home buying process. Whatever happens next, stay in the know with our weekly roundup of headlines, launches and events, recommended reading and more.
Business News
For one tech company darling, the epic rise may finally be over. Though Compass built its reputation as a real estate industry disrupter, the brand is now facing many of the same setbacks as its competitors amid a cooling housing market and the threat of a recession. As Curbed reports, the company's stock price dropped to $3.53 last Wednesday—down from its $18 initial public offering in 2021. The latest price shift comes after an announcement earlier this month that Compass would lay off 10 percent of its workforce, consolidate some offices and pause its mergers and plans for geographic expansion. In scaling back operations, the company joins other brokerages—including major player Redfin—that have recently issued layoffs.
In June, a jury awarded Wisconsin manufacturer Raffel Systems nearly $107 million after deciding that Chinese furniture giant Man Wah Holdings had stolen its intellectual property. Now, Man Wah USA is hitting back with a detailed letter distributed to its retail customers, in which the company challenges allegations made by Raffel Systems by outlining "false claims" and "corrections," reports Furniture Today. In a recent press conference, Man Wah also announced that it had hired attorney Lanny Davis, former counsel to President Bill Clinton, to investigate "illegal and unfair trade practices" with the Federal Trade Commission and the International Trade Commission.
Barcelona-based sustainable building startup 011h has completed a $25 million Series A funding round, TechCrunch reports. The Spanish company aims to reduce manual labor and carbon dioxide emissions in the building process by digitizing and streamlining construction, while incorporating regenerative materials like mass timber, which offers a sturdy, low-carbon alternative to concrete and steel. According to 011h, the model has already been successfully applied in a project with developer Renta Corporación, wherein the carbon output was reduced by 90 percent compared to conventional methods; now, the funding will allow the firm to further build out its platform, system and team, with an eye toward an eventual international expansion.
The Federal Reserve is raising interest rates to address inflation, The New York Times reports, pushing up mortgage costs and rental prices in the process. Rents on new leases rose by 14.1 percent through June, according to online marketplace Apartment List—a dip from last year's 17.5 percent increase but still well above the 2 to 3 percent annual pace that was common in pre-pandemic years. Despite the Fed's longer-term goal of stabilizing the economy, the immediate effects of rising borrowing costs could be sustained inflation, as rent-related costs comprise nearly a third of the Consumer Price Index inflation measure.
Small business owners may face a more complicated tax season this year, thanks to a new provision in the American Rescue Plan Act of 2021. As Inc. reports, the minimal reporting threshold for peer-to-peer payment platform transactions has decreased from $20,000 (or 200 transactions) to just $600—meaning businesses that use platforms like Venmo, Cash App, PayPal and storefronts like Etsy and eBay may receive 1099-K forms this year. Though the obligation for businesses to report their income to the IRS isn't new, the law may increase the potential for small business owners to face audits if they don't correctly report their earnings.
After last month's U.S. Supreme Court decision in the case of West Virginia v. Environmental Protection Agency—which limits the federal government's power in reducing carbon dioxide emissions from power plants—The American Institute of Architects has issued a statement in opposition to the ruling. Cosigned by CEO Lakisha Woods and president Dan Hart, the statement called the decision a "setback in the climate crisis fight" and promised to strengthen the organization's commitment to supporting elected leaders who recognize the urgency of climate change. "AIA urges Congress to give EPA the tools needed to allow the agency, and all of the federal government, to meaningfully and holistically reduce and eventually eliminate greenhouse gas emissions that cause climate change," reads the statement. "The architects' oath to protect the health, safety and welfare of the public requires nothing less."
Launches & Collaborations
Used furniture marketplace Kaiyo has announced that it is now offering its services on the West Coast. Through the expansion, the company will allow those in the greater Los Angeles area—including Beverly Hills, Venice, Santa Monica and more—to buy and sell pre-owned pieces from top brands, while also offering buyer pickup from its facility in Chino, California.
Online interior design platform Decorist announced the launch of a new feature that facilitates 30-minute video consultations between the platform's designers and customers. For $59 per session, users can schedule a virtual meeting with a Decorist pro to solicit tips on anything from furniture sourcing to room layout and renovation ideas, and will receive a personalized follow-up report detailing further recommendations.
California-based cabinet brand Semihandmade is expanding its offerings to fit cabinetry from the general retail market after a decade of tailoring its products as upgrades to the Ikea kitchen system. Semihandmade for All now offers its designs for any cabinet system, allowing designers and homeowners to access its door and drawer fronts available in more than 35 colors and styles.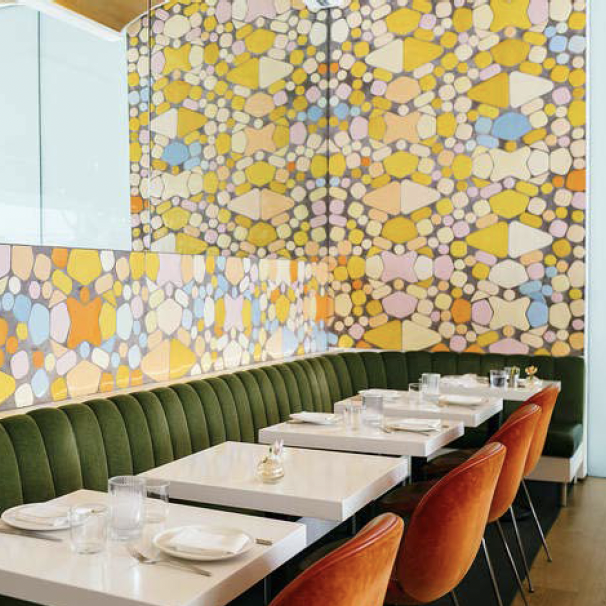 Courtesy of Denvir Enterprises
Showroom Representation
Denvir Enterprises, a multiline agency headquartered in Los Angeles, has added six new brands to its portfolio. The new additions include Los Angeles–based modern furniture company Amigo Modern; Pátzcuaro, Mexico–based textile brand Candor Home; Guadalajara, Mexico–based ceramic tile studio Cerámica Suro; European carpet manufacturer Ege by Talk Carpet; New York–based self-water planter company Marly; and Guadalajara, Mexico–based commercial-grade table and seating company Mexa.
Recommended Reading
After Imogen West-Knights sublet an apartment that scored high on the millennial apartment bingo card—a game created to call out various mainstays of the generation's interior taste, like neon signs and Eames knockoffs—she vowed to make the next place she inhabited distinctly her own. When she eventually furnished her own apartment, however, she realized it shared many of the same decor choices as her peers' new homes. For The Guardian, West-Knights investigates the generational design phenomenon, musing over whether or not our design choices really are a product of their time.
Following a meteoric two-year boom, the U.S. housing market has hit a wall. While the pandemic shot demand up to record highs, rising inflation and spiking mortgage rates have begun to cool sales—making for a dramatic reversal from a buyer's to a seller's market. For The New York Times, Ronda Kaysen breaks down the current state of the market, consulting experts on the best advice for buying and selling right now, and investigating how exactly we got here.
Homepage photo: Used furniture marketplace Kaiyo has announced that it is now offering its services on the West Coast. | Courtesy of Kaiyo