This week in design, Twitter's latest update will likely cut down on the amount of bot accounts on the site, prompting some online design enthusiasts to mourn the impending loss of a randomized (and often delightful) stream of decorative arts that previously popped up in their daily scroll. Stay in the know with our weekly roundup of headlines, launches, events, recommended reading and more.
Business News
Bed Bath & Beyond secured commitments today for more than $1 billion in investor backing to avoid bankruptcy, The Wall Street Journal reports. The imperiled retailer initially announced the fundraising bid on Monday, warning that a failure to complete the round would likely force it to file Chapter 11 and liquidate its assets. Now, Bed Bath & Beyond is expected to avoid the bankruptcy that had been looming for weeks thanks to investor commitments to raise an initial $225 million of equity capital and the rest of the $1 billion offering over time, along with a $100 million additional credit line from one of its lenders. Still, the retailer's challenges are not over: The company is still facing operational losses, with comparable sales expected to fall between 30 to 40 percent in the first quarter.
The average interest rate on a 30-year fixed-rate mortgage fell to 6.09 percent last week—down from 7.08 percent in October, which was the highest level since 2002—according to new data from mortgage finance giant Freddie Mac. As The New York Times reports, the new numbers continue the recent decline encouraging buyers to return to the housing market. Though the Federal Reserve continues to raise interest rates, expectations that the agency's strategy is nearing its end have reenergized the market, as new-home sales rose 2.3 percent from November to December, according to new Census Bureau data. Still, sales of existing homes fell 1.5 percent in the 11th consecutive monthly decline, with housing experts predicting that the majority of owners will not likely put their homes on the market until average rates fall another half a percentage point to 5.5 percent, predicted to happen by late spring or early summer.
Pinterest announced a new round of layoffs last week, Bloomberg reports, letting go of nearly 150 employees. The decision comes just a few months after a round of layoffs in December, when an unspecified number of employees were let go from the company's recruiting team. Prior to that, the company was already in the process of consolidating its offerings, including shutting down its Creator Rewards program—which allowed users to earn money by creating content and achieving certain engagement goals—in late November.
In related news, Ruggable laid off about 100 employees from its global corporate team late last month, Retail Dive reports, citing an internal restructuring in response to a challenging economic climate. In downsizing its staff, the Los Angeles–based direct-to-consumer washable rug company has joined home goods businesses like Wayfair and Article along with a swath of DTC brands (including Warby Parker, Glossier and Allbirds) that have cut their workforces in recent months in response to slowed consumer spending.
Just a few weeks after the U.S. Consumer Product Safety Commission sparked controversy over its consideration of a ban on gas stoves, the Department of Energy has proposed a new set of regulations that would require stoves to be more energy-efficient, NPR reports. Though the proposed rules would not take effect for sales of new stoves until 2027, more than half of today's gas cooktop market does not meet the updated rules, which introduce for the first time a set of efficiency standards designed to balance health benefits, energy conservation and cost savings to consumers.
Meanwhile, Columbia University researchers set out to discover the difference in health and emissions in gas stoves compared to induction stoves—which use electricity to heat cookware directly—in a program that took place in a public housing building in the Bronx, The Guardian reports. In homes with gas stoves, the baseline level of nitrogen oxide (the airborne product of burning fossil fuels) emitted while cooking was nearly twice the Environmental Protection Agency's threshold for outdoor exposure deemed unhealthy for sensitive groups, as long-term exposure can exacerbate asthma, lung disease and the risk of respiratory and cardiovascular illnesses. In homes with induction stoves, the nitrogen oxide levels were within the safety threshold and actually dropped over a 10 month period of quality monitoring, while homes with gas stoves saw an increase of the air pollutant.
YouTube is aiming to compete in the short-form video craze that has taken hold on platforms like TikTok and Instagram with the introduction of a new revenue program to its Shorts format, Digiday reports. Launched on February 1, the program offers eligible creators a 45 percent share of the revenue from ads viewed on their Shorts videos. Although the split is less than on platforms like Facebook and TikTok (which offer 55 percent and 50 percent, respectively), YouTube is also lowering the eligibility threshold for creators in its Partner Program, allowing those with more than 1,000 subscribers and 10 million Shorts views over the preceding 90 days to earn money from ad revenue. As one top YouTuber, MrBeast, pointed out, the program may make it easier for creators on the platform to make money compared to other social media sites—as he noted, 1 billion views on YouTube Shorts would translate to $100,000 for his channel, though the same amount of views on TikTok would only earn him $1,000.
French auction house Osenat suspended a sale of more than 40 items—including furniture designed by Le Corbusier and his cousin Pierre Jeanneret—amid an ongoing police investigation into reports of theft of heritage furniture items from the Indian city of Chandigarh. As The Art Newspaper reports, designers like Le Corbusier and Jeanneret were commissioned to contribute to the design of Chandigarh in the late 1940s, when the planned city was upheld as an emblem of a utopian vision for postindependence India. A spokesperson for Osenat confirmed to The Art Newspaper that the auction was postponed but not canceled, while neither the Paris police nor Indian cultural ministry responded to requests for comment.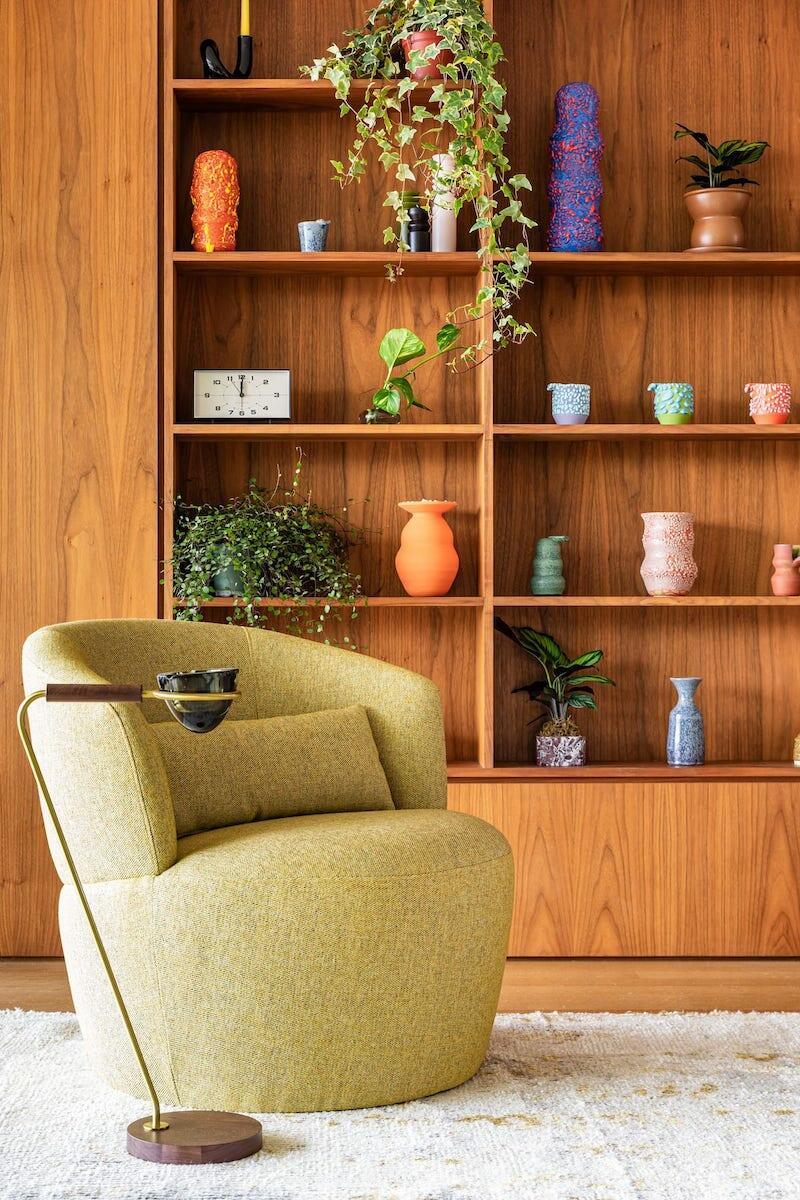 Launches & Collaborations
Actor and Houseplant founder Seth Rogen has partnered with Airbnb to host a creative retreat at a home in Los Angeles, available for three, and one-night stays on February 15, 16 and 17, Surface reports. The residence will be styled with midcentury furnishings and stocked with ceramics from the Houseplant collection, and includes a pottery throwing session with Rogen in the home's in-house studio.
1stDibs tapped Vogue fashion market editor Naomi Elizée for a curated collection of fashion and decor pieces, chosen to reflect her own vibrant aesthetic. The assortment includes a variety of lighting, seating and sculptural items, including a floor lamp by Brazilian designer Humberto da Mata, as well as clothing, shoes and accessories, such as a Gianni Versace goose-down puffer jacket and skirt set from 1996.
Interdisciplinary design studio Apparatus made a cameo at the 65th Annual Grammy Awards last Sunday following a project that took place last year, when the firm re-imagined its New York gallery as a jazz club for a limited three-night run brought to life by the music of The Baylor Project. A live recording of the performance, titled "The Evening: Live at Apparatus," secured a nomination for the Best Jazz Vocal Album category at this year's ceremony and has additionally been nominated for a NAACP Image Award for Outstanding Jazz Album.
Showhouses
The 44th Annual San Francisco Decorator Showcase announced the slate of designers that will transform this year's 18th-century-style Mediterranean Spanish home. Built in 1927 by renowned architects Hyman and Appleton, the 6,100-square-foot home includes Spanish castle features and views of the San Francisco Bay, Golden Gate Bridge and Marin Headlands. The 27 interior and landscape designers re-imagining the space this year include Noz Nozawa, Mini Gangwal, Lauren Berry and Elan Evans, among others.
Recommended Reading
From Minecraft to Mario Bros., gaming has had a growing influence in American entertainment in recent years, bringing in more money than the film and North American sports industries combined in 2021. With an industry of that size, it is no wonder that video game aesthetics have crept into the design world as well. For Elle Decor, Helena Madden speaks to curators, ceramists, and industrial and interior designers for a glimpse at how these digital playgrounds are informing their work.
During the pandemic, the process of buying a new home in an affordable price range became more competitive than any time in recent memory. For writer Rebekah Taussig, who has used a wheelchair for most of her life, the difficulty factor was multiplied: Some prospective properties featured odd design choices like three entry steps into a bedroom closet, while others forced her to pop a curb to access street parking. For Dwell, Taussig details her journey to finding a home that balanced function and aesthetics—and how her dream house was hiding in plain sight.
Cue the Applause
The National Kitchen & Bath Association's Thirty Under 30 Class of 2023 announced their 30's Choice Award winners at the Kitchen & Bath Industry Show in Las Vegas last week. Chosen as the best products across six categories, this year's winners include Kraus USA in the category of sustainability, Watrline for outdoor living, GE Profile for smart home integration, Monogram for universal design/living in place, Brondell for wellness/health and Kohler for creative use of color.
Call for Entries
Jamie Stern has launched its inaugural furniture design contest, calling on interior design professionals within the U.S. and Canada to submit an original lounge chair design for the chance to win a fully upholstered prototype. Submission can be a CAD drawing, a 3D rendering or a simple sketch. For more information or to submit an entry before the March 5 deadline, click here.
In Memoriam
Joe Hollman, an inventor, a product designer and the founder of Hollman Inc., passed away late last month at the age of 82 surrounded by family at his home in Dallas. A veteran of the Vietnam War, Hollman's career began upon his return home, when he started working as a home builder. In the years to follow, he would combine his construction knowledge with a passion for racquetball, eventually founding Hollman Inc. in 1976 with the invention of a panelized court wall system—a creation that informed how courts are built today. In 1985, Hollman expanded into the locker business, inventing a European-inspired cabinet design and innovative lock solutions that soon became the standard worldwide. Family and friends say Hollman lived by a familiar expression: "Reach out and touch perfection in something you love to do."
Gillian Newberry, an industry veteran and the co-founder of Bennison Fabrics, has passed away. Newberry's career began under the wing of renowned decorator Geoffrey Bennison, who left behind an archive of antique textile documents he hoped would be reproduced for future generations. In 1985, Newberry and her husband, also named Geoff, took up the mantle by establishing Bennison Fabrics. "Gilly has a wonderful sense of style, she was modest & caring and was loved beyond belief," read a statement from the Bennison Instagram page. "She will be missed forever by us all."
Homepage image: Seth Rogen partnered with Airbnb to host a creative retreat in Los Angeles | Courtesy of Airbnb