Modsy is getting into the renovation game. Today, the San Francisco–based e-design platform unveiled a service it had been quietly testing in beta for the past year: a tool allowing customers to work with a Modsy designer on a remodeling project.
Renovations were "a very commonly requested service since I started Modsy," founder and CEO Shanna Tellerman tells Business of Home. "Throughout the last year we saw the demand was growing along with the backlog of demand the larger industry has been seeing." To date, Tellerman says Modsy has completed more than 250 renovation designs, including kitchens, bathrooms and what she describes as a surprising volume of multi-room projects.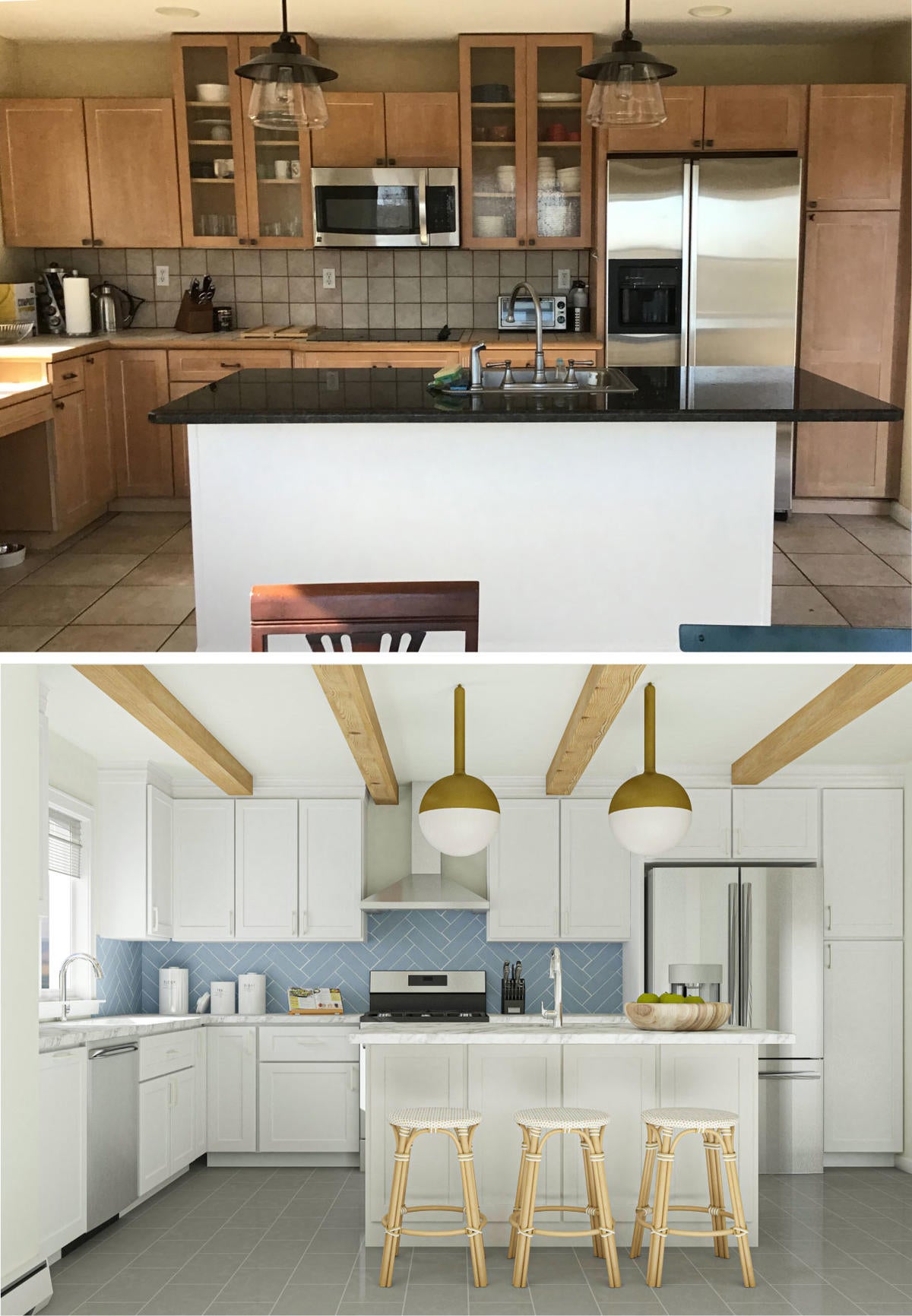 The offering is not entirely dissimilar from Modsy's basic e-design packages. Customers still measure their homes using the proprietary tool on the platform's app, submit design preferences and receive a 3D model of a Modsy-designed space. However, the new service comes with unique twists on both the front and back ends.
For one, it's more expensive. Starting at $999 per room, the cost is double that of Modsy's priciest design-only offering. For the extra cash, customers get a comprehensive level of service, including a dedicated designer who sees them through the process (Tellerman says that Modsy hired a team of full-time designers who work on remodeling projects).
The process is also more technically complex. For remodeling projects, Modsy designers can work from a 2D floor plan or a CAD drawing provided by an architect or contractor if need be. The final product is also a little more sophisticated than the default offering: Homeowners receive not only a static rendering but a virtual video of the finished space (or spaces), resembling a vibey realtor's walkthrough video. Tellerman says it's all part of an effort to knit together remodeling and interior design into a cohesive package the average consumer can understand.
"It's amazing how much the furniture and decor you're planning to use in a space matters for the finish and fixture suggestions, [but] those things are generally disconnected," she says. "You'll be working on a renovation for an open kitchen that flows into a living room and dining room and making choices without knowing what's going in those other rooms. [Here] we're designing the entire thing together from the very beginning."
Then there's the simple fact that Modsy is now recommending more than sofas and lamps, but specifying finishes and building materials as well. Though Modsy doesn't provide up-to-code documentation, and still recommends customers' own contractors conduct measurements IRL, for the first time the platform is not just decorating walls, but knocking them down (if the architect approves). "The designer will work in conjunction with a professional architect to make structural recommendations … [but] we can do anything that is in the consumer's mind," says Tellerman.
From Modsy's perspective, the new service is a slight departure from business as usual. Thus far, the basic playbook for e-design platforms has been to offer a design service for relatively cheap, then earn a margin when customers purchase through the site. Modsy's remodeling service tweaks that formula. The design itself is more expensive, but the platform doesn't make as much on purchasing for materials (Tellerman says up to 70 percent of product procured for renovations is from vendors who have no direct relationship with Modsy).
However, whatever revenue Modsy may be missing out on building materials may end up getting recouped in other ways. This service, says Tellerman, implicitly targets a more affluent demographic than the customer for Modsy's basic design package ($159 per room), one more likely to pull the trigger on furniture specified through the platform.
"We certainly have opened the market to many people who maybe never thought of working with a designer, and the premium price point lends itself to that," says Tellerman. "But then as you move up to the higher touch, higher price point, you see a demographic that would be working with an interior designer offline … There, you see someone with a larger budget, a higher intent to spend."
In that respect, this move signals Modsy's intention to tiptoe into the more upscale regions of the design industry, going after more affluent consumers and more sophisticated projects. Will Modsy one day have a project on the cover of Architectural Digest?
"There's not a household name that stands for interior design, period. That's the opportunity up for grabs," says Tellerman. "You're not going to do that as a business by saying we do these kinds of rooms and not those kinds of rooms … We want to enable that process to come together in a smoother, easier, faster, visually confident way. That means everything from entry level all the way up to these bigger more complex projects that our customers were asking for."
Modsy may have eyes on the higher end of the market. It does not, however, have its sights set on the physical world: The renovation service is a purely digital product. Unlike other startups in the renovation space (Sweeten, Block and Remodelmate come to mind), Modsy does not recommend a contractor or get directly involved in the messy business of tearing out walls and patching them up again. That's intentional, says Tellerman
"The first pain point of remodels and renovations is the decisions and the visualizations and the extreme uncertainty of 'Is this going to look right?'" says Tellerman. "That's where we decided we could uniquely tackle things."
Homepage image: Courtesy of Modsy