Last year, when Material Bank announced a $100 million fundraise, Business of Home referred to the number as "staggering." Prepare to be staggered once again. The sampling platform founded by Adam Sandow has just announced another raise, this time for $175 million. The round, first reported by Bloomberg, was led by Canadian investment giant Brookfield. It pegs Material Bank's value at $1.9 billion, making it that rarest of beasts: a unicorn startup.

How can Material Bank spend $175 million? In an interview with BOH, Sandow ticked off a dizzying variety of initiatives the company is pursuing at full tilt: a new version of its software to debut later this year; expansion into Europe and Japan; digitization of its brands' catalogs of materials; more acquisitions following its purchase of Amber Engine and Clippings; the expansion of its paint-only sampling business Samplize; a consumer-oriented version of the platform; and a push into the residential design side of the industry.
Big picture, the main two categories of expenditure are research and development and hiring, says Sandow, who suggested that Material Bank is looking to add "a few hundred" employees in the coming year alone. "We're always thinking, How do we augment Material Bank with additional tools on the platform that will really be as impactful for designers? Things that will help them be more creative, better at their jobs and save them more time," he says. "We're working on a lot of new tools, so a big part of the investment is investing in people and innovation."
Interestingly, while Material Bank is certainly in growth mode, Sandow says the company still has plenty of cash left over from its last nine-figure raise. Bringing more capital into the business is at least partially a hedge against what looks to be choppy waters for the economy ahead. "Going into whatever the world throws at us economically, to have a very strong balance sheet is going to be essential," he says. "We want to make sure we have the power to help our brands."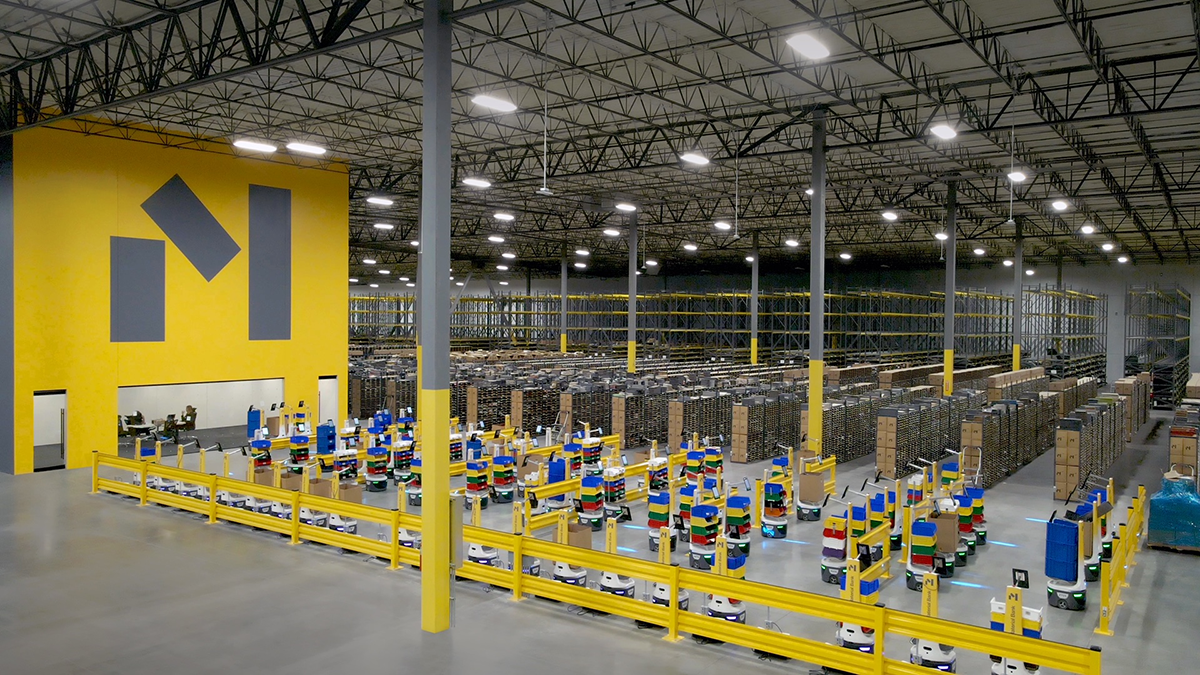 Courtesy of Material Bank
This raise—which also includes contributions from Fifth Wall, Soft Bank Vision Fund 2, and RXR—brings Material Bank's total funding to more than $325 million. (By comparison, 1stdibs, one of the most well-funded businesses in the industry, raised $253 million in its four rounds before going public.) What do investors see in Sandow's creation that makes them keep wanting to open up their checkbooks?
Material Bank, like many startups, is not profitable. However, its core business—the packaging and delivery of samples—generates plenty of cash. In most cases, brands pay both to be listed on the platform, and a per-shipment cost when their material ends up being sent to a designer. Currently, Material Bank has roughly 500 brand partners—but if the platform can sign up the thousands of companies that make up the global design ecosystem, the opportunity is enormous.
Sandow says the growth and retention rate of Material Bank's pool of brands is a key selling point to investors, as is its rapidly expanding user base—up to 90,000 members from 35,000 in April of 2020. "What [investors] have told us is that they've never seen adoption of a tool—especially in the design industry—that's been adopted and maintained," he says. "It's not just people trying it, they try it and stick with it. I think a lot of our strength has been the stickiness of both the brands and the designers."
Of course, ultimately, manufacturers are Material Bank's direct customers—and while the company has grown significantly from its starting base of roughly 100 brands, there has been some churn. And while Sandow's platform has made significant headway among contract-leaning manufacturers, Material Bank has not captured the residential side of the industry at the same rate, where some executives balk at the cost, or simply prefer to own a direct relationship with their customers by managing their sampling in house and relying on reps and showrooms to generate leads.
Sandow acknowledges the perception and says that cracking the residential market is a key priority. "The biggest investment we will make in the next 24 months is to get into the residential market at a massive scale," he says. "We will introduce new tools and new options that take resi very very seriously."
Homepage photo: Adam Sandow, flanked by Material Bank's squad of sample fulfillment robots | Courtesy of Material Bank