Material Bank announced today that the company had secured $100 million in Series C funding in a round co-led by General Catalyst and Durable Capital Partners LP. The Sandow-owned sampling service said in a statement that the capital will be used to "fuel continued momentum, scale teams and infrastructure, expand into new verticals, make strategic acquisitions, and seed long-term growth initiatives."
The oversubscribed round, which places a value of $1 billion on the company, brings Material Bank's total funding to $157 million. The round's investors are a who's who of buzzy, fast-growing online enterprises: Venture capital firm General Catalyst has previously invested in the likes of Airbnb, Lemonade, Stripe and Warby Parker; meanwhile, Maryland-based investment firm Durable Capital Partners has led Series D rounds for client management software HoneyBook and digital pharmacy startup Capsule in the past week alone. Also participating in the round are Bond, Lead Edge Capital, and existing investors Bain Capital Ventures (which led the company's $28 million Series B fundraise in April 2020) and Raine Ventures (which partnered with Starwood Capital Group on earlier rounds).
"We were strategic with this raise and are thrilled to announce the support from this dynamic group of investors that have come together in this round," said Material Bank founder, chairman and CEO Adam Sandow, who is also founder and CEO of the eponymous media group that includes Interior Design and Luxe Interiors + Design. "With a core business that turned profitable last year, this new capital added to our company's strong balance sheet and will allow us to build upon our considerable momentum and accelerate growth opportunities."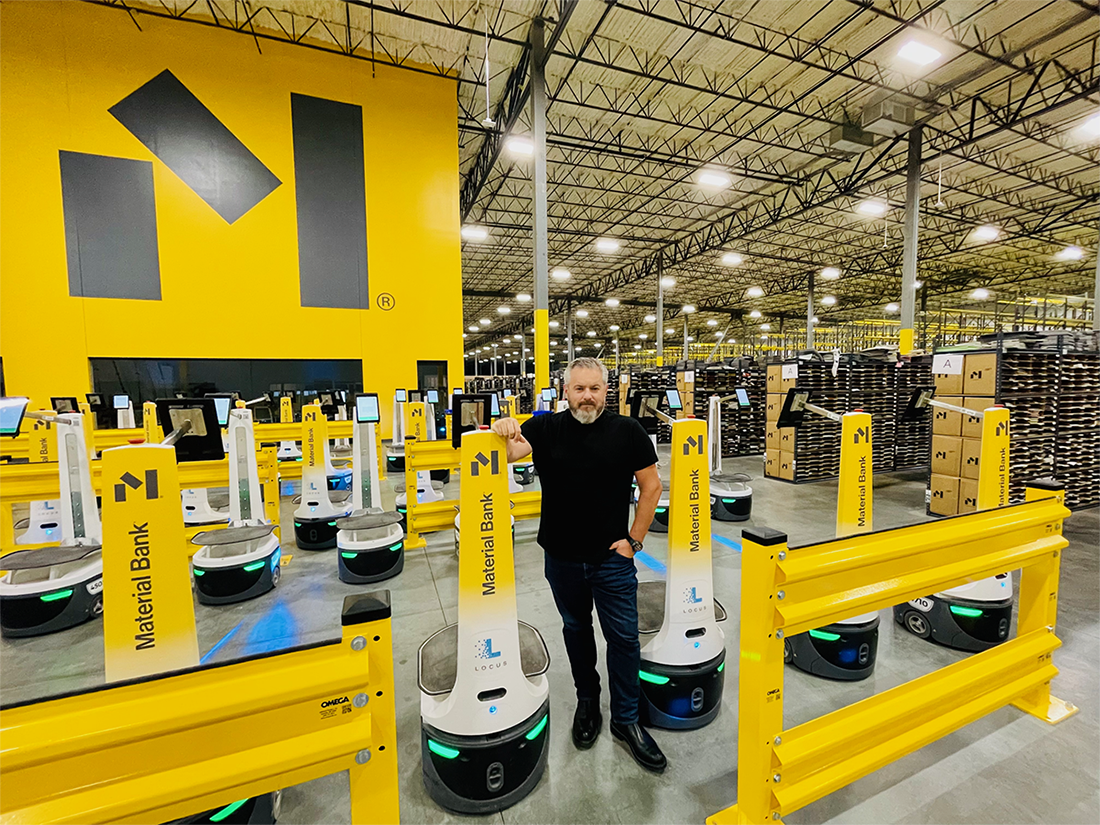 Courtesy of Material Bank
In addition to new capital, the company also gains a member on its board of directors: Bob Mylod, who joined the round through Annox Capital, and currently chairs the boards of Booking Holdings (parent company of brands like Booking.com, Kayak and OpenTable) and online used car marketplace Vroom.
Material Bank officially debuted in January 2019 as a digital marketplace for materials sampling, connecting manufacturers and brands with architects and designers. One of its key selling points was convenience and speed, promising designers that all orders placed by midnight would arrive in one box by 10:30 a.m. the next day. (In addition to the convenience of the service and the opportunity for product discovery, the company also focuses on the efficiencies and sustainability gains of consolidating sample shipments, and recently started purchasing carbon offsets to make its operations completely carbon-neutral.)
Having launched with 25 partner brands, Material Bank is now closing in on 400. User adoption has grown rapidly, too. When the company reported its April 2020 Series B, there were 35,000 member specifiers; today, there are 65,000. (The company tripled its revenue in 2020; Forbes reports that sales are expected to top $50 million this year.) That kind of shipping and logistics is made possible by a massive footprint—the company recently upgraded from its 80,000-square-foot facility in Olive Branch, Mississippi, to one next door that clocks in at 380,000 square feet—that's a short drive from FedEx's World Hub in Memphis, Tennessee. In addition to a round-the-clock staff, the service is also powered by a fleet of 150 autonomous robots.
Material Bank's growth to date has largely been driven by more brands on the platform, more users, and more sample orders—and has primarily focused on the commercial sector of the design industry. But not all of that new real estate is earmarked for housing more samples. The capital investment will fuel its expansion into new services for its brand partners, including a new digital printing offering that produces customized on-demand marketing materials to accompany sample orders and plans for a 3D visualization studio to digitize company product libraries. It will also fund several upcoming acquisitions and a significant push into the residential sector.
BOH talked to Sandow to find out opportunities in the residential market, the future of physical retail spaces and events—and why his big-picture vision is to change the way everyone (even consumers) source and shop for materials.
Material Bank launched in January 2019 and tripled its revenue in 2020. What drove that growth, and what role did the pandemic play?
Pre-COVID, we budgeted tripling revenue [in 2020] based on our user growth. When COVID hit, work-from-home absolutely changed everything, but we just noticed continued growth. I think that the trend was already moving, because whether [you're in] your home or your office, Material Bank has changed how designers search [for] and sample materials.
What fuels the platform's growth—is it more brand partners, or more designer users?
We've seen this as a flywheel: The more designers that sign up, the more brands that adopt. And the more brands that adopt, the more designers sign up. When we started, I think we had 25 brands, and we're closing in on almost 400 brands now—and we're so backlogged [with] onboarding brands. There's a wait, even once they sign the contract, to get them on [the platform]. We'll be dealing with 500 brands by the end of the year.
We've created this mushrooming marketplace. By the end of 2022, we'll be at a million designer searches a month. So the brands are starting to go, "I have to be there, because that's where they're coming to look." We've got some of the biggest brands in the world on the platform. What I've really been focusing on is getting more brands—new brands and artisans brands along with the titans. And that's one of the reasons it's worked so well: Designers know there's no bias in our search results [and] we don't sell ads.
We were talking to the trade commission in Spain, and they're excited because they think they can bring these incredible artisans from Spain that have never been to the U.S. We can, in this very [unusual way], power their business by warehousing materials and generating leads, and then simply connecting the designer to a sales rep. We're taking over a lot of the pieces that have been cumbersome for large and small brands alike.
For the investors who came on for this round, what excited them most about Material Bank?
I think what they see is that the traction and adoption we've seen has been truly remarkable. So the foundation is incredible. People see Material Bank and say, "Wow, that's interesting," but when I explain the big vision—getting deep into residential, into other categories and growing in the way we've planned—that's what gets them excited. When you're investing this much money at these valuations, you're not doing it to just double your money in two years. These investors are looking for huge returns—they are some of the most savvy investors on the planet. They see this as a platform that will change how the country buys materials.
This is a very fragmented industry, and an industry that hasn't embraced technology enough. It's made up of a lot of brands that are all striving to do things, but I think they need help.
So this is a long-term play—you're not eyeing an IPO in the next year or two?
I'm a builder, not a build-and-flipper. We are long-term building—even if we go public, we are still long-term building. We believe that we can transform how our industries work at all levels—not just a high-end designer in a showroom, but also how corporate America buys and how consumers buy. With certain retailers buying factory-direct, I think designers and manufacturers need support more than ever. We think supporting quality design brands is essential for our industry, candidly.
I recently helped my mother source a few materials for her kitchen renovation, and I was frankly surprised by how much I could find on Wayfair.
I'll go a step further—go to Alibaba. I have a friend who [took] the measurements for blinds, went to Alibaba, had her whole house outfitted with blinds and paid a guy to install them for 20 cents on the dollar. That scares me. That's not good for any of us. Making sure we've got great, strong brands—and designers who spec those brands—is important.
The company's revenue still comes from the brand side exclusively, right?
Yes. Our business is really just two things: a monthly fee and a transaction fee every time. We always promote that Material Bank is free to the design industry, and it is, but that service is fully incentivized by the brands. Yes, it's smart business for them—but they're also the ones that are providing sustainability in our industry—by aggregating all the materials in one box, they're the ones that are saving millions of packages.
We have very large companies that tell us we're the number-one driver of leads for their entire organization—their reps wake up in the morning and start following up on all the designers that have searched and sampled, [because] we provide all of that information to the brand. The reps just have to hit the phones and start connecting with the designers. We do all that heavy lifting.
What's the breakdown between the commercial and residential side? When you started, I know the platform's users skewed toward commercial. Is that still true?
We're still very heavily commercial. The other thing we've been really successful in is penetrating corporate users. We now have users at over 25 percent of the Fortune 1000—hotel chains, cruise lines, fast food chains.
Is growing the residential business a focus with this funding?
[That will be] one of the big uses. We will be rolling out a platform toward the middle or the later part of the year, our sister to Material Bank, that focuses on residential.
Is the business model different for the residential market?
We'll be doing the exact same thing: helping to search, sample and specify materials and product finishes on residential products. It'll be slightly different—we think it will be even bigger on a scale—but it's a similar model.
I've heard from some residential brands—textiles brands in particular—that they can't quite afford to participate. Is that what you're hoping to solve with the residential focus?
Exactly right. We love the small brands as much as the big brands, and we really feel that there will be more and more ways to help the smaller brands.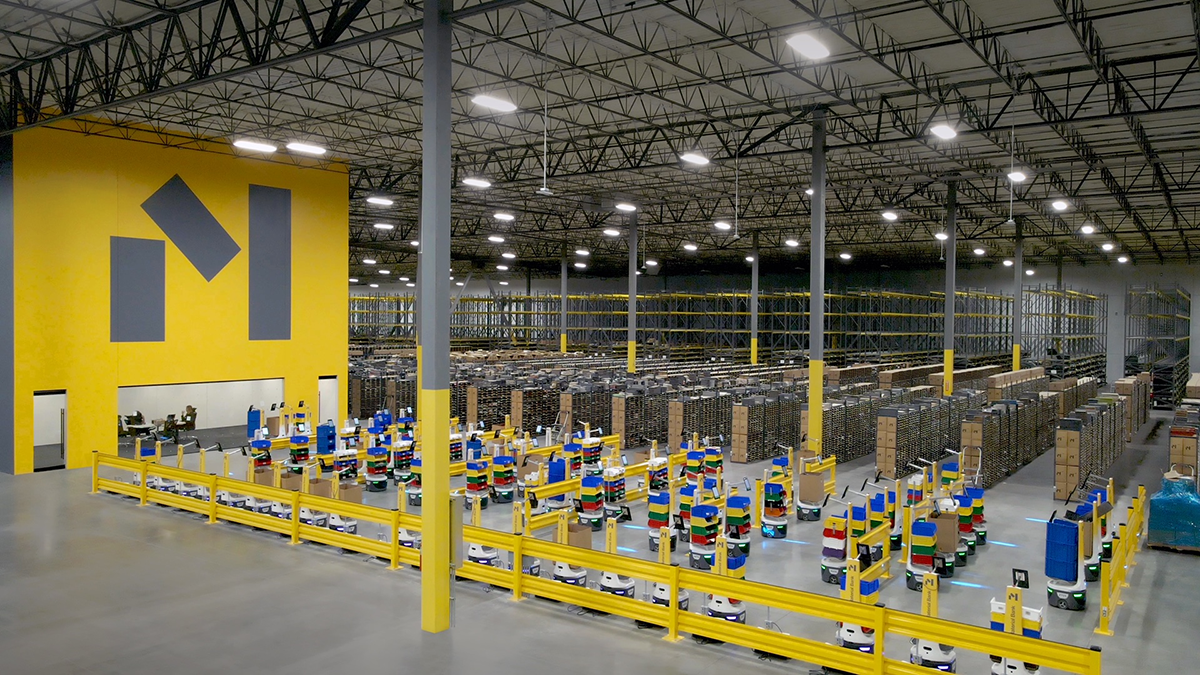 Courtesy of Material Bank
Breaking down some of the bigger initiatives you'll be using this funding for—scaling infrastructure is among them. What does that mean?
We just moved from an 80,000-square-foot building to a brand-new building down the street, which is almost 400,000 square feet. It's a monster. It employs hundreds of people, we've got 150 robots, and we work literally around the clock—on any given night, we transact tens and tens of thousands of materials and put them in thousands of designers' hands. So in terms of infrastructure, we've been making a lot of investments there.
Is that just more space because there's more product, or is it more complicated than that?
It's a really good question—it's certainly more space for more product, but beyond that, we're adding lots of services. For example, we built a department that can do all kinds of customized digital printing. Now, rather than giving a generic brochure, we can customize a brochure on the [sample a designer selected]—even putting the designer's name right in it—and that can be printed on-demand and put into the box. There's no more [bulk] printing, no more inventory and no more waste. So we're starting to offer more services like that.
That's a lot of moving parts from a logistics perspective. What other kinds of services are coming online in the new facility?
We're in the process of building a large-scale digitization and visualization studio. Our goal is to digitize the world's materials in a way that they can be used not only on our platform but on every platform. Today, if you have digital materials, it's really nice. In three to five years, I don't care how big or small you are—
That will be the cost of doing business.
Right, and the cost is crazy. So we're using capital to build a very scalable digitizing studio that our partners will be able to take advantage of. We're saying to companies, "You guys have been sending 24-by-24-inch carpet tiles. Why don't I send prints, and then the designer can say, 'Thank you for sending 10 different prints, I've culled it down to three tiles I want to see.'" Things like that save lots of resources.
And you have the scale and logistics to do it.
We have manufacturers saying, "We're not going to do any more samples—we're going to send everything to you. By the way, can you also do this? And what else can you help us with?"
In terms of expanding into new categories, is there a world in which you'll move into bigger products—something like furniture?
Right now, we're focusing on what can be handled in the logistics hub. But often, we will send out a 4-by-2-foot plank of carpet. We're sending samples, and they're small, but about one-third of our orders are actually in very large boxes.
We're talking to a lot of furniture companies now about helping to build configurators, where you can configure the chair—you can visualize all the materials from all the manufacturers that go on the chair, and then you can sample those materials. We think that if we can get the product finishes—we're trying to own that service. Then, if they feel that the logistics of bigger items is needed, we think we can do it.
For example, Delta Faucet was early on our platform. When you're buying the fixture, it's one thing to see the fixture, even in three dimensions—but you've got to see the metal finish. Finish samples save us sending out the faucet, but you can still see the metal and the finish, and that's what helps.
Strategic acquisitions are also on deck with this new capital. What kind of acquisitions would help Material Bank grow? Where can you bring in other companies?
Our strategy for growth is not just to buy everything—we're more builders than buyers, to be honest—but we think that there are some great companies out there that, under our flag, will be even stronger. With access to our media platform, our capital and our scale, we think we can acquire really interesting companies that can add tremendous value under our umbrella. We're actively working on a couple of deals now that are technology-based, but we also get a lot of inbound companies that are in the service of the design industry in a variety of ways. We're pretty open.
When we met at NeoCon in 2019, you had just opened the temporary showroom there. 2020 must have made that experiment more complicated, but what have you learned from having that physical space for Material Bank? Is that part of the path forward?
We loved that experience. COVID aside, it was designed to be a one-year project, and we learned a couple things. One was Material Desk [a physical desk with a touchscreen], which we've really invested in. Everyone in the store saw it and loved it, and they wanted the Desks for their offices—we even placed a couple in Gensler's Chicago [offices] right before COVID. What we learned was that we were right about the software, but they wanted [it] online. So we launched Material Desk online—not only launched it, but the really fun thing is that we have collaboration modes.
For what kind of collaboration?
A sales rep from one of our brands can now build this beautiful mood board, record a video, put it on the Desk and email out a link. Then a designer gets it, opens up the Desk and they can watch the video, see all the new samples, all the new imagery, and they can sample right off of the Desk.
Does that have applications as more than a tool for brands?
One of the things we're going to bring to residential in a big way is collaboration among teams or clients. If you've got two designers that both build a mood board, and then they come together for the project, you can start to live-collaborate building the perfect mood board. You've got video, just like Zoom, built into the Desk. But the difference is that when you're done, you can press a button and have those materials that are on that Desk on your desk.
One of the things that we've seen is that designers are working all over the country more than ever before—they're not stuck in a geographic region. As we get really advanced into residential, imagine the idea of [sending a link to] a client and all of a sudden they are both live on the Material Desk and they can collaborate in this beautiful mood board. You can build presentations—and more importantly, after the designer is done, she can press a button and say, "OK, everything on this Desk will be on your desk." It's not just the technology, because I feel like anyone could build this technology. It's the technology linked to the library of materials, combined with the logistics of the material—that, for us, is the wow.
So much of that kind of collaboration about materials sourcing and inspiration often happens on Pinterest right now, but designers still have to do all of the research connecting to brands.
Exactly right.
Are physical spaces still going to be an important part of the Material Bank experience moving forward? Or is digital more essential?
I am still a huge believer in physical. And we are already working on our next physical incarnation—even the [new] investors have not heard about what we're doing, but it is really game-changing and designed for the physical space.
We don't believe that everything's going online. I don't believe the genie's going back in the bottle—designers are never working the way they did. They're never showing up Monday at 9 a.m. and working until Friday. I believe our whole industry, like the rest of the world, is going to be very different, [which will make] tools like Material Bank more essential than ever. I do believe that coming together for events, collaborations, and to see or experience things—that will be massive, and there's going to be pent-up demand. But the day-to-day going to same-old, same-old? I don't think that is going to go back.
That means that for companies that are really progressive, the bar has to be raised. Everyone is now going to be thinking, "Is it worth it to get on a plane? Is it worth it for me to leave the confines of my house, where everything comes to me, and go out?" It's gotta be really great. I think conferences are going to do great if you bring the right speakers, it's an interesting venue and it's beautiful. I think with retail, we've got to do a lot of rethinking, because it's gotta be amazing.
My interest is piqued! And congratulations again on the fundraise. What's it been like to keep a big fundraising number like this one to yourself?
It's super exciting, and it's hard to keep it in, but we're pretty disciplined. We're just so heads-down focused on working and building that—it's odd, but sometimes these really big wins take so much time to get there that when it happens, it's like, "OK." We're on to the next thing. We've got these early, really exciting things right behind it that I'm already all-in on.
We're so fortunate, it was a crazy year, and we're really lucky that we were able to serve the industry the way we did and continue to grow. In the beginning, we had a very big idea. I remember sitting with some initial brands, and they said to me, "Adam, you have no idea how hard it is for us to do this with 8,000 SKUs—to coordinate websites, digital libraries, fulfillment and samples. We can barely handle it on our own, so how are you going to do it for 100 or 500 of us?" In the early days, it was the credibility that we got by being in the media space—we had trust in the industry, and that was foundational.
Honestly, it's a testament to media. I truly believe if I was a tech startup with unlimited capital and I knocked on the door of all these brands, they would say, "Who the hell are you, and what do you know about us?" But the way the industry's embraced us is what I'm most blown away by. We're really most proud of that.