Spring is just around the corner, and events are welcoming eager travelers from all around the world—some for the first time since the pandemic—to offer design inspiration for the new season. With a mix of events stateside and across the globe, read on for BOH's monthly calendar highlights, including conferences, trade shows and design discussions—and for more great industry events, check out the BOH calendar here.
Dialogues on Design With David Kleinberg
March 1 | New York
NYSID's Dialogues on Design discussions—moderated by Business of Home's Dennis Scully—returned to in-person programming this year. The series kicked off in November and returned to on-site programming at the New York School of Interior Design in the new year, featuring talks with interior designer Kia Weatherspoon and landscape designer Janice Parker. This month, the series features a conversation with New York–based interior designer David Kleinberg, who will share strategies and solutions for challenging spaces. For more information, click here.
Spring Market at AmericasMart
March 1–3 | Atlanta
IMC's Spring Market at AmericasMart Atlanta is a three-day sourcing and buying event that provides access to more than 350 regular showrooms, in addition to more than 80 market-only showrooms, encompassing gift and home merchandise across indoor and outdoor furniture, lighting, accents, rugs, tabletop and more. Programming will include business-focused seminars, including presentations on influencer marketing and how to make short-term rentals a revenue generator for your design business, and live cooking demonstrations in the space's gourmet kitchen. For more information, click here.
Mercanteinfiera Parma
March 4–12 | Parma, Italy
Held twice yearly, Mercanteinfiera Parma is a nine-day event featuring 1,000 vendors selling furniture, antiques, art and vintage decor. Fairgoers will be able to browse thousands of antiques and collectables in a range of styles, discover new market trends and explore Parma, the Unesco city of gastronomy full of art and musical history. For more information, click here.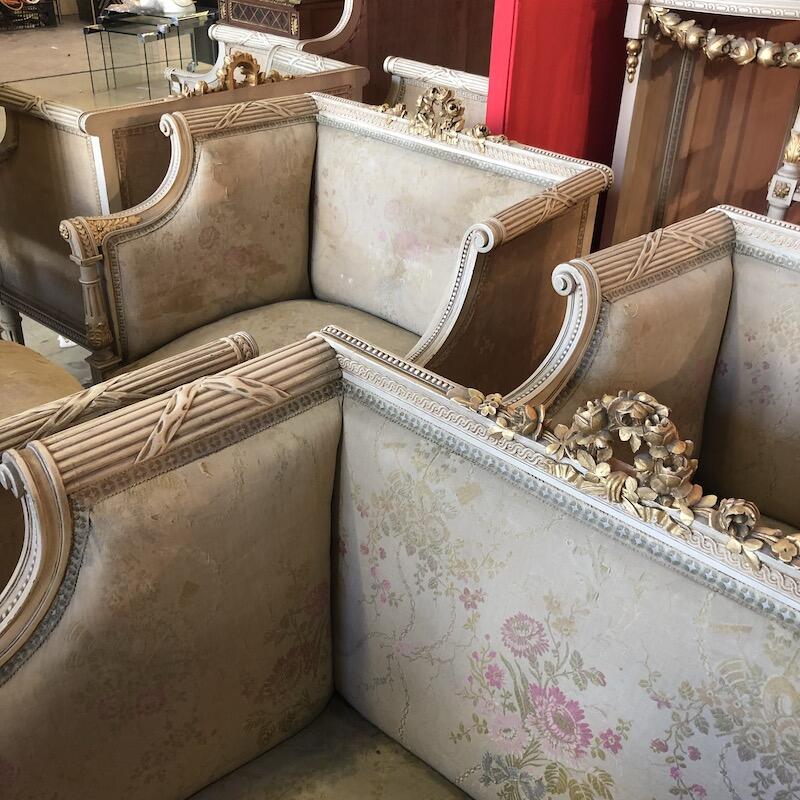 Digital Day at ADAC
March 8 | Atlanta
Created as an educational resource for new and expert designers seeking to thrive in the digital environment, this in-person forum offers sessions on choosing the best project management systems for your business, creating a sales and marketing plan and how to "social media proof" your company. Tune in to a variety of panels and presentations, with highlights including Casa Branca creative director Georgia McElveen on the intersection of social and digital media in design. For more information, click here.
Tefaf Maastricht
March 11–19 | Maastricht, Netherlands
Dutch antiques fair Tefaf Maastricht returns for its 36th edition with more than 270 art dealers from 20 countries, featuring both classical antiques and modern and contemporary art. The event will include a week of programming and interactive panel discussions about art history, collecting and private museums. Highlights include an opening discussion with art curators and foundation leaders Patrizia Sandretto Re Rebaudengo, Harald Falckenberg and Joop van Caldenborgh, and a panel moderated by Apollo magazine's editor Edward Behrens about the role Vincent van Gogh's family played in his rise to fame. For more information, click here.
Design Edge Miami
March 15–16 | Miami
Design Edge heads to Miami for a two-day event geared toward interior designers throughout Florida, presenting more than 50 home furnishings, kitchen and bath brands with new exhibitors like Currey & Company, Eichholtz and Sherrill Furniture. Event programming will include a panel sponsored by Luxe Interiors + Design magazine, moderated by Denver-based interior design business consultant Gail Doby in conversation with design industry pros including Thom Filicia, Eilyn Jimenez and Dwayne Bergmann. For more information, click here.
Asia Week New York
March 16–24 | New York
Asia Week New York has taken place in the U.S. for 14 years, and this year's show will feature Asian porcelain, jewelry, textiles, paintings, ceramics, sculpture, bronzes and prints dating from the second millennium B.C. to the present, curated from 26 international galleries and six auction houses including Christie's and Sotheby's. Highlights include a Tibetan-style rose verte porcelain ewer from Ralph M. Chait Galleries Inc. and Palampore, a textile decorated with mythical lions, large hamsa geese, charming purple and red elephants, and Mughal-style flowers in the recent acquisitions section from Thomas Murray. For more information, click here.
Art Basel Hong Kong
March 21–25 | Hong Kong
After three years, Art Basel welcomes back international travelers to its show in Hong Kong, featuring 177 international galleries from 32 countries and territories. Encounters, the fair's sector dedicated to large-scale works, will return this year and be curated by Alexie Glass-Kantor, the executive director of Artspace, Australia's interdisciplinary space for the production and presentation of contemporary art. Other special sectors will include Film, Kabinett and Conversations, making this the first Hong Kong show to include all special sectors since 2019. For more information, click here.
Tri-State Spring Design Showcases
March 23–May 9 | Connecticut, New Jersey and New York
Design Showcases, a network of to-the-trade vendors, is showcasing spring's luxury collections across the tri-state area, with companies including Fabricut, Scalamandre, Nobilis, Clarence House, Samuel & Sons and Schumacher, among others. The spring shows will begin in Connecticut on March 23, moving to New Jersey, New York and back to Connecticut through May 9. For more information, click here.
Leaders of Design Conference
March 26–30 | Tel Aviv and Jerusalem, Israel
This year, the Leaders of Design's annual conference will take place in Jerusalem, allowing members the opportunity to witness how old and new come together. Over the course of the five-day trip, council members will explore the many layers of Jerusalem, experiencing how it has developed and changed over thousands of years, before heading to Israel's cultural capital Tel Aviv. For more information, click here.

For more events, check out the BOH calendar here.
Homepage image: Tefaf Maastricht returns for its 36th edition with more than 240 art dealers from 20 countries | Courtesy of Tefaf Maastricht