In our series, What I Love, we're asking designers to build us a mood board of what's inspiring them right now.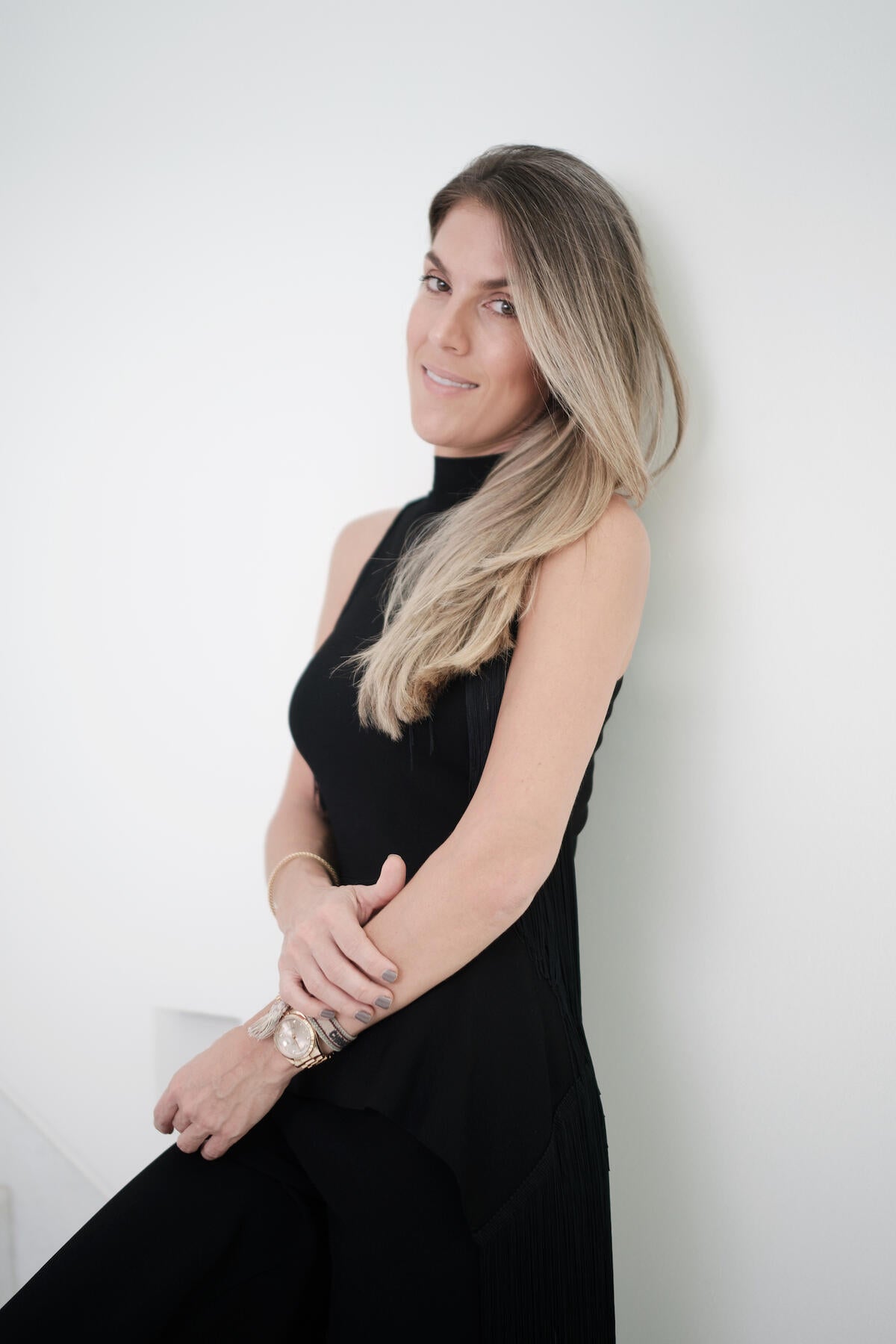 Marcela Cure strives to create an element of surprise in her designs. The Barranquilla, Colombia–based designer relies on the occasional zip of a bold pattern or contrasting color combo to infuse her interiors with a dash of the unexpected.
Her present flat lay provides a compelling case in point. Designed with a client's powder room in mind, Cure employed everything from palm tree–themed panoramic wallpaper to travertine-and-marble checkered flooring to help distinguish the space from the home's otherwise monochrome scheme. "I wanted to create stark contrasts with the predominately white palette throughout the rest of the house—this way, [people] will instantly be transported to an exotic environment whenever they enter," she tells Business of Home.
Cure layered a sleek assortment of bronze-finished fixtures and touchable organic textiles to help warm up the design, throwing in a handful of playful accents to lighten things up. "It feels like a lush oasis," she says. "Vibrant, relaxing and visually captivating."
Here, she breaks down the details—from sculptural bookends to plush, long-staple cotton towels.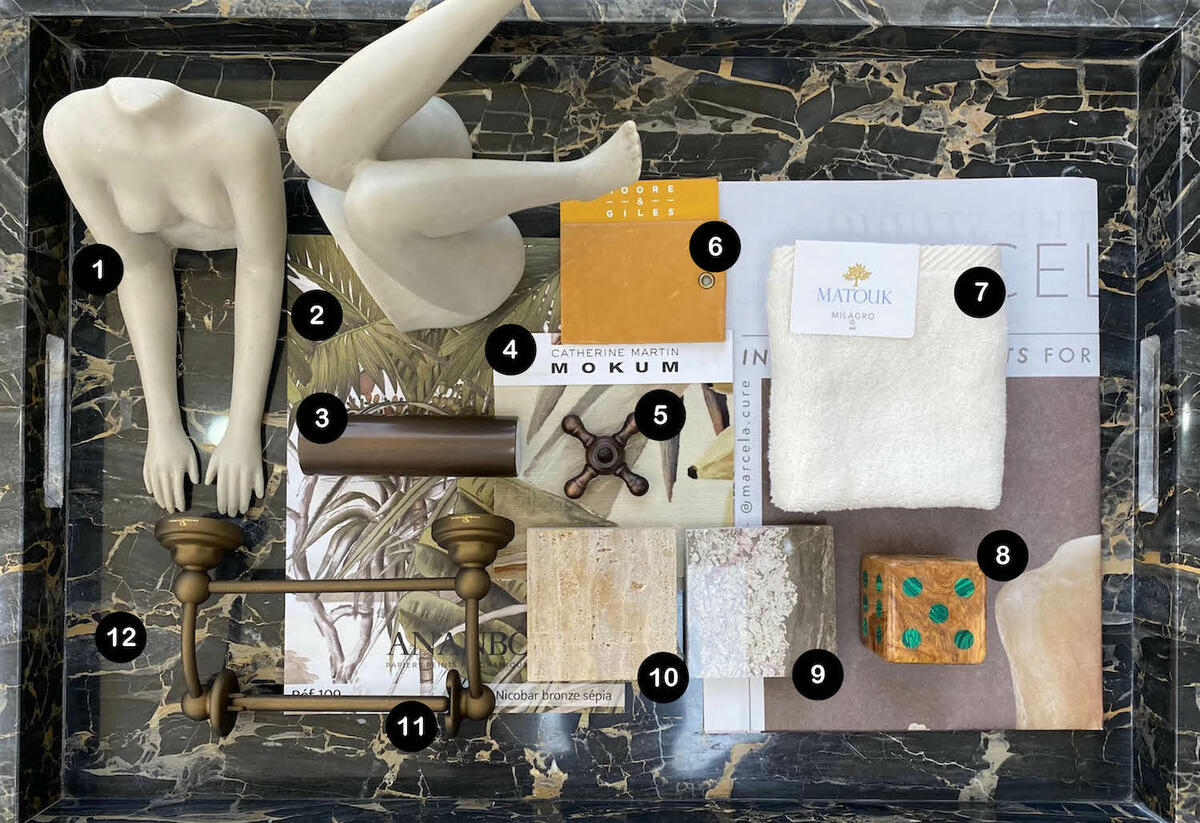 1. IL CORPO BOOKENDS BY MARCELA CURE
"What I love most about making these sculptures is that they're pretty versatile for a collectible design piece. They go well on shelves and tables, but are also fun in unique powder rooms."
2. NICOBAR PANORAMIC WALLPAPER IN BRONZE SÉPIA BY ANANBÔ
"As a Latin American designer, I am used to seeing palm trees everywhere from our tropical views in most cities all the way to our wardrobes and walls. I love this wallpaper by Ananbô because it's detailed and abundant yet toned down."
3. CUSTOM BRONZE FINISH SAMPLE BY MARCELA CURE
"I developed this custom sample with our artisans for the base of the vanity."
4. LA PALMA WALLPAPER IN GILVER BY CATHERINE MARTIN BY MOKUM
"Mixing and matching textures via different wallpapers is [a technique of mine]. This wallpaper by Catherine Martin by Mokum makes the walls of this restroom less predictable, while preserving cohesiveness."
5. BAUDETTE EXPOSED PIPE WALL-MOUNT SHOWER WITH RAINFALL SHOWER HEAD KNOB IN OIL RUBBED BRONZE BY SIGNATURE HARDWARE
"This knob is part of a beautiful shower structure that pairs well with the custom vanity and the paper holder."
6. VALDESA LEATHER IN GOLDENROD BY MOORE & GILES
"Moore & Giles's Valdesa textiles are crafted in Italy from New Zealand sheepskin. I love their sumptuosity and the easy flair."
7. MILAGRO TOWEL IN IVORY BY MATOUK
"I have a thing for linens, and Matouk never disappoints—they have the softest, fluffiest towels."
8. SMALL OLIVE WOOD DICE SET BY MARCELA CURE
"Our signature wooden dice with malachite inlays work great as an accent piece."
9. BRECCIA BROWN MATT TILE FLOORING SAMPLE BY THE TILE GUYS
"I like clean yet intricate surfaces. When alternated with the light travertine in a checkered pattern, the breccia tile evens out the space while offering character and uniqueness."
10. CUSTOM TRAVERTINE FLOORING SAMPLE
"A custom travertine developed by a local workshop adds organic texture to the scheme."
11. EDWARDIAN WALL MOUNTED PIVOTING TOILET PAPER HOLDER IN ENGLISH BRONZE BY PERRIN & ROWE AT BUILD WITH FERGUSON
"It's all in the details! This toilet paper holder is cute and adds hints of Edwardian-era style to this otherwise contemporary, tropical space."
12. CUSTOM PORTORO BLACK MARBLE TRAY BY MARCELA CURE
"This custom marble tray—with its sleek black surface and gold-and-white veining—serves as a stylish and functional piece."
Homepage photo: A flat lay by Marcela Cure | Courtesy of Marcela Cure