A neon rainbow and two giant blue eyes floating in a sea of clouds greeted visitors at the Interior Design Show in Toronto this past weekend. Even before walking through the space—which featured plush seating, cloud tables topped with giant, candy-colored acrylic hands, and silver podiums holding porcelain vases of blue and orange feather plumes—it was clear that the trippy funhouse scene was the work of Jonathan Adler.
The New York–based designer brought his signature flair to the trade show to create the space, dubbed "Dreamland," in collaboration with Israeli quartz surfacing brand Caesarstone (those light-and-fluffy-looking cloud tables are actually carved from quartz). Billed as a "highly Instagrammable" installation, "Dreamland" was a playful starting point for visitors, and based on the number of photos appearing on the #IDS20 hashtag, it clearly delivered. "I wanted to create a sense of spectacle," says Adler.
Business of Home caught up with Adler at IDS to talk about what it means to design an Instagram moment, how the platform influences his work ("Everything has to be a little bit extra," he says), and what's coming down the pike.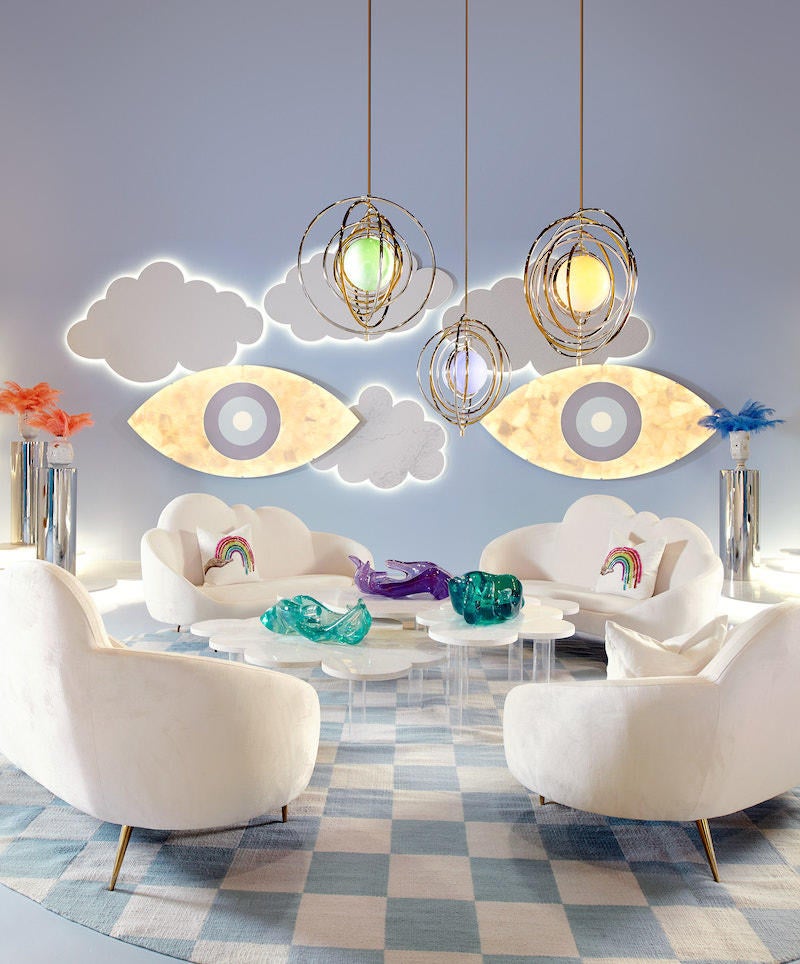 How did the idea for 'Dreamland' come to be?
I knew that I wanted to take a hard surface and make it feel soft and ethereal. The first thing I thought of was clouds. I am cloud-obsessed. I had done a cloud sofa a few years ago, [which was inspired by] one of the most magical days of my life, paddleboarding on Shelter Island. A seal popped out and said hello, then an osprey hunted a fish. And then I looked up and there was the most perfect cloud I've ever seen in my life. And I thought, I gotta make a sofa like that, because I want to sink into that.
I knew that I wanted it to be dreamy, surreal and ethereal—to have trippy neon lights and backlights, and to have a sense of flamboyance. I think a lot of design is very sedate and not terribly communicative, and I think things should be communicative. A lot of times when you see installations, it's some very personal story that doesn't really communicate to the viewer or participant. I wanted to create something where people could come in and feel like they're enveloped in a concept.
It was described as "highly Instagrammable," and it delivered. Everyone was snapping pics throughout the whole show. Was wanting to have that Instagram moment part of the conversation from the beginning?
I think that for better or worse, it's part of every conversation. The "for better" part is that it means that you can and should think about things in terms of vignettes. It's actually a good compositional tool to think about things as a photographer would. You have to pick your angles and vignettes and focal points, and that's good.
But it's all about the 'gram. I look at Instagram all the time, and I think it's become an incredibly powerful communication tool.
Jonathan Adler the brand is good at Instagram. What's your strategy?
Our two key words are big rooms. We find that when we post the big rooms that we design, they perform the best and receive the most engagement. People can picture themselves in there, and be immersed in the space.
We make a ton of stuff and do a lot of interiors, so we have a huge well of content. Our strategy also includes user-generated content so that followers can see our products in design projects other than our own.
The one challenge with Instagram is that I make a ton of stuff, and the making of that stuff isn't always that pretty and Instagrammable. Sometimes there are makers who are always filming themselves, and to me that's kind of an impediment to letting your creativity loose. That seems kind of fake to me. For our brand—as well as our social feed—authenticity is key. We have a very specific look and voice, and I approve every post.
Is Instagram something you're thinking about when you're making products? Is that a prerequisite when you're collaborating with big brands like Amazon or H&M Home?
I think one of the great things about the 'gram is that it means that everything you make has to be a little bit extra. As a designer, I appreciate that. It's a welcome challenge because it's got to look really good and sharp and be graphic. It's changed the way people shop—for clothing, but for home as well. It's all about the 'gram.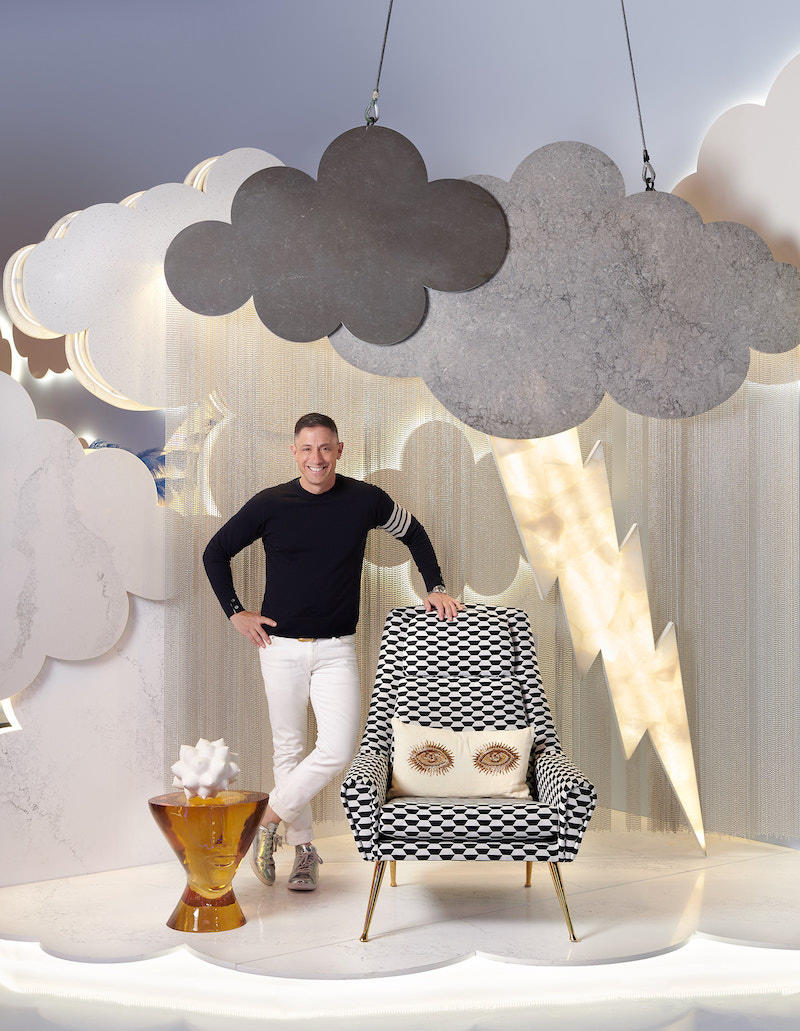 I just watched the Interior Lives tour that you did with New York magazine's Wendy Goodman. You talk about how you're having an 'eye moment.' They're in a lot of your products currently, and two large eyes watched over 'Dreamland.' What is it about eyes that you're drawn to?
There was sort of a eureka moment about that: I was having brekkie one morning with my husband. I had just made this gorgeous new pot. And because he's a window dresser, there's no shortage of mannequin heads around our house. So I put out this new pot that I made, and he happened to have a mannequin head behind it, and my eye just kept looking past my beautiful abstract pot to the mannequin head because faces are compelling, eyes are compelling. It was a eureka moment where I realized that things just need eyes. It's what you want to see. It's a very primal urge.
If it's not done right, sometimes it can be a little creepy.
Perhaps to some, but I'm fine with it. I don't mind the element of creepy surveillance. It's kind of interesting.
You debuted the furniture line Now House with Amazon in late 2018. How's that going? What have been some of the biggest surprises and challenges?
It's been interesting and fun. I welcome new challenges. I have an endless appetite to design and make things, so I will always want to do more, more, more.
We can't release numbers, but sales are good, chugging along. The brand is now available outside of Amazon, which has increased sales velocity even more. [Ed. note: Now House is also available at Target, Overstock.com, Wayfair and Bed Bath & Beyond.] As far as challenges, shipping and logistics took a while to figure out.
Will you be producing new products for the line?
We launched a stationery line in the fall, which is super cute, and we'll be releasing a Now House bath collection of both hard and soft goods in spring 2020. After bath launches, we have pet products planned for summer.
What's the creative process like? Is Amazon just like, 'Do your thing'?
Pretty much. That's sort of my mandate in life. I like to be unedited.