In our series, What I Love, we're asking designers to build us a mood board of what's inspiring them right now.
Megan Prime and Joe McGuier have an eye for vintage pottery. The Brooklyn-based duo behind architecture and design firm JAM gravitate toward idiosyncratic pieces with history and patina. "We are drawn to objects and art that have a multitude of colors and a mix of warm and cool tones that provide real richness," Prime tells Business of Home.
The duo's flat lay is an excellent example. Anchored by an old-school vase from their namesake shop, the pair employed an array of earthy textures and hues that highlight the shades of the vessel. "We often start with a vintage piece that has a unique or an unusual glaze, and then build an entire room palette from there," says Prime.
To add a zing of energy, the pair sprinkled in a handful of of-the-moment graphic motifs. "There's a certain nostalgia that seems comfortable and familiar," Prime says of the design. "But [that's] juxtaposed with the right dose of freshness and modernity to provide a nice visual tension."
Here, Prime breaks down the details—from curly shearling fabric to raw metal finishes.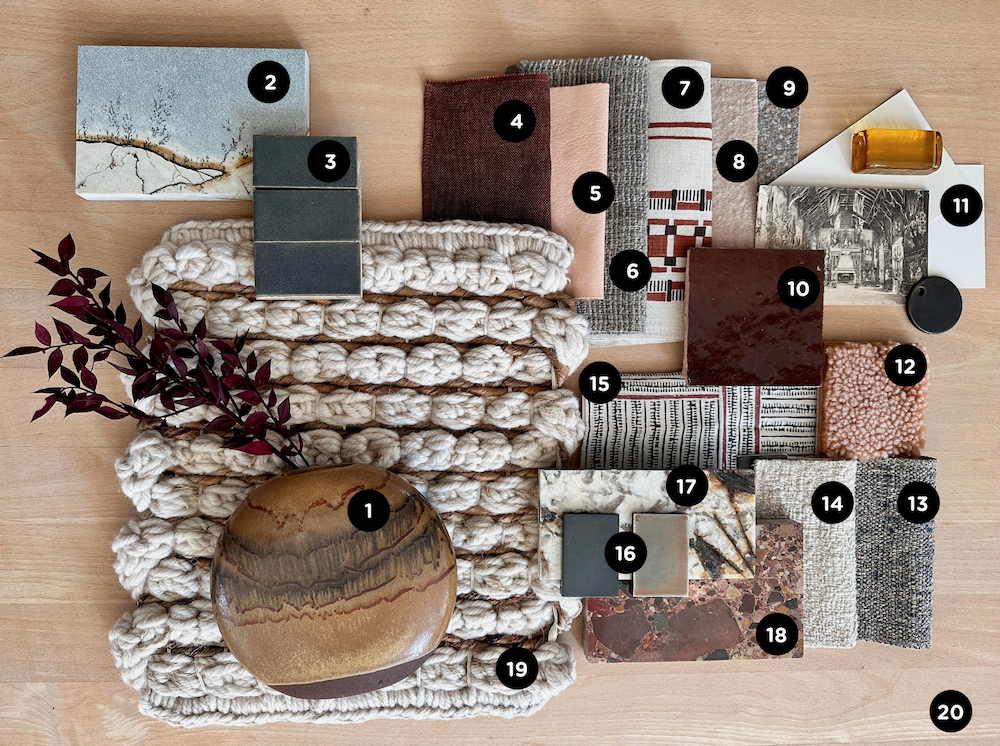 1. VINTAGE VASE AT JAM SHOP
"This vintage vase at JAM Shop has a unique organic glaze that acts as a visual anchor for the entire palette. It inspires a level of movement and acts as a way to tie together both old and new elements."
2. BLUE ROMA QUARTZITE SAMPLE BY BAS STONE
"This natural stone has a strong vein language, which balances the warm and cool tones throughout the rest of the palette."
3. MAKUMADE TILE IN E2 BLACKWATCH BY TEMPEST TILEROOM
"[These] gray-blue hand-glazed, hand-made tiles have an amazing depth of color and grounding neutrality."
4. AUTUMN FABRIC IN TERRACOTTA BY DE LA CUONA
"A light breezy linen adds warm earth tones."
5. NATURAL LEATHER BY FRITZ HANSEN
"Leather is another excellent way to tie in nature. It brings some life and textural intrigue into a space as a timeless material. The light color of this leather brings in a beautiful highlight to the whole palette."
6. CROSSHATCH FABRIC IN BOULDER BY MARK ALEXANDER
"We always strive to complement other materials with some woven plain fabrics. It is effective for balance, softening up stronger elements and tying everything together."
7. STACCATO STRIPE FABRIC IN BRICK BY BROOK PERDIGON TEXTILES
"A block-printed pattern incorporates geometry and graphic intrigue without feeling too traditional or overly fussy."
8. WOOL BOUCLE FABRIC IN DROMEDARY BY ROGERS & GOFFIGON LTD
"It is hard not to love a boucle. It is both soft to the touch and adds some texture without distracting from the form upon which it is upholstered."
9. BUBBLE BUBBLE FABRIC IN OUTCROP BY ROGERS & GOFFIGON LTD
"This is one of our go-to boucle fabrics. We love the dimension and bubbly quality of the wool. The fantastic color range of this fabric can work into any palette seamlessly."
10. ZELLIGE SQUARE TILE IN ARGAN BROWN BY CLÉ TILE
"The roughness and irregularity of zellige tile brings organic dimension to a tiled surface. We love it because it gives a finished and modern feeling, while also being steeped in history."
11. LIME WASH PAINT IN PERLE AND CHEMISE BY DOMINGUE
"Limewash creates dimension and layers subtle textures into a space."
12. CURLY SHEARLING UPHOLSTERY IN TOAST BY EDELMAN
"Like leather, shearling is another natural texture [that can] cozy up a space. This one has delicious apricot undertones and peachy accents highlighting the natural depth and texture."
13. ROGUE FABRIC IN CREEK BY DE LE CUONA
"Fabrics that have a multitude of colors in them, like this tweed, tie in tones from other materials."
14. FLINT FABRIC IN OAT BY DE LA CUONA
"Tweed is a classic woven fabric, and a neutral version lends a fresh yet timeless feel."
15. CARAVAN FABRIC IN TERRACOTTA BY BROOK PERDIGON TEXTILES
"This block-printed basket-weave patterned fabric is a great geometric with a pop of color for accent pillows."
16. METAL FINISH SAMPLES BY RAJACK HARDWARE
"The living finish of these metals means that they will change and patina with more use, making a space appear both lived in and loved, which is a beautiful way to show it change and grow over time."
17. PATAGONIA GRANITE SAMPLE BY BAS STONE
"This natural stone is a dynamic statement piece with strong pops of rust and charcoal tones."
18. BRECCIA ARRÁBIDA LIMESTONE SLAB BY BAS STONE
"This naturally occurring pebblelike slab with its rich blend of earth tones makes it surprisingly easy to incorporate into any palette."
19. AMOR RUG IN TUMBLEWEED BY ROSEMARY HALLGARTEN
"The soft and strong natural fibers in this wool-and-jute rug balance and play off of each other beautifully to highlight each material's intrinsic beauty. The scalloped edge is perfect for lending a structured softness to any room."
20. VINTAGE SOAP OAK TABLE AT JAM SHOP
"Oak is warm and classic—we love to incorporate it wherever we can. This vintage table at JAM Shop acts as the perfect grounding element to a dining room."
Homepage photo: A flat lay by Megan Prime and Joe McGuier | Courtesy of JAM