In our series, What I Love, we're asking designers to build us a mood board of what's inspiring them right now.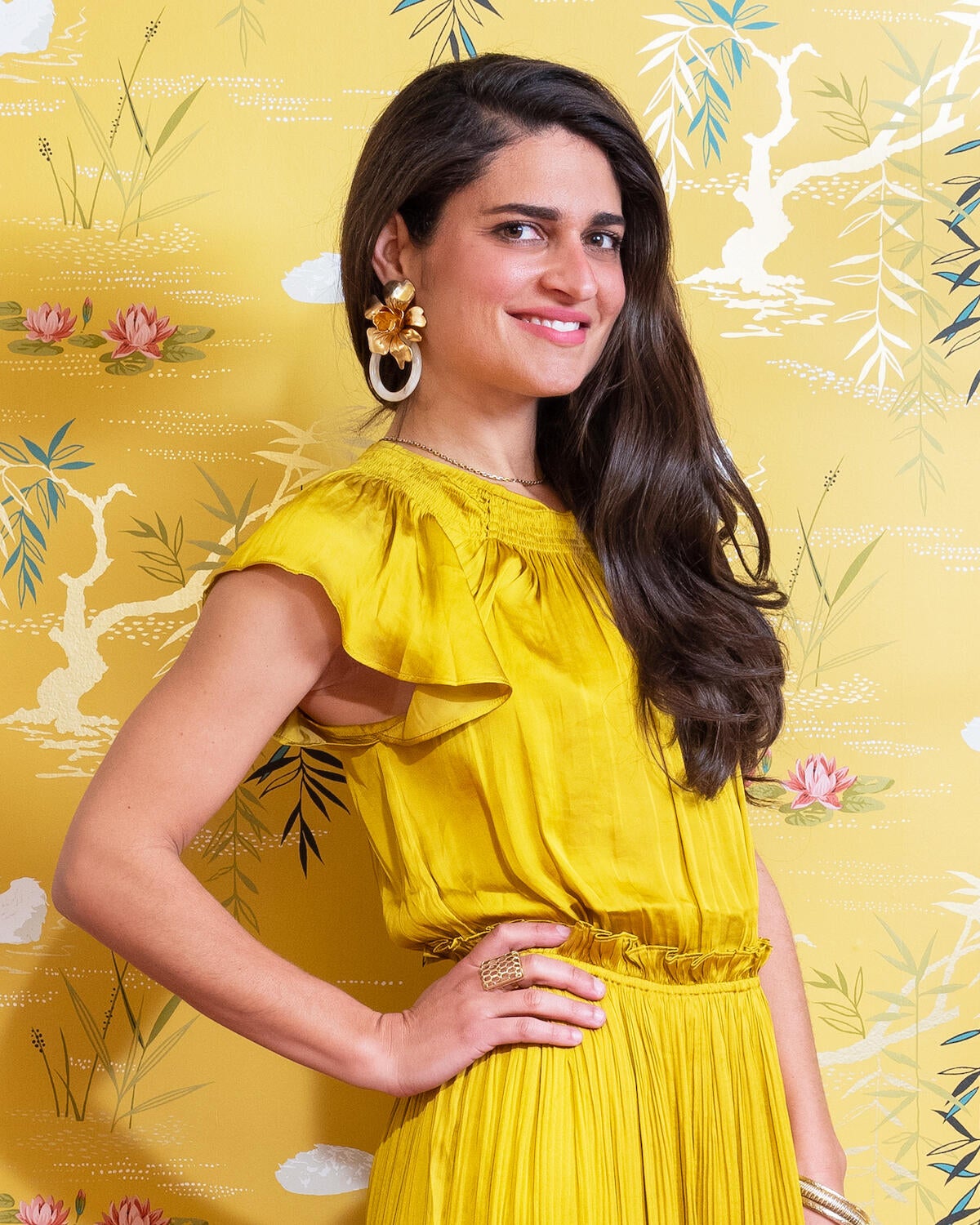 Courtesy of Isabel Ladd Interiors
Isabel Ladd doesn't shy away from bold textiles. The Brazilian-born, Kentucky-based designer has earned a reputation for creating richly layered spaces filled with vibrant patterns and saturated hues. "I call myself a 'curated maximalist,'" she tells Business of Home.
Her current mood board—inspired by her outdoor design for the Kips Bay Decorator Show House Dallas—is no exception. "From the time I submitted my application to Kips Bay, I knew that if I were selected, I would use yellow as my leading color," says Ladd. "I knew I also wanted to have a tropical vibe, and having an outdoor space is so perfectly Brazilian."
For Ladd, bringing that vision to life meant employing an array of bright colors, fanciful embellishments and kaleidoscopic motifs, including a custom fabric print by Spoonflower based on the graphic designs Kips Bay used to promote the event. "There is a more-is-more theme in my flat lay," she says. "But it's peppered with hidden elements like toucans, parakeets and tropical plants."
Here, Ladd breaks down the details—from pin-striped upholstery to botanical pillow covers.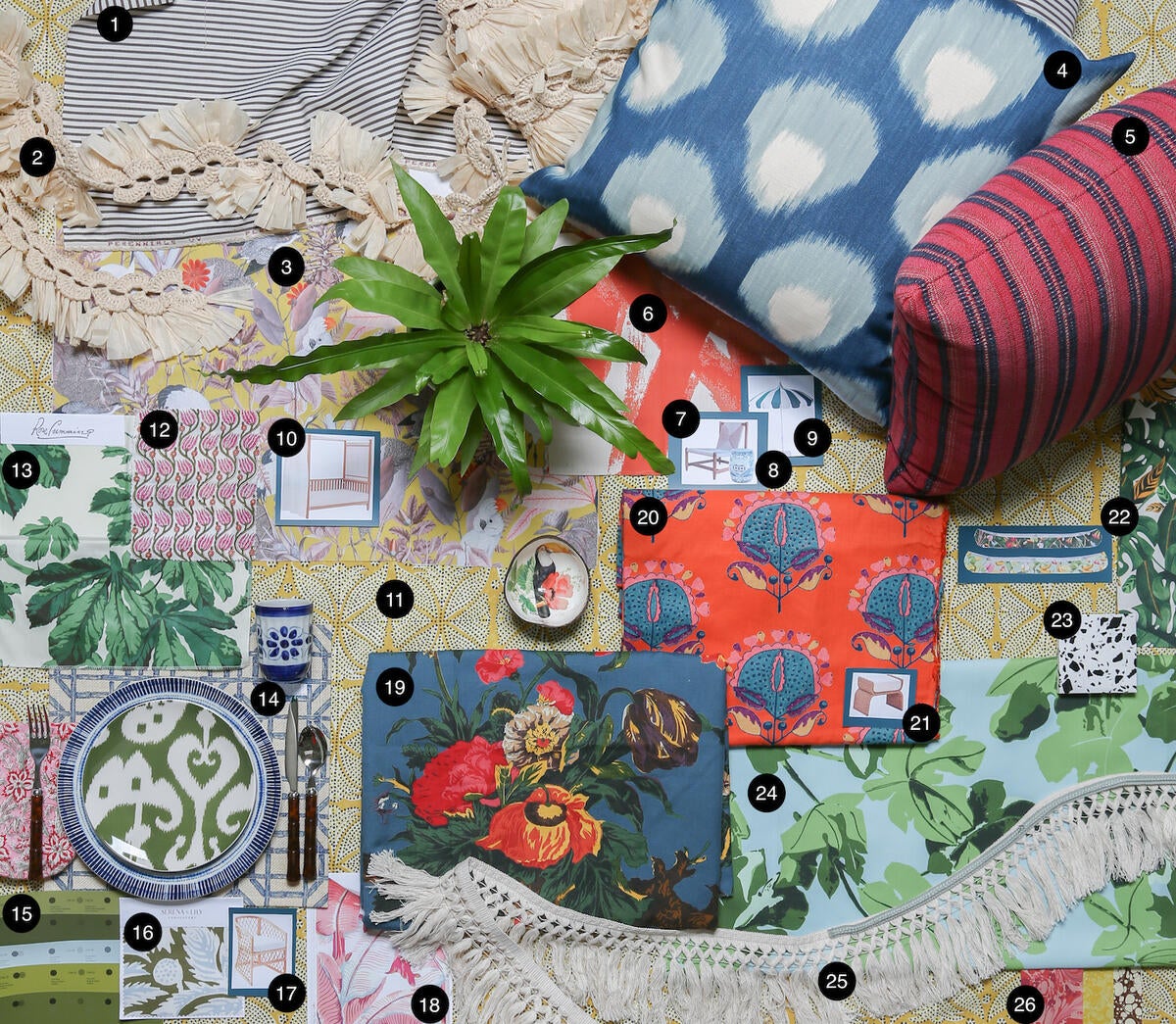 1. JAKE STRIPE FABRIC IN CHOCOLATE BY PERENNIALS
"With so much color and pattern scattered throughout, using a simple pinstripe in a neutral color keeps the otherwise extreme use of patterns in check."
2. CECILE RAFFIA TRIM IN NATURAL BY S. HARRIS
"It's important to incorporate organic materials like raffia to bring some nature-y elements in. This trim is so fun, unique and anything but boring."
3. CUSTOM OUTDOOR FABRIC PRINT BY SPOONFLOWER
"Custom-printed fabric, y'all. My entire space was inspired by the Kips Bay Show House invitations designed by Scott Velozo, which Spoonflower printed on to fabric that was then made into curtains on my daybed."
4. PETER DUNHAM TEXTILES BUKHARA IN BLUE/BLUE PILLOW BY HOLLYWOOD AT HOME BY PETER DUNHAM
"Peter Dunham's ikat and kilim pillows lend a curated, well-traveled and global aesthetic to the scheme."
5. PETER DUNHAM TEXTILES OUTDOOR MAJORELLE IN INDIGO ON RUBY PILLOW BY HOLLYWOOD AT HOME BY PETER DUNHAM
"The vibrant, saturated colors contrast wonderfully with the pops of yellow scattered throughout."
6. TANGLED FABRIC IN RED CORAL BY PERENNIALS
"Not only did I select a Perennials fabric because of its impeccable performance in the outdoors, but the loose, abstract, painterly design of the fabric is in stark contrast to the other more structured patterns."
7. LOMA CHAIR BY HOLLYWOOD AT HOME BY PETER DUNHAM
"Balance is important, so in spaces of extreme color and pattern, I like to incorporate neutral pieces like this chair, with strong lines and organic elements, such as wood and rope."
8. HAND-PAINTED CHINESE BARREL SEAT IN PALE BLUE BY OKA
"Incorporating traditional blue-and-white chinoiserie into a vibrant space adds both balance and contrast, and it's easy to find in garden stools, pots and vases."
9. EASTPORT STRIPED UMBRELLA IN BOTANICAL/WHITE BY SERENA & LILY
"I love the retro, somewhat preppy vibe of this umbrella. Again, it's about balance, contrast and unexpected punches. And the deep, jungle-green color is spectacular."
10. SUNDAY DAYBED BY BALLARD DESIGNS
"The daybed that kicked off this outdoor patio! It's perfect for an afternoon nap (just pull back the top cover, and you'll find the softest Peacock Alley bedding) and gave me the opportunity to go over the top with layering pillows. The canopy is perhaps my favorite part, as it not only envelops you, but it is super easy to swap out the white fabrics for an alternative of your choice."
11. KABBA KABBA OUTDOOR FABRIC IN YELLOW BY MARTYN LAWRENCE BULLARD
"Can you believe this is an outdoor fabric? Yellow is my absolute favorite color, and I was smitten when I stumbled upon this vibrant, riveting fabric."
12. YASHIM TOO FABRIC BY SUSAN DELISS AT WELLS ABBOTT
"This hand-blocked print is exquisite, and this is the perfect tone of pink and green that keeps it from getting too preppy."
13. CHESTNUT LEAVES GREEN LEAF FABRIC BY ROSE CUMMING AT WELLS ABBOTT
"Thoughtful repetition is important in design, especially in a space filled with so much pattern. I'm using this fabric in the interior of the daybed canopy, then again as a tablecloth and on dining chair seats. In an outdoor space, I thought it clever to be surrounded by nature both literally and figuratively."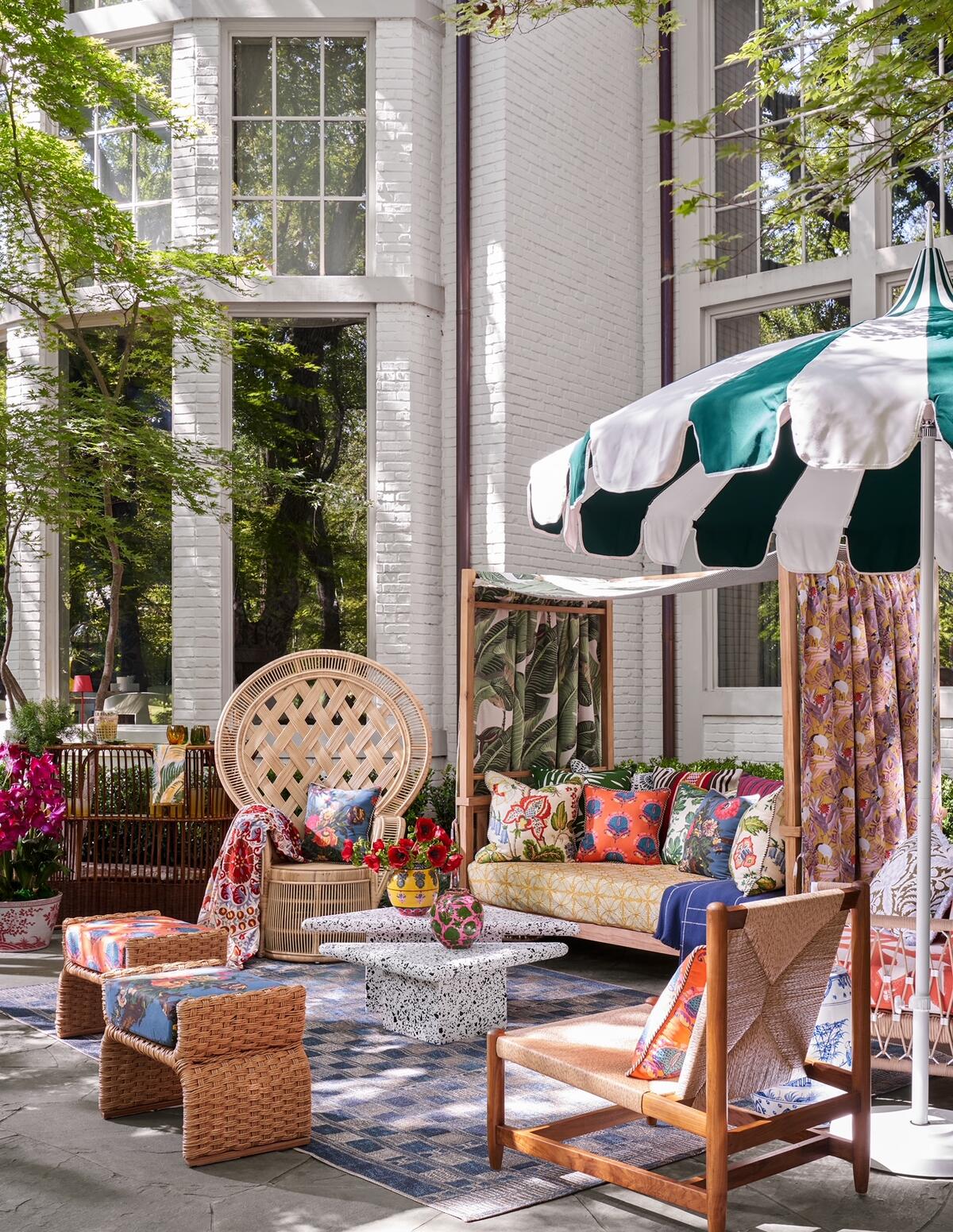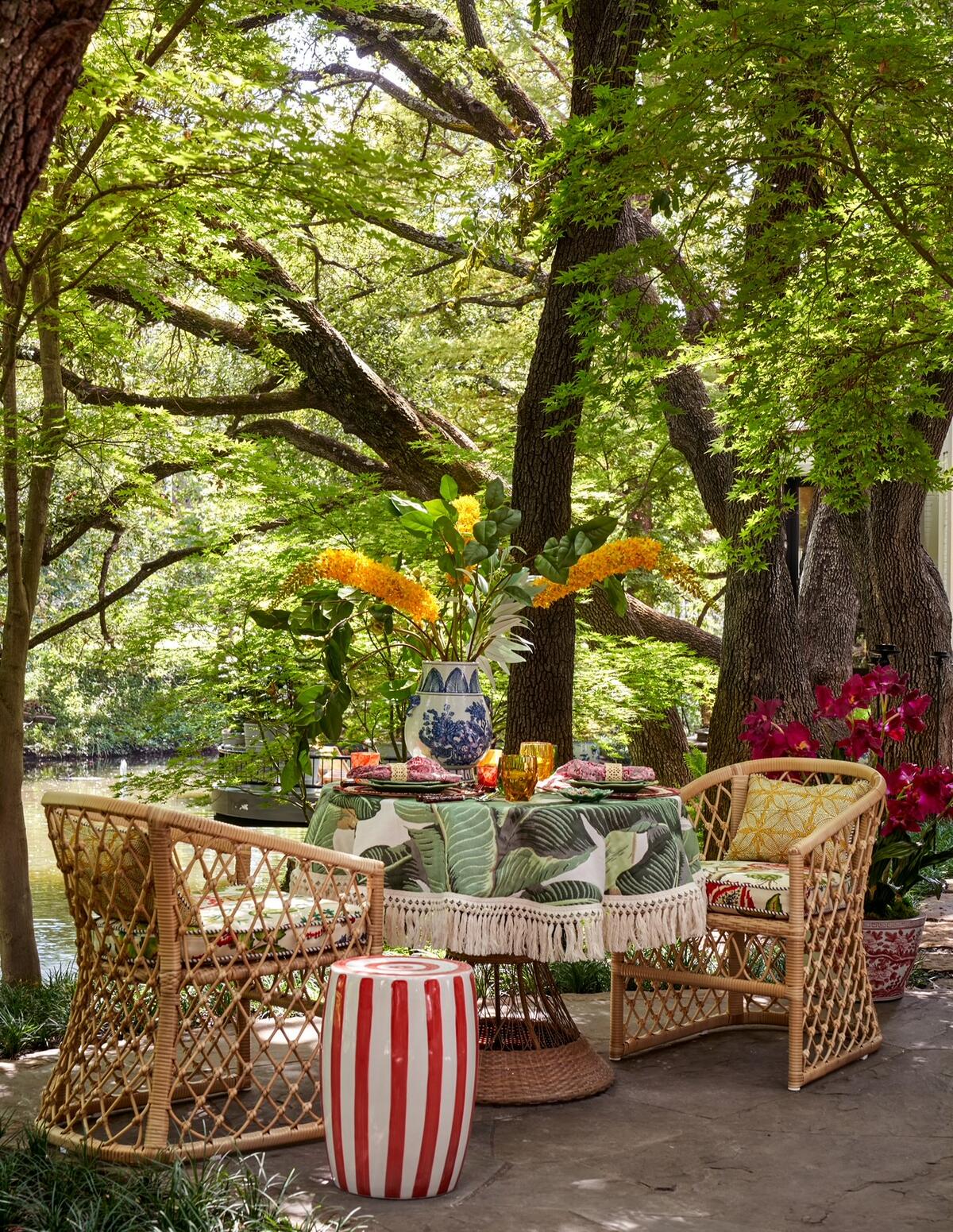 14. TABLEWARE BY FETE HOME
"'Mix and don't match' are words I live by. Tableware doesn't even need to come from the same collection—in fact, it's more interesting if they don't. Be creative!"
15. VARIOUS PAINT SAMPLES BY BENJAMIN MOORE
"Gossamer Blue and five different shades of green paint were used to paint a floor mural inspired by Peter Dunham's Fig Leaf fabric, which I also used to upholster the interior of a canoe."
16. ARTICHOKE PILLOW COVER BY SERENA & LILY
"A traditional motif becomes instantly modern in my favorite shades of olive and blue."
17. CAPISTRANO DINING CHAIR IN LIGHT DUNE BY SERENA & LILY
"A curved silhouette, plus rattan and an intricate diamond weave, make this chair a perfect perch underneath a canopy of foliage. The cushion covers zip off, making it easy to swap out a fabric of your choice."
18. MARTINIQUE WALLPAPER IN PINK BY CW STOCKWELL
"An ageless icon designed in 1942, the latest iteration of this large-scale botanical wallpaper takes center stage in tones of blush. I'm papering a 1970s rattan bar with it."
19. LU-SI FABRIC BY TULU
"I love supporting small, independent women creatives, and the mom-and-daughter team at Tulu creates the most gorgeous textiles."
20. STELLA FABRIC BY TULU
"Stunning—and hand-printed in India."
21. CYPRESS STOOL BY BALLARD DESIGNS
"I always try to find moments to throw in a sweet little stool that can double as extra seating, a foot rest or simply a way to show off beautiful fabric. To give it your own spin, simply have a new cover made in your fabric of choice. I used Tulu fabrics on mine."
22. VINTAGE CANOE HAND-PAINTED BY CHERA CREATIVE
"A thrifted aluminum canoe is getting the makeover of a lifetime with the magical talent of Dallas muralist Chera Creative. True story: These patterns were inspired by Farm Rio dresses from my very own closet."
23. VAIL VILLAGE QUARTZ BY CAMBRIA
"The center of my scheme is a cocktail pit I designed using a zippy black-and-white quartz. Think of a fire pit but with champagne instead of logs."
24. FIG LEAF FABRIC IN ORIGINAL ON BLUE BY PETER DUNHAM TEXTILES
"One of my favorite outdoor fabrics of all time, this pattern is showcased as upholstery in my canoe and interpreted in a floor mural by Chera Creative. It's available as a wallpaper and an indoor fabric."
25. BALI COTTON SKIRT FRINGE AND FLANDERS GIMP TRIM IN CREST BY SAMUEL & SONS
"Ever heard of 'piggybacking' trim? Simply take two trims, and butt them up together. In this case, I took a dramatic cotton fringe and glued a thin, braided gimp to the top band."
26. CUSTOM STATIONERY PAPER BY PAPER ON STONE
"My friend Whitney Simms of Paper on Stone creates bespoke picture frames, invitations and stationery using the most exquisite papers. I'll be showing off her marbled paper throughout as picture frames and stationery."
Homepage photo: A flat lay by Isabel Ladd | Jared Lee