General manager Zach Elkin remembers the exact day Signature Kitchen Suite decided to build an experience center. "It was April 3rd, 2016," he tells Business of Home. "My first day on the job."
For a brand courting the luxury market, it's not enough to just open a new showroom anymore. In a world dominated by high-speed, low-impact media, an immersive experience—the more hands-on the better—is quickly becoming de rigueur. For Elkin, the question wasn't whether to do it, but where.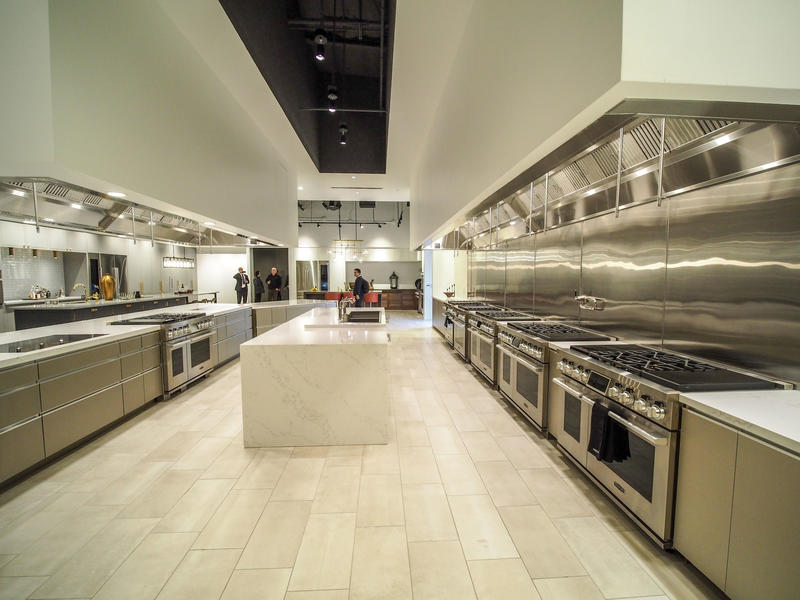 Courtesy Signature Kitchen Suite
"The experience and design center conversation was easy," says Elkin, speaking after the flagship location opened for business in early January. "The tough conversation was about Napa."
Tough is not a word normally associated with Napa. Nestled in a valley to the north of the San Francisco Bay, the region is all rolling hills, vineyards and restaurants with string-lit terraces. The heart of Northern California wine country, Napa is the kind of place where well-to-do city dwellers take weekend trips and Uber drivers moonlight as sommeliers. However, at fifty miles from the nearest major airport, the location would give many executives pause.
Founded in 2016 as an offshoot of South Korean electronics giant LG, Signature Kitchen Suite is a bit of a hybrid. Its management staff operates independently from the parent company, giving it a tight-knit, start-up feel. However, the company is undeniably part of a large corporation—one that has its own extensive line of kitchen appliances. When he joined, Elkin faced the double task of drawing a distinction between Signature Kitchen Suite and LG, and also standing out in an increasingly competitive field.

He acknowledges that Napa is an unconventional pick, and takes pride in it: "Anywhere else would have been settling."
His strategy was to sharply define the brand's customer—a well-off, tech-savvy, food-focused consumer that the company calls a "Technicurean." In short, a digital native who buys wild-caught salmon and reads Mark Bittman (Bittman is a brand partner). It's a distinct audience, but in a culture where a deeper awareness of food is on the rise, it's a growing one—especially among the affluent.
The company's products are all zeroed in on this demographic. At a time when the average American consumer didn't know how to pronounce sous vide, their flagship range was the first on the market to include a built-in sous vide unit. The company's latest offerings include a sleek wine storage column that not only controls for light and heat, but almost completely eliminates vibration. These are the kind of distinctions designed to appeal to a consumer that takes food and wine quite seriously. In other words, the kind of person who has been (or wants to go) to Napa.

"There's no other place in North America, not even in the world, where you have this convergence of technology, food and wine," says Elkin. "And from conversations I've been having with designers, the reaction has been positive—who says no to Napa?"
The bet is that, even though an outpost at The Mart or the D&D might be more convenient for some, spending a weekend in Napa is sure to be a whole lot more pleasant. The brand has an ambitious plan—and a significant budget—to back their bet up, with ninety dealer and designer training sessions booked for the center's first year of operation. Elkin also plans to host trade organization events like the NKBA's 30 Under 30 awards and the annual board meeting of the ASID.
Indeed, winning over the design audience is crucial to Elkin's approach. A majority of decisions about luxury appliances are made by designers and builders, not clients. "The design community are multipliers," says Elkin. "We had a lot of dialog early on about what the pain points were. We wanted to know what conversations designers were having with clients about cooking—do they use gas? Electric? Our ranges are designed around their needs."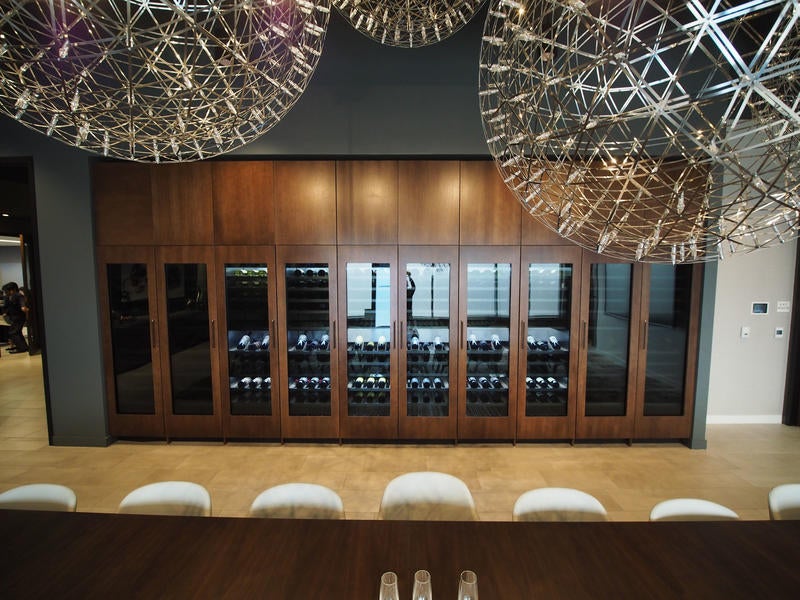 Courtesy Signature Kitchen Suite
Another advantage of Napa was space. Located in a business park not far from downtown, the center itself is 23,000 square feet—the size of ten to twenty design center showrooms. That scale allowed the brand to build a spacious demonstration kitchen where the brand can hold large-scale events. It also allowed their parent company to display a full range of its LG appliances in the building, including more value-oriented kitchen lines and other categories like laundry and home media. The hope is that designers will come for Signature Kitchen Suite, then get to know LG a little better while they're at it.
It's too soon to know how the venture will play out, but Elkin is looking ahead with excitement, not trepidation. He speaks enthusiastically about partnerships with local farms and wineries and a relationship with the nearby Culinary Institute of America—the kind of opportunities unique to the location. He acknowledges that Napa is an unconventional pick, and takes pride in it: "Anywhere else would have been settling."