IKEA is a paradox. As the world's largest "fast furniture" brand, the Swedish giant's business model has had an undeniable environmental impact. On the other hand, few megacorporations have been as aggressive in pursuing sustainable practices. Last summer, IKEA made an ambitious pledge: By 2030, it would use only renewable and recyclable materials in its products. Reaching the target will require across-the-board innovations in wood, metals, plastic and, of course, fabric.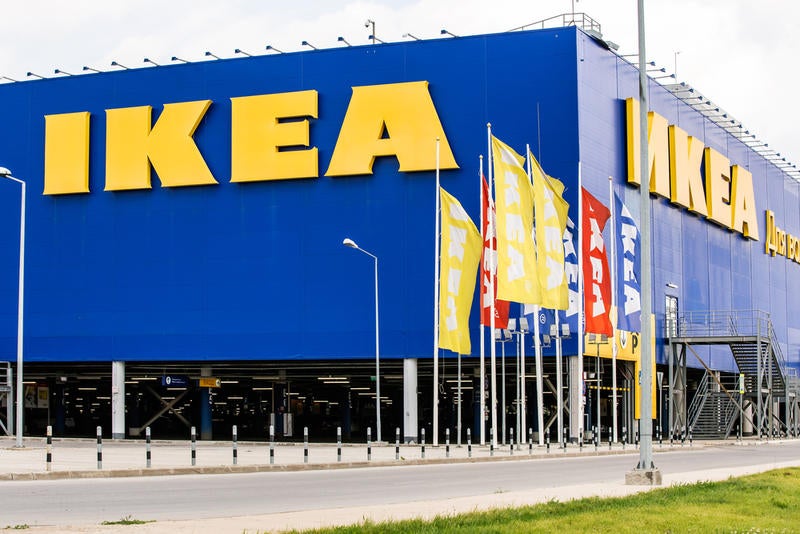 To that end, in 2014, IKEA partnered with H&M and Swedish inventor Lars Stigsson to develop a sustainable wood-based fiber. Now the initiative, called TreeToTextile, has a new partner: Finnish pulping conglomerate Stora Enso. The news signals a gear shift—the project has moved out of the test phase and into production.
"This [partnership], together with existing consumer and textile knowledge, as well as an entrepreneurial spirit, brings us one step closer to our goal of introducing a new sustainable low-cost fiber," says Lena Julle, category area manager of textiles at IKEA.
Stora Enso (which is, interestingly, considered the world's oldest corporation, founded in 1288) will develop a demonstration plant at one of its existing facilities to begin mass-producing the cellulose-based fiber. "Stora Enso produces dissolving pulp for textiles based on renewable and fully traceable wood from sustainably managed forests," says Markus Mannström, EVP of the Stora Enso biomaterials division. "It will be exciting to participate in the industrialization of this technology to meet growing demand." Once the initiative is operational, both IKEA and H&M plan to use TreeToTextile fibers to manufacture textiles. However, their ultimate goal is make the material available for sale on the open market, potentially magnifying the environmental impact.
Cellulose-based fabrics have long intrigued green-leaning textile manufacturers. Because the raw materials are harvested from a renewable resource (trees, shrubs and recycled wood), the technology is more sustainable than petroleum-based fabrics. And because forests are denser than field crops, cellulose fibers are often more resource-efficient than cotton.
The devil has always been in the details. Some early cellulose fibers were chemically "dirty" to produce (the pollution created in production outweighed the positive impact of the sustainable materials); others were impractically expensive. However, the past decade has seen a renaissance in innovation, leading to cleaner and more affordable manufacturing processes. Public awareness has also increased as branded cellulose fabrics like Tencel have crept into consumer consciousness. So far, the innovations are mostly concentrated in fashion, but cellulose fabrics are slowly expanding into the home world, particularly in bedding.
As such, TreeToTextile is more of a refinement than a breakthrough. "The raw material base—cellulose from wood—is the same as for viscose or lyocell on the market today," Annica Karlsson, TreeToTextile chairman of the board, tells Business of Home. "However, the new process has a favorable environmental profile based on chemicals that are recycled and without sulfur emission. Reusing the chemicals also contributes to lowering the manufacturing costs."

From an innovation point of view, it is all about democratizing ideas and solutions, and making them accessible for the many."
—Annica Karlsson, TreeToTextile
Cost is a key component—the most innovative technologies in the world won't make a big impact if manufacturers can't deploy them at an affordable price. "From an innovation point of view, it is all about democratizing ideas and solutions, and making them accessible for the many," says Karlsson. Cotton will continue be an important raw material for IKEA, she tells BOH, but cellulose fabrics are seen as the most promising alternative to both cotton and oil-based fibers. Financial incentives for participating companies don't hurt, either: The upscaling of TreeToTextile offers IKEA ancillary perks, such as greater control of its supply chain and, if other manufacturers buy in, an additional source of revenue.
Sustainability watchdogs applaud the news, but are hungry for further details. "It sounds to me like a very exciting product and project," Susan Inglis, executive director of the Sustainable Furnishings Council, told BOH. "The thing to be cautious about is where the wood or other plant fiber is coming from and how fast it is growing back. The chemical process and water usage are also important to look at closely."
TreeToTextile is hesitant to over-promise on specifics at this early stage, but the scale of the players involved has the potential to create a big impact from even small improvements. "It is too early to say exactly the lessening of environmental impact," says Karlsson. "It will be better defined when the demo plant is up and running. The driving force for us is to get a new sustainable low-cost fiber out on the market."
In other words: Don't expect to see TreeToTextile on shelves tomorrow, but its ubiquity may not be far away. And if IKEA can make it work, expect to see others follow suit with their own cellulose-based fibers for the home. Inglis sees this as a promising development: "Biosynthetics are where it's at. If we can make strong textiles out of stuff that grows out of the ground instead of fossil fuels, that's good news."