The 50 States Project is a series of candid conversations with interior designers across the country about how they've built their businesses. This week, Wauwatosa, Wisconsin–based designer Teresa Manns tells us why she pivots to hourly billing for paint selections, how she decided to start talking about workplace misogyny with contractors and why she prioritizes professional development.
When did you realize that design was a career path you wanted to follow?
I wanted to study fashion in college, but my parents told me I couldn't—they said the only thing they would pay for me to study was business, so I did. But I am not a statistical analysis thinker, so it was a struggle for me. I learned one very important lesson in Business 101, which is: "Why do businesses exist?" And the answer to that question is, "For profit"—because if you're not turning a profit, you have a hobby or a charity. That and accounting were what stuck with me throughout my life, and they have been very valuable.
What drew you to design?
My father is a mechanical and electrical engineer; when I was young, he was a consultant in the steel industry, so we used to move once a year or once every other year in between Cleveland, Pittsburgh or Chicago, depending on what he was working on. Every time we would move, my parents would buy a fixer-upper and renovate it, then turn around and sell it. That's where I got the bug about renovations and design.
At the same time, I was always so envious of people who had a home they had lived in their whole life. I wanted that so badly. And that is really where my passion lies in my business: when I'm working with a client, and I'm envisioning them and their family in this home.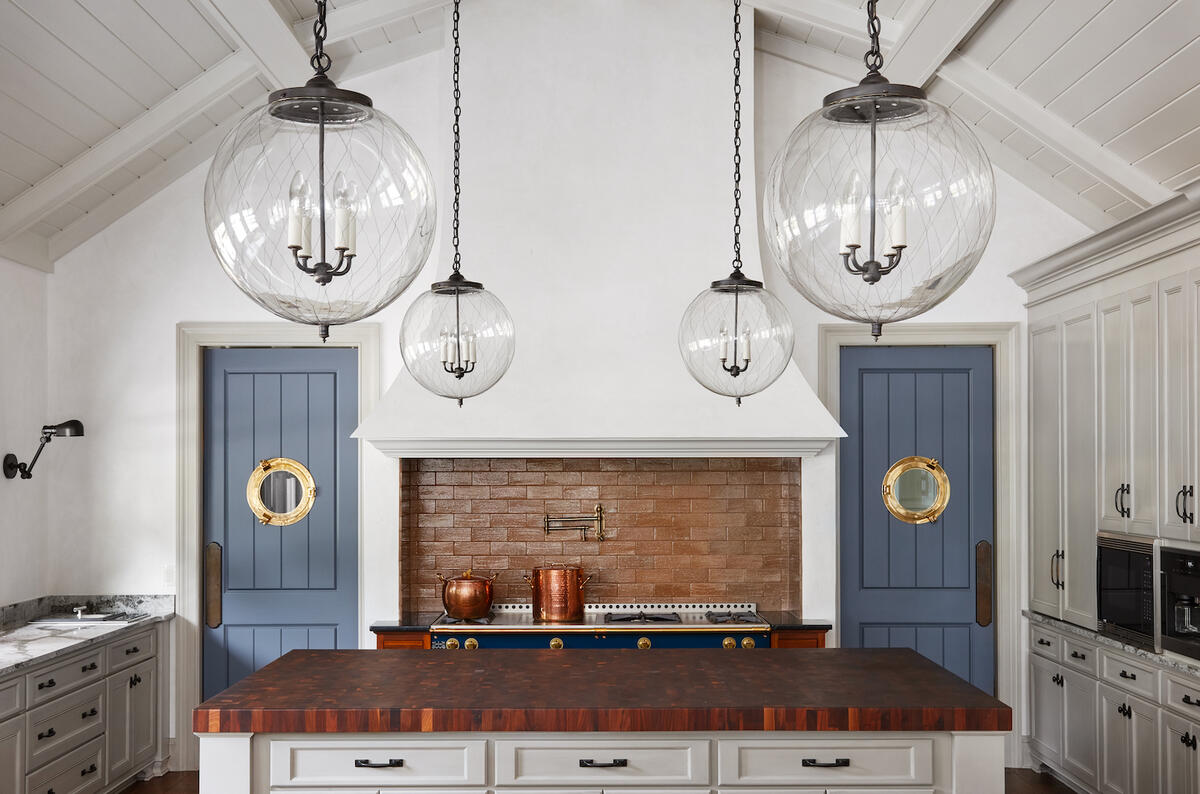 How did you make your way into the design industry?
I graduated into a recession in 1991 and there were no jobs, so I went to work at my family's business in Cleveland. It's an industrial construction company with big projects—our clients were NASA and Hefty—and I worked there as a project manager. NASA, for example, has a big jet propulsion lab in Cleveland, which requires this massive machinery. So I was organizing cranes to come in, or scheduling the pipe fitters and the welders.
I'm the oldest of four girls, and my father had dreams of me taking over his business. But at some point, I said, "Dad, one thing I've learned from you is that owning your own business requires a lot of work and passion and risk. You have to really love and believe in what you're doing—and I don't love this. This isn't my passion." Around that time, I had gone to New York for the first time to visit a friend who had recently moved there. This was 1998 or 1999, around then. And I remember that when I left the city, I looked back out of the cab window and was like, "I'm leaving my home."
What a powerful feeling.
I decided right then I was moving to New York. I ended up getting a lead on an apartment on the Upper West Side and moved in without a job. I didn't know what I was going to do, but I had a little bit of money saved up. And within a week, I got a job with a high-end residential construction company.

Doing project management again?
Yes. And while I was there, that's when the lightbulb went off about interior design. Because I knew I still wasn't creatively satisfied—but also, I didn't know what that looked like for me. I started taking creative writing classes, doing all sorts of exploration, but nothing was really resonating. But I was also going to work on these huge projects with, like, Victoria Hagan as the interior designer. We worked with [the late] Naomi Leff, an old-school New York designer. I met Steven Gambrel on one of his first big projects.

Were you starstruck at the time?
Not at all. I was so like, "I have to do this work." But as I started to understand their ideas and see their work come to life, I was like, "This is it. This is what I want to do." So I started taking interior design classes at Parsons—things like color theory and lighting design, filling in the gaps of my knowledge, and more art history. When Steven and I were finishing our first project together, he asked me if I would come work for him. I really admired him and we got along very well, but I knew by then that if I went to work for him, I would only learn his aesthetic, so I graciously declined. But after two or three years went by and we worked on a couple more projects together, I was ready. So I called him up and said, "Are you hiring? Because I know somebody looking for a job who would be a perfect fit." And he said, "For what position? Is it a bookkeeper?" And I go, "Well, it's me." He said, "Oh, great! When can you start?"
What was it that had changed for you that made you feel ready?
I had gotten through enough of my program at Parsons, and that next year and a half was full with a couple of projects that were not inspiring. I was like, I'm learning nothing here, you know? I'm just doing the job. So I knew it was time to pull the plug.
It turned out that Steven had agreed to take on a project and was scrambling to have the man power on it, so I went right in. We were a small office—I think there were five of us when I started—and it was great. It was a wild ride, and I worked on a lot of projects. I was there in 2008 when the world changed: People in New York stopped doing projects, but we had a lot of Europeans coming in and buying up real estate, then asking us to work on their projects overseas. And it was right around the same time that I met my now-husband, who lived in Wisconsin.
How did you meet him?
We met at our 20-year high-school reunion. At the time, I was like, "I am not interested in the divorced father-of-two who lives in Wisconsin. I live in New York, I have this great life." But he just snuck in. I had my guard down. I was like, "This will be fine. He comes to the city twice a year for conferences, no big deal." Well, next thing you know, I'm sitting at my desk in New York and working on projects in Hong Kong and Zurich and Bermuda—this is well before everyone understood working remotely—and it occurred to me that I could be sitting at a desk in Wisconsin having the same conversations with these architects and tradespeople. That's when I started to more seriously consider the idea that I wouldn't have to give up the type of projects I was working on if I were to move forward with this relationship.
We got married in 2010, then had a long-distance marriage. I could be in the city doing my work thing all week, and I would leave Friday afternoon for Wisconsin. It was like my weekend house—I gave up my weekend house in Millbrook and started flying to Milwaukee. In 2014, I gave up my apartment and moved there full-time. I started off with clients basically from East Coast contacts: I did a fun gut renovation of a 1920s Tudor in Summit, New Jersey, for somebody an art advisor connected me with.
And you were in Wisconsin, doing it all remotely?
Yes. I'd fly in for meetings—I was used to that, so it was no big deal. It went so well that the client asked me to work on their new project in Big Sky, Montana, which we are just getting started on now with the architect. Then I did a big project in Nashville that a contact from Bermuda had brought me on to with McAlpine. That went really well, and she asked me to do her house on the beach in Hilton Head, South Carolina. So even though I was in Wisconsin, a lot of my work wasn't. But I also started making some connections here, introducing myself to architects that I admire, and I have finally started to get a nice body of work in Wisconsin. There are a lot of small lakes where people have family compounds or weekend homes, and I love doing those sorts of multigenerational projects that will be legacy homes for those families.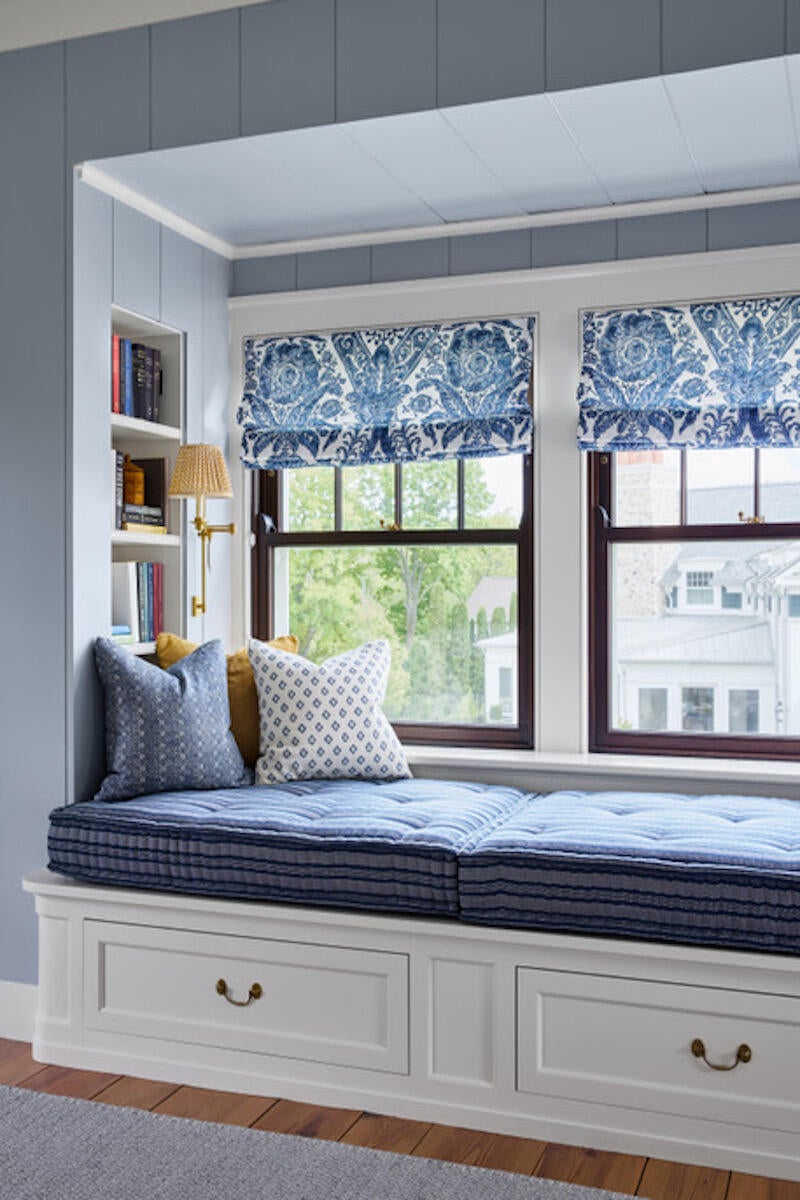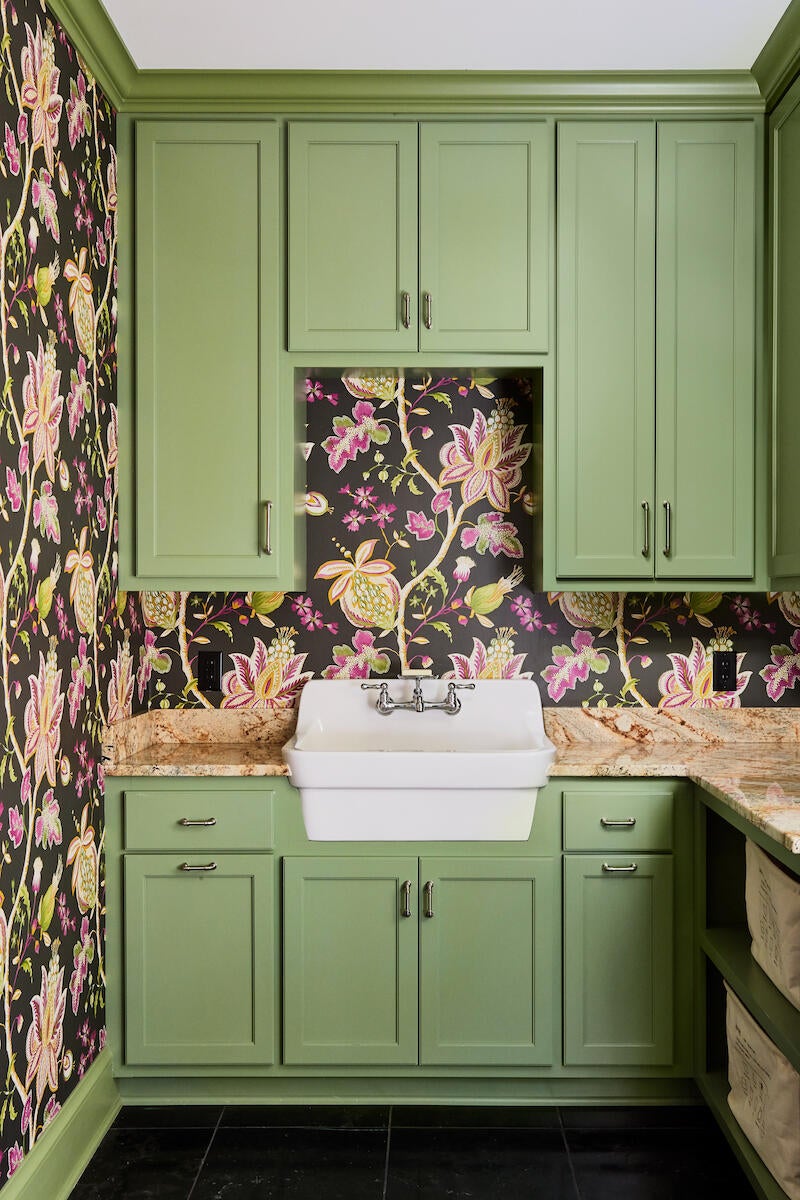 Did you always know that you'd launch your own business when you moved to Wisconsin? And how did you lay the groundwork for that?
Well, it helps to have a project, right? And I did have a really great client when I first moved—a finance guy with a project in Lake Bluff, which is a Chicago suburb. Steven's office referred him to me. He had called them up and it was too small a project for them, but the office manager said, "You know, Teresa just moved out there and she'd be great. She'd kill it."
I'm fascinated working with a lot of the finance guys because they're so analytical. They always want to try to understand every business that they encounter—and I always have to laugh at it, because while running an interior design business is a business, a lot of it is very esoteric and based on intuition. It's rooted in feeling and your visual memory and proportion and scale. Some of it can be taught, but a lot of it has to come naturally.
That's got to be maddening if you're analytical.
Right. There's no code to crack that you can then monetize. But that client in Lake Bluff did give me very good advice: He said, "Living in New York, you're always running into new people and getting exposed to new things. But now that you are back in the Midwest, you're going to really have to push yourself to get out there and see things, or else you're going to dry up out here." So early on, I got involved with the Design Leadership Network and the Leaders of Design Council as a way to attend their conferences, work on business best practices and also meet with other entrepreneurs. Because of that, I have this group that I've connected with to bounce ideas off one another and support one another as our businesses grow or have challenges, and that's been a wonderful thing. And if it weren't for that bit of advice from one of my first clients, I don't know that I would have made space for it.

I love that clients become so invested in your business in that way, too.
This is the thing about this field—you get so into your client's business that a lot of times it feels to them like you have this very personal relationship because you learn a lot of personal things about their lifestyle. Sometimes it's tricky because you're still on staff, right? But you know all the secrets.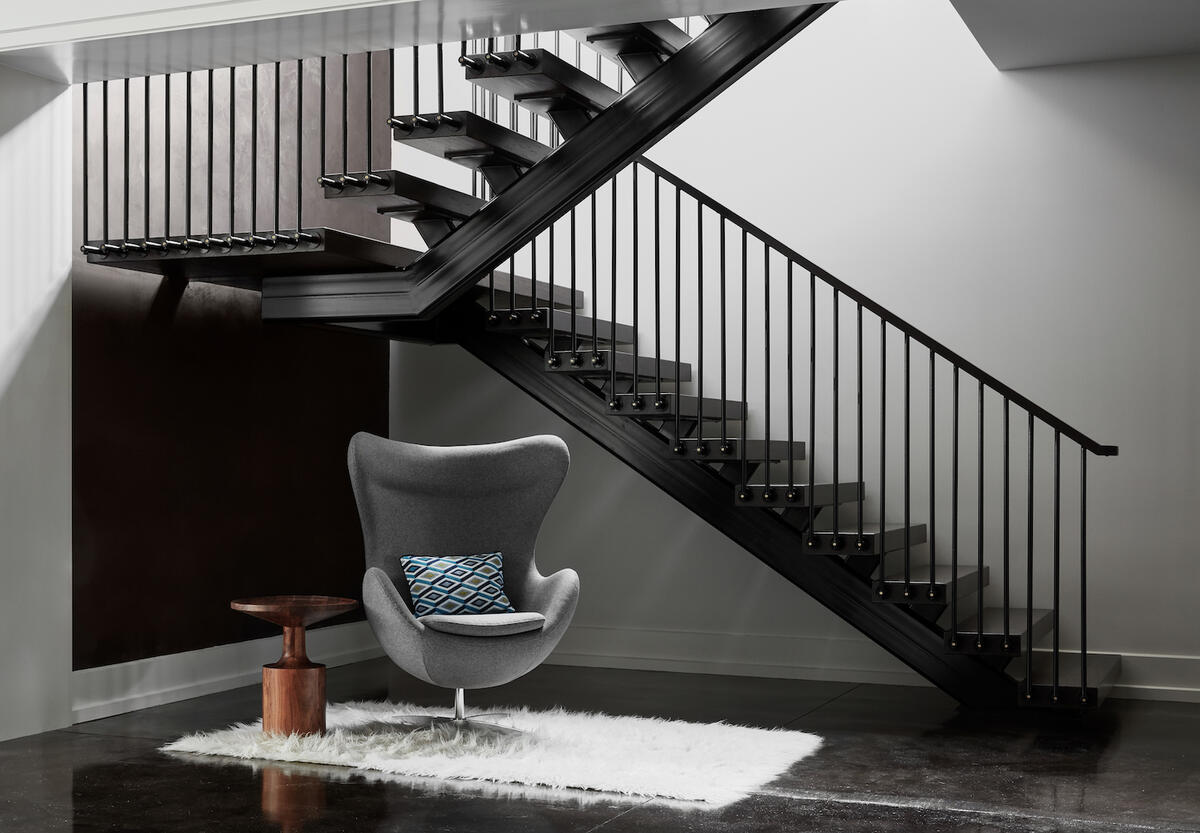 When did you start hiring, and what does your team look like today?
At first, it was just me. I found a firm in Chicagoland that were experts in my bookkeeping software, and they did my back-of-house bookkeeping from the get-go. I pay them a monthly fee to help me set up taxes in other states. Now, I've added a part-time bookkeeper who helps me with entering things into the project management software. But the first person that I hired was my sister, who lives in Ohio.
How did that come about?
It took me four or five years to find the right stylist here in Wisconsin, so before that, I was going to New York for my hair. I was talking to my stylist one day about being so busy—like, I'm sitting in her chair working, and I can't even think straight—and she suggested a remote assistant. It resonated with me because I'm like, "Right, this is busywork. Someone doesn't have to be present with me to do it."
What were you looking to off-load?
Getting quotes organized from vendors—and then, once I meet with clients and we pick a sofa frame and the fabric, the fabric needs to be ordered, and then getting the correct ship-to address and making sure it gets there. Or troubleshooting when it gets there and there's a problem. It was all that sort of stuff. And around the same time that my stylist is telling me this, my sister was looking to get back to work. She had stayed home raising her kids, but they were in high school and college, so she had this idea she was going to go work at Ann Taylor—but then she couldn't get Thanksgiving off so that we could all have a family Thanksgiving. I was like, "Joyce, that is ridiculous. Why don't you work for me remotely? Work as many hours as you want, keep track of them, and I'll pay you. Just tell me at the end of every month." And she still works for me.

Did it change your life immediately?
Immediately. I can't even tell you. It was insane what it did for me. Now I also have a full-time assistant here, Dana, who is great for meeting vendors, receiving deliveries or dropping things off at a client's—all the stuff that you need to be present for. She also digs through the fabric library, or I'll send her down to The Mart in Chicago—I'll say, "This is the spirit of what I'm looking for," and she'll take the day to find samples, which saves me so much time. But there's so much that you don't have to be here for, and I trust Joyce to handle it, and it's great. That's the team today. I mean, I just hired a PR firm, and I am ready for a design assistant who can draw.
With that team behind you, what does the business look like today? How many projects are you working on typically at a time?
I'm used to having a big workload. When I left Steven's office and I counted how many projects I had run, it was 75. And these are not small jobs. What happened during COVID is that everyone was decorating, you know? Normally, you can sort of stagger your projects. I have the one in Big Sky in design development. I have one in Wisconsin, a new build that's going to be finished in June. Things are all in different phases. And then people just kept wanting to do stuff during COVID. It was crazy. I was working seven days a week, like, 10-, 12-hour days, it was insane. And Joyce was working a ton too. That's when we brought in Dana. I think I had eight projects, but they were all at the same phase, and that was too much. I have six now, but they're in different phases, so it's perfect—a good amount of work, steady. It leaves me space to keep networking and feeding the pipeline.

I feel like so many people forget about that part. And you can't.
No, you can't, you can't. Making space to get out there and keep reminding people that I'm around and actively looking for good projects is a big part of my job.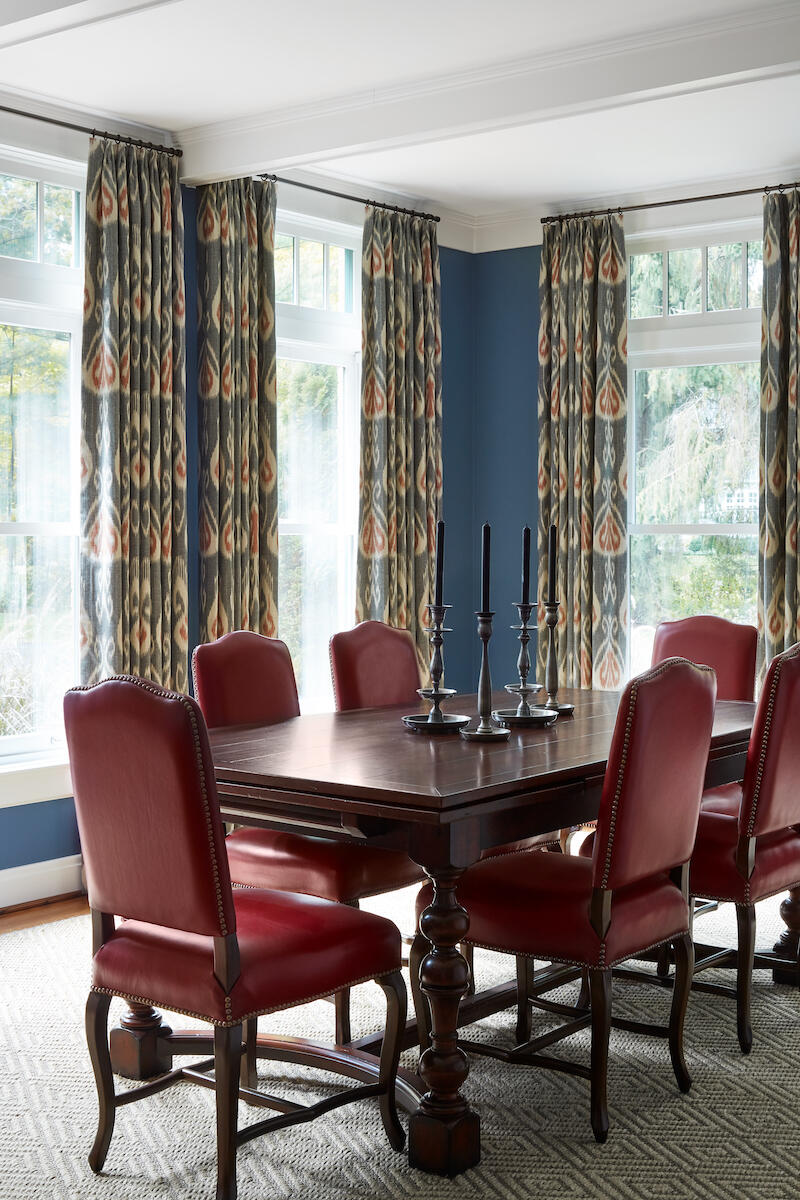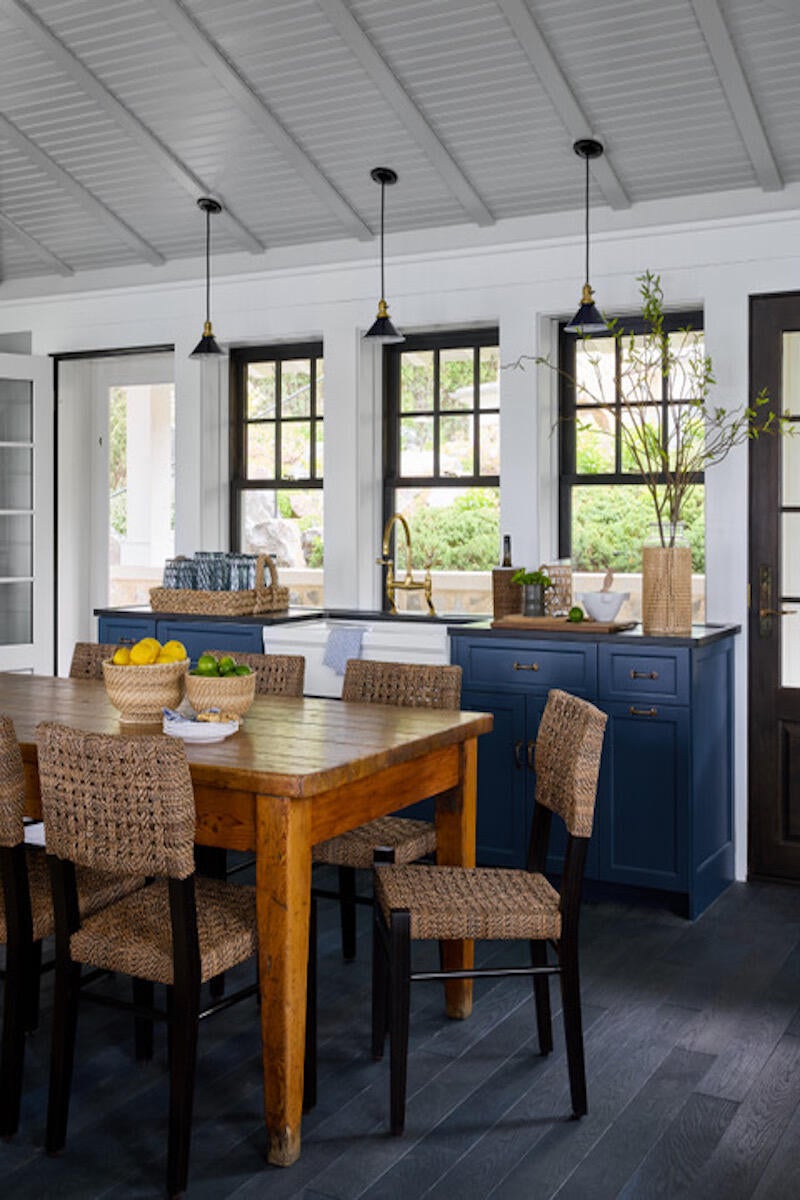 What inspired you in the way you organized your structures and set up the firm?
I was definitely influenced by Steven's office. I mean, we were so small, so I had the ability to build the office that we wanted, and it was great. And through trial and error there, I figured out what works, what doesn't work, how important personalities are to a team. And from my father, who had his own business, I learned to make sure my cash flow is always in a good place—keeping overhead as low as possible for as long as possible so that there's enough of a cushion.

How have you approached billing for your work?
I like to do mostly ground-up or renovation projects, so normally what I will do is, once I understand the scope of the project, charge a flat fee for the initial design phase that depends on the square footage of the home and how many decisions are going to be made. It's something we used to do at S.R. Gambrel that gave me a good blueprint for understanding—because I had so many projects there—how much time a job is going to require. Where it's located is also a factor. If I'm working on a project in New Jersey, I'm not charging them for travel to and from. I build that into my initial design fee because that's where people get really ouchy—when you're charging for FedEx and such.

And itemizing it? You're still charging, you're just not putting it on the invoice.
Exactly. And it's helpful because then they know what the number is. So I'll do the initial design fee, and that does cover working with the architect and builder, reviewing shop drawings and making cabinet hardware selections, all those hard surface collections for the home, which I don't purchase. I always have the contractor do that. Then I start billing hourly when we are picking paint colors because I've learned the hard way how that can suck up a lot of time. People get really paralyzed with decisions, which is fine. You can relax into it and just go with the process if you know you're recouping your time.

What is it about the fact that they can make all of the other choices, and then paint is hard?
I don't know. And it can be painted again.

It's a lot harder to rebuild those earlier decisions or backtrack from them.
But I feel like those are so outside of their comfort zone that they can't even think about it. Maybe that's it? Because I've never had to think about what my doorknob would look like, versus they have selected paint colors. And then for furnishings, and all the decorative elements that come in, it's cost-plus. There's no hourly for that part.
So is the hourly only for paint?
Paint—and it depends on the project, because sometimes people will balk at a higher upfront design fee, so then I will break it out. For those projects, I will charge hourly if I'm reviewing shop drawings or for site visits with tradespeople. And I get it: Some people get freaked out. They think it's a big number. I know it's going to come out to the same number. But I'm totally fine doing that. It works for everyone.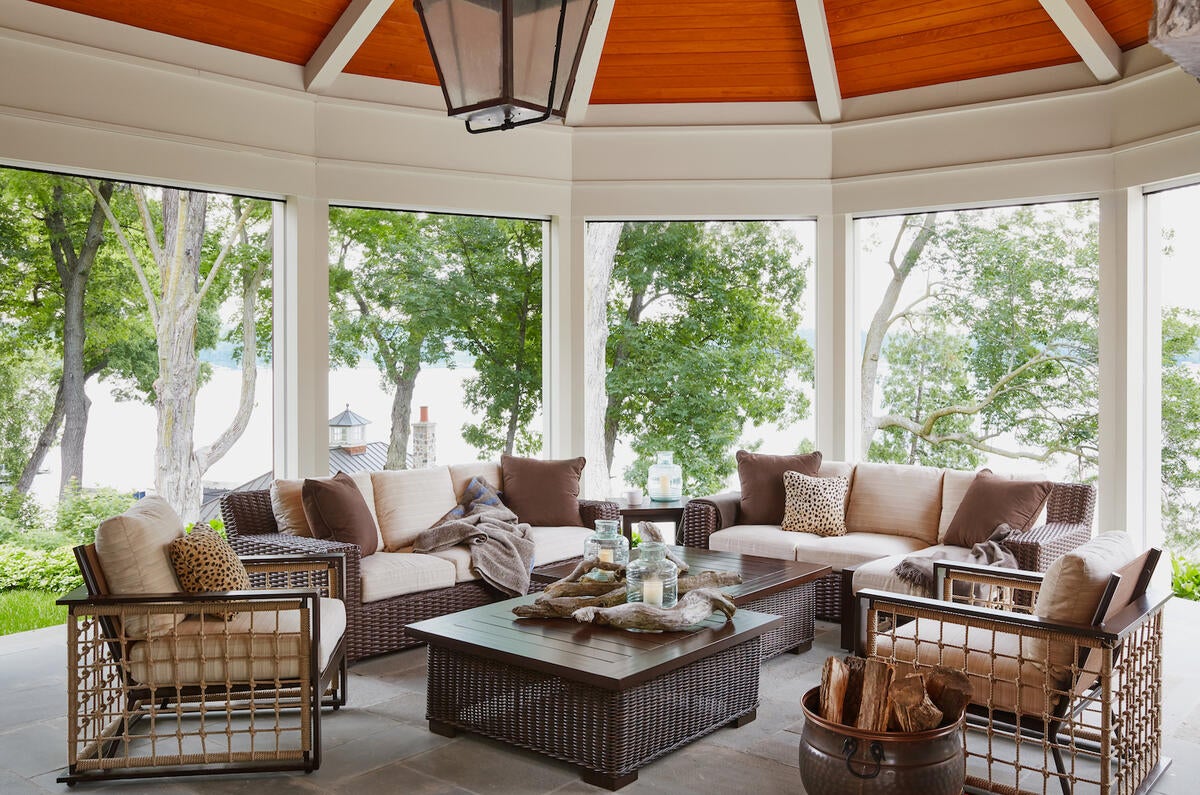 Did moving to Wisconsin force you to change the way you bill at all? Is there something fundamentally different about the New York market that made you need to pivot?
A little bit. In Wisconsin, there's always the question, "Can we do it cheaper?" And they don't mind if the answer's no, but they always have to ask.

Totally. That rings true to my experience growing up in the Midwest.
Whereas in New York, it's, "I want it now. I just made a ton of money, and I want the lifestyle. Gun it." There are still people here that get amped—they've come to a certain point in their life where they're building this home for their family, and it's not that they're afraid to spend it, but they just want to make sure it's carefully done. It's considered.
The bigger change for me was that I had forgotten how misogynistic the Midwest is. Back when I was working for my father in Cleveland, I had discovered that, as a woman, I couldn't tell a man to do something, or I had to ask enough questions to the point where he would think it was his idea. I'd say, "Wouldn't it be better if we did it like this? I don't know, maybe I'm wrong. What do you think?" But in New York, I had gotten used to walking on job sites, asking for things and having them done. So when I came back to Wisconsin and started bumping into that again, I was like, "Are you kidding me?" I'm too old now. I don't have the tolerance.
What does it take to vanquish that once and for all?
I was hired for a big family compound, and the client was great. It was going to be a five-year build-out. They hired the architect first and then they hired me, and they said, "We want the two of you to interview and suggest the contractor that you think is the best fit for the project." The architect had a couple of recommendations, one of whom I didn't know. So I asked to see houses they had completed that were five years or older, because I wanted to see how the joints were holding up, and the millwork, and make sure the quality was there. Everything was great. I was very impressed. But it was right after Trump was elected, and the contractor had Fox News on every channel on his radio. If that hadn't happened, I don't know that I would have said anything. But I said to him, "I really admire the team that you've put together. I like that you have your own in-house carpenters because that's how you get the best millwork. Everything's tight. The houses are great, your quality is great. Now, let's talk about misogyny."
He said, "What do you mean?" And I told him, "I'm used to working on the East Coast. I've been doing this a long time. I'm very respected in my field, and I'm used to being seen as an authority on the subject I'm talking about. Since I've moved back here, I'm bumping into being questioned all the time and I'm tired of it. So I would like to know that, if you get this project—because I'd really like to recommend you for it—everyone on your team, and this includes all of your subcontractors, all of your carpenters, everyone, assumes that I know what I'm talking about, instead of me having to prove it every single time I meet with somebody."
He was very freaked out—like, "We don't have a problem with misogyny. We even have some women working in our office." I'm like, "Really? What do they do?" They were all secretaries. But he promised me, I believed him, and he was true to that from the get-go. The superintendent was amazing. We worked together, problem-solving, and I was never questioned.
There was one subcontractor, the glass enclosure guy who comes in at the end. I'm explaining to him how I want this done, and he's telling me it can't be done that way, and I'm like, "I've done it this way a hundred times, I know it can be done." I'm getting really annoyed, thinking to myself, "What the heck?" Later, I noticed the contractor talking with this guy, and afterward he showed up with a completely different attitude. I realized, "Oh, he just got a little talking-to." To me, it was a lesson learned: I'm just going to speak up more from the beginning.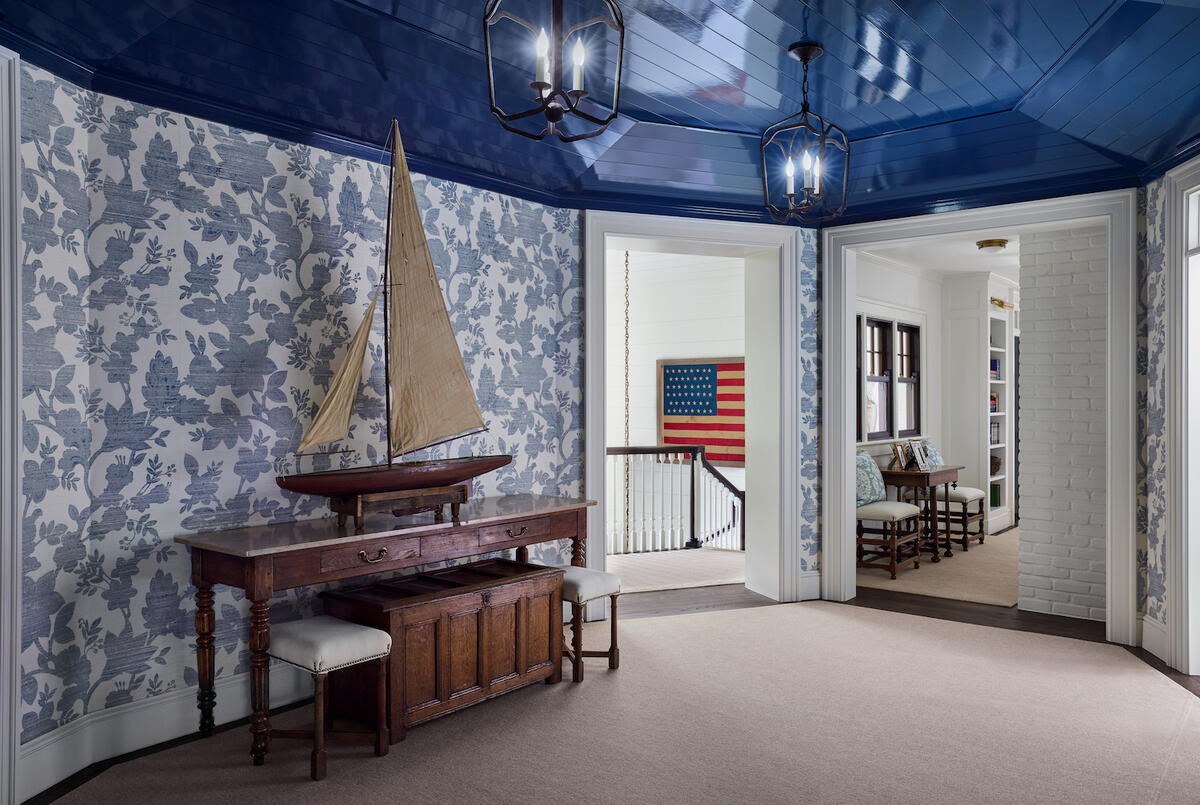 Do you still resource out of New York? Or have you shifted your shopping to the Midwest?
I do both. There's a rug vendor that I love in New York; she's got a great eye. I also love working with Merida from Massachusetts. There are some antiques dealers in New York I still love to work with. But there are great resources in the Midwest, especially around Chicago. So I do visit the Merchandise Mart a lot. South Loop Loft in Chicago is pulling great pieces from Italy, and Plank Road brings in a lot of English antiques. Depending on the project or the client, I'll go to the Nashville antiques show or to Round Top in Texas and source things. For fabric and wallpaper vendors, I'm using their Chicago showrooms. I definitely have my own preferences for scale and trim and fittings and color palette, but there's more of a traditional bent in the Midwest projects I've worked on thus far, so I rely on the architects to guide me there. I have been getting more modern projects, though, which is fun.

What surprised you or what's been most notable about the local design scene or local design community?
I feel like I have more connections in Chicago than I do in Wisconsin. It's not that far away—it takes me an hour and 15 minutes to get to O'Hare—so I'll often go down just for a function in the evening and drive back. In my head, it takes that long to get to JFK from Manhattan. I used to drive to the Hamptons for a site meeting and back in the same day, so Chicago's not crazy. And I've found a lot of support from the designers I've met there.

When you look ahead, where do you see the most opportunity to grow? What does growth look like for you?
Growth for me looks like more work, actually, locally in Wisconsin. And there's a lot there, and it's easier not to have to get on a plane. I like it. I like the family values, and it plays to my passion of creating home. While I'm working on a place, I think of all the generations that are going to enjoy it. And I always push the client. I had somebody who didn't want bathtubs because none of their kids, who were all young adults, used them. And I said, "Well, you do want grandchildren someday, right? You realize babies need a bathtub." By the time we were done with the project, they were like, "Thank you for pushing us to have bathtubs." They just lacked imagination for how their life could change.

Are most of your projects secondary or vacation homes, or are you working on primary residences as well?
It's probably 50/50. I do prefer working on secondary residences—people are more willing to take a little bit of a risk designwise, be challenged outside of their comfort zone. And they are more eager to have the project done, which makes them more decisive.

My favorite day is the big reveal. There's a tray of champagne, and the music's playing, and there's a fire in the fireplace and candles lit, and the lighting is just right and every toothbrush is in place. There's a blow-dryer in every bathroom, robes hung, hangers in the closet. They can show up with their overnight bag and stay.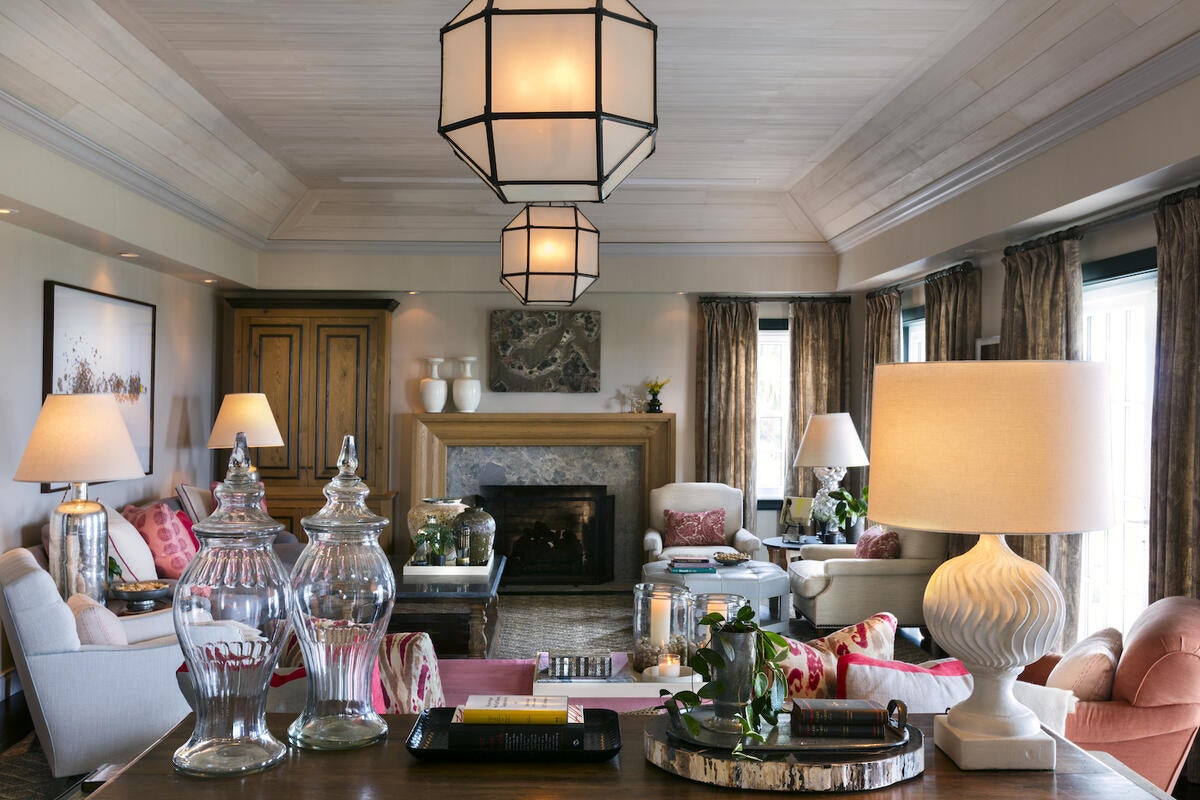 What does success look like for you?
Getting to the point where I have enough staff so that I'm not at all involved in the minutiae and am freer to do the networking and be the rainmaker and the big-picture person. With the understanding that every now and then I'll get dragged down into it, but right now, I still am doing too much day-to-day.
Is there anything I didn't ask you about that I should have?
If I think it's important to have dogs in your office. And the answer is yes. We always had dogs at S.R. Gambrel and it was just so wonderful because it was a high-pressure environment. We worked long hours, and the dogs being there was so nice. So I'm an advocate for that.
I don't have an office yet. I'm still working out of my home. But I am in the process of acquiring a small building because I'm ready to have all of those samples and everything. That's the next phase.
Will that change anything about the day-to-day beyond that you'll have a commute?
Good question. Maybe I'll go to the gym more on my way to the office, like I used to do.
To learn more about Teresa Manns, visit her website or find her on Instagram.