They say a picture's worth a thousand words. For Tracy Glover, the right photo ended up sparking a lifetime passion. When Glover was growing up, her mother always collected glass, so she was surrounded by the medium from a young age. But it wasn't until she saw the Rhode Island School of Design catalog that a clear professional path emerged in her mind. "I [always] thought I would just love to at least try it, but [it was] a photo of a woman blowing glass in the RISD catalog that really sold me on it," she recalls. "Years later, I met the photographer who took that picture, who was photographing my work [at the time]. He asked, 'Why'd you go to RISD?' and I told him—it really went full circle."
After graduating, Glover spent a good part of the 1990s doing contract production work, creating glass objects and tableware for a mix of boutique brands and retailers like Barneys, all while crafting more artistic projects in her spare time. As sales for those side projects began picking up, she realized it was time to break out on her own. "I got tired of that lifestyle and business model, so I test-marketed some table lamps, and that took off—eventually I got so busy I was able to justify building my own glass studio," she says. "I [started with] just accessories, but with glass, it's hard not to have ideas for lighting, and that's when I really switched, naming my company Tracy Glover Objects and Lighting."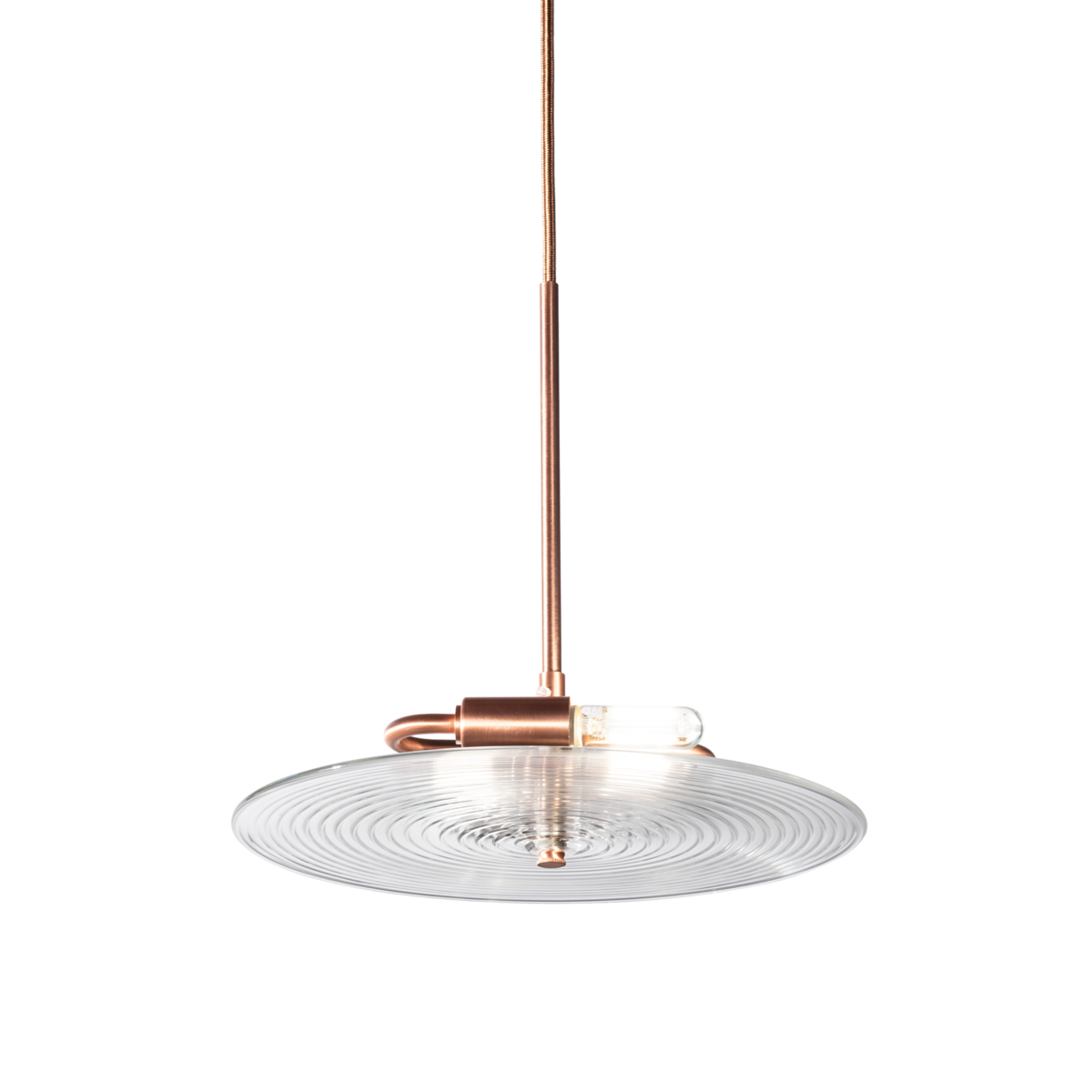 Around 2004, Glover's company dedicated itself to hardwired lighting fixtures for trade clients, which is when she really found her stride. In working with designers, she discovered an avenue to execute custom projects as well as a source of creative fuel for her own designs. "One idea leads to another, and seeing it realized gives you more ideas—I have a lot of great customers," she says.
Glover's fixtures run the gamut from structured, geometric pendants and wall sconces to cascading chandeliers that bubble with vitality. What each piece shares, of course, is a practiced hand of craftsmanship, thanks to her mastery of the medium. Today, her studio of five glassblowers and metal artisans work together to fabricate her fixtures at scale; while her company has an inventory of ready-to-ship designs, the bulk of her work comes through custom orders and commissions. "We like establishing relationships with designers, getting to know them and things that are important to them, having them trust us and come to the studio to see things," says Glover, who delights in the face-to-face. "That's what I really like."
When she first began selling her fixtures, she opted to sell through a showroom in New York, but in recent years, she has reassessed the showroom model as a whole. "I think what's difficult is that [showrooms] have a look, and maybe I want to promote something else that we want to be making that makes more sense for us as a studio, but you don't have any control over what they want to display," she explains. "We [were] getting a lot of orders for one type of thing, and [for that reason], I think you either have to go full-on showroom or sell direct—but doing both is very confusing."
Courtesy of Tracy Glover Studio
At the start of the pandemic, Glover was in the process of scaling back her showroom partnerships in favor of selling direct to designers. When the lockdowns came, she pivoted to social media marketing—and it paid off. "We had to really do all our own selling because people weren't shopping in stores," she says. "Now we're still riding that wave of people who are renovating their houses and doing custom special things, but the hospitality market is also kicking back in, so we've shipped some restaurant projects and we're quoting some hotels. A lot of fun projects are happening."
From an outsider's perspective, Glover's handblown lighting designs appear to form the core of her business, but from where she stands, the relationships she has developed with clients are an essential source of fulfillment. "I always wanted to be an artist," she says. "And when customers come in, there is a special connection—they feel like they have a hand in what [the end product is] going to look like, and that is meaningful for them."
To learn more about Tracy Glover Studio, visit their website or follow them on Instagram.
Homepage image: Tracy Glover in her Pawtucket, Rhode Island, studio | Garrett Rowland