The 50 States Project is a yearlong series of candid conversations with interior designers across the country about how they've built their businesses. This week, Columbus, Ohio–based designer Catherine Williamson of Mix Design Collective tells us about how she and her husband, Bryan Williamson, got into the field with an eye toward paying down their debt; the moment they realized they were all-in on design; and how they've tracked their style evolution through a series of increasingly ambitious rental projects.
What was your path to starting your own firm?
So, Bryan majored in interior design and construction management in college. I majored in accounting and was a CPA before I met him—I had no idea that that was in my future. I got my master's degree in tax, had my CPA license in New York, and I was consulting for a big CPA firm.
So design officially entered your life through Bryan?
That's right. I mean, I grew up in a small house in New Jersey, and my parents did an addition while I was in high school—I remember enjoying that process, and getting to help decide on things like the couch was really exciting to me, but I never thought anything of it other than, "This is fun."
How did you and Bryan meet?
One of Bryan's really good friends went to college with me at Fordham, and we met in New York when we were both doing summer internships. After that summer, he went back to Ohio. About a year later, he sent me a message randomly that was like, "Hey, the Fordham basketball team is in Ohio. I hope you're doing well," or something like that. We started chatting online, then emailing, which led to phone conversations, and then ultimately grew to us, like, making visits between New York and Ohio.
Bryan and I both graduated during the recession, and at the time, no one was hiring in the interior design field. No one was even building anything, really, and he was having a really hard time finding a job in Ohio. I was in New York still, and I had my accounting job, which was, thankfully, stable. And Bryan was like, "Well, maybe I'll just move to New York, and we'll see what's going on there. Maybe there'll be some more opportunities there." There still wasn't much in the construction field, but he ended up getting a job at a company building custom furniture.
How long did you stay in New York?
We lived in New York for a couple of years together, but I was getting burned out at my job. My values were shifting, and Bryan didn't see a future at his job, either—it was just a job. Plus, the taxing nature of living in New York when you're not making a ton of money was getting to us. Bryan, coming from Columbus, was like, "We should move back. It's really great there." He had been keeping tabs on the things that were popping up there—new restaurants, and just the development of the city as a whole, and he was so excited about it.
We took a trip to visit his family there, and we drove around some of the downtown areas that had all of these old houses. A lot of them needed to be renovated, but we could see an energy there, and the idea of fixing something up and bringing it back to life was really appealing to me. We started thinking, "We could actually own a house here for less than we're paying in rent in New York." That's what really sealed the deal. We moved to Columbus and bought our first house in January 2013.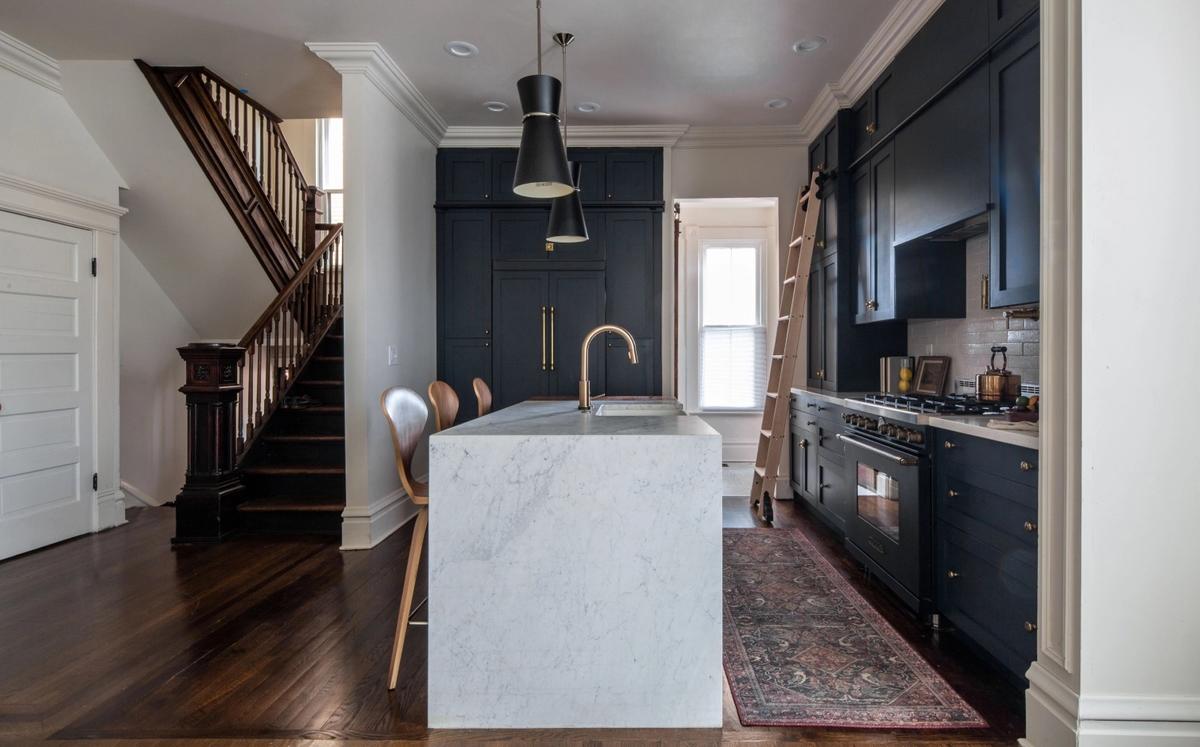 What was the reno like on that first house?
I wouldn't count the first house as actual design. Whatever we have developed today was completely unintentional—it was a passion that we were following, and it ended up developing into a whole bunch of other things that we are now doing full-time. But then, we were just tinkering and doing Pinterest projects.
How did that pivot into your business?
After moving to Columbus, we had space—literally and figuratively—to process and enjoy life in a way that we hadn't been able to in New York. It felt like we were on the hamster wheel, and then we hopped off of it. We started evaluating different parts of our lives, and one of them was our student loan debt and other debt, which we hadn't really put much thought into when we were living in New York. In order to pay that off, we decided to list our spare bedroom on Airbnb, which allowed us to pay our mortgage while still living in our house. We started having people come every other weekend, then every weekend, and that extra income allowed us to really go full force on paying off some of our debt. It ended up being a really in-demand location. And from our Pinterest tinkering, it looked cute. It was the perfect way to make extra money without having to spend a ton more time working.
The goal was that if we can get rid of that debt, we could have more flexibility in what kinds of jobs we needed to hold—because at the time, we had such a high amount of debt that we were paying off every month, it was almost equivalent to Bryan's salary. We thought, "If we can get rid of that debt, we can have more freedom." The house ended up becoming a full-house Airbnb, and whenever we rented it out, we would stay at a motel. But over the course of several months, the motel ended up being like our second home because so many people were renting our house. We were finally like, "What are we doing? This is stupid. We're living in a motel."
I'm guessing that was a very good financial proposition, though.
It was. We were making so much progress on our debt, which is why I think we were so focused on that—the light at the end of the tunnel was so big and so bright that it felt like whatever we had to do to get there, it was no big deal. But we also realized that we could buy another house and pay less than we were paying to stay at that cheap motel. We ended up buying a fixer-upper of a duplex. The thought was to move into one half, then renovate the other half to make some rental income while we were living in it, while also continuing to rent out our first house. We thought it was just going to be a cosmetic remodel and that it would be very simple, but it turned out to be a full gut renovation. We found roaches and mice, and there was a dead cat in the furnace. It was one of those [properties] that a slumlord had tried to make look good—and not having any experience, we thought that it was in good shape. It was baptism by fire. We remodeled the whole place, which was our first real experience working through a renovation together.
I had started a blog called "Beginning in the Middle," and we started sharing our process there. We were sharing it on Instagram too, and it was right when Instagram accounts started to really grow. As we did, people started reaching out about doing their projects.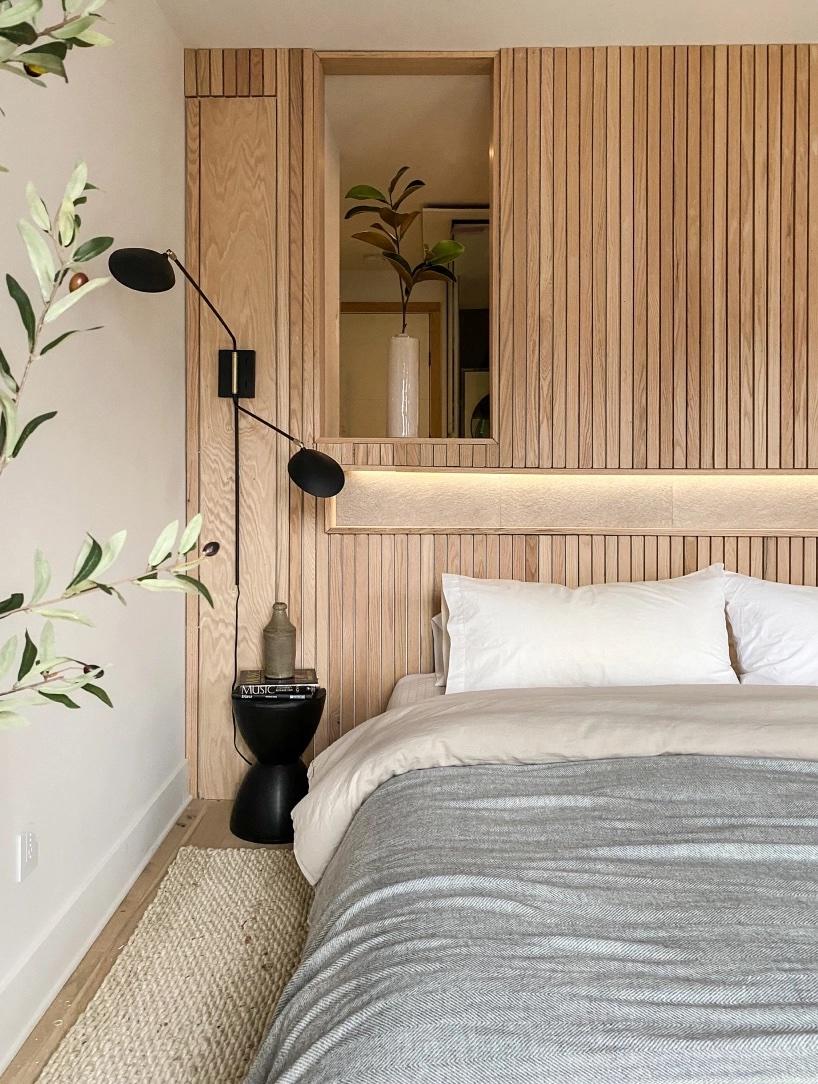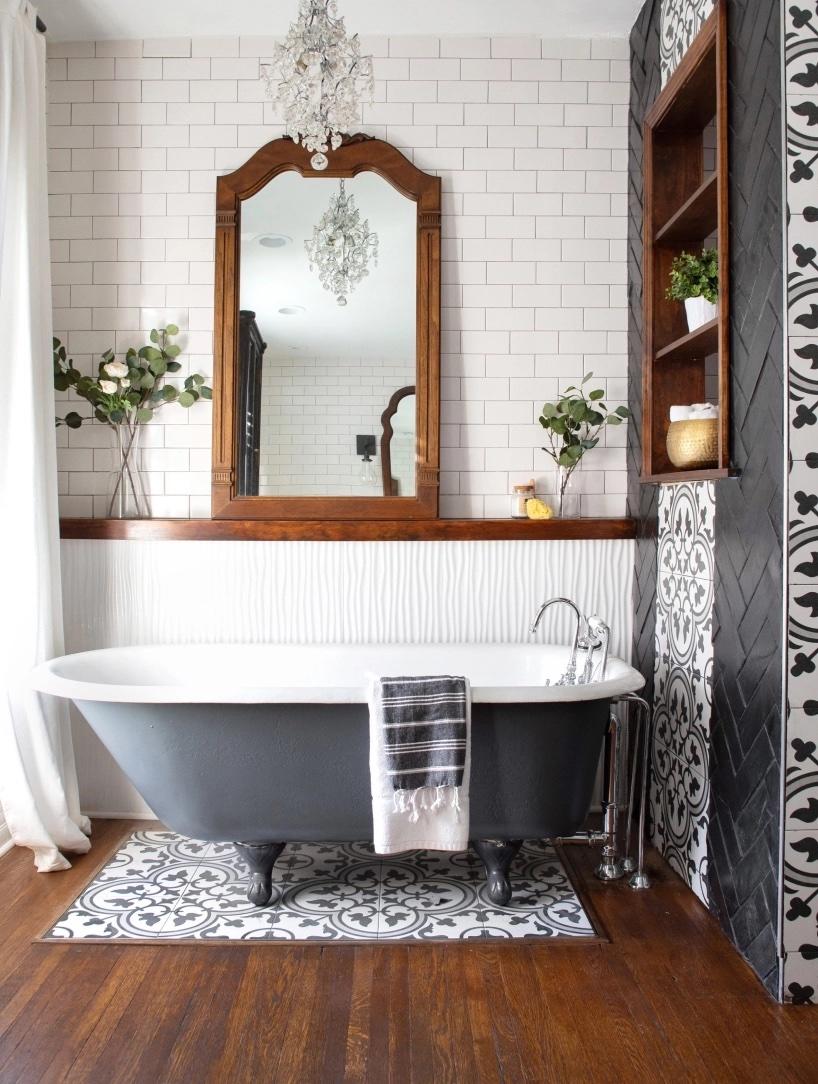 What was the impetus for the blog? Was the idea that this could become a business?
I've always liked writing. I started blogging about six months after we moved, and I liked sharing as we were doing our Pinterest projects. It was just the [act of] documenting it—in the process of blogging, you're forced to be present in the project that you're working on and appreciate the progress. Having the blog throughout this whole journey has been awesome for that.
Fast-forwarding a bit, what are all of the pieces of your business today?
We ended up buying a couple more properties between that disaster house and where we are now, which happened in a span of three or four years. Those are all Airbnb rentals, and that brand is The Village Host.
[All] of those rentals are our project houses, where we've experimented and designed without limits. We just did what we were feeling, so each one is like a capsule of where we were at that time—what we thought was cool and what we were gravitating toward. ... We look back at them now and they're cute, but I think we've evolved design-wise over the years.
And then the people calling about doing their design projects because of the blog—that led to a design firm?
Yes. Our design studio is called Mix Design Collective, and that really ramped up when we were almost finished paying off our debt. We realized that if we could make just a little bit more money, we could both quit our jobs. So we were like, "Let's start saying yes to people who are contacting us about their projects."
We spent a couple of years really heavily building that. What we realized in doing both the Mixed side and The Village Host side was that we really enjoy being our own clients. So when we had our first daughter at the end of 2018, we made a decision to stop client work so that we could focus on her and finish the rentals that we had bought but hadn't renovated while we were building up the design firm.
What was the moment when you realized you were all-in on this as a business?
When we both quit our jobs. This was definitely a side hustle until spring of 2017, and we did the majority of our property renovations while we both had day jobs. Once we both quit, it was like, "OK, we're in this now."
Is there a world where you would be interested in client work again?
It has to be the right fit. We're definitely not the right people for taking whatever comes our way. We've realized that we really put our whole selves into whatever project is in front of us, so everything has to align and feel really good for us to want to do that.
What was that conversation like to determine if the client was a good fit?
Once a client contacted us, we would reply to find out some more information about the project—and sometimes right off the bat, it was obvious that it wasn't a good fit. But if it seemed OK, we would reply back with a PDF of all of our information—[it outlines] our process, all of the services we offer, how we work, our price range, and what you can expect from working with us. We just put it all out there. If they got back to us after [reading] that, it was kind of like, "OK, this is the first little hurdle to get over to finding that perfect client." After that, we would have a phone conversation with them and chat more about their project and get an idea of whether we think it would be a good fit. Ideally, we want to work with people we wouldn't mind getting dinner with.
The other thing is that right now, we're a small team—it's just Bryan and me, plus some subs. So resource-wise, if we're putting ourselves into a new project, then what are we not putting ourselves in on our own development side? We might try to do some consulting if we can find the time.
Is there a sense that this could grow into something where you have a whole team of employees, or is keeping it small part of the appeal?
We would love to grow. We just want to do it organically and intentionally.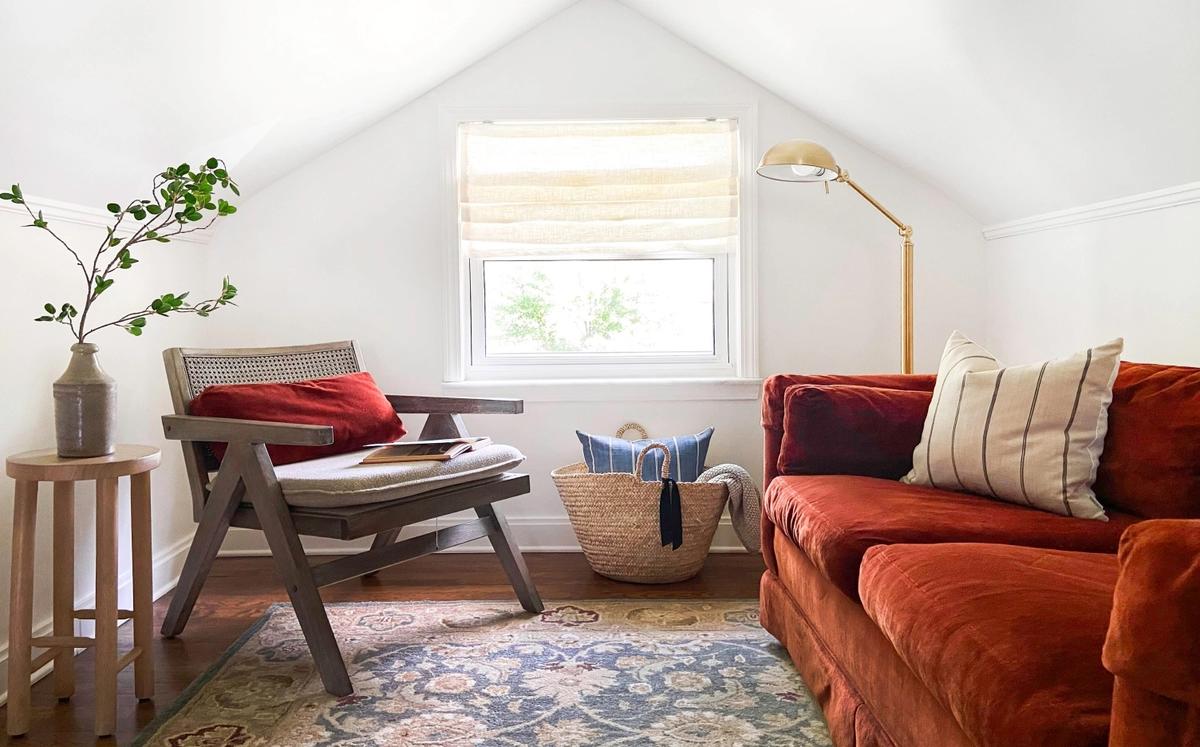 Can you tell me more about the design scene in Columbus?
It's small, and there are not a lot of design-forward places in commercial or residential. It's starting to get that way, but sometimes it feels like it's a couple years behind. Some of the things that people are building now are still that industrial farmhouse look—things that were really in a couple years ago. I don't think it's just Columbus experiencing that. But we would love to see more clients wanting [more current designs], and the same with the restaurants that are popping up.
What is your biggest challenge right now?
Our latest project is an 1890s bed-and-breakfast that we bought earlier this year. It's going to have nine guest suites. We are designing and renovating the whole thing, and it's a massive project that's kind of reminiscent of our first disaster duplex—a property that appeared to be put-together. But it's also been really fun, and if this works, it will hopefully be the start of more developments like this for us.
We've gotten the management part of Airbnb down to a science, so most of the time, things run smoothly. Of course, when there's one issue, there's 10 issues at once, and that's always really stressful. But we're working on that. We recently hired someone to help us field those maintenance issues that come up, and we are definitely hiring a manager for the bed-and-breakfast. But on the design side and contractor side, it's just the two of us. We're just really open and try to communicate well. With this bed-and-breakfast project, our goal was to be on the same page design-wise before we even started demo.
Was that not always how you worked?
It's what we would advise any client, but we never follow our own advice! But for this project, we were like, "We need to do this so that we're not arguing throughout the entire renovation. Let's just be super clear about what each of us wants and doesn't want, meet in the middle, and go for that."
How do the two of you typically divide up the responsibilities of the design work?
We actually collaborate a lot. I know a lot of couples who work together where they each pick a lane and don't cross over, but we totally do cross over. Bryan definitely handles the construction—if I'm involved with that, I would be like a helper. He's taught me a lot about tiling and trim and all that, and I actually enjoy helping him with that stuff. Otherwise, we hire that out. On the design side, we'll usually sit down together in the beginning and conceptually get on the same page, and then I'll be the one to execute it—I'm sourcing things and getting it to completion when it comes to all the details.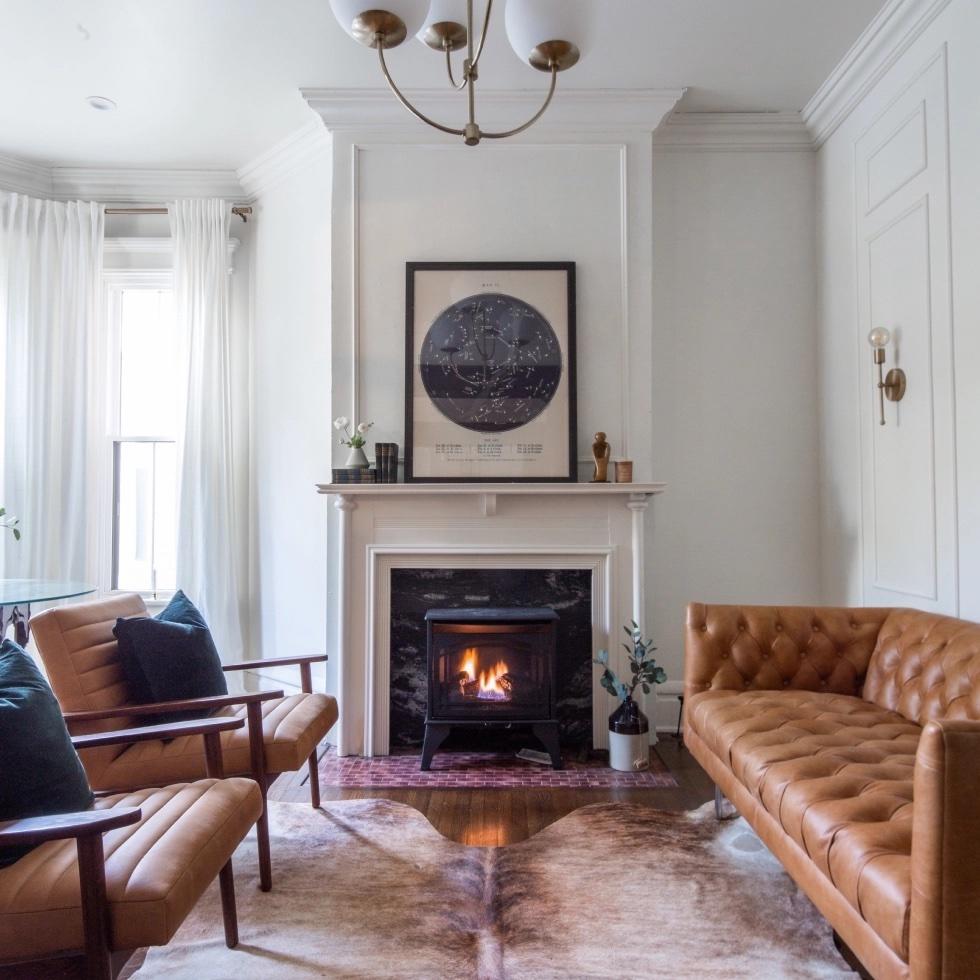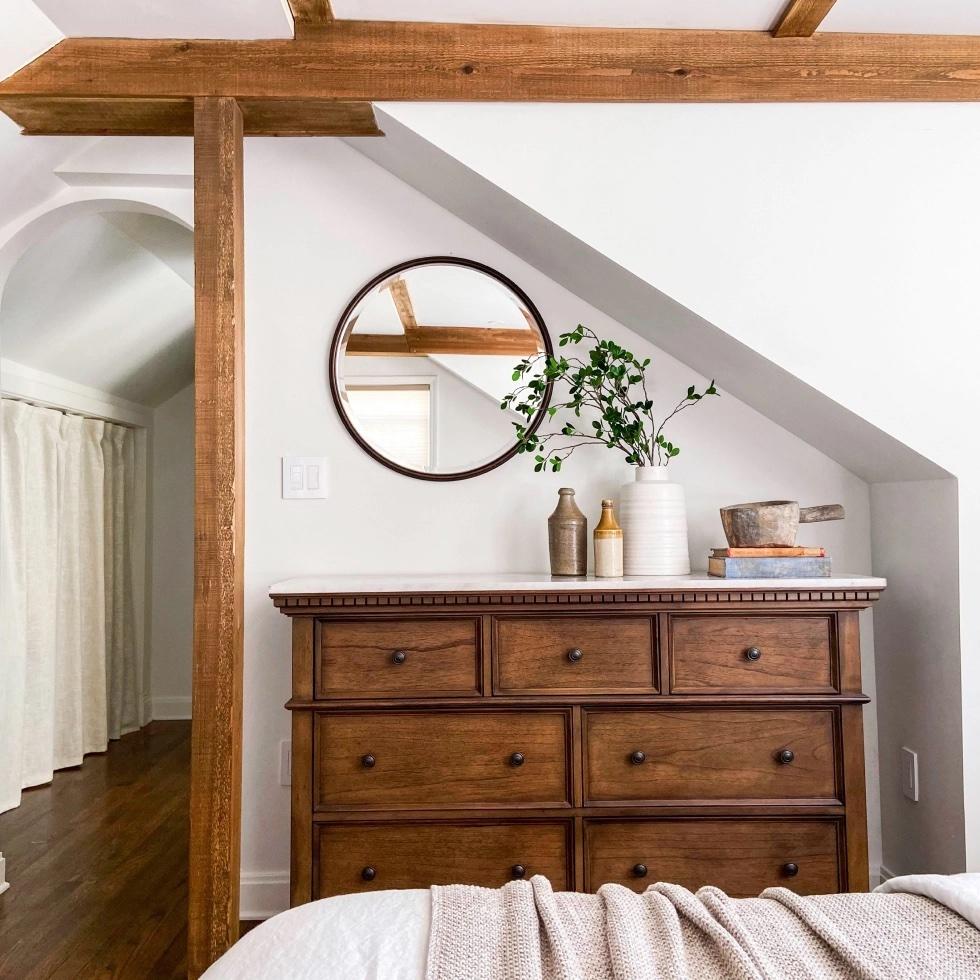 What is the biggest thing you wish you would have known from the start of all of this?
Don't be afraid to say no, and don't be afraid to change your course. If you feel like something is the right decision, do it. We were [recently] in an episode of Point of View: A Designer Profile on the Magnolia Network, which shares our whole story; I hope it inspires people to do things that they're dreaming about doing—to just jump in and get started instead of trying to wait for the perfect moment, because there probably never will be one.
When you look ahead, where do you see the most opportunity to grow?
I think by hiring people. Right now, we're doing one project at a time, and that's great. But if we had a team, what could we do? And it's fun to dream about that. Our next thing is figuring out what kind of help we need. Management and maintenance are two things that we are doing that we would love to not do anymore.
And for Bryan—his internship was in custom furniture building when we first met, and he's always loved furniture design, and I would love to design product lines and just kind of start building that side of our business, as well. So, we'll see! We have no idea what this is going to look like for us, but that stuff is sounding really fun, so hopefully we can explore it.
To learn more about Catherine and Bryan Williamson, visit Mix Design Collective and The Village Host or find them on Instagram.