In our series, What I Love, we're asking designers to build us a mood board of what's inspiring them right now.
Lathem Gordon and Cate Dunning are traditionalists at heart. The Atlanta duo behind GordonDunning relies on a carefully curated mix of earthy hues and energetic prints to bridge the gap between classic and contemporary.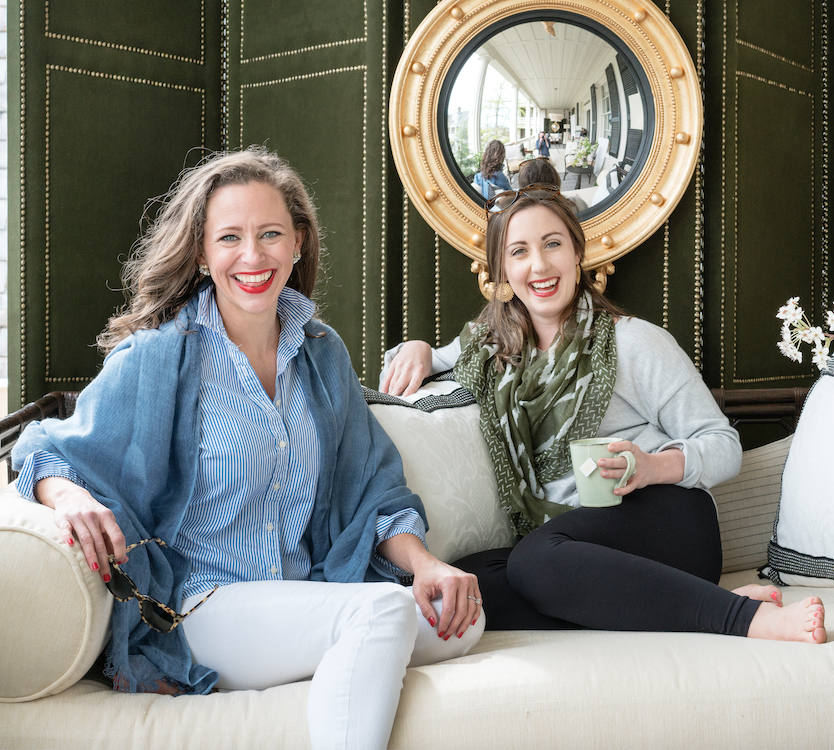 Courtesy of GordonDunning
Their current mood board offers an excellent example. Teeming with sophisticated materials including malachite and marble, the pair took care to incorporate plenty of playful accents—such as striped raffia fabrics and trinkets adorned in duck motifs—to ensure the palette felt elegant yet approachable. "We imagined a bedroom suite that combines elements of nature with classic, tailored details," says Dunning of the scheme.
In the end, an enviable assortment of comforting textures and updated old-school patterns draws the palette together. "Overall, this space reflects the feeling of late summer moving into early fall, and the simultaneous freshness and coziness that comes with that time of the year," says Gordon.
Here, the two break down the details, from deep olive green velvets to splatter print wallpapers.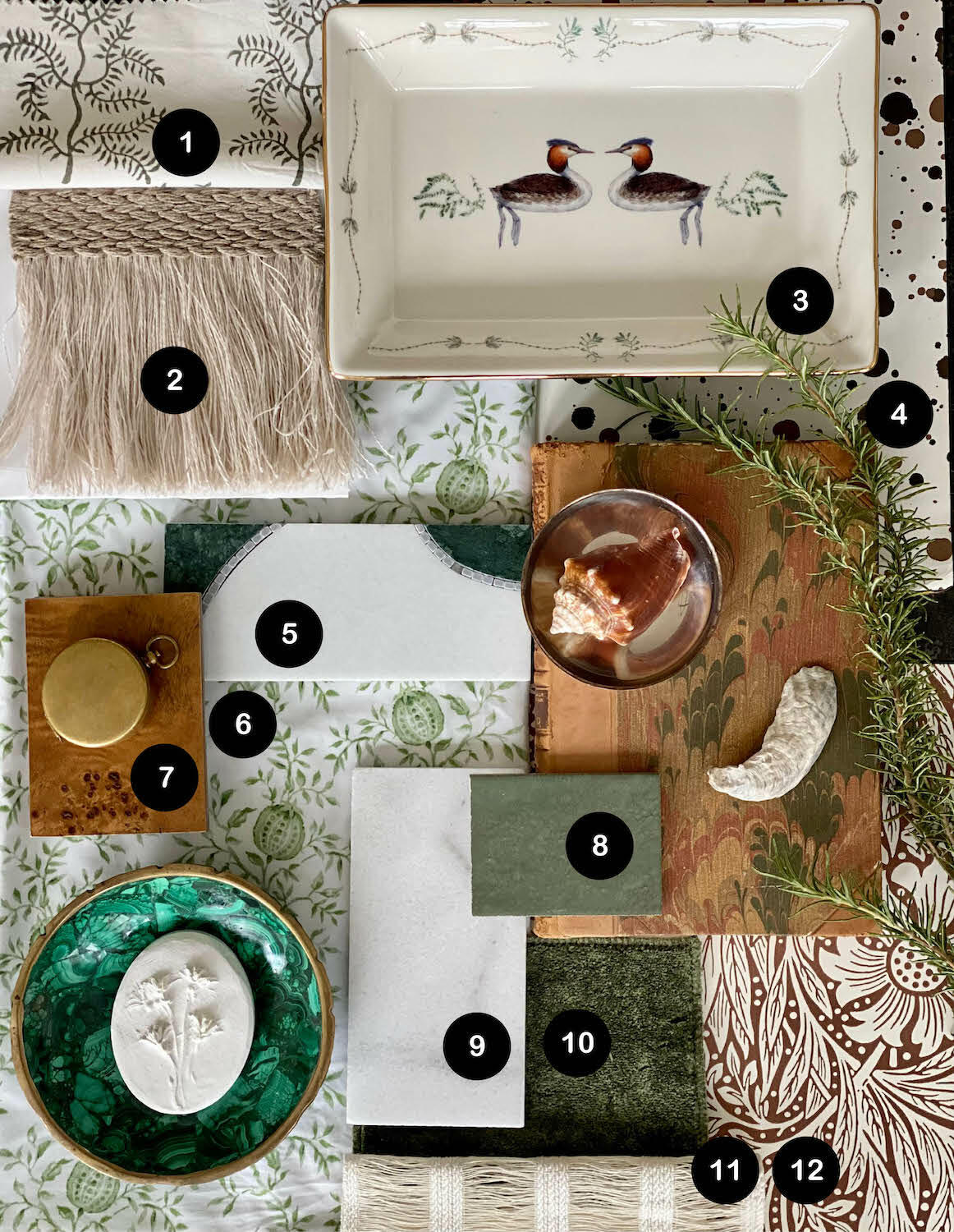 Courtesy of GordonDunning
1. #156 Japanese Trees Fabric by Les Indiennes
"We love the global, casual influence of this fabric on a room. It would make fabulous, ethereal draperies in a bedroom suite."
2. Braided Linen Fringe in Ivory by Schumacher
"The textural addition of this trim would make an impact on the skirt of a chair."
3. Brass Grebe Trinket Dish by GordonDunning for Southern Living at Dillard's
"The playful yet classic vibe of this piece would add interest and functionality to a bedside table."
4. Spatter in Brown on White Wallcovering by Hinson
"This wallcovering offers a bit of an edge and would look sharp in the back of bookshelves or even on a ceiling."
5. Layla Verde Polished Marble Mosaic Tile by TileBar
"For real drama, we adore this marble mosaic for a bathroom floor. She would be the Meryl Streep of the room, and the rest of the elements would be her supporting actresses."
6. Winslow Percale Duvet Cover Mini Set by GordonDunning for Southern Living at Dillard's
"We designed this bedding to bring lightness and freshness to a bedroom. It offers a nice contrast to a moody wall color and offsets warm woods."
7. Plymouth DBW by Worlds Away
"We are suckers for this 1970s vibe of burl wood paired with formal English antiques."
8. Hunter Green Tile by Fireclay Tile
"We love Fireclay Tile for the incredible way its tile catches light and adds texture to a space."
9. Asian Statuary Polished Marble Subway Tile by TileBar
"We lean into natural materials whenever possible, and this tile would make a beautiful wainscoting and shower wall tile for the bathroom."
10. Lush Fabric in Palm by Holly Hunt
"We adore the rich texture of this velvet—it would make a stunning upholstered bed."
11. Channel Fabric in Ivory by Jim Thompson Fabrics
"We envision this textured sheer as Roman shades. It adds to the relaxed spirit of the space, and we love how light plays through the striping."
12. Marigold Wallpaper in Chocolate/Cream by Morris & Co.
"A whole room could be wrapped in this wallpaper for a moodier space, or it could add some atmosphere to the bathroom."
Homepage photo: A flat lay by Lathem Gordon and Cate Dunning | Courtesy of GordonDunning