When Italian furniture brand Flexform decided to expand into the outdoor space, it wasn't a decision that was made lightly. The company didn't want to just design a few pieces and call it a day—instead, it would be a full collection, developed with the same level of quality as its indoor furniture. Flexform's Meda, Italy–based design and production team took careful, deliberate steps over several years, keeping the entire process a secret, even from its partners.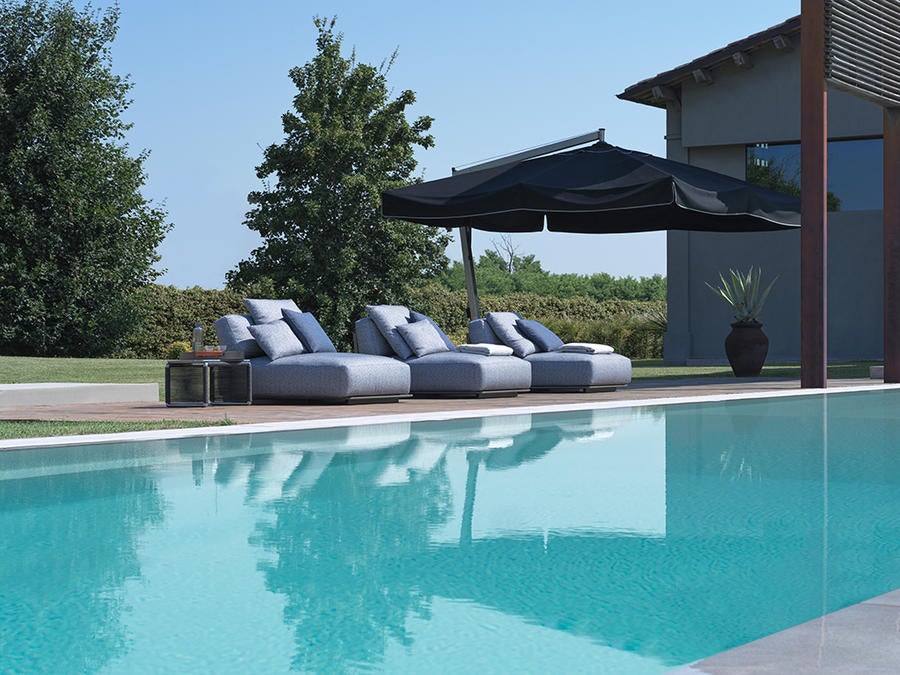 Gregory Herman, owner of Flexform San Francisco & Los Angeles, traveled to Milan for the collection's debut at Salone del Mobile in 2019. He was expecting to see "maybe a sofa, a couple armchairs, a coffee table," he recalls. Instead, he found an extensive line of more than 50 pieces—all designed with architect Antonio Citterio, a longtime Flexform collaborator—encompassing sectionals and ottomans, rugs and baskets, dining tables and stools. It was everything one could possibly want or need to furnish an open-air room.
"They really took time to make sure they mirrored what they were doing indoors as far as design and quality and comfort," says Herman. Flexform has always been focused on "the complete home," he adds, so it was a natural step to move outside to allow for indoor-outdoor living.
The outdoor space wasn't completely uncharted territory for Flexform. The company—which has three independently-owned flagships throughout the U.S. (Herman's two in California, plus another in New York) as well as several shop-in-shops in major markets—had dabbled in the category over the years through its custom work for resorts and private yachts. It's an area of design in which Citterio, who has worked with Flexform for more than 30 years, had extensive experience. "He really gets the idea of indoor-outdoor spaces," says Herman.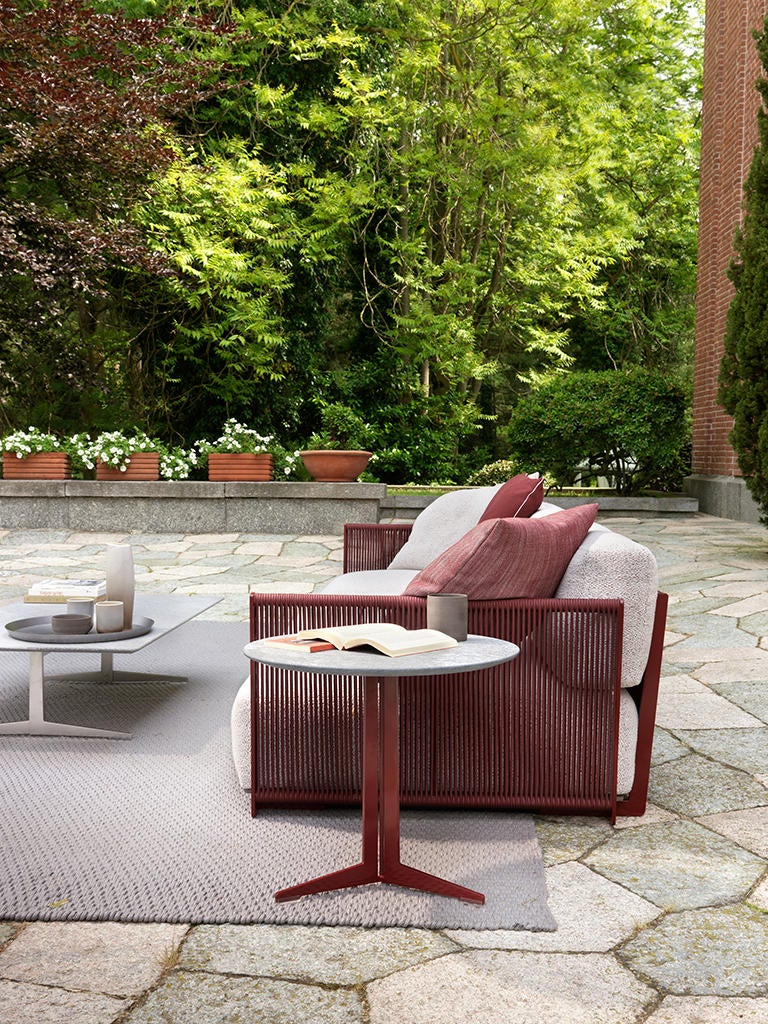 Outdoor furniture is also something that many clients asked for, and that was a natural extension of the brand's existing aesthetic. Herman notes that a range of design elements in the indoor collection, like woven leather rope panels on chairs and sofas, look like they could be used outside. It was simply a matter of changing the materials to be able to withstand the elements and provide the same comfort and softness Flexform is known for.
The Peter chair, for example, echoes the shape and dimensions of an indoor leather lounge chair of the same name that Flexform used to carry, except it's now made with a stainless steel frame and woven polypropylene seat and backrest. Similarly, the Zefiro dining table features a die-cast aluminum base that "has always been super popular indoors," according to Herman, paired with a natural stone top available in four materials: a silvery green gneiss, lava stone, a crystal-flecked porphyry, and pietra del Cardoso, a blue-gray schist that comes from the Apuan Alps in Tuscany.
"The design team wanted it to feel luxurious," says Herman. "They didn't want to use glass or synthetics." That combination of luxury and durability was key to the design, and to delivering the quality that designers know Flexform for.
The collection features the highest-grade stainless steel available and durable iroko wood, which can withstand water and salty air. The high-performance textiles can weather the same elements, but are soft and supple to the touch. The Vulcano sofa, for instance, has a woven rope back, so it's translucent, light, airy. "Yet it's still cozy and comfortable," says Herman. "People know Flexform for what we call the cocoon effect. You sink into a sofa and it cocoons you. That's what these pieces feel like."
The collection is so versatile that many pieces could even be used inside, allowing for true indoor-outdoor living and giving designers more opportunity to innovate with Flexform products in every room. "You can create a true dialogue of the entire home," says Herman.
Since the debut, Flexform has already added pieces to the collection—among them, a pair of new sofas and two rug lines—and Herman anticipates that it will continue to expand. He will be stocking certain items in California to speed up delivery stateside, and as he sees what American designers respond to, he'll continue to grow his stock list.
"This is the luxury collection for outdoor," says Herman. "And when you're dealing with the times we are right now, having a space at home where you can feel comfortable and cozy is more important than ever."
This story is a paid promotion and was created in partnership with Flexform San Francisco & Los Angeles.
Homepage image: Courtesy of Flexform