New York's Fine Arts Building is opening its doors for a building-wide open house this Wednesday, October 25, hosting top creatives, designers and editors in conversation on decorative arts topics as diverse as ceramics, foreign business, creativity and social media.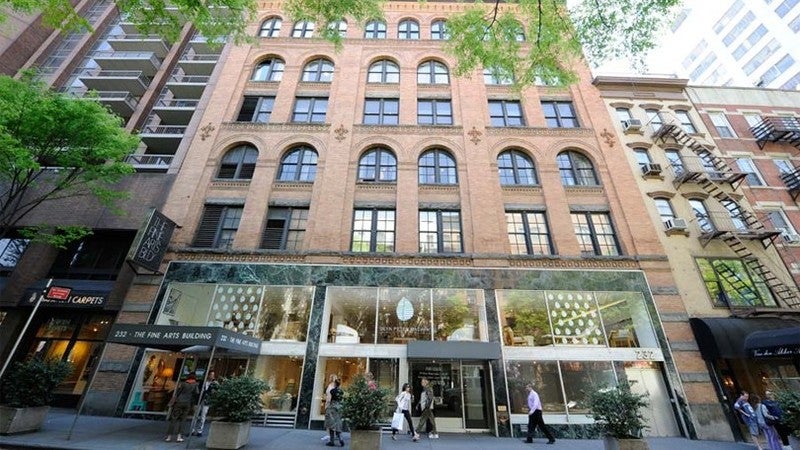 Among the highlights: "Italian Lifestyle & Doing Business in the U.S.," a panel with C&C Milano founder Emanuele Castellini, in conversation with Business of Home editor in chief Kaitlin Petersen; a talk on American craftsmanship with Janus et Cie; Dessin Fournir's glimpse at the history of plaster in the decorative arts; a panel on social media impact with EAL founder Julia Noran Johnston, in conversation with Bunny Williams Home creative director Audrey Margarite and designer and social media expert Alyssa Kapito. Gilding and art conservation demonstrations, a meet-and-greet with ceramist Eve Kaplan, and Promemoria's martini-themed celebration are also on the docket.
Margarite spoke with EAL about her panel: "Social media is a polarizing topic—people are either completely addicted or adamant against it. I'm looking forward to talking with Julia and Alyssa about how social media has helped to grow all three of our businesses."
Showrooms at The Fine Arts Building include Bennison, Bunny Williams Home, Chelsea Editions/Chelsea Textiles, Dessin Fournir, Gerald Bland, Glyn Peter Machin, Janus et Cie, Julius Lowy Framing & Restoration, Michael Dawkins Home, Promemoria USA, and The Chinese Porcelain Company.
The open house begins at 3 p.m. on Wednesday, October 25, at the Fine Arts Building, located at 232 East 59th Street in New York.
Check out the full schedule, courtesy of the Fine Arts Building, below:
3:00 p.m. - Open House
Michael Dawkins, Ground Floor
3:30 p.m. - Italian Lifestyle & Doing Business in the U.S.: A discussion with C&C Milano Founder, Emanuele Castellini and Kaitlin Petersen, newly named Editor in Chief of BOH
C & C Milano, Ground Floor
4:00 p.m. - Celebrate American Craftsmanship For The Outdoors
JANUS et Cie, Mezzanine
4:30 p.m. - A Brief History of Plaster in the Decorative Arts
Dessin Fournir, Floor 2
5:00 p.m. - Meet the Team behind Bennison and Founder, Gilly Newberry
Bennison, Floor 3
5:30 p.m. - The Business of Being Social A discussion moderated by President of Editor at Large, Julia Noran, with Bunny Williams Home Creative Director, Audrey Margarite, and designer and social media expert, Alyssa Kapito.
Bunny Williams Home, Floor 3
6:00 p.m. - Gilding and Art Conservation Demonstrations
Lowy, Floor 4
6:30 p.m. - The Art of the Martini Preview our new collection while enjoying a specialty cocktail
Promemoria, Floor 5
7:00 p.m. - An Informal Talk on Decorating with Antiques with Louis Bofferding
The Chinese Porcelain Company / R. L. Bofferding Decorative & Fine Art, Floor 5
7:30 p.m. - Making Hospitality Feel Like Home: A discussion moderated by Dennis Scully, contributor to Business of Home, with Young Huh, interior designer, and Dolores Suarez, commercial and residential interior designer.
Chelsea Textiles, Floor 6
8:00 p.m. - Meet Ceramicist Eve Kaplan
Gerald Bland, Floor 6