"Follies, Function & Form: Imagining Olana's Summer House," an exhibition that's a collaboration between The Center for Architecture and The Olana Partnership, explores Olana's nonexistent Summer House, plans for which appeared in old blueprints of the estate. Spotlighted are original concept sketches by 21 architects and landscape architects, each one inspired by the Frederic Church–owned estate.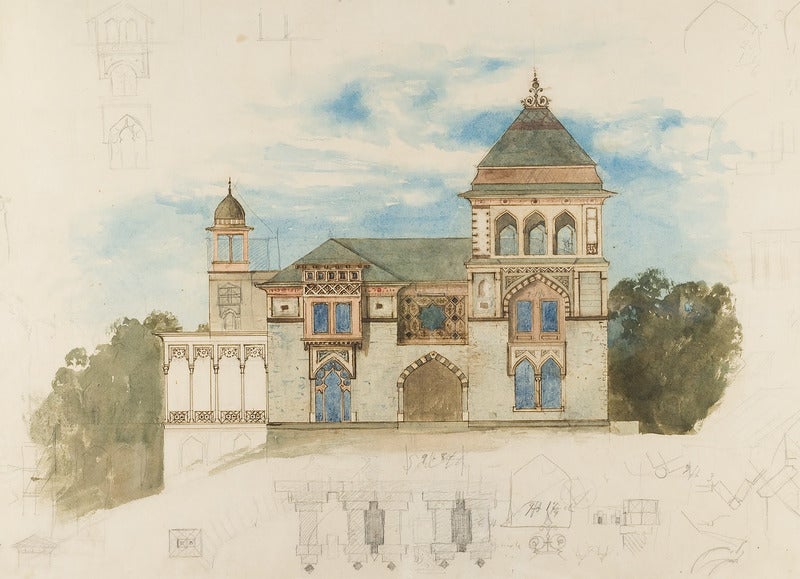 Olana is a 250-acre estate home of American landscape artist Frederic Church, and the birthplace of the Hudson River School art movement. As the Center points out, "Considered Frederic Church's great masterpiece, Olana combines art, architecture, design and conservation ideals. In the 1886 'Plan of Olana,' a detailed blueprint of Church's vision for his large‐scale designed landscape, contains details that are largely accurate, yet it includes a structure labeled 'Summer House,' which doesn't exist today."
"Frederic Church acted as the architect and landscape architect at Olana, and we are honored to present an exhibition which will spark a conversation between architects and landscape architects today," says The Olana Partnership's Mark Prezorski, landscape curator and co-curator of the exhibition. "During his lifetime, Church was a significant figure in New York City, so it's especially fitting to bring this exhibition to the city's Center for Architecture."
"It is wonderful that this exhibition has traveled from Olana to the Center for Architecture," said co-curator Jane Smith, who also serves as vice president for professional development at AIANY. "There is something refreshing and invigorating in these drawings by our peers that celebrate the sketch, the purest element of the architect's palette."
Among the featured designers are Richard Alomar, Diana Balmori, Randy Correll, Laurie Olin and Adam Yarinsky. The exhibit will open with a reception on January 31, and a March 14 panel discussion will focus on contemporary architecture in historic parks and landscapes.