Without a doubt, 2022 was the year of the rug. You might have noticed it—in recent months, a striking number of heritage design brands and emerging names alike have entered the rug arena, while a vast array of interior designers, artists and influencers have flooded the sector with their own, often first-time, rug collaborations.
Recent design news helps illustrate the story. Schumacher recently debuted its first in-house rug line since the 1960s. Brands like Interlude Home are entering the category for the first time. Established rug companies are tapping more and more designer collaborators for new lines, and influencers—from reality TV stars to TikTok creators—have entered the mix. Meanwhile, major names in fashion like couturier Guo Pei and designer Anna Sui teamed up with top brands to create their own rug lines. And that's only the past few months.
Major disrupters from other industries have turned their attention to the sector as well. In November, three Peloton co-founders, including former CEO John Foley, united to announce the impending launch of Ernesta, a direct-to-consumer custom rug brand backed by $25 million in VC funding. When it launches, the brand will join a host of direct-to-consumer players in the category like Ruggable and Beni Rugs that have already seen their stars quickly rise.
As recent reports have shown, they're joining an arena that's rife with opportunity. Demand for rugs has been on the rise in recent years, with the sector experiencing consistent year-over-year growth since 2017. Beyond that, the global carpets and rugs market size, valued at $82 billion in 2022, is expected to reach as much as $120 billion by 2030. The flurry of activity begs the question: Why is the rug industry suddenly the place to be? To find out, BOH consulted established players, new arrivals and trend experts to investigate the recent rug resurgence.
Changing consumer behavior
Where is the interest coming from? It's hard to pinpoint exactly where a trend originates. Some experts say the rug boom reflects, in a roundabout way, the tumultuous state of the world. Amid political and economic uncertainty, it's possible that consumers have turned inward to look for meaning—particularly by expressing their individuality through their homes and style choices. Thanks to an abundance of inspiration found online and on social media, consumers also have more opportunities to hone their taste and proactively approach the design of their space.
"We're starting to define ourselves a lot differently, and we have so much clarity on what we like and what we don't like," says Jaye Mize, the home interiors director for trend forecasting agency Fashion Snoops. "We're exiting this idea of a genre lifestyle—we're no longer obsessed with having a beach house that looks like a beach house. We want items that carry an expression of personality and meaning."
While high-end rugs can run tens or hundreds of thousands of dollars, fast-fashion rugs provide an easy point of entry for consumers looking for a relatively cost-effective and low-effort way to reimagine their space. Mize's firm has found that, particularly since 2020, high-style, low-cost home products are selling well primarily because they offer a lot of look but are accessible and affordable compared to other home decor products. Personalization has become key, and easily purchased items with large amounts of variation are the quickest route to achieve it.
Since rugs are relatively easy to manufacture, purchase and ship compared to, say, a new sofa, they're also a great vessel for flash-in-the-pan motifs that come and go quickly, like the recent proliferation of mushrooms in home decor. In the age of TikTok, where the consumer appetite for products gone viral often leads to a sudden sellout, it's even more of an asset if a brand can react ultrafast to an overnight hit. "It's really just a great way for retailers to add a one-time injection into their assortments," says Mize. "It's a quick sell."
Plus, as remote work has blurred the lines between homes and offices, consumers are seeking home items with texture in order to recalibrate and seek comfort. Rugs very much fit the bill—they're a piece that a homeowner comes in contact with every single day. Creating a rug with a luxurious feel was the goal of Radnor founder Susan Clark and architect Elizabeth Roberts when the pair debuted a new collection, Parlor, earlier this year, which combines hand-woven mohair with an optional natural jute trim. The recent trend toward tactility, says Clark, marks a departure from the desire for stark, clean environments that reigned supreme over the previous 20 years. "Right now, there's a shift toward depth of color, depth of material, just richness across the board—and that richness can come from rugs," she says.
Clark and Roberts witnessed that craving firsthand at a collection preview in the Radnor showroom, where several attendees removed their coats and sat down on the floor to get up close and personal with the rugs. "We had a millionaire in his super tight suit who went from coming in all guarded to seeing the rug and being like, 'Oh, my God,'" says Clark. "He sat on the rug within two seconds, then he looks up at me like a little boy and is like, 'I really spend most of my time sitting on the floor.'"
As consumers continue to seek out rugs that express their individuality, some rug-makers have seen an increased interest in customization. Kyra Schulhof, owner of bespoke rug provider Fayette Studio, has noticed that recent advances in technology are helping consumers better visualize the unique addition (and investment) they're making in their home. To better service online buyers during the pandemic, the company added a rug design tool to its website so that users can experiment with different styles, patterns and piles, or see what a rug would look like in their own space.
The same holds true for industry pros like Schulhof, who can use such tools while creating custom pieces to speed up the creative process. "I'm able to quickly modify a design of mine, change the colors, change the content and send it to my mill in a visualization with color placement here, here and here," she says. "It's just a quicker and more seamless process."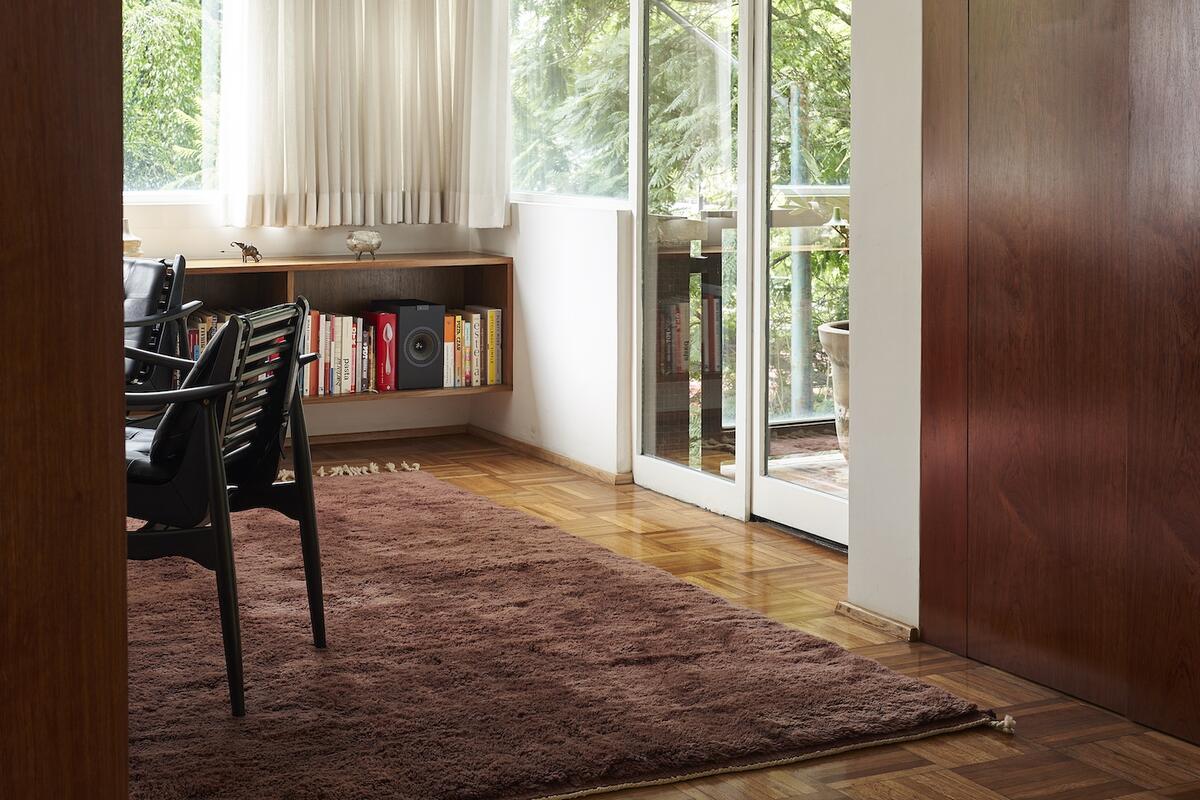 The rug licensing boom
Another striking change in the design industry in recent years: the sheer number of celebrities, high-profile designers and artists who've teamed up with top rug brands to create their own collection. According to Mize, rug licensing has skyrocketed over the past three to five years, as brands have gotten wise to the marketing power collaborations can carry—prompting rug companies to team up with everyone from design star Justina Blakeney to former Real Housewives of New York City cast member Jill Zarin, along with a plethora of other designers, influencers and enthusiasts.
Situated on the affordable end of the home furnishings spectrum, rugs fall into a category of products that consumers are quicker to buy, making them appealing for licensed collections. And compared to beds or other large furniture items with longer manufacturing lead times, the quick turnaround for producing rugs also makes them a prime candidate for licensed partnerships (that's mainly true for machine-made rugs, which took off roughly a decade ago and soon proliferated in the market—hand-woven still takes time).
A brand can spot a rising star in the mercurial world of social media and act fast to capitalize on their popularity, turning over a line within three to six months. "Rugs, throw pillows, or anything that goes on top of the bed—those categories really do well in licensing because you're trying to capture the influencer's moment," says Mize. Plus, rugs tend to be colorful, with more print adaptation, so the collaborator can be the key differentiator in what is often an oversaturated market.
At High Point Market last spring, Loloi tapped Las Vegas–based DIY design influencer Angela Rose to create a series of rug and pillow designs, unveiling a trio of collections named after Rose's children: Aubrey, Blake and Colton. The partnership was fueled in part by Rose's realization that rug content typically garnered a big response from her Instagram followers. The act of rolling out a new rug provides a perfect quick-hit video clip, with eye-catching colors and textures that stand out on a user's feed and an obvious instant transformation that resonates on a phone screen. The personal connection influencers have with their audience can also inspire consumer confidence: "Whenever I show and explain product details and educate people, it empowers them to feel like, 'Oh, I now have the information that I need to make a decision,'" says Rose.
Rose is just one of many Loloi partners with new lines in 2022. The brand also collaborated with a mix of established designers, brands and personalities—Carrier and Company, Amber Lewis, Justina Blakeney, Rifle Paper Co. and Chris Loves Julia, among others—as part of a burgeoning strategy to meet the moment with a variety of price points, audiences and styles. For its partners, a Loloi affiliation is not just a new revenue opportunity, but also another avenue to connect with followers and build their brand. Creating her own collection, Rose found, allowed her to answer her followers' frequently asked questions and provide the products they need at the same time. "When I share a space, my audience is going to say, 'How did you build that?' and 'Where did you find this?' and 'Is it something that actually I can do?'" says Rose. "I want my answer to be, 'Yeah, you can do that. That's realistic for your space, and it's practical."
Revolutionizing the rug industry
Like any old-school industry, the home furnishings business is full of categories ripe for disruption—and rugs are particularly primed for new entrants. Compared to products like furniture and lighting, which often require putting together a complex supply chain, rugs are simple, and new players have been able to quickly come up with their own playbooks. That was the case for Caroline Cockerham and Laura Tripp, who co-founded rug brand Cicil in November 2021. The goal, Cockerham says, was to tap into the rising class of sustainability-conscious consumers.
That meant reinventing the traditional rug-making process with environmentally friendly materials (locally sourced wool) and producers (a North Carolina textile mill). For many existing product manufacturers, it's a herculean task—but Cockerham and Tripp were surprised to find it was actually doable. "It was almost easier to build it from scratch rather than trying to back into it," says Cockerham.
Other new arrivals to the space are also seeking to stand out by innovating around the buying process, not the product. Set to officially launch this spring, direct-to-consumer rug brand Ernesta is looking to demystify custom rug shopping with digital tools and a content-rich online design community. According to Rosa Glenn, Ernesta's chief merchandising officer and a veteran of the rug industry, the sector's biggest issue is that there isn't a lot of consumer education around selecting rugs based on different lifestyle needs. "Rugs are the only textile category that behaves like furniture," says Glenn. "They're grouped into the world of textiles, but in terms of consumer behavior patterns, it's a higher price point than, say, a throw pillow or a towel, so the consumer journey to the point of purchase is more nuanced and takes more selection."
Some brands have found success transitioning a craft-based process into a modern business model. Robert Wright and Tiberio Lobo-Navia founded Beni Rugs in 2018 with the goal of re-imagining the Moroccan rug business. The way the industry has traditionally worked is that weavers (usually women) go to a local auction to sell finished rugs—which then pass through a dizzying succession of middlemen until arriving at a retail location at a highly inflated price.
Wright and Lobo-Navia saw a chance to shake the system up by applying the classic DTC model. They opened a vertically integrated production facility in Morocco to bring consistency to the pieces and to streamline operations for the weavers. From there, the rugs are shipped and sold online and through the brand's New York showroom, ultimately increasing both the company's and the weavers' profits by cutting out the middlemen and expediting the production-to-consumer process.
The pair's next order of business was bringing in a global design perspective, introducing styles favored in other parts of the world to incorporate new patterns and motifs into Moroccan rug-making. Hiring buzzy stylist Colin King as artistic director at large helped usher the brand into a new aesthetic direction—away from traditional vibrant colors and toward a more faded, muted color palette favored by modern Western homeowners. Controlling the production process also meant allowing buyers to customize the size and color combination of rugs—another game changer, since Moroccan rugs have traditionally been made in long and narrow sizes to accommodate the country's unique architecture.
"[We approached] a relatively stagnant industry with a creative spark," says Wright. "That meant seeing what might be possible if we approached it from a different angle, and I think that's what's happening in a broader sense—people are approaching the rug world with new creative possibilities."
Homepage image: The Beni Rugs studio in New York City | Beni Rugs