It was the 2010s, and after a long stretch of chaotic freelancing as a magazine editor, stylist and all-purpose creative, Justina Blakeney was exhausted. She decided to do what many a harried freelancer has done and took a "real" nine-to-five job as art director for a vertical garden company. Still, each day, early in the morning, she would get up, post to her blog and share images on social media. A funny thing started happening—so funny that she didn't believe it at first.
"I actually thought it was a glitch. It looked like every day I had 10,000 new followers. I was like: OK, this isn't real," Blakeney tells host Dennis Scully on the latest episode of The Business of Home Podcast. It wasn't a glitch. "After about eight months of this happening, I realized I had over a million followers on Pinterest. I started to pay attention to it, and then brands started to reach out to me for collaborations. So then I was like, Oh, this is interesting. If a brand wants to work with me to help promote their stuff, I should be using this to promote my own stuff."
Blakeney's own stuff was Jungalow, originally the name of her blog, soon the name of a lifestyle brand that came to encompass everything from her own online store to licensing deals with everyone from Loloi Rugs and Fabricut to Target and Anthropologie (not to mention a handful of bestselling books). The Jungalow look, in a nutshell?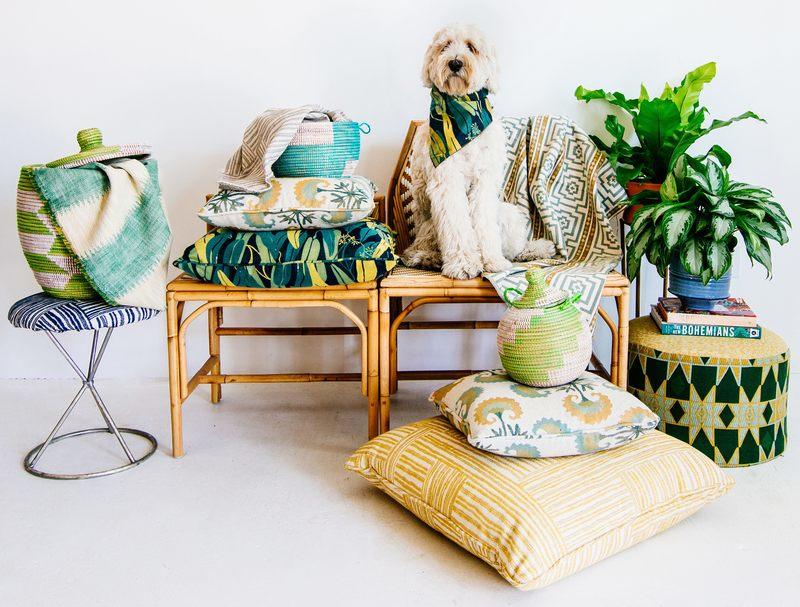 "I like to distill the sensibility into: color, pattern and plants. All of my spaces have those things—they feel very full of life, full of energy. I'm a maximalist," she says. At the time, the design world was smitten with greige-toned minimalism and traditionalism, and Jungalow was able to stand out. After Blakeney connected with licensing agent Kim Muroff, her early collabs—wallpaper and rugs—began to make waves.
"The visibility was huge. All of a sudden, my wallpaper wasn't just being used by designers all over the world, but it was showing up in restaurants, bars and barbershops and airports—places that had a lot of commercial visibility. It was in all the magazines and everywhere, and it was very exciting," she says. "Once I began to see the success of these licensed collections, I definitely knew I was onto something and I could turn this into the next big home brand."
On this episode of the podcast, Blakeney shares the story of her vibrant childhood in the Bay Area, how a winding career path led her to just the right place, and what's next for Jungalow.
Listen to the episode and check out some of the key takeaways below. If you like what you hear, subscribe on Apple Podcasts or Spotify. This episode was sponsored by Room & Board and Crypton.
GO YOUR OWN WAY
By standing out from the monochromatic crowd, Blakeney was able to gather a supercharged social media following relatively quickly. There was a temptation to simply use it to cash in on partnerships with brands, but she decided to use it to develop her own presence—a gamble that ultimately paid off. "[I reasoned], if the brands are paying me to pin things, then pinning is very valuable and I should be pinning a lot of my own stuff and using my platform not so much to promote all these brands but to be really creating my own brand," she says. "I started to realize if I'm able to build an audience on these different platforms, and especially on my own platform and blog, I would be able to parlay that into whatever I wanted."
Artist Vs. Designer
Working as a freelance creative in Los Angeles, Blakeney tackled interior design projects, and she is sometimes referred to today as an interior designer. But as Jungalow began to take off, she moved away from working for clients. "There was a lot of people work, which, to be completely honest, I just didn't want to do. I wanted to be an artist, I wanted to be creative. I thought if I could figure out how to do work through my own lens, that would feel better. I didn't want to answer to clients—I was tired of it, and it was almost like the universe was telling me I didn't have to," she says. "My sister Faith is an incredible interior designer; she loves the people aspect of it. It's not to pooh-pooh on that career—it just wasn't for me. I now understand about myself that I am more of an artist than a designer in that sense."
BARRIERS
Blakeney is, by any measure, a runaway success, with a well-known brand, a robust e-commerce presence, an enviable list of licensing partners and an armful of bestselling titles. Still, she says, in certain corners of the design world, she hasn't been accepted with open arms—as a person of color there's often a barrier to entry that's a little higher. And certain annoyances haven't gone away. "I actually got to a point where I felt like I couldn't go to market anymore," she says. "One of the last markets I went to, on four different occasions, women touched my hair. [They] reached out because I have wild curly big hair. It's little things like that, that on the surface might seem harmless but grind on you after a while … I understand people don't necessarily mean anything by it, but that doesn't mean it's not tiring."
Homepage photo: Justina Blakeney | Courtesy of Jungalow