"Oasis" is such a popular label in the language of interior design that it's easy to overlook its original meaning as a name for a place—often lush and green—providing refuge and relief. But a yearlong pandemic that had many of us stuck at home galvanized the need to create a safe, open-air escape, even if only in our own backyards. Recognizing the heightened significance of exquisite outdoor spaces, the organizers of this spring's High Point Market tapped four top industry talents to create Design Oasis, an outlet for imagining the many ways these spaces might take shape as we move beyond the pandemic.
For this project, designers Stacy Garcia of Stacy Garcia Inc., Patti Allen and Stephanie James of Allen & James Interior Design, Cheryl Luckett of Dwell by Cheryl, and Katie Wozniak of Katherine Elizabeth Designs will each bring their own unique aesthetic to the proverbial picnic table. Even better, their stylized yet effortless vignettes, showcasing furnishings and accents from Market exhibitors, will be open to all throughout the event. For these designers, the project reflects the recent shift they've seen throughout their work, with well-appointed outdoor spaces moving up the priority list. "In the past, outdoor decor options were pretty limited and honestly nondescript," says Luckett. "But today there's an incredible assortment of styles, sizes and prices."
These days, clients want as much energy dedicated to outdoor spaces as indoor ones. "It's no longer just, 'Throw a folding chair out there,'" says Garcia. "It's a true extension of the interiors, with investment pieces that echo that aesthetic." She sees this renewed interest in nature as a natural result of spending so much time inside. "When we're all teched out and suffering from Zoom fatigue, anytime you can take 15 minutes and sit in your 'outdoor living room,' smelling the air and feeling the breeze—that connection to nature is critical to our well-being."
Beyond offering inspiration for how to elevate outdoor spaces at home, Design Oasis will function as a retreat for Market attendees seeking a quiet moment, a spot to chat with colleagues, or a nook in which to nosh on gourmet treats from nearby food trucks. Here, the featured designers offer a sneak peek at their chic spaces.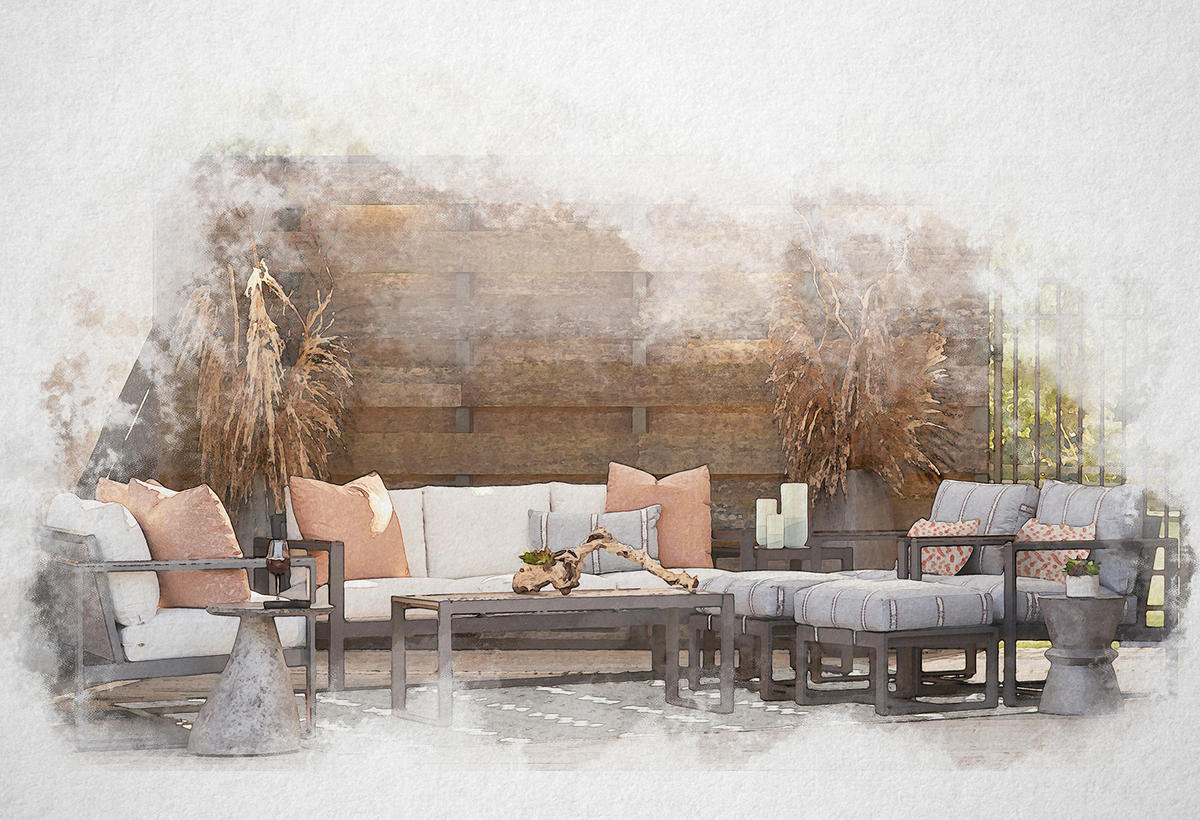 Desert Serene
Cactus greens, clay pottery, live-edge side tables, sisal rugs: The oasis conceived by New York–based Garcia pairs a soothing, sun-bleached palette with nubby fabrics and clean lines inspired in part by the rugged landscapes of Sedona and the Southwest. "It can look as if nothing's happening in the desert until suddenly it comes into bloom," says the designer. "It's a bit of a metaphor, really, for what we're going through—the shift toward home, and blossoming where we're planted." Working with such vendors as Nourison, Unique Loom, Surya, Currey & Co. and Klaussner—and debuting a few prototype modular pieces of her own design—Garcia presents a serene, well-edited space.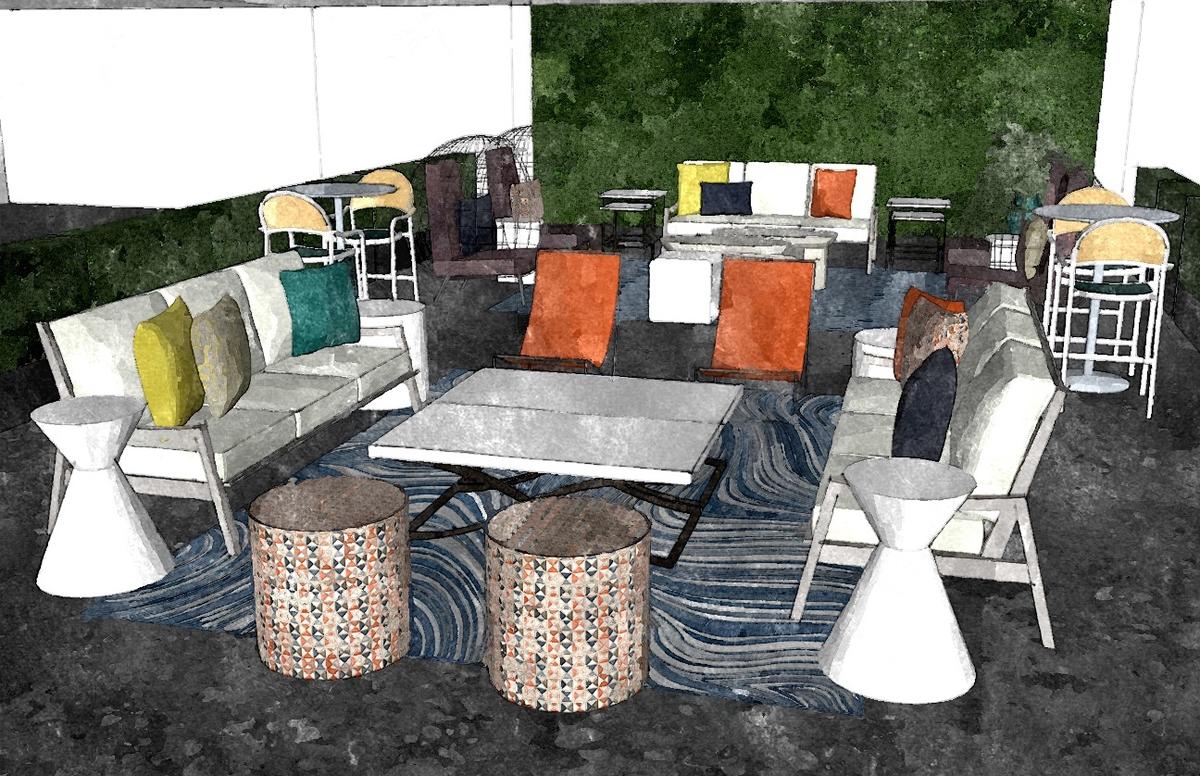 Refreshing retreat
Business partners Allen and James, whose firm is based right in High Point, North Carolina, considered their vignette the perfect opportunity to celebrate the pure essence of spring, with colorways that include an array of vibrant citrus hues. A green wall anchors the space, focusing the eye and bringing the furnishings together. "We need the cheerful energy of bright colors now," says James. "Green is somehow both invigorating and calming." Along with a Sunbrella performance fabric that "looks like art," the space employs furnishings from Summer Classics, Barlow Tyrie, Castelle, Kingsley Bate and Woodard, which can be configured into six different seating arrangements at once, as well as flora from the firm's boutique plant shop, Fiddle Figs.
Southern Glam
Charlotte, North Carolina–based Luckett brings her distinctive aesthetic to her High Point oasis, mixing an animal-print rug from Unique Loom with graphically striped throw pillows from Eastern Accents, plush cane swivel chairs from Woodbridge and glossy coral rattan wingbacks from Kenian—and that's just a sampling. The intention, she explains, is to blur any remaining thresholds between indoor and outdoor rooms, expanding the idea of home beyond the traditional four walls. "And manufacturers have gotten the message," she says, noting that the quality and variety of options available now make it easier than ever to create a functional and beautiful outdoor space.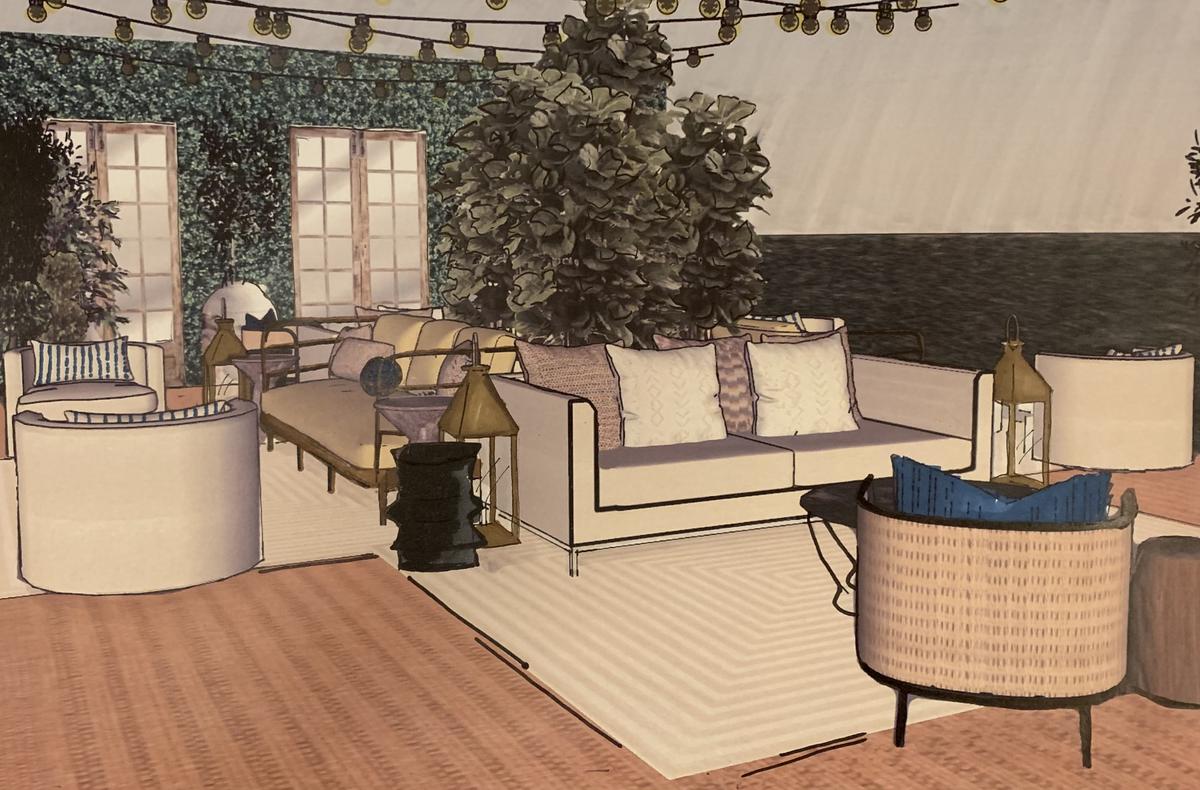 Katherine Elizabeth Designs
Mediterranean Escape
It's been a saving grace to embrace the benefits of a home's outdoor space this past year—now imagine how much more restorative it would be if home were on the Italian Riviera! That's the dream North Barrington, Illinois–based Wozniak indulged for her "La Vita È Bella" oasis, especially for all the Market visitors missing their trips to Europe. "I love natural elements, their warmth, the balance of greens and browns, corals and pinks," says the designer, who fashioned her vignette around an entire (faux) fig tree from New Growth Designs. Small seating enclaves—with items from Bernhardt, Blue Ocean Traders, Thibaut and Fabricut, among others—are clustered throughout the space, so "you can feel like you're part of what's going on but still have your privacy."
The Spring High Point Market will take place from June 5 to June 9, 2021. Design Oasis is located at Center Stage, between the Transportation Terminal and Showplace. Seating areas will be available to guests throughout the day, with food trucks open from 11 a.m. to 3 p.m. To connect with the featured creatives and discuss their work, be sure to attend the Designer Meet & Greets from 12 p.m. to 1 p.m. on Saturday, June 5, and Sunday, June 6.
This story is a paid promotion and was created in partnership with High Point Market Authority. To register for High Point Market, click here.