A "digital dealer" is aiming to change the way you buy furniture. Workframe, a tech software startup helmed by Gilt Groupe and Zola founder Kevin Ryan, alongside Robert Moore, Andy Parsons and Matthew Smith, has launched Outfit, a platform for buying and browsing furniture.
Currently, it's office furniture only. Users can browse a digital catalog with over 300 contract-grade manufacturers; integrate products into drawings and floor plans; access lead time and floor plans; view pricing; and more. How does it work? EAL finds out from co-founder Moore.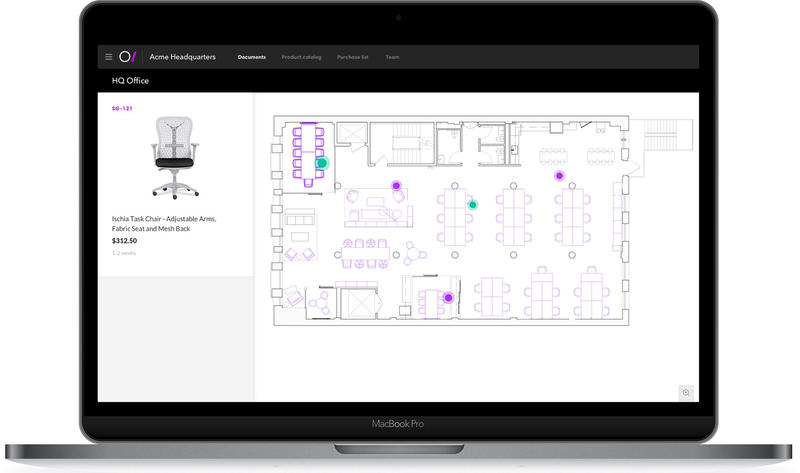 Tell us about the process of founding Outfit.
After living through multiple office buildouts ourselves, Kevin, Matt, Andy and I all felt that the furniture selection and procurement process was one of the biggest pain points. We decided to approach the problem from a new angle, and integrated technology to improve the client and designer experience.
What are the problems Outfit addresses?
[Buying furniture is] confusing: Buying contract furniture is not a simple process like buying from standard retailers—there are a ton of middlemen involved and it takes a lot of time and effort.
[It is] opaque: Pricing is not readily available to end users or designers, and is set by a furniture dealer who marks up product as they see fit. The selling price is not set by the manufacturer, nor is it in any way standardized.
[It is] overwhelming: There are thousands of manufacturers, each with thousands of furniture offerings. There is so much choice that both designers and clients are never presented with all of the options at once.
[It is] expensive: Because of all of the middlemen in the process, the end result is a very expensive product for the end user.

Outfit is a tool and a service we see as being an option for all design markets, including residential design.
Are there similar resources for residential designers?
Outfit is the only platform where a designer can procure furniture while simultaneously communicating with their client. While we are currently focused on the contract furniture industry, Outfit is a tool and a service we see as being an option for all design markets, including residential design, in the future. When residential designers purchase retail items, pricing and lead time is clear. But, when it comes to higher-end and made-to-order items, designers often are subject to the same lack of transparency that contract designers experience.
As the line between residential and contract furniture continues to blur, the idea that a residential designer could specify items through Outfit becomes more feasible. Currently, residential designers end up coordinating the procurement, delivery and install of furniture themselves, so we definitely could see Outfit expanding to help designers with this process in the future.
What are the unique challenges of buying and selling furniture?
All contract furniture is made to order, so there are countless options and moving pieces. For instance, a single task chair can come in thousands of configurations, so making sure a client understands all of the options they have selected, and then executing on those options, is always a challenge.
Establishing an approvals process for large jobs can also be cumbersome, which is why the Workframe software is so essential to improving the furniture procurement experience with Outfit. Projects today also tend to have multiple manufacturers delivering product, so that means our team is constantly tracking multiple shipments and deliveries at a time for a single project. In addition, Outfit is a full-service dealership, so we also are responsible for the delivery and installation of the product to the site.