By Katy B. Olson
The Los Angeles design scene is evolving, and fast, yet the landscape is lacking a cohesive voice—this, says editor Michael Wollaeger, is where DesignLA, a glossy to be produced with the Los Angeles Times, comes in. Casting a spotlight on the city's residential and commercial architecture, interior and landscape design and the industry innovators, the print magazine's first issue will be published May 21 and sent to Sunday Times subscribers, as well being available online. Wollaeger, who previously served as editor in chief of Interiors and Western Interiors & Design and executive editor of Architectural Digest, is behind the scenes as editor in chief, where he's overseeing editorial content from Times staff writers and contributing editors.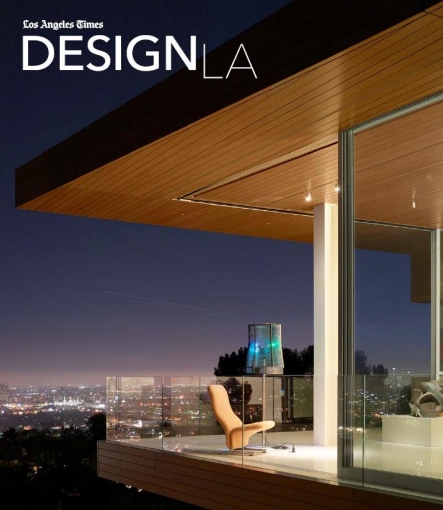 Mock-up of the first issue's cover
"Los Angeles Times subscribers and advertisers have a strong affinity for well-made print products," shares Chris Argentieri, senior vice president and general manager at the Times. "We see DesignLA as a companion to our regular Saturday, Hot Property, and Image sections—a seasonal reference for visionaries, trends and style resources—that readers may return to throughout the year, on their coffee tables and in their bookshelves."
Beyond serving as the side to the Times's entrée, though, the 160-plus-page publication will also be evocative of T, the style magazine of The New York Times, says Wollaeger, but with a distinctly local angle. The editor discussed with EAL the city's unique and rapidly changing industry, and where DesignLA fits in (or, as the case may be, stands out).
EAL: How did this magazine come about?
Michael Wollaeger: I've lived in Los Angeles for more than 30 years now, and I've always been impressed by the depth and innovation of the design talent here. I covered a lot of it while I was executive editor at Architectural Digest, of course, which was then based in Los Angeles, and I launched Western Interiors to further explore design, art and architecture in the western United States. Today, however, the energy and excitement in Los Angeles is really unprecedented, and I drew up an editorial outline and business plan for a new magazine, DesignLA, to celebrate design, art, architecture and fashion in Los Angeles.
And I'm thrilled to be partnering with the Los Angeles Times, whose audience is amazingly deep—we'll deliver DesignLA to 600,000 Los Angeles Times readers on May 21. The magazine will be printed on excellent glossy 60-pound paper, and will be more than 160 pages. The [following] issue will appear in October. I've compared DesignLA to The New York Times's T magazine, but DesignLA will be much more L.A.-centric in its coverage.
What void in the media landscape will DesignLA fill? 
To date, there hasn't been one comprehensive magazine covering all of the facets of the creative community in Los Angeles. There are a number of fine, smaller publications nibbling at the edges, but nothing with the breadth and reach of DesignLA. So the magazine offers a great venue for designers, architects, artists, galleries and fashion designers, and it's also a powerful way for marketers to reach a compelling audience: every designer, architect, studio head, affluent household, movie star, industry leader in Southern California.
For the uninitiated, walk us through L.A.'s current design scene. 
For me, the exciting area of Los Angeles now is the downtown scene, which has reached critical mass in the past year or so. People are rediscovering downtown, and international galleries like Hauser, Wirth & Schimmel have invigorated the area. And after years of horizontal sprawl, the city is going vertical, with amazing new high-rises going up, transforming the skyline. At the same time, some of the world's leading architects and designers are based in Los Angeles, and they are continuing to develop their work in ways that are influencing design throughout the world.
So, you have this confluence of art, architecture and design that is really unprecedented, and DesignLA is positioned to be a very strong voice for this historic moment.