By Katy B. Olson
Belgian-born fashion designer Raf Simons—who launched his own label prior to much-heralded stints at Dior, Jil Sander and Calvin Klein, where he's currently chief creative officer—has released his fourth textile collection with Kvadrat. Unveiled late last month in a special installation at the National Academy in New York, the collection of upholstery, cushions and throws addresses Simons's passion as a collector of contemporary art and modern design. It's the latest in a series with the Danish textile company (the first, released in 2014, received little promotional fanfare but plenty of the editorial variety).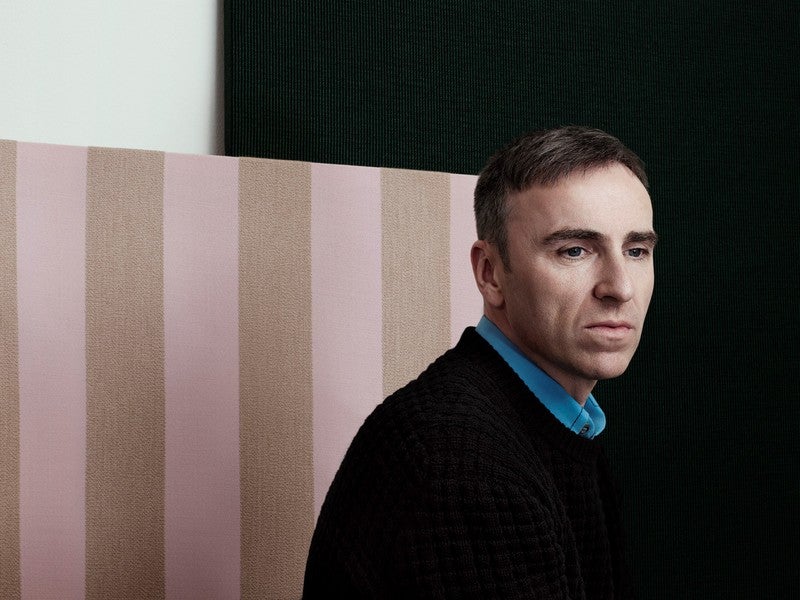 "I was fascinated by how the coloration and weaving processes in fashion textiles don't have the same limitations as those of furnishing textiles," explains Simons, who initially discovered the fabric house when sourcing deep-colored wools for one of his collections for Jil Sander. He used upholstery textiles for the first time in his men's and women's wear, including suits and coats for the fall/winter 2011 collection. Kvadrat CEO Anders Byriel later approached Simons, having heard of his use of the textiles, when searching for a creative director to continue the home textiles and accessories work begun by the fabric house's late designer, Fanny Aronsen. The latest offering relies on the colors from pointillism, the technique attributed to late-19th-century impressionist masters like Georges Seurat, Paul Signac and Vincent van Gogh.
The collaboration between Simons and Kvadrat made its debut in Simons' original domain, on the runway: In 2014, the first year of the partnership, textiles from the collection appeared in the designer's menswear collection with artist Sterling Ruby. The following year, the Kvadrat/Raf Simons upholstery designs returned to the runway, in Paris, in the designer's menswear collections at the Christian Dior shows.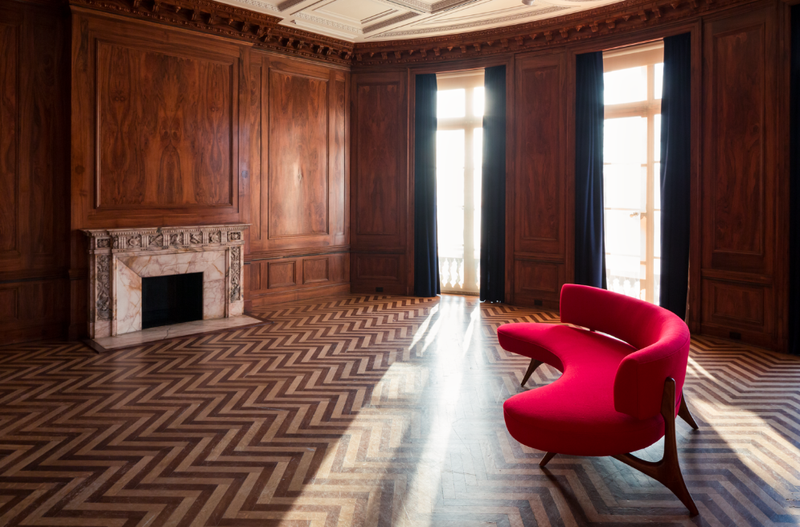 The 2014 collection drew its inspiration from midcentury modern furniture designers—the likes of Jean Royère, Pierre Jeanneret, Finn Juhl and Hans Wegner—with pieces like Argo, a mohair with a deep pile; Pillar, a mohair velour; speckled bouclé fabrics including Sonar 1 and 2 and Pilot; and subtle patterned textiles and light velours inspired by Aronsen. Of that collection, Simons said at the time, "We are making fabrics that are like a blank canvas for designers. They are waiting for input from the furniture designers. We don't control the design they will use the textiles for, so we try to leave it very open; these fabrics should be multifunctional."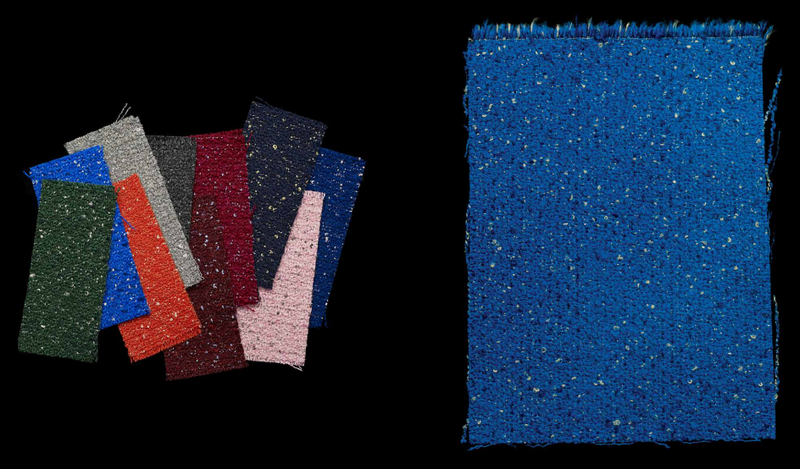 The 2015 collaboration yielded three new upholstery textile designs, as well as a range of cushions and throws. That iteration also brought with it the use of twill, a weave ordinarily used for sturdy fabrics like tweed, gabardine or denim, made with deep-colored yarn. Simons explained: "The diagonal weave offers the perfect structure for our interest in merging a multicolor mix with a graphically clean line. It felt new to us. The combinations of diverse yarn qualities and multiple twisted yarns create depth, and the color results are surprising and striking.")
Byriel said of that offering, which built on 2014's initial line: "I am impressed by Raf's ongoing creative vision through which he is building a second layer to an already quite extensive collection; the new designs are bringing an even more complex and tactile contribution to it."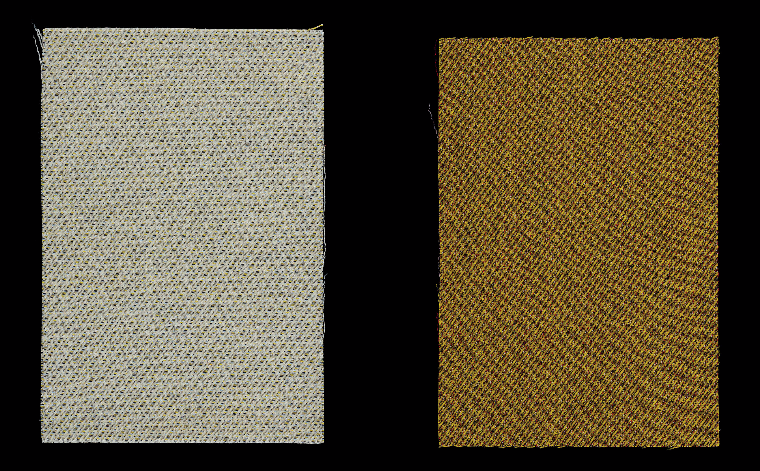 The third collection, issued in 2016, took its cues from modernist furniture, pop and contemporary art, fashion textiles, music, and the modern nautical upholstery found in Franco Albini's suspended Poltrona Seggiovia (Chairlift Chair) of 1940. Punctuated by colors including cobalt blue, lemon yellow, powder pink and bright red as well as grays and neutrals. The three textiles that debuted that year—Reflex, Pulsar and Fuse—were punctuated by colors including cobalt blue, lemon yellow, powder pink and bright red as well as grays and neutrals, and came in three cushion sizes, and joined by a soft throw made from pure camel wool.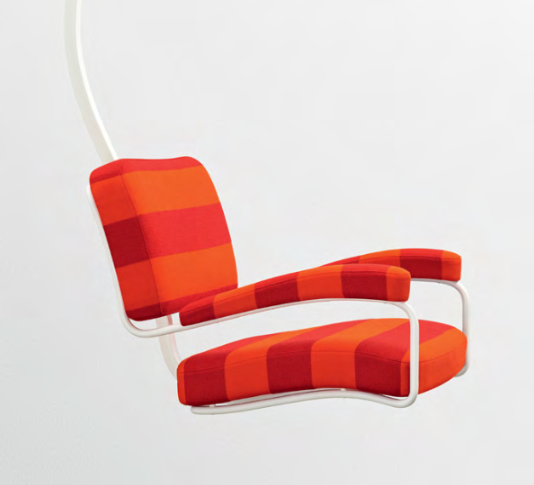 Among the new offerings is Ria, which is available in 15 colorways and was created to complement the existing collections. Simons describes the textile as "organic, almost floral. It has a more romantic expression than the very graphic stripes of last year's collection." New texture/color combinations make their appearance in the new collection, including neutral and muted tones as well as modern pinks, yellows and blues. Additionally, cushions in a number of sizes and selected colorways of Ria, Argo 2 (a formerly released design) and the new bouclé Pilot are also available, designed around the textile collection.
Simons's background in fashion continues to inform his fabric choices as the partnership expands. "Working with Kvadrat, we've been translating the subtle coloration and texture that you'd find perhaps in a tweed or bouclé into textiles suitable for use in furniture. Because of the dense weave that is needed for furniture," he says, "the coloration becomes even more interesting, with almost a painterly impact."