Paris-based architect India Mahdavi has opened two spaces in Los Angeles: Ladurée in Beverly Hills as well as a dedicated space within Ralph Pucci's new L.A. showroom, home to her furniture line.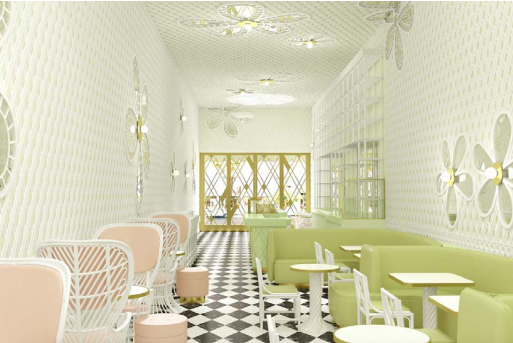 Ladurée in Beverly Hills
"As a child, I lived for several years in the United States," Mahdavi explains of her connection to the city. "My first memories belong to the cartoon world of Tex Avery, Bugs Bunny, Walt Disney; and lunch boxes filled with peanut butter sandwiches and strawberry milk. A lighthearted mix of sweetness and Technicolor. I find in Los Angeles that same energy that inspires me, with its great expanse of sky and all the colors absorbed into the light."
Mahdavi, who also designed a Ladurée in Geneva, Switzerland, calls the aesthetic of the Beverly Hills outpost "Marie Antoinette goes to Hollywood."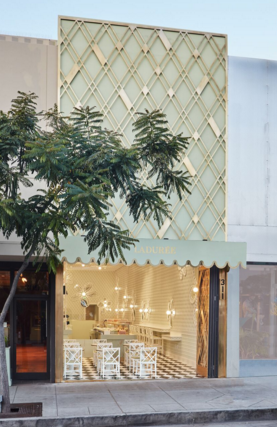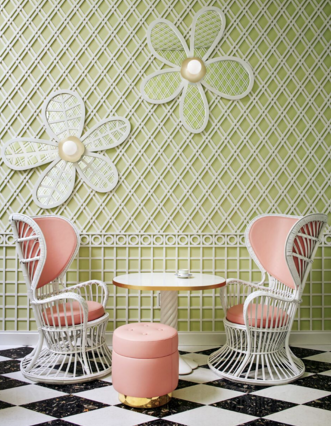 Ladurée in Beverly Hills
Among the designer's works at the Ralph Pucci showroom: the iconic Bishop stool, the Alber table, Gelato and Charlotte armchairs, Jelly Pea and Jetlag sofas, and Saturday and Sunday (Weekend Couple) tables. The showroom is located at 1025 North McCadden and is also home to sculptures by Ruben Toledo and Jérôme Abel Seguin, alongside works by L.A.-based photographer Marjorie Salvaterra and some 20 designers, both international and American.