In a new series, What I Love, we're asking designers to build us a mood board of what's inspiring them right now.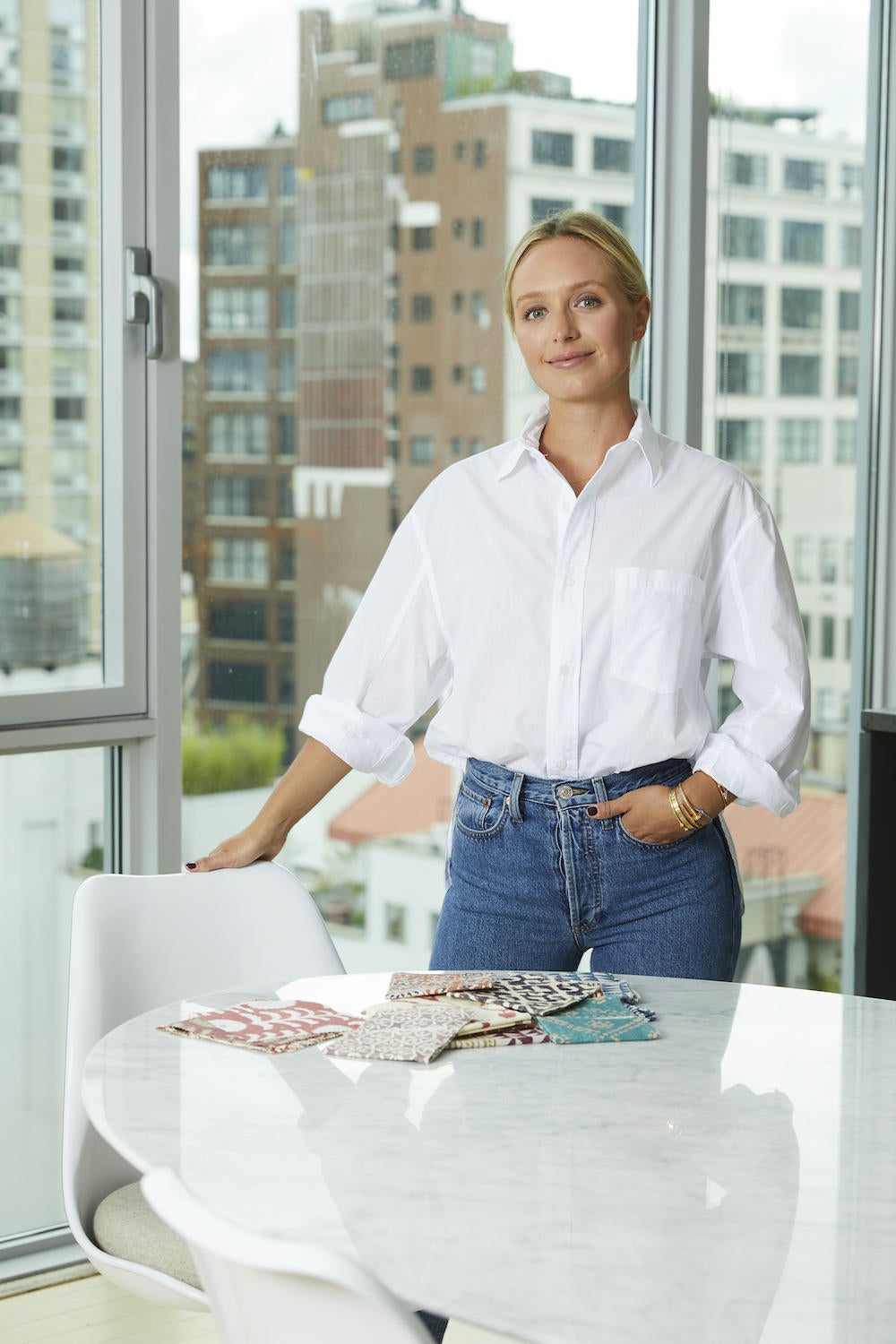 Christina Nielsen doesn't shy away from bold prints and colors. The New York designer has a knack for energizing clean, minimalist spaces with the occasional zip of an eye-catching hue or pattern. "I look for unexpected prints that are fun and timeless," she tells Business of Home. "Ones that I believe will stand the test of time—not so dramatic that one will tire of the scheme."
Her current mood board offers a compelling case in point. With a "maximalist's study or drinks room" in mind, Nielsen drew inspiration from Pierre Frey's vibrant Budapest velvet when crafting the flat lay. "I picture using it for a massive fabric wall, or an ottoman with leather or patterned velvet piping," she says.
The end result is a harmonious mix of rich earthy neutrals and deep jewel tones, drawn together by a veritable range of unruly lines and graphic motifs. "The mood is sumptuous, cozy, elegant and inviting," she says. "The perfect room for entertaining."
Here, Nielsen breaks down the details, from silver travertine swatches to marbleized wallpaper samples.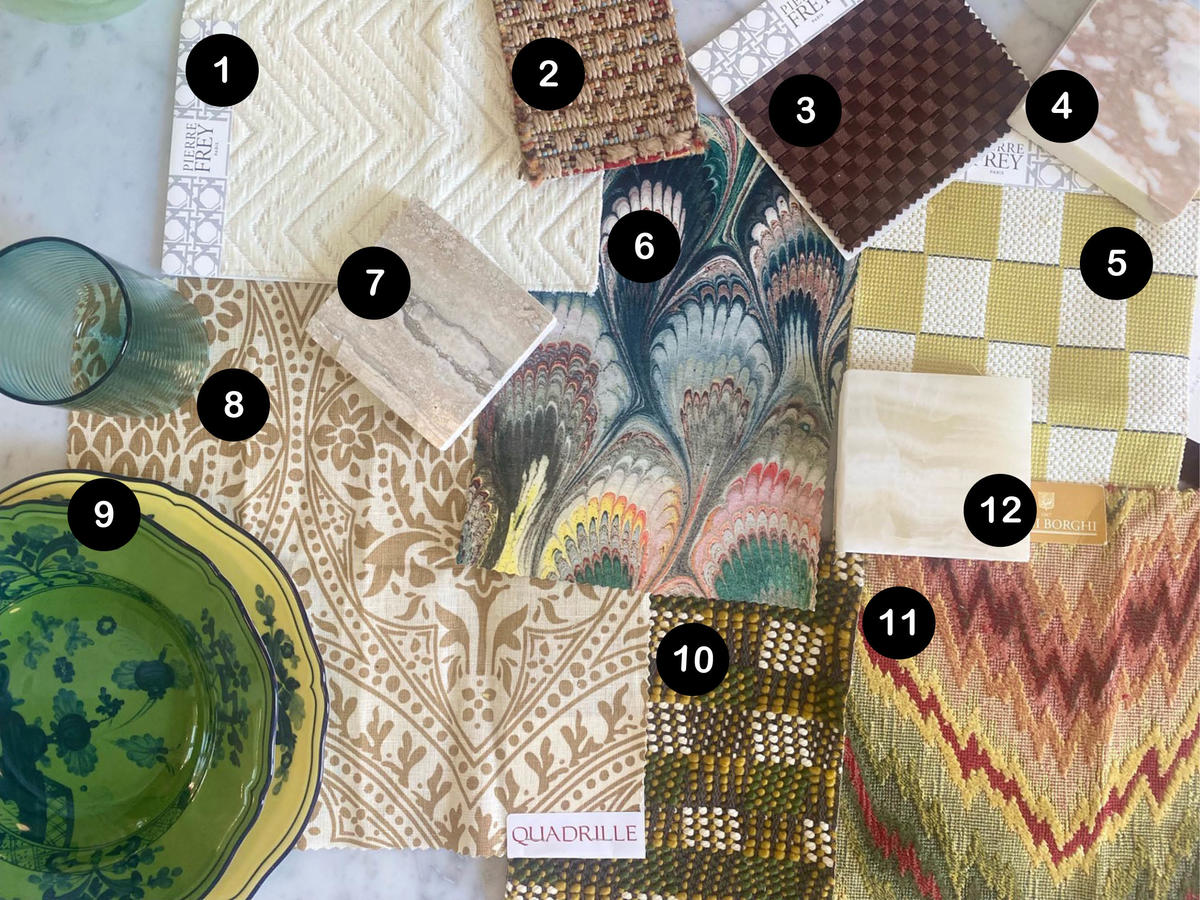 Courtesy of Christina Nielsen
1. BELAIR IN CRÈME FABRIC BY PIERRE FREY
"This neutral and simple fabric brings in a bit of eclecticism with the chevron pattern. The fabric is also quite thick and gives off a 1970s vibe."
2. ST. VINCENT TIDAL LAGOON RUG BY TEMPLE STUDIO
"I love this carpet as a runner or featured in a small room. It's super durable and a fun, contemporary take on a sisal carpet. I'd love to pair this with a glossy burgundy-colored wall—jewel tones unite!"
3. YARAKA IN CACAO FABRIC BY PIERRE FREY
"My all-time favorite leather with a twist. I love the braided texture and how this fabric will only look better with time. This would be fab on an ottoman or a bench."
4. CALACATTA VAGLI ROSATTO BY ABC STONE
"This is a striking and unique marble—the soft pink and creams are made stronger by the aubergine veining."
5. KANUMERA IN MIMOSA FABRIC BY PIERRE FREY
"This reminds me of the countryside—elevated by sleek black piping throughout."
6. MARBLEIZED WALLPAPER BY BEATA HEUMAN
"This has always been a favorite wallpaper of mine. It is so fun and vibrant, yet chic and something one would not tire of. [This would also be great] in a small powder room, with the walls and ceiling wallpapered. Pair it with an oversized mirror to reflect all the patterned surfaces."
7. SILVER TRAVERTINE VEIN CUT BY ABC STONE
"The textures of this slab speak for themselves. The veining has an almost moss undertone, which heightens the beauty of travertine."
8. PINA IN CAMEL II ON TINT FABRIC BY QUADRILLE
"I've mostly seen this fabric in blues and pinks, but this pineapple-esque print feels less tropical and more timeless in camel."
9. ORIENTE ITALIANO PLATES IN MALACHITE AND CITRINO BY GINORI 1735
"You can't go wrong with these plates—the pattern and fun hues only elevate the overall scheme. I love to mix and match these with different colored bowls on top of dinner plates."
10. OTTI IN AUTOMNE FABRIC BY PIERRE FREY
"This reminds me of the 1970s, yet it also has this luscious library vibe. It's a thick wool, and the pattern deserves a big scale to really maximize its intricacies."
11. BUDAPEST IN CARMINE FABRIC BY PIERRE FREY
"This was my starting point for the overall scheme. It's a fabric I am dying to use—I think it is absolutely fabulous. It reminds me of Loulou's in London—a maximalist's dream. Layer upon layer of color and pattern, yet it feels so effortless and chic."
12. WHITE ONYX VEIN CUT BY ABC STONE
"Neutral but unexpected, this onyx plays into the sexy vibe of the exotic scheme."
Homepage photo: A flat lay by designer Christina Nielsen | Courtesy of Christina Nielsen