Becoming a successful custom furniture maker doesn't just happen. Not only does the craft require experience and a material instinct, but the logistics of owning the proper tools and securing sufficient workspace can be a serious barrier to entry. Six Chicago furniture makers found a way to circumnavigate that challenge when, in 2009, the shared workshop space that they individually leased saw a rent increase. Rather than breaking off to find their own replacement spaces, the now-friendly brands joined forces to seek another, larger space—this time together by choice rather than happenstance. In doing so, they solidified the Dock 6 Collective, which includes Dan Sullivan of Navillus Woodworks, Seth Deysach of Lagomorph Design, Andrew Kephart of -ism Furniture, Carson Maddox of Carson Maddox Studios, Scott A. Patterson of SAP Design, and Zak Rose of zakrose.
Dock 6 works by allowing each brand to retain its own distinct business footprint while operating under the umbrella of the collective, which enables members to minimize overhead costs. The most essential benefit is a consolidated library of tools and equipment. "You don't necessarily need five planer [tools], right? You really only need one," says Sullivan. "[When we started out], Andrew was well-stocked in commercial- and industrial-grade tools, whereas I had virtually nothing. From my perspective, [joining forces] made a lot of sense."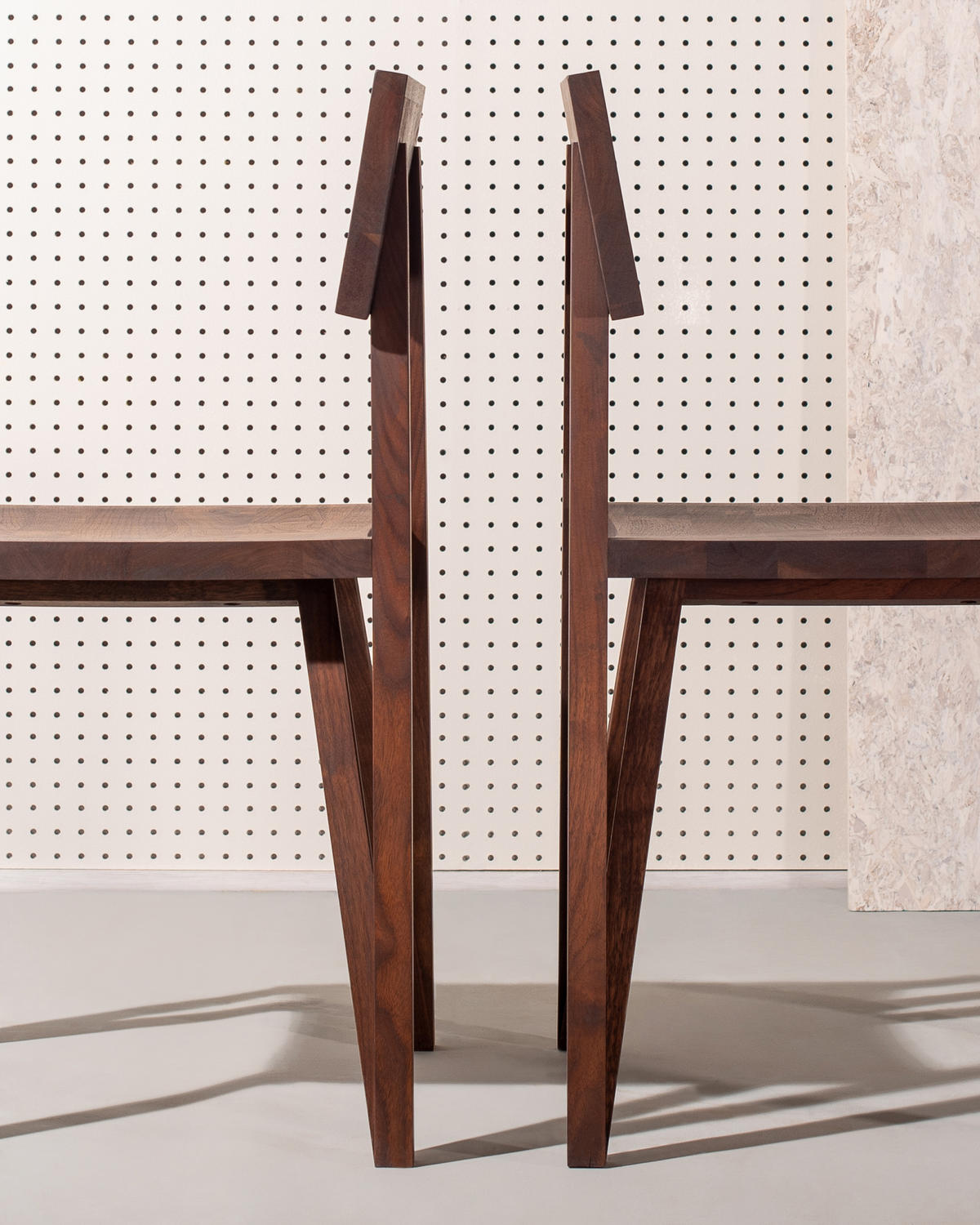 Acting as a collective, in 2015 Dock 6 secured a loan for their most recent warehouse location, a sprawling 50,000-square-foot space in the Belmont Cragin neighborhood in northwest Chicago. Pooling their funds, the group spent nine months renovating the space into what it is today, building out the metalshop and woodshop capabilities for their growing businesses. Dock 6 has since grown into a network of more than 40 employees, with pieces from its member brands gracing the offices of award-winning local architecture firm Skidmore, Owings & Merrill, and sold by major partner companies like Aesop and CB2.
It wasn't long after the renovations wrapped up that Dock 6 hatched the idea to launch a furniture collection, a possibility they'd discussed since the start of their partnership, but only began to seriously develop two years ago. "It was a lot slower going than we expected [because] we all had ongoing businesses—we wanted to give it focus, but we were pulled in all different directions," explains Maddox. Launching a collection, however, would be a significant departure from Dock 6's foundational business model, which has historically revolved around custom furniture manufacturing by each of the six independent makers.
Even equipped with years of experience in the custom furniture industry, the group faced two significant challenges in realizing the line—the first being their disparate points of view. "By bringing us all together and saying, 'Hey guys, I'm going to sell my piece next to Carson's, next to Seth's rocking chair, obviously we're all looking over each others' shoulders while we're designing and building things—but how do we formalize the connection between materials and finish choices?" says Sullivan. In order to reconcile the styles into one visually cohesive collection, each designer chose pieces that best represented his individual aesthetic, and through a series of weekly workshops, the team was able to settle the differences. "Critiquing each other's work openly and in a constructive manner has been part of that process," he tells BOH.
The second obstacle was the uncharted territory of launching a branded furniture line: "There are things that I designed in my off-hours 10 years ago and developed over time," explains Sullivan. "Realizing that product means figuring out, What does it mean to make 100 of these? And how do I sell something that I've already designed to the greater public? It sounds simple, but creating a business that's selling those pieces is a different business model." As part of the Dock 6 Collection, the company created its first internal marketing team to help offset the learning curve.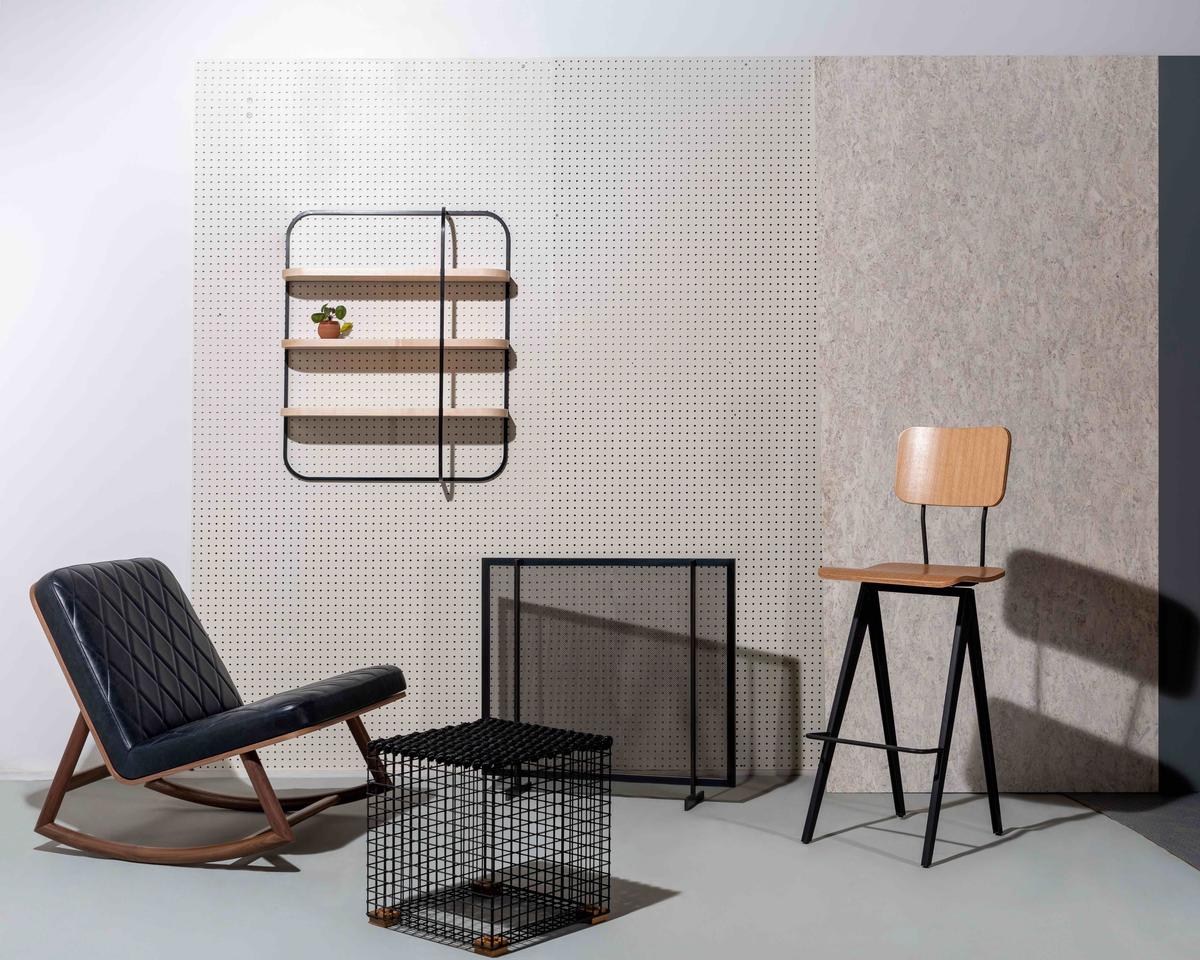 With those pieces finally in place and the designs agreed upon, the line was set to launch this spring at Central Standard, a Chicago-based furniture and object fair. Naturally, COVID knocked that plan to the wayside, but the Dock 6 team found a clever solution: As part of the line's soft release, the designers came up with the idea for an outdoor pavilion that functions as a traveling pop-up showroom, which they are calling the Dock Box. The 11-piece collection officially launched on September 27, with socially distanced stagings in Chicago's Logan Square neighborhood through the end of October, allowing passersby to check out the designs.
The breakout collection from Dock 6 features a wooden credenza, a fire screen, sleek shelving, and several seating options, including a geometric bench. And while the lead times on these pieces currently stand at about eight to 10 weeks, the collective hopes to shave that timeline as they amass a backstock in the coming months. The pieces are available to consumers through the Dock 6 website, but the group is hoping to attract a strong trade audience, offering customization on the collection. Taking it a step further, the line will also be represented through the Montauk Sofa showroom in Chicago. But it's not all fun and games—the designers are already hard at work on their next line. "This collection puts a lot of pressure on us moving forward," says Sullivan. "Releasing pieces of furniture on a regular basis is what the world that we're entering into expects."
Homepage image: Dock 6 Collective members (from left) Andrew Kephart, Zak Rose, Dan Sullivan, Seth Deysach and Carson Maddox in the Dock 6 pop-up shop. Photo by Lucy Hewitt, courtesy of Dock 6 Collective.