Artist Rochelle Udell's latest exhibit, "Where Do You Sit in Life?" opened with a May 4 celebration at the 1stdibs Gallery at 200 Lex. Udell, whose previous career spanned publishing, beauty and fashion, discusses what significance the ordinary chair actually holds.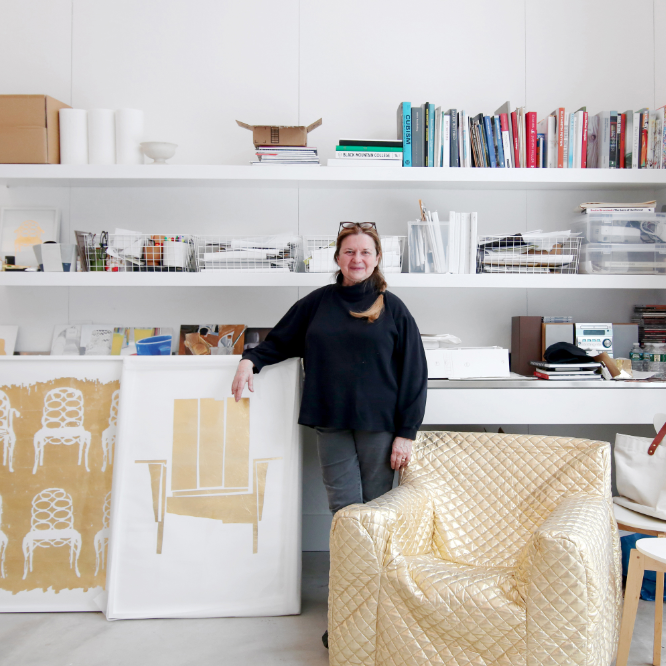 Where did the idea for the exhibition originate? 
I have to take a step back and start with, Why a question?, which is central to my life.
It begins with a story that took place in 5th grade. My teacher was Mrs. Chast (the mother of Roz Chast, the cartoonist). There was a chart on the wall with our names, and next to our names were our stars. If you gave a good answer, you got a star; but Mrs. Chast went further, and if you asked a good question, you got two gold stars. It instilled in me the importance of asking for answers, allowing for not knowing and being curious. So, where to sit in the room, what to choose to sit on, prompted questions of relationship and identity.
What's the true meaning of sitting?
Lots of meanings, depending on circumstance. Man often elevated himself off the ground as a way of being more comfortable or distinguishing himself. Some who want to be defined by power sometimes sit elevated above others. Pablo Neruda wrote in his poem "Ode to the Chair" that a single chair is the first sign of peace. The ability to pause and reflect is a common theme. In gestalt therapy, patients talk things out to an empty chair that holds an imagined person that needs to hear something.
Chairs matter. The placement of chairs—where they sit in a room and in relationship to other chairs—matters. Who is sitting in the chair, has sat in a chair before today and will sit in the chair tomorrow matters. The design of chairs—height, width and depth of the seat; ergonomics, or the lack thereof; and materials—matters. The function of chairs matters, as well as the design. Does the chair I'm sitting on really fit me, represent me? Sitting is never just sitting. 
Where do you sit today? How has your seat in life changed with time and with the different roles you've taken on? 
Oh, yes. Over the years, I have had the privilege to sit at the table and hopefully make a difference in the lives of the people I worked with and the people I served. Today, I hope that my work benefits others in helping them to remember where they where and continue to define where they want to sit in life.