In our series, What I Love, we're asking designers to build us a mood board of what's inspiring them right now.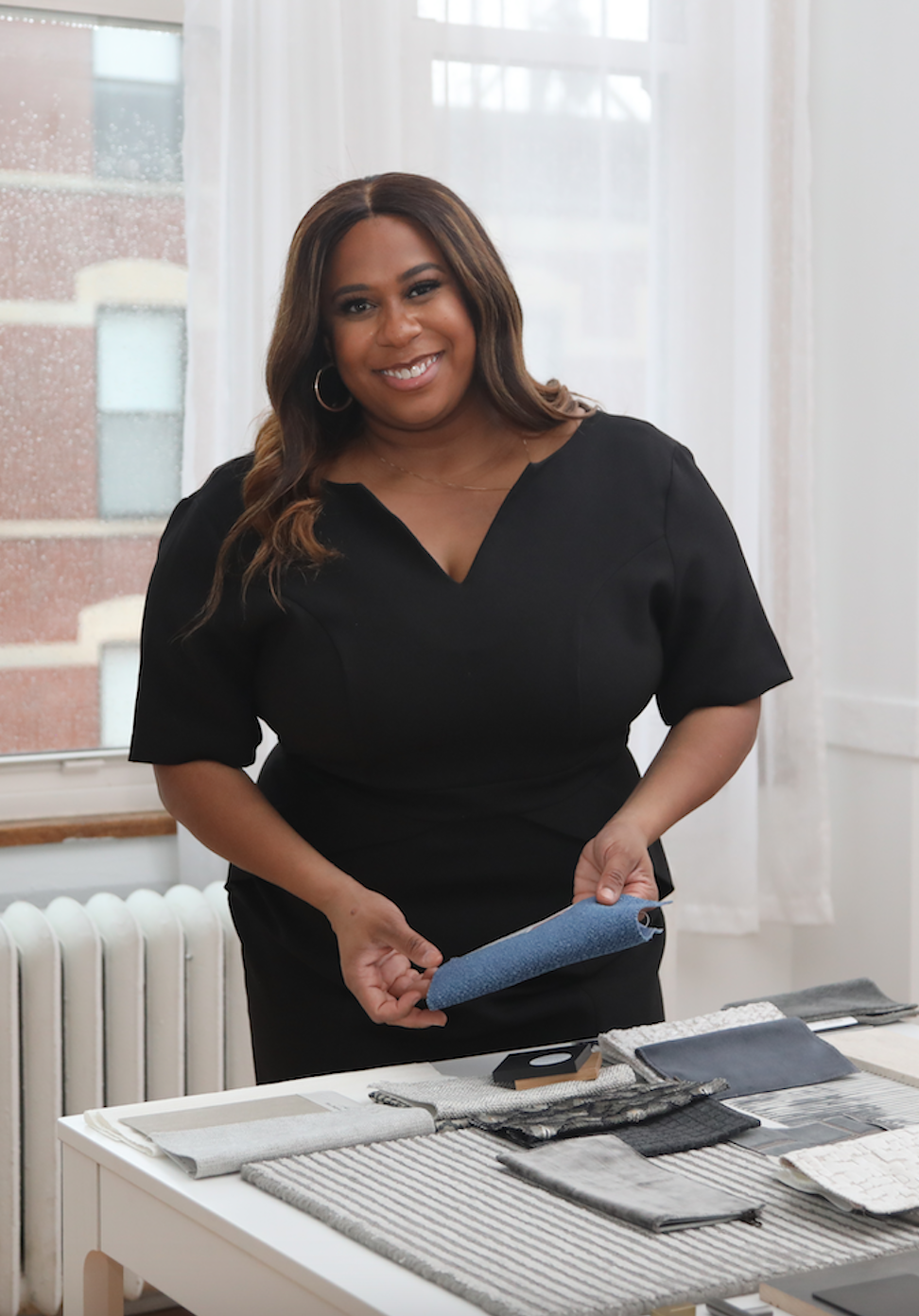 Courtesy of Brooke Lang Design
Brooke Lang knows how to bridge the gap between classic and contemporary. Though at first glance the Chicago designer's interiors may appear maximalist in pattern and hue, upon further inspection you'll uncover a symphony of clean, minimalist-friendly motifs and of-the-moment materials. "My style leans modern, but with a soulful twist," she tells Business of Home.
Her current mood board is an excellent example. To help balance out the scheme, which is brimming with chic black-and-white patterns, Lang sprinkled in an assortment of highly touchable organic elements and pretty, blush-hued pieces. "This flat lay represents a more playful side of my aesthetic," she says.
The final design features a refined mix of sophisticated graphic prints grounded by naturally tactile textures and tones. "I like creating contrast in my designs," she says. "It creates depth and enhances visual interest in the space."
Here, Lang breaks down the details—from faux fur samples to multicolored velvet fabrics.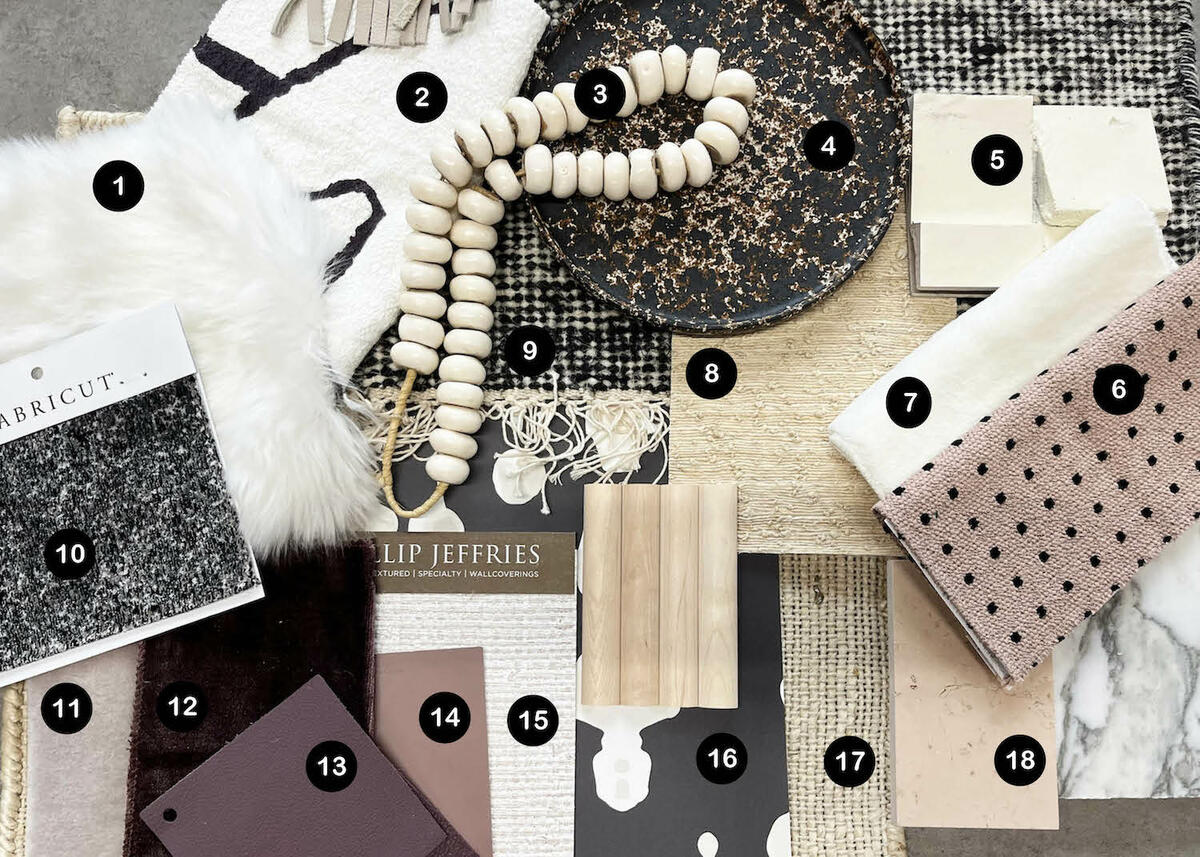 Courtesy of Brooke Lang Design
1. ARCTIC FOX FAUX FUR FABRIC BY ZINC TEXTILE
"I think faux fur is irresistible, and I like incorporating it into accent pieces like ottomans, accent rugs and throws. We have even admired the use of faux fur on upholstered furniture for an extra cozy and comfortable experience."
2. BARK CLOTH FABRIC IN CAROB BY DONGHIA
"The pebbled texture and heavy weight of this fabric give it a tactile quality that is inviting on ottomans, chairs and other statement pieces. The large-scale motif is modern and very much my vibe."
3. AFRICAN WHITE BEAD NECKLACE BY JAYSON HOME
"Beads are one of my favorite styling accessories because they layer well with other pieces for added texture. I like adding organic textures into our spaces to add warmth and soulfulness."
4. ROCCO SALAD PLATE BY JAYSON HOME
"This speckled salad plate can easily be used as a catchall tray. The pattern is mesmerizing and works as a small focal point."
5. FITWALL MATTONELLA SURFACE PANEL IN WHITE CLAY BY PORCELANOSA
"I'm loving this versatile new surface material that has so much potential to make walls more interesting and textural in both homes and commercial spaces. It's a great alternative to tile."
6. TELLUS FABRIC IN BLUSH BY KELLY WEARSTLER AT LEE JOFA MODERN
"I'm a fan of this woven fabric because it doesn't feel overly feminine despite its beautiful rose tone. The minimalism of the print by Kelly Wearstler makes this an irresistible choice for pillows and small upholstered pieces."
7. PLUSHILLA FABRIC IN CREAM BY KRAVET
"This is one of the softest fabrics I've ever felt! I love using this for chairs, pillows and other places where touch is important. This fabric is 100 percent polyester, making it an affordable alternative to velvet and mohair."
8. KNOTTED HEMP WALLPAPER IN IVORY BY MAYA ROMANOFF
"The texture of this wallpaper adds a luxurious softness to walls, making any space feel more intimate and warm. I love the surprise of a woven texture in a modern space because it feels unexpected yet complementary."
9. REX RUG IN REX-4000 BY SURYA
"This rug is a staple in our designs because it mixes organic texture with a modern, clean pattern. The mix of light and dark fibers means it can work with endless color palettes and the flat weave makes it easy to care for."
10. ENDURING VELVET IN ONYX BY FABRICUT
"The small-scale pattern of this versatile multicolor velvet gives it richness and depth, making it a great layering texture. This fabric is a go-to choice for pillows as a more interesting alternative to a solid color."
11. REST FR UPHOLSTERY IN EGGSHELL BY KIRKBY DESIGN
"Mohair has become a favorite choice for upholstery because it has so much depth and a softer, more plush appearance than velvet. This neutral color has a calming effect and is perfect for a lounge or bedroom."
12. SILK VELVET FABRIC IN 18 BY VERVAIN
"Nothing quite compares to the softness and richness of silk velvet. This color holds so many different tones of purple, making it dynamic and luxurious. I have been gravitating toward the use of purple as a neutral—it brings out the warmth and beauty of other colors around it."
13. BERKSHIRE LEATHER IN SMOKEY MAUVE BY GARRETT LEATHER
"I love purple leather because it combines the allure of the color purple, with its sense of mystery and creativity, and the timeless elegance and sophistication of leather. It adds a touch of luxury and uniqueness."
14. BARBERRY 1244 PAINT BY BENJAMIN MOORE
"This color exudes a softness and femininity that instantly lifts my mood. The gentle pink undertones are a perfect hue for serenity and romance."
15. LACQUERED RAFFIA WALLCOVERING IN BLANCH BY PHILLIP JEFFRIES
"This unique choice for walls is a great alternative to painted white walls while giving the same effect of minimalism and airiness. It has a glossy texture, making it interesting and slightly organic."
16. BOHO RAIN WALLPAPER IN IVORY ON BLACK BY BOHEMIAN BUNGALOW AT MITCHELL BLACK
"Black-and-white prints are a signature of our designs, and I love how this product feels abstract and hand-painted even though it is a digital print. I'm a fan of Mitchell Black because the scale and colors can be modified to fit our designs."
17. EVORA RUG IN EVO-2301 BY SURYA
"I'm drawn to this rug because it has an organic, earthy quality without feeling bohemian or beachy. It brings light and a casual feel into spaces like living rooms and home offices."
18. ROSE PERLINO HONED FIELD TILE BY ARTISTIC TILE
"This blush tile is one of my favorites because it is a beautiful complement to gold hardware and many varieties of stone. I love it in bathrooms, but I also like incorporating it in unconventional spaces like foyers. It works on walls and floors, making it especially versatile."
Homepage photo: A flat lay by Brooke Lang | Courtesy of Brooke Lang Design