A new Baldwin pop-up, a collaboration between the fashion brand and Hufft Projects, debuted last month in New York's Nolita neighborhood, and it's the first of a number to be rolled out this year. The store features pieces from Baldwin's spring collection, hewing to a theme of rural-meets-urban that plays on founder Matt Baldwin's Midwestern roots, near the Flint Hills in Kansas. The pop-up's design is entirely modular, say the partners, allowing "the retail space + showroom to be packed away in a series of large crates, which double as the showroom tables, and transported to new locations."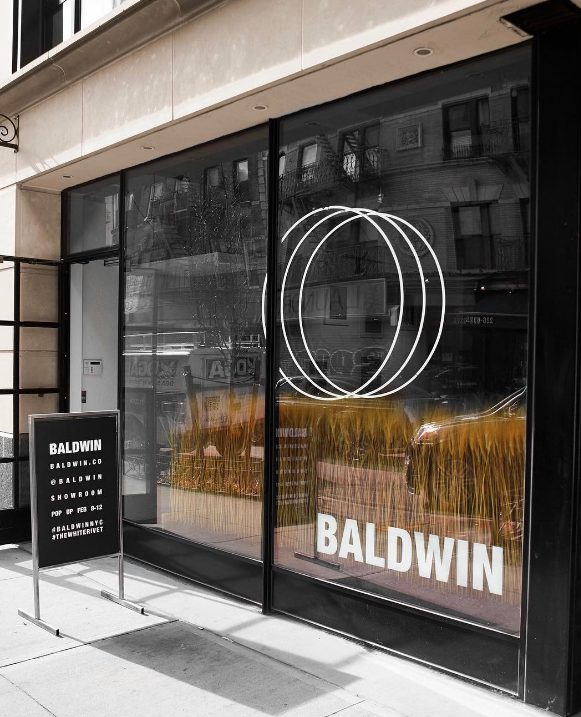 Among the highlights: the Prairie Table, which also serves as the main container for the pop-up's contents; a swiftly disassembled dressing silo; and the Sawbuck Judd table, which blends midcentury modernist Donald Judd's furniture design with a traditional farm table.
How did it come about? Shares Hufft Projects founder Matthew Hufft, "I've known Matthew [Baldwin] since he and [his wife] Emily went to college together at the University of Kansas. They grew up together in Springfield, Missouri." When Hufft and his wife, Jesse, left New York, they moved to Kansas City. "Hufft designed and ran the architecture on our shop in Kansas City on the iconic Country Club plaza," says Baldwin. "Since that shop, he has done three other retail concepts for us."
There were particular challenges in creating the pop-up, he says. "Time is the challenge. We work with quick decision opportunities to lease space. Secondarily, designing the space, building fixtures, assembling the retail teams, PR and events give the next set of calendar challenges. The benefit is it's not permanent. Signing long-term retail leases can be a heavy pressure to a business if signed too early in a market. We're looking at Chicago, Los Angeles and Dallas this fall to connect other cities with the pop-up shop."
The Baldwin pop-up is located at 199 Mott Street and is open Friday through Sunday, 11 a.m. to 7 p.m., until the end of March.