In a new series, What I Love, we're asking designers to build us a mood board of what's inspiring them right now.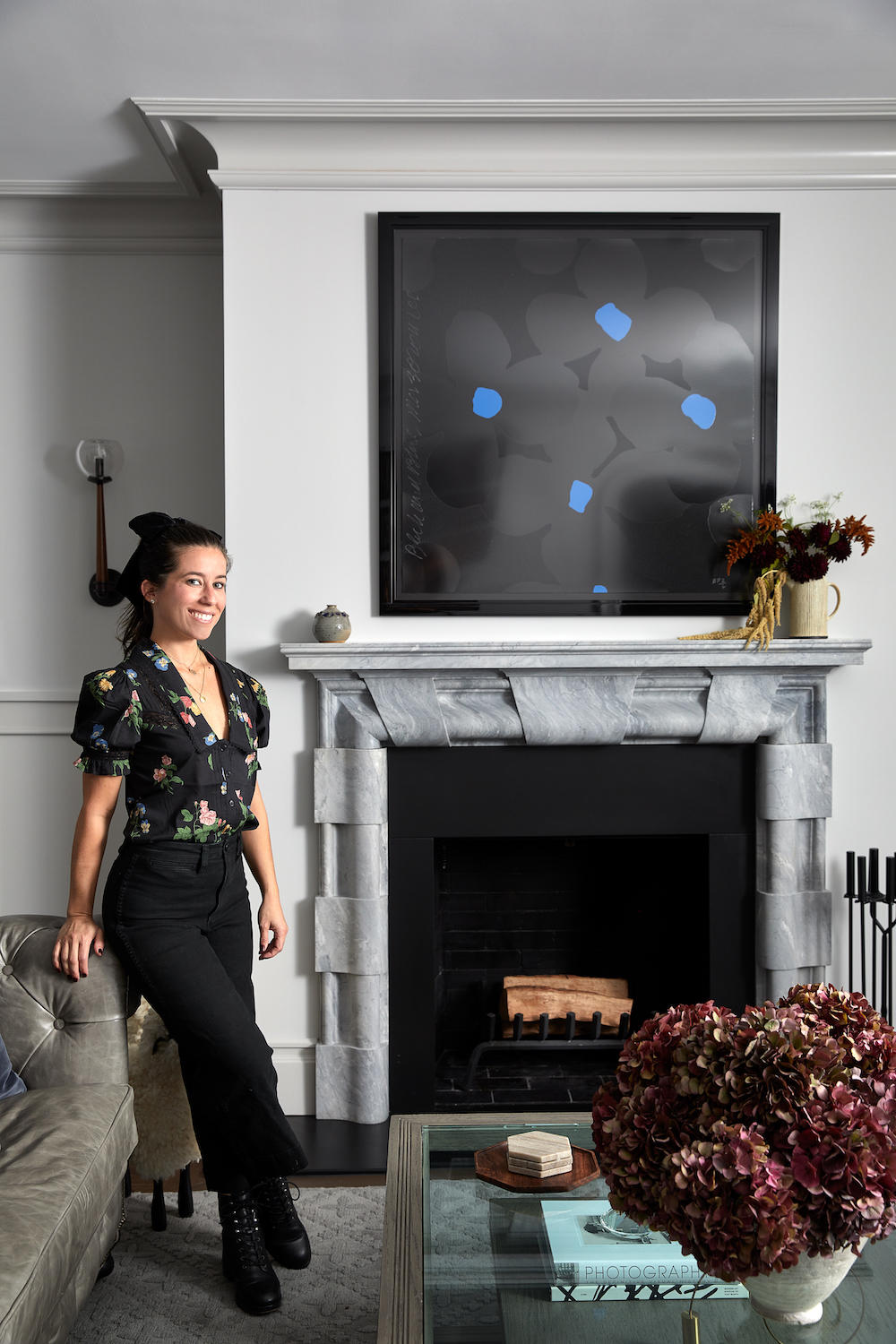 Courtesy of Becky Shea Design
Becky Shea has an affinity for craftsmanship. The New York–based designer tends to gravitate toward artisanally made pieces punctuated by natural materials and organic motifs. "If there is one constant in my design ethos, it's the vernacular that nature and ecosystems work harmoniously together in all aspects of form and function," she tells Business of Home.
Her current mood board offers an excellent case in point. Crafted with her upstate home in the fall in mind, the flat lay showcases a medley of sustainable designs in rich earthy hues that draw from the surrounding environment. "I wanted all my selections to represent warmth, comfort and a change of pace," says Shea. "When I look at these colors and materials together, I can't help but smell a roaring fire and root vegetables roasting."
A veritable range of tonal values and tactile textures is what ultimately draws the designer's scheme together. "Pure materials and compositions always work beautifully together," she explains. "When you blend wood, wool and metals that naturally patina over time, the results are truly timeless."
Here, Shea breaks down the details, from embossed leather swatches to blackened steel samples.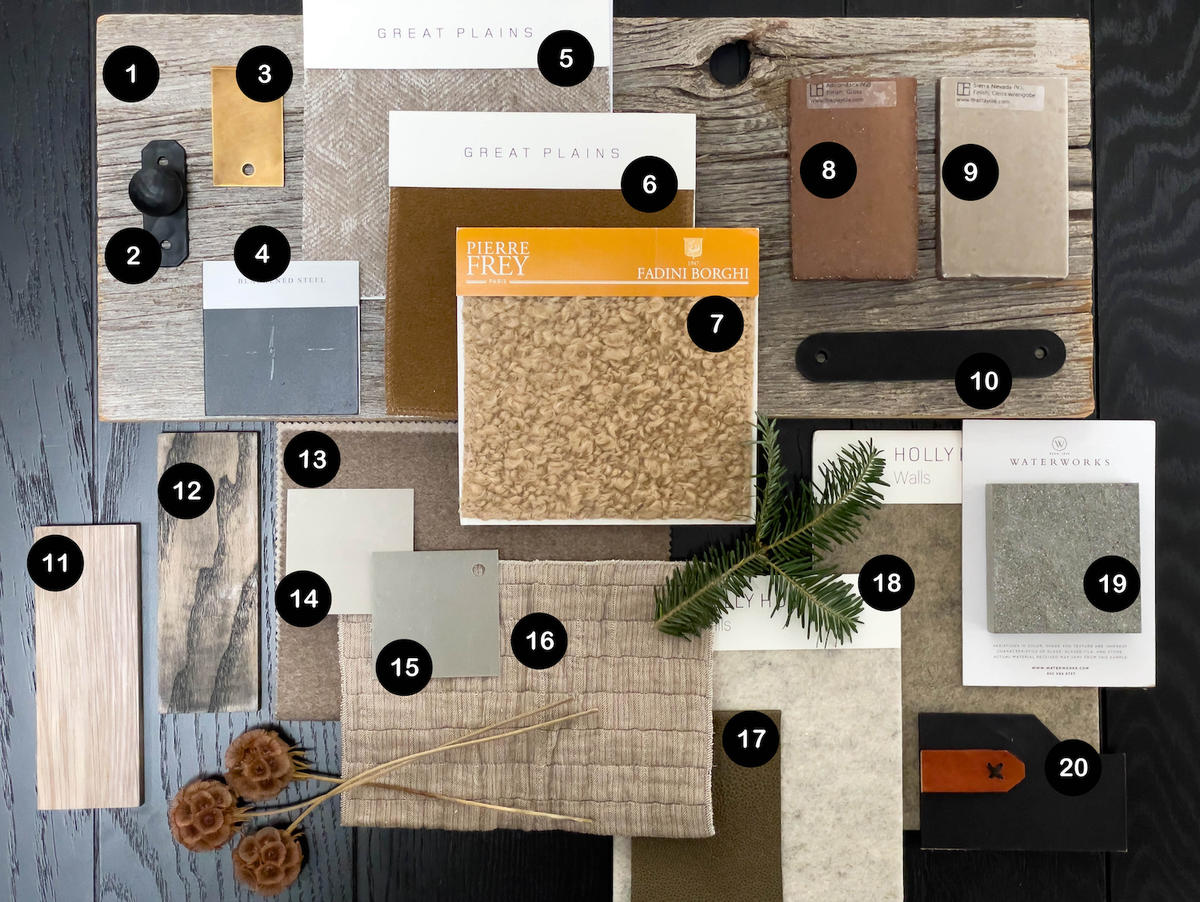 1. GREY BARN SIDING — THE HUDSON COMPANY
"I love the depth of reclaimed barnwood and how much history is visibly present in the natural weathering, giving it that silvery color."
2. PULLED HAMMERED IRON CABINET KNOB BY BUSHERE IRON STUDIO — ETSY
"This handforged solid iron knob has weight to it, and the hammered finishing detail works harmoniously in a rustic environment."
3. LAITON VIELLI CIRÉ BRASS FINISH SAMPLE — MELJAC
"Similar to reclaimed barnwood, the unique patina of unlacquered brass evolves from exposure to various elements and makes each piece that much more special."
4. BLACKENED STEEL SAMPLE — WORKSTEAD
"Quality craftsmanship and timeless design made locally in New York is why we frequently work with our friends at Workstead. I'm a huge fan of steel and use it frequently, whether architecturally or in my furniture designs."
5. GEO MOHAIR IN SHALE — HOLLY HUNT
"I'm dying to use this fabric for a headboard or throw pillows. It adds a very dainty touch in contrast to the other material selections in my flat lay, helping to add a layer of texture that brings warmth to the design."
6. ENLIGHTENMENT IN COGNAC — HOLLY HUNT
"This angora is rich in color with an earthy, inviting composition that also has a stain-resistant finish. I would love to see this on a sofa in a client's lounge."
7. OPIO WOOL — PIERRE FREY
"You can never go wrong with a boucle. This particular selection is ever so soft to the touch and a more muted version of my favorite camel splash, which makes it a perfect addition to any room in a home."
8. ADIRONDACK BRICK TILE — FIRECLAY TILE
"Fireclay Tile carries on the centuries-old tradition of handmade brickmaking—and does it in a Climate Neutral certified facility in California using 100-percent renewable energy and domestically sourced materials. This specific color is rich yet earthy and vibes well with all the other elements in the flat lay."
9. SIERRA NEVADA BRICK TILE — FIRECLAY TILE
"This color is a little more muted and tonal, which works beautifully as a backsplash paired with a live sawn grain."
10. LEATHER DRAWER HANDLE IN BLACK BY LEATHERNGRAIN — ETSY
"I love finding little moments for leather applications, and millwork is one where I enjoy getting creative. I've worked with the LeatherNGrain folks for a couple of years, and their leather pulls are without question some of the best."
11. OXIDIZED WHITE OAK FINISH SAMPLE — DE LA ESPADA
"What I love most about this finish is the subtle movement and how the color casts differently based on how much light is hitting it."
12. BLACK OILED ASH FINISH SAMPLE — DE LA ESPADA
"This simple yet unbelievable finish is perfect when you're working with live sawn graining. It highlights the different movements in the grain and creates a truly unique contrast."
13. PECORA NERA IN KASHA BROWN — LORO PIANA
"This is a tried and true cashmere. I included it because of the light and dark tones on either side, which is especially great for bedding and throws."
14. ROMAN CLAY IN BRAVA — PORTOLA PAINTS
"I'm a sucker for walls with texture, and Portola Paints has become an all time favorite for that very reason. Roman Clay has so much depth, and the application always looks like it's been in situ for centuries."
15. LIME WASH IN GURU — PORTOLA PAINTS
"Limewash has a beautiful weathered patina that changes over time. As an added bonus, it is organic and a mild fungicide too!"
16. MEDINA IN 17374 — 4SPACES
"This fabric was woven with beautiful movement. It feels like a summer quilt, and when pairing it with angora, boucle and wool, it helps to welcome laid-back living."
17. STINGRAY IN SHIPWRECKED LEATHER — HOLLY HUNT
"This leather was made to mimic a stingray pattern—no stingrays were harmed!—and has a two-tone finish."
18. MATINEE IN PEWTER AND SANDSTONE — HOLLY HUNT
"When I landed on this wallcovering, I was excited to learn it's made from 100 percent recycled water bottles, but you would never know when you see or touch it! It feels like felt or wool."
19. KEYSTONE DECORATIVE FIELD TILE FLAMED IN TUSCAN GRAY — WATERWORKS
"The flamed technique used to create a coarse feel on this material is absolutely breathtaking."
20. LOW BACK TAB STOOL SWATCH — WREN AND COOPER
"These low-back tab stools use very thick saddle leather, making them industrial and utilitarian. I love to inject pops of leather into my work, and the combination of black and tobacco with the cross-stitching is just so cool."
Homepage photo: A flat lay by designer Becky Shea | Courtesy of Becky Shea Design