The nonprofit Art Production Fund and art gallery Fort Gansevoort collaborated on the first Art Sundae program, a free workshop for children, led by artist, author and educator Elise Peterson in New York City. Peterson worked with the children on a project titled "Dream House," which is on display through November 8 at Fort Gansevoort (5 Ninth Avenue).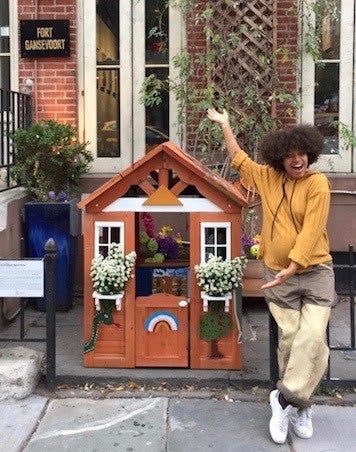 "Bringing to fruition my vision of constructing a children's playhouse, the 'Dream House' public art project is fueled by and honors the imagination of children," says Peterson. "By utilizing accessible materials such as paint and markers, the youth are given an opportunity to transform an ordinary playhouse into a house showcasing visual memories of their dreams. The 'Dream House' will continue to evolve as the dreams of patrons are physically added to the space through written and illustrated notes."
The project was planned to run in conjunction with It's Happening! Celebrating 50 Years of Public Art in NYC Parks, the New York City Parks Department's art festival, which took place last week. The goal of Art Sundae is to give children access to different forms of art, as well as share with them the positive impact art can have when it is accessible.