At first glance, Saltwolf looks familiar. It's a digitally native furniture brand promising a convenient shopping experience and quick turnaround times, no pernicious middlemen involved. The pieces are simple but stylish, offered in linen, leather and performance velvet. The plan is to market the line on social media. One could be forgiven for lumping the brand in with any number of direct-to-consumer furniture companies that have launched over the past decade. The twist? Saltwolf isn't for consumers. It is selling to designers, and designers only.
No surprise, then, that Saltwolf was born not out of a Silicon Valley coworking space, but a design firm in Boulder, Colorado. Lindy and Jordan Williams, the married couple behind the venture, conceived of the idea after frequently encountering the same frustrations in their own design practice, Westward Foundry. Chief among them? Their clients, trained on the speed and convenience of e-commerce, were balking at the slow pace of to-the-trade makers.
"We had a few projects in a row where we lost business because of the timeline," says Lindy. "[We'd say], 'Here's this beautiful piece, it's really well made, here's the price point.' The client would say, 'Great. How long is it going to take?' We'd say, 'Eight to 10 weeks, but it's usually more like 10 to 12, and if we want to pick our own fabrics, it's about four months.' Their jaw would drop."
The Williamses themselves—Jordan in particular, who worked in digital marketing for both REI and Vail Resorts before joining Lindy's design firm as COO—were also frequently stymied by the archaic business practices of to-the-trade makers. "When I started working with Lindy, I got to sit in the middle of a modern design firm and watch how it's operated and be a little bit like a consultant, and I'd always be asking, 'Is this really how it works?'" says Jordan. "When we'd open a new account, you'd get an uneditable PDF in an email, print it out, fill it out by hand, often with bank account and credit card info, knowing it's going to get forwarded around a number of times until it gets to the person who processes it. It was interesting to see how the expectation of the trade space wasn't matching what was happening [with consumer companies] online."
Their response was to build a company based around the simplicity and speed of e-commerce, but targeted specifically to designers. Saltwolf promises a four-week lead time (a factory in North Carolina makes the pieces) with a simple checkout process. If a fabric or a piece isn't in stock, designers don't have to call a rep to find out—it's simply listed as unavailable on the site.
In many respects, Saltwolf looks exactly like an online retail company, with one crucial exception: There are no publicly shown prices. Designers are required to submit a resale number and professional website to set up an account, at which point they can log in, see pricing information (sofas range from $4,000 to $8,000) and download tear sheets.
"I wanted to give designers a tool where they can bring a laptop to a meeting [and] walk clients through. They can configure it, put their order in at midnight if they want and get an email back confirming their order," says Lindy. "As opposed to driving to a design center, calling your rep—two weeks go by, you haven't gotten the sample, someone can't get you the price."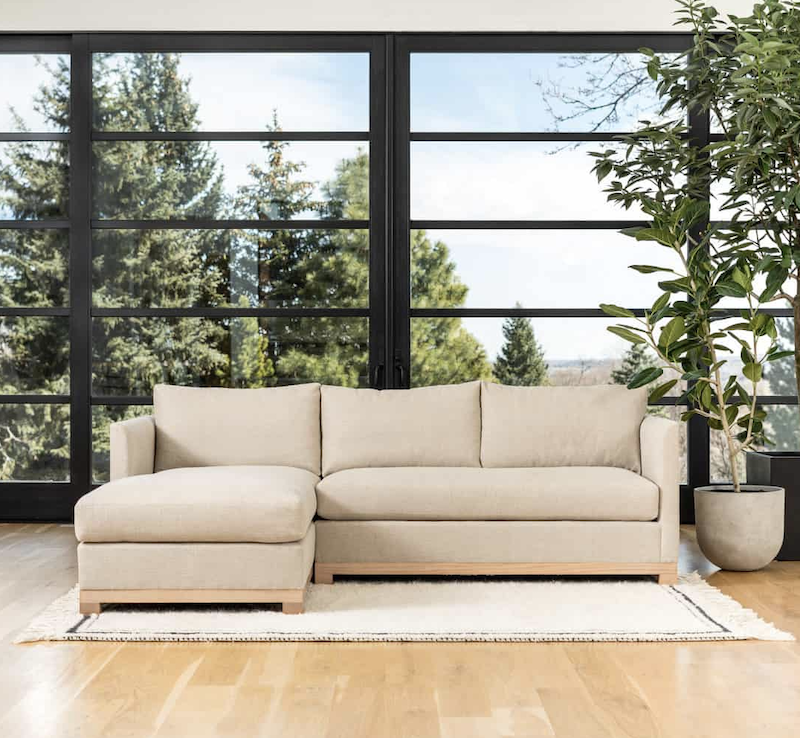 With speed and simplicity comes a few restraints. Beyond offering COM—the brand promises the same four-week lead time once the fabric has been received and inspected—Saltwolf doesn't customize its pieces. However, Lindy is hoping that a pared-down selection will ultimately be a boon for designers.
"There are trade companies that will offer furniture made quickly, but they have 74,000 fabric options—pages and pages of choices," she says. "They have this massive inventory [with] tiny pictures and you can't tell what it is. We wanted to simplify things and have more of a curated look so that a designer can quickly choose. We have three leathers: camel, traditional tobacco brown and dark gray. That's it."
Saltwolf is arriving at an interesting time in an industry that has been slow to embrace digital commerce. Over the past 10 years, as designers have gotten increasingly comfortable shopping online, two things have been happening. One is that legacy trade brands have been attempting to beef up their e-commerce experiences. The other is that digitally native direct-to-consumer companies have identified designers as key customers, and are looking to win them over. Both face significant challenges.
Legacy trade companies often struggle to make their old-school inventory and production systems work smoothly online. Direct-to-consumer companies tend to operate on razor-thin margins and can rarely offer designers an enticing trade discount. In short: Old-school companies fit the designer business model, but aren't always great online, while digital-first companies have e-commerce down cold, but don't always work for designers.
Saltwolf aims to fill that gap with something fairly new. It joins a small roster of companies that are bringing an extremely online approach to the trade. (Last year, California entrepreneur Frank Eybsen launched a company with a similar approach, BuildLane, though it's a custom furniture resource, not a branded collection.)
There are plenty of challenges to the strategy. Most designer-focused brands generally rely on their own showrooms or third-party representation to reach their target audience. The Williamses are hoping that a targeted campaign on social media (mostly Instagram) will help them break through. They've also outfitted an 18-foot box truck with vignettes featuring their pieces—a kind of mobile showroom—that they're planning to take on the road at some point, pandemic permitting.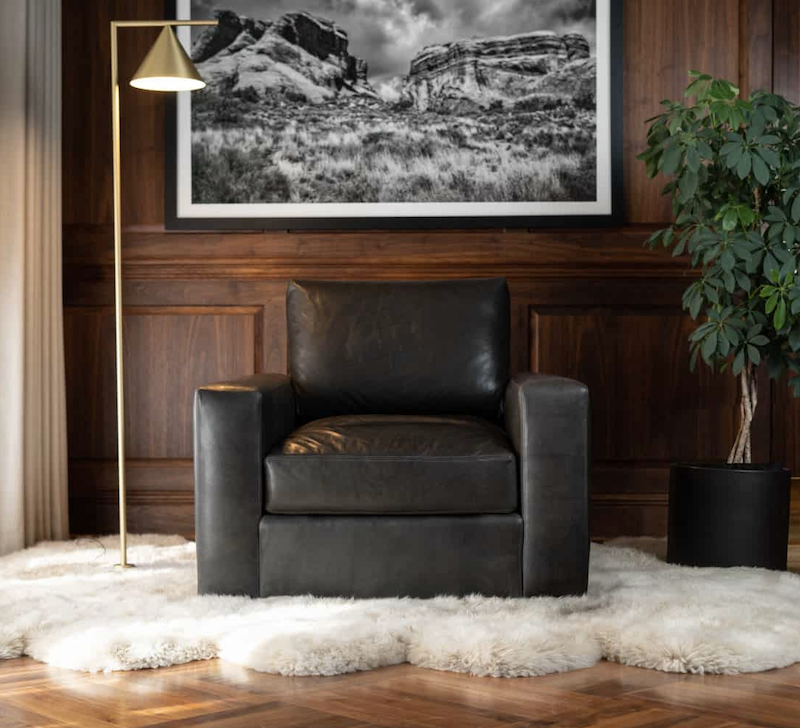 It will also be a hurdle to break through to established designers who have tight relationships with local workrooms. "When you hit a certain tier with high-end designers, when everything [they do] is customized—we have no delusions of grandeur that we're going to start poaching that business," says Jordan. Rather, they hope that designers who are comfortable shopping online will come to Saltwolf instead of showroom-based trade brands or, on the retail side, RH.
Whatever the challenges, the pair are comfortable taking them at a steady pace. They're self-funding Saltwolf and have put their design firm on hiatus to run the company themselves. Unlike with a venture-funded endeavor, they're not looking to grow 600 percent in one year, and their business model allows them to be profitable at a relatively small volume.
"Scale is not necessarily the end goal," says Jordan. "A lot of the direct-to-consumer companies are going after the biggest addressable market but doing it at a very low margin, offering free shipping and free returns. If you start running those economic models, my take—and I'm a bit cynical—is you're going to have to be enormous to be anywhere close to breaking even. … In a perfect world, we have a smaller number of dedicated customers that we can work really closely with, rather than, 'Hey, we're here to disrupt the entire industry and take over!'"
And if the legacy trade brands start getting much faster and slicker online? No sweat, say the Williamses. They're confident that having a clear brand, an early-mover advantage and a service-oriented approach will carry them through. "We're not afraid of that happening, because it almost certainly will," says Jordan. "This is the way the industry is moving."
Homepage photo: Courtesy of Saltwolf