Pull up a chair and have a seat—BOH has rounded up five of this season's standout products for your dining table.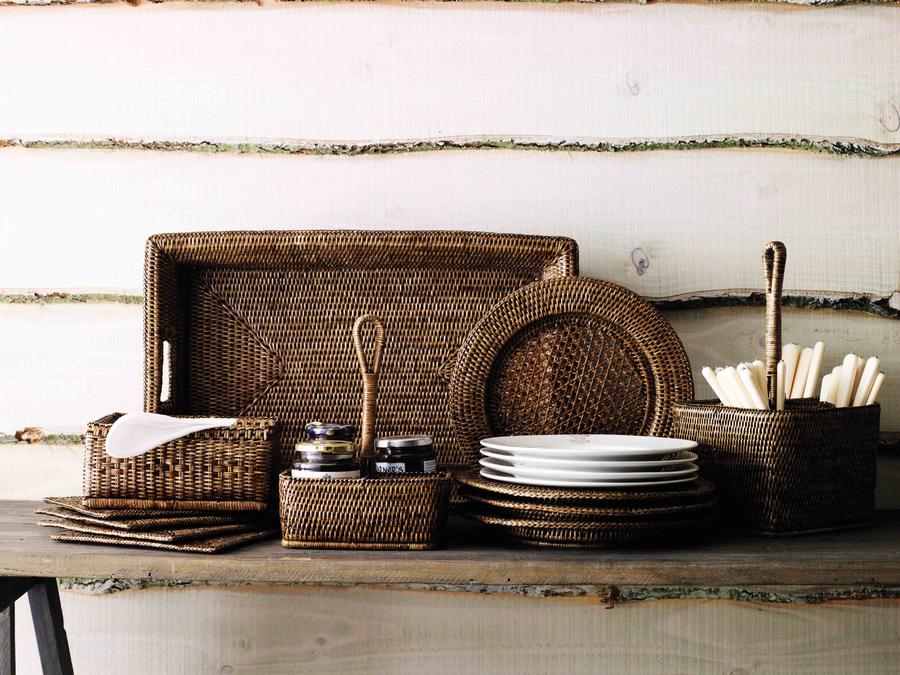 OKA Rattan collection
While U.K.-based OKA is better known for its eclectic furniture designs, the brand designs across several product categories—with high marks in tabletop. This spring, the company is rolling out the Rattan collection, a six-piece line of expertly woven items to bring a rustic texture to the table.
The story: Creative director and co-founder Sue Jones speaks to rattan's quintessential role for the brand: "[It] has always been an important part of our collection; some of our most iconic pieces are crafted from rattan. In fact, our first-ever catalog featured only handcrafted rattan accessories and storage. [At the time,] we wanted to create pieces that drew on traditional techniques and designs that could work in modern homes. Fast-forward two decades, and a lot has changed, but not our love of rattan."
Breakfast club: The warm tones and laid-back feel of the collection begs for an outdoor breakfast: Pile warm pastries and jugs of fresh juice on the Deep Rattan Serving Tray—and don't forget to bring along the Rattan Jam Carry, a cheery design with four square nooks perfectly sized for jars of preserves.
Michael Aram Cherry Blossom collection
From American artist and designer Michael Aram comes the Cherry Blossom collection, a 15-piece line of delicate designs inspired by the natural beauty of its namesake flower. Aram is known for his impeccably detailed craftsmanship: In this collection, many of his pieces start with white porcelain or marble, which are adorned with gold branches and cherry blossoms and finished with soft pink enamel petals.
The story: Aram has always been drawn to cherry blossoms, invoking them across various mediums in his 30-year career, from tabletop accessories to jewelry: "I grew up in Westchester, New York, and my parents were avid gardeners. We had a cherry blossom tree in my backyard, and now my country house has one too," he tells BOH. "Cherry blossoms are the harbingers of spring—they bring so much delight."
Full bloom: The delicacy and artfulness of the Cherry Blossom pieces are achieved through careful hand-forged design and assembly. The collection's cheese board stands out for its golden brass floral details—two branch-shaped arcs allow the board to be carried, and the cheese knife's blade is fastened to a blossom-encrusted handle.
Jonathan Adler Spring/Summer 2020
Home decor and accessories mogul Jonathan Adler has released his latest array of vibrant, fantasy-fueled designs. The potter's new collection is a candy-colored symphony made up of playful shapes anchored by luxe details.
The story: This season, Adler is feeling bold and bright, and his designs balance energetic creativity with rigorous craftsmanship. "I hope that people see the craft that goes into what we make—I'm a craftsperson first and foremost," he says. BOH also asked Adler what draws him to tabletop as a category: "Truthfully? I like to eat."
Puzzle piece: The Pompidou candle holder, styled after the Paris modern art museum's inside-out architecture, is a geometric puzzle involving a trio of clear acrylic tubes that twist upward to light a room.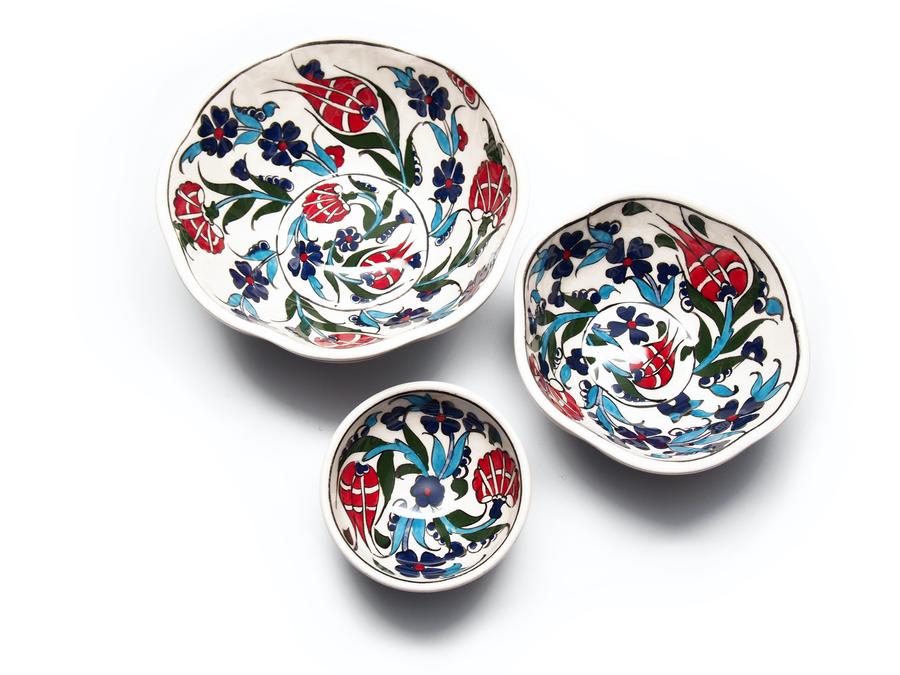 Tamam Iznik Bowls
Tamam's designs bring together the then and now through the boutique's curated mix of authentic Turkish housewares. This spring, the brand's founders, Elizabeth Hewitt and Clare Louise Frost, are launching a line of handmade ceramics: the Iznik bowls.
The story: Tamam began with a love of Turkish art and culture, and from there, has grown into a brand that not only curates antiques, but also designs new products while maintaining traditional methods. "We love our antiques as much as our new products—antique originals are often the starting point for our new, handmade treasures," Hewitt and Frost tell BOH. "Our hand-painted Iznik bowls are contemporary homages to classic Ottoman ceramics."
Turkish tales: For the Tulip + Carnation Iznik bowl design, Hewitt and Frost incorporated the two flowers, which are both historically significant to the Ottoman Empire. (The tulip represented the divine; the carnation was a symbol of life—and also power—thanks to its long blooming time.) "The lobed shape of these beautiful bowls is also a reproduction of an antique original—it makes the bowls easy to hold and are lovely echoes of the shape of a flower," the founders say.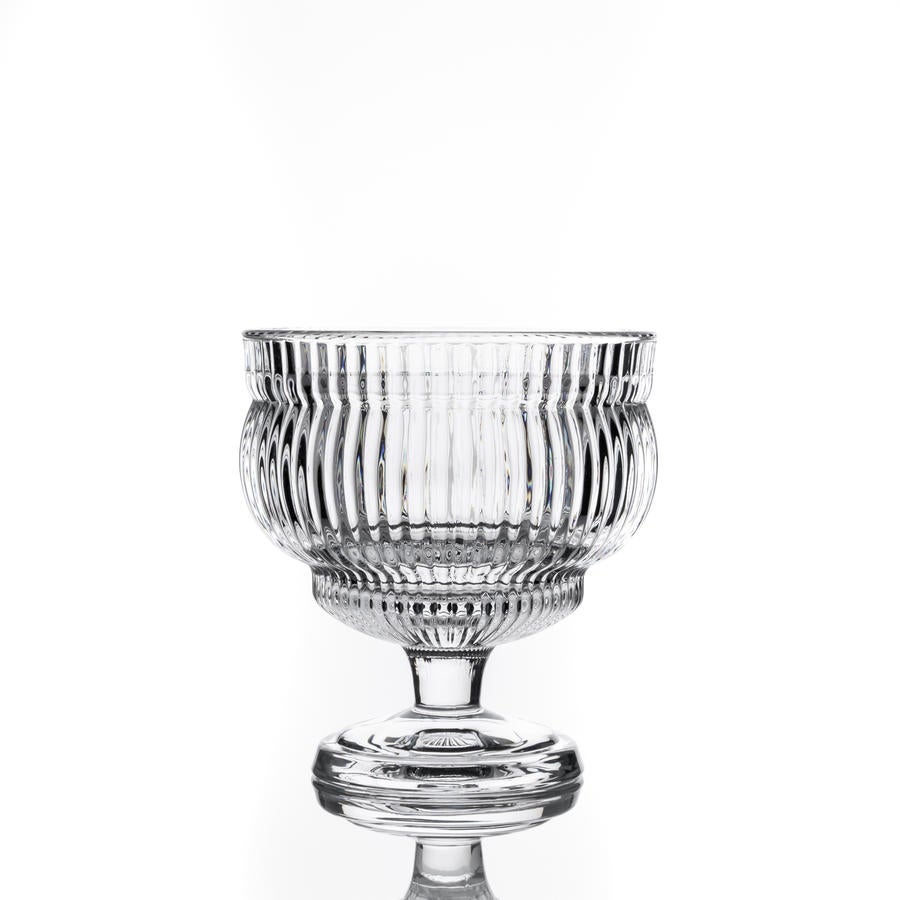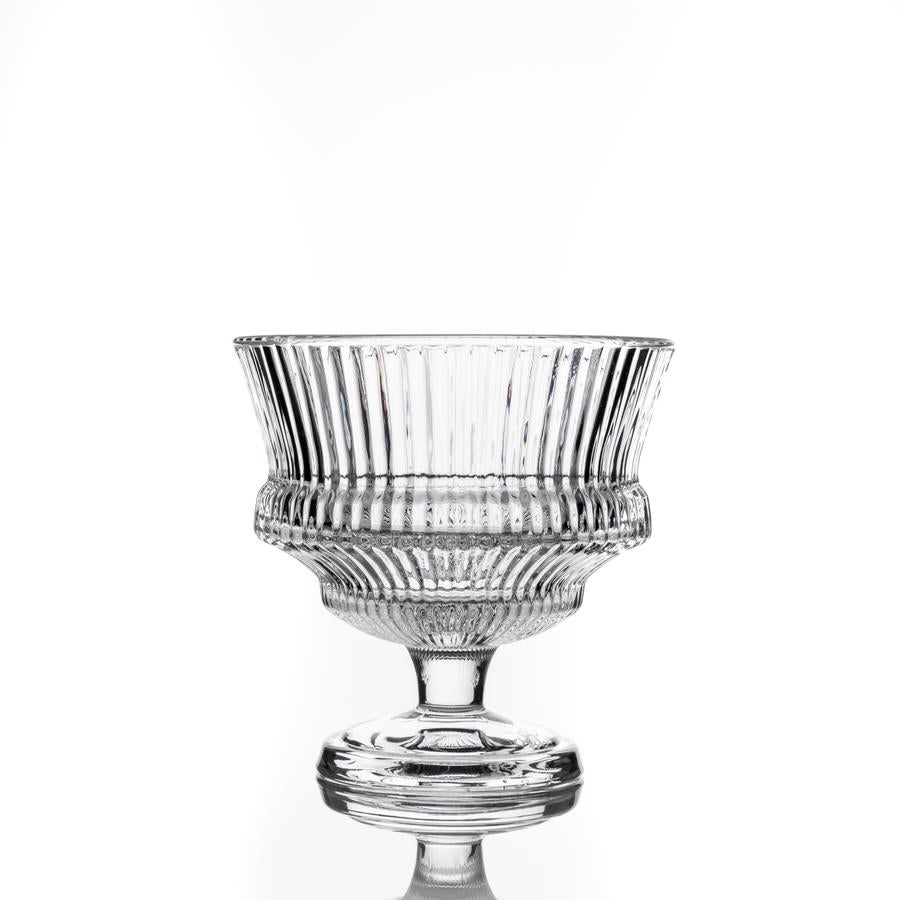 Bomshbee Chandelier Glasses
This Hong Kong–based design company founded by brothers Anthony and William Lau recently celebrated its first collaboration with Food52—and now, in its latest release of designs, the brand is taking its passion for precision a step further. With ribbed edges and thoughtful proportions, Bomshbee's Chandelier glass range features three unique designs—the Eidos, the Kalos and the Skopeo.
The story: The Lau brothers founded Bomshbee because they shared not only genes (the company's name is a mash-up of their childhood nicknames), but a love of quality design. All of their designs seek to balance intelligence with functionality, innovation with simplicity. The Chandelier glass collection was inspired by its namesake lighting fixture, balancing the glamour of the Gilded Age with the practical design of a modern drinking glass. When it's turned upside-down, each glass's striking lines and textures make it look like a chandelier.
Tough tumbler: The Chandelier range may look like a treasure, but these glasses are built to last—the heavyweight pressed glass design is dishwasher-safe.
Homepage image: Courtesy of Jonathan Adler